Pricing

These are the best offers from our affiliate partners. We may get a commission from qualifying sales.

128GB 8GB RAM
$ 449.00
£ 309.00
256GB 8GB RAM
$ 360.00
$ 388.99
256GB 12GB RAM
$ 520.00
$ 522.00
Show all prices
Introduction
The Nothing Phone (1) was definitely one of last year's hype beasts, but was that hype warranted, or is it, in the end, just a Nothingburger? Is there something to it, or is it simply Nothing to write home about? We'll stop now, but these puns really do write themselves. And that might be part of the reason why Nothing chose to call itself that. It makes no sense, everyone cries. And yet, it's instantly memorable, and if you're a startup, you definitely want to go for memorable over "that makes perfect sense" any day of the week.
So that's how we ended up with a company that's definitely making something(s), despite calling itself Nothing. Its first smartphone was always inevitable, and it's also intriguing in its own right. It's a mid-ranger like many others, but it's also a mid-ranger unlike any other on the market still, with its huge focus on design - be that in the iPhone inspiration to it, or the unique rear look it brings to the table, along with the associated Glyph LEDs. It's not just the back, though - it's the only Android mid-ranger with truly symmetrical screen bezels still.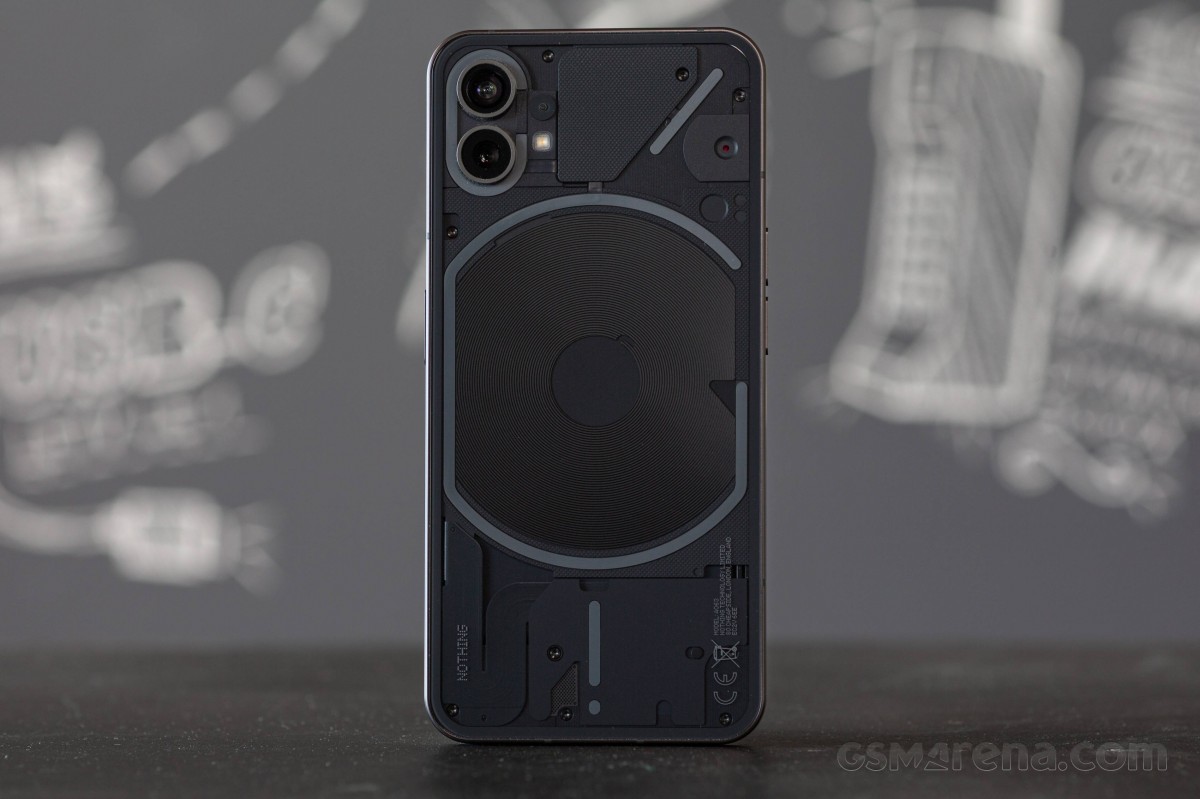 What we have here, then, is a device hyped to the moon and back, with specs that are Nothing out of the ordinary (sorry, couldn't help it), and with a design that's at the same time heavily inspired by something and unique, which seems like the grandest possible contradiction, and yet it's not. It's been a long time since we went into a long-term review being this curious about the cliche-sounding 'what it's actually like to live with', considering all these factors.
If you're also curious to find out how much of the hype is fluff-based, and how much is actually based on real qualities that this phone possesses; if you want to learn all about what it's like to use in early 2023, we have a few upcoming pages for you to consider. Without spoiling anything, we'll say one thing: this was definitely not a boring experience, as the Nothing Phone (1) is not a device to just slide into the background and sit there unnoticed, unremarkable.
T
Had Nothing 1 since launch. For the price (compare to phones 2 or 3 times the price) this is a very competent phone. I don't play games, so can't comment on that. I use it as a phone for calls,messages and I internet, plus Google Home...
I
This is the only smart phone I could recomend. If they keep doing them like this I will buy only Nothing Phones. Simple as that.
M
This phone gets hot at 40 degree temperature.and my phone hotspot stops working when I make or receive a call on Sim causing my other phone stop internet. Bad situation that moment