OLED returns to Nokias with this nice 6.43-inch unit
The X30 is the first Nokia to feature an OLED display since the 9 PureView from all the way back in early 2019. As a phone with no flagship chops, the X30 feels like an odd vehicle for the return of OLED in the lineup, but we're not complaining. The 90Hz 6.43-inch panel has a 1,080x2,400px resolution in a 20:9 aspect for a pixel density of 409ppi.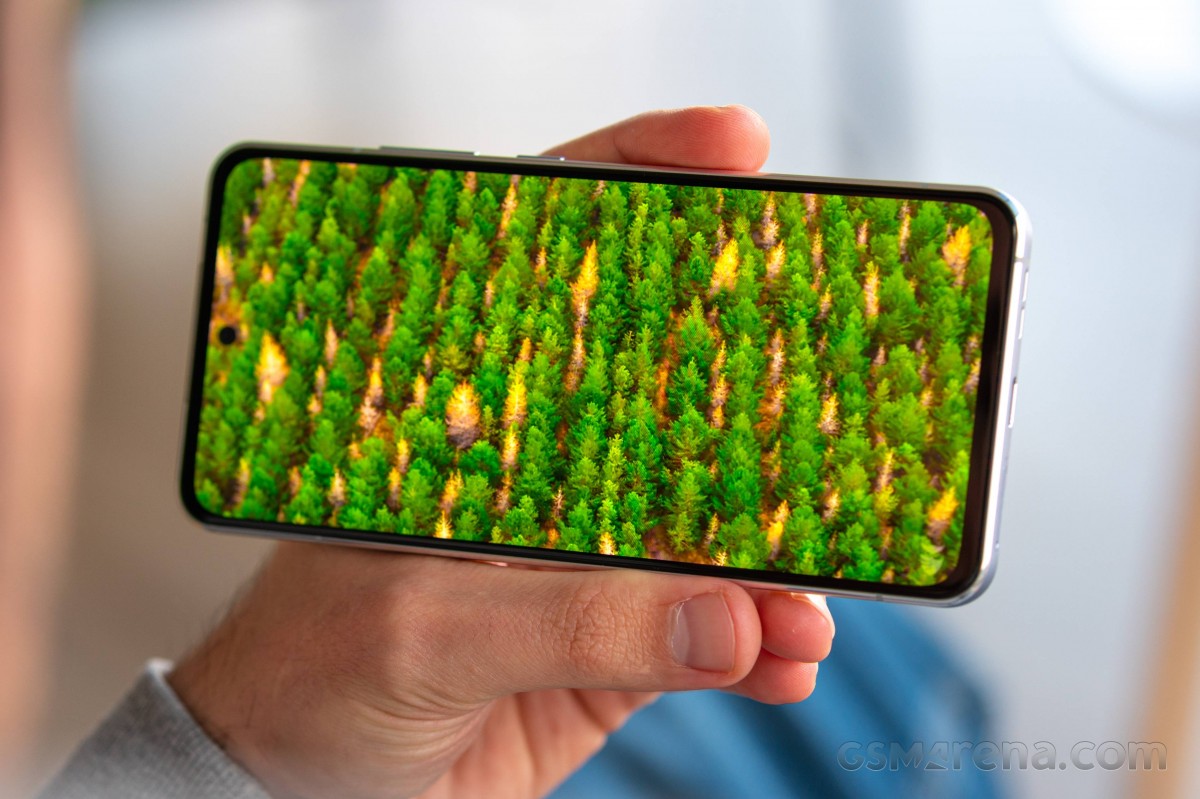 Nokia promises 400nits of typical brightness and a boost to 700nits when needed. Our measurements confirm those claims - we got 442nits with the slider all the way to the right and 746nits with the adaptive brightness enabled and the phone placed under direct light. This being an OLED panel, it showed no illumination when displaying black - unlike the LCD on the G60. The minimum brightness on the X30 was 2.1nits - perfect for night-time viewing.
Display test
100% brightness
Black,cd/m2
White,cd/m2
Contrast ratio
Nokia X30
0
442
∞
Nokia X30 (Max Auto)
0
746
∞
Nokia G60
0.256
390
1523:1
Nokia G60 (Max Auto)
0.289
444
1536:1
Nothing phone (1)
0
466
∞
Nothing phone (1) (Max Auto)
0
663
∞
Google Pixel 6a
0
505
∞
Google Pixel 6a (Max Auto)
0
876
∞
Samsung Galaxy A53 5G
0
427
∞
Samsung Galaxy A53 5G (Max Auto)
0
830
∞
Poco F4
0
530
∞
Poco F4 (Max Auto)
0
1003
∞
Poco X4 GT
0.395
470
1190:1
Poco X4 GT (Max Auto)
0.496
600
1210:1
vivo X80 Lite
0
496
∞
vivo X80 Lite (Max Auto)
0
781
∞
Color reproduction is handled in a very simple way on the X30 - all it has is a single color temperature slider under the 'White balance' menu item in the display settings. The lack of color modes means there's no setting tailored for sRGB content, and the panel appears to always be in wide gamut mode. With the default white balance, there's a notable blue shift to the grayscale test patches, which changes to pinkish with the slider all the way to the Warm position, and the in-between settings aren't spot on either. Either way, the average dE2000 for the set of swatches we usually test with hovers around the 3.0 mark, which isn't half bad.
Nokia makes no mention of HDR capability for the X30's display. Indeed, we didn't even get HDR streams on YouTube, much less on Netflix, though that last one at least supports FullHD streaming thanks to the phone's Widevine L1 certification.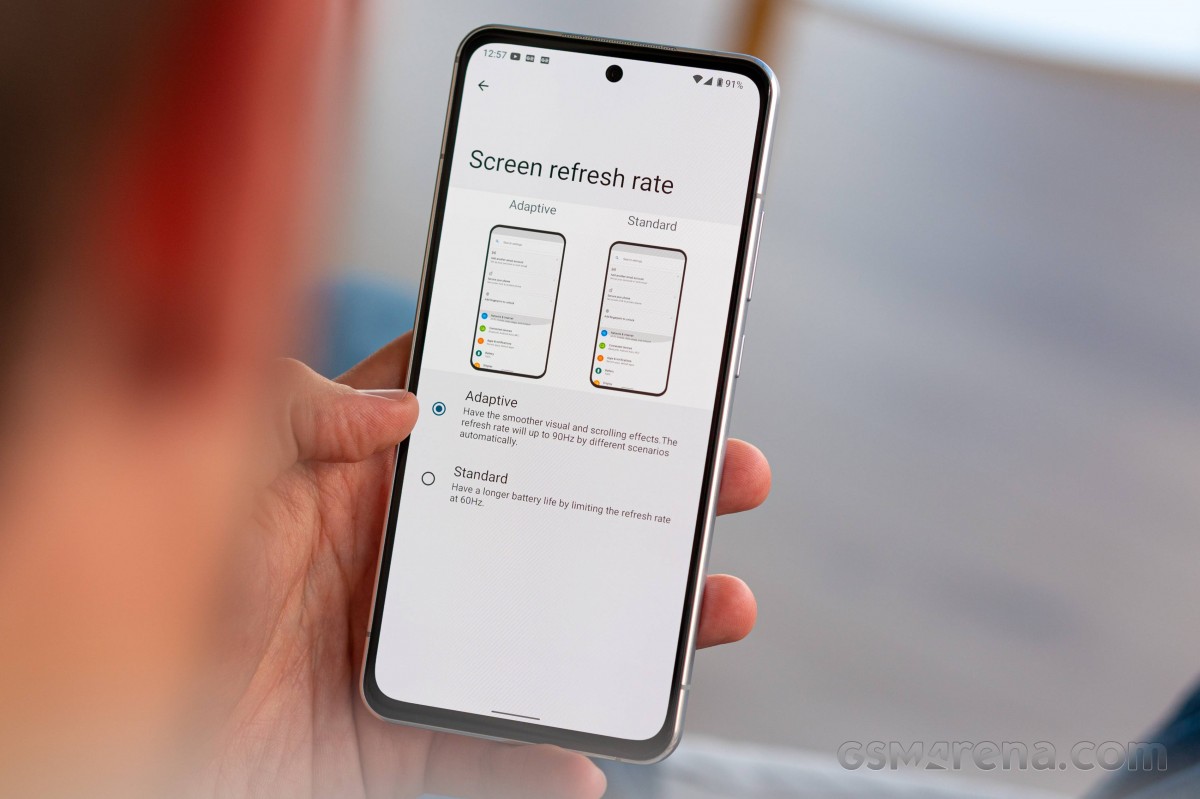 The X30 has a simple two-option setting for refresh rate with Standard and Adaptive modes. The former is straightforward - it will keep everything at 60Hz. Adaptive, on the other hand, will allow it to reach the 90Hz maximum but drop to 60Hz when idling, and that's the behavior across most use scenarios. A notable exception is games that support a high frame rate, for which the Nokia will maintain the 90Hz refresh rate even when you're not actively interacting with it.
Nokia X30 battery life
The Nokia X30 is powered by a 4,200mAh battery, a modest capacity for 2022 in general - the Galaxy A53, for example, uses a 5,000mAh power pack, the Nothing phone (1) and the vivo X80 Lite stands at 4,500mAh, and even the Pixel 6a's cell is rated at 4,410mAh. That said, the number isn't all that unreasonable here, given the not-so-demanding chipset and smaller-than-most 6.43-inch display.
Battery life turned out solid on the X30, with a caveat - standby was below average for the hardware and the class, ultimately bringing the overall result down. That aside, we got no reason to complain.
At nearly 21 hours of offline video playback (with the display set to 60Hz), the Nokia is as good as every other phone in the class - half an hour to a full hour better if you insist on being precise. The Wi-Fi browsing result of 14:13h (carried out at 60Hz, because that's what the Nokia defaulted to) is shorter than on the Pixel and the phone (1), but better than what the A53 managed. Similarly, voice call longevity was middle-of-the-pack at 27:23h.
The overall Endurance rating for the Nokia X30 then works out to 94h - on par with the Pixel 6a, but lagging behind other potential rivals.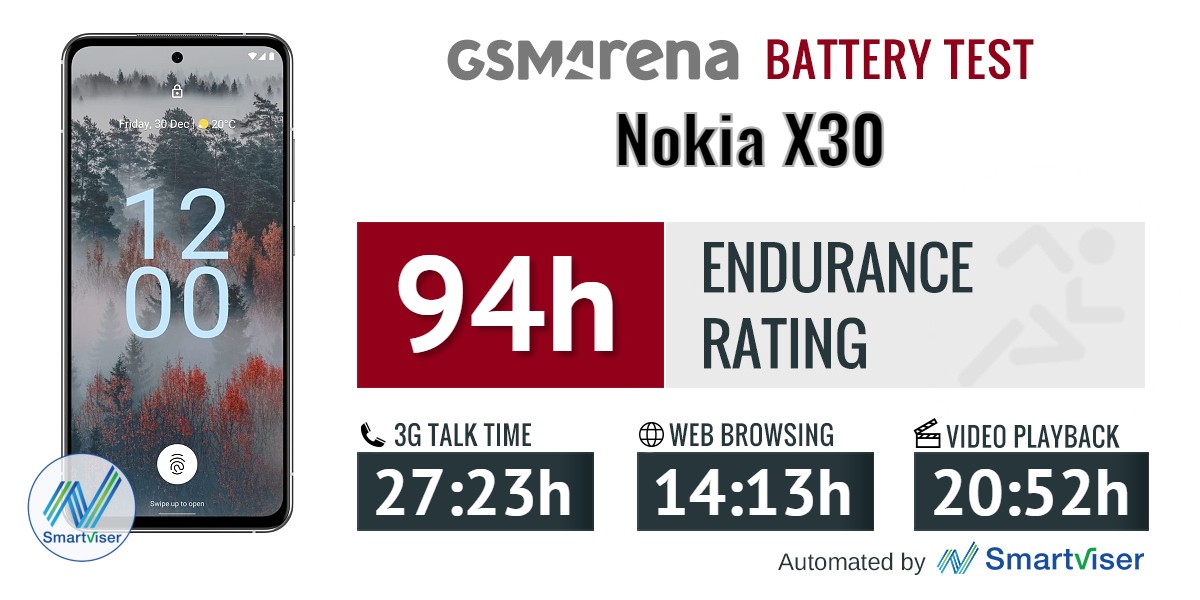 Our battery tests were automated thanks to SmartViser, using its viSerDevice app. The endurance rating denotes how long the battery charge will last you if you use the device for an hour of telephony, web browsing, and video playback daily. More details can be found here.
Video test carried out in 60Hz refresh rate mode. Web browsing test done at the display's highest refresh rate whenever possible. Refer to the respective reviews for specifics. To adjust the endurance rating formula to match your own usage - check out our all-time battery test results chart.
Charging speed
There's no charger inside the Nokia X30's retail package, but the phone is rated at up to 33W of power intake over USB Power Delivery 3.0. We tested it with a 65W adapter we had on hand, and our meter peaked at 26W - close enough.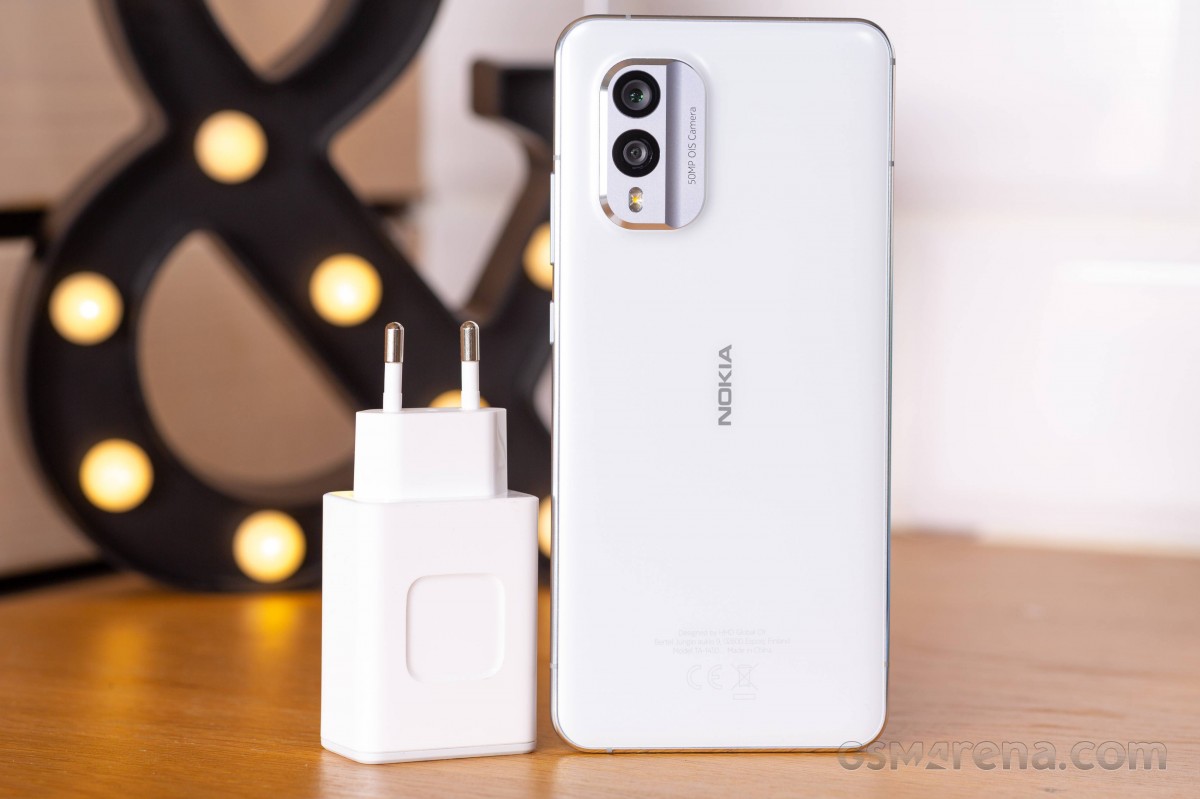 Charging speed is actually quite respectable on the X30 too. A 30-minute charging session starting from flat left us with 69% showing in the status bar, while the 100% mark was reached 1:03h after we plugged it in.
30min charging test (from 0%)
Higher is better
Realme GT Neo3T
95%
Poco F4
92%
Poco X4 GT
75%
Nokia X30
69%
vivo X80 Lite
53%
Nothing phone (1)
48%
Samsung Galaxy A53 5G
45%
Google Pixel 6a
42%
Nokia G21 (65W PD)
37%
Nokia G21
22%
Time to full charge (from 0%)
Lower is better
Poco F4
0:38h
Realme GT Neo3T
0:40h
Poco X4 GT
0:57h
Nokia X30
1:03h
vivo X80 Lite
1:11h
Samsung Galaxy A53 5G
1:24h
Nothing phone (1)
1:31h
Google Pixel 6a
1:51h
Nokia G21 (65W PD)
2:09h
Nokia G21
2:49h
There's no wireless charging capability on the Nokia X30.
Speaker test
The X30 has a single loudspeaker directing sound through a couple of openings on the bottom of the phone - the earpiece doesn't pitch in for an extra channel, sadly. Competitors in this price range generally have some sort of stereo setup as do some cheaper models.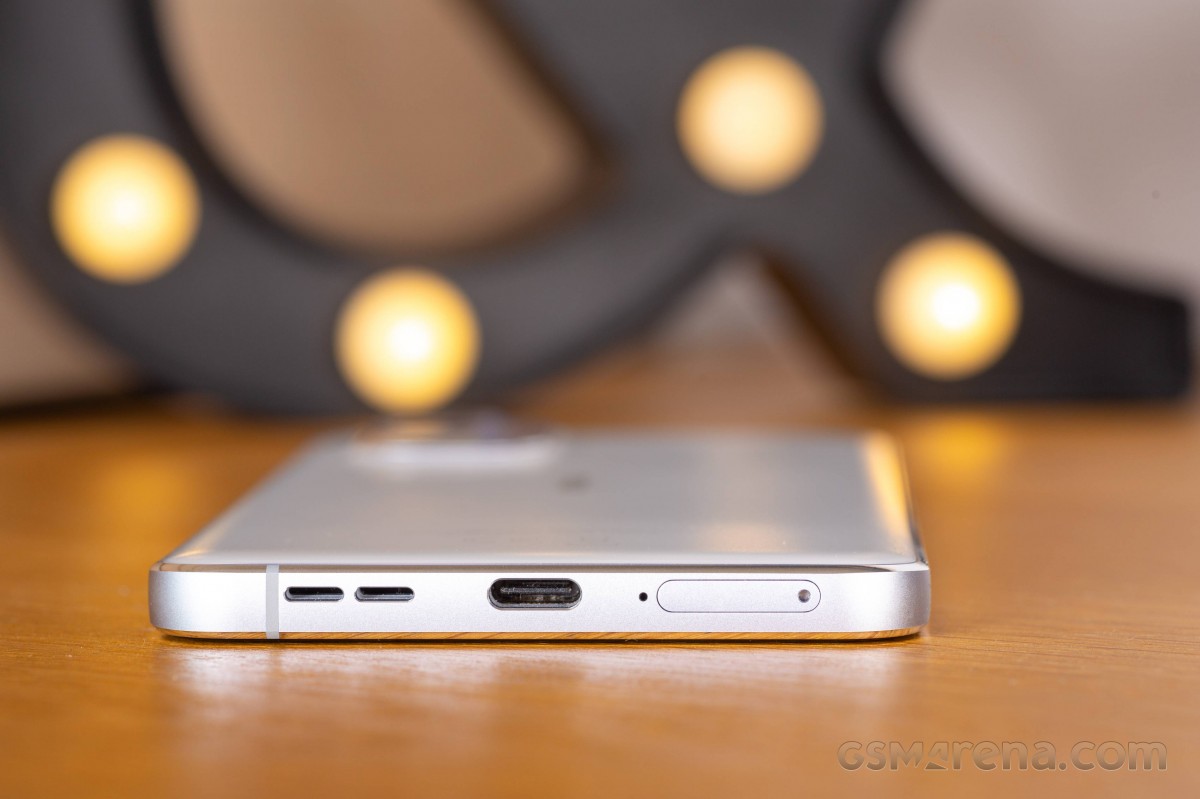 Despite this, the phone earned a 'Good' rating for loudness, on par with the Galaxy A53, though quieter than the 'Very Good' Nothing phone (1). Sound quality is decent without being remarkable - it's not bathroom-like and doesn't have glaring flaws.
Use the Playback controls to listen to the phone sample recordings (best use headphones). We measure the average loudness of the speakers in LUFS. A lower absolute value means a louder sound. A look at the frequency response chart will tell you how far off the ideal "0db" flat line is the reproduction of the bass, treble, and mid frequencies. You can add more phones to compare how they differ. The scores and ratings are not comparable with our older loudspeaker test. Learn more about how we test here.