Introduction
This is it then. The long-awaited Finnish flagship that goes all in against the phones that rule today. The Finnish cameraphone returning to claim the prize that was once its birthright. Everybody bow and make way?
No, it's not how it works. No story begins with a happy ending. Nokia can tell a few about life after death but HMD is not looking at a life of Sundays. The thing with Microsoft wasn't going anywhere but it still counts as a wasted second chance. The third time, failure is not an option. Nokia and HMD seem well aware of that and the Nokia 8 looks like it has adapted to the new reality fast.
The flagship Nokia 8 is well-armed with the top-of-the-line Snapdragon 835, an impressive high-res LCD, premium aluminum unibody and the latest Android OS.
The cameraphone Nokia 8 had no other choice perhaps than have its own take on the dual-camera outfit with two 13MP sensors, an optically-stabilized color one and a monochrome one. Another 13MP unit at the front is more than just a selfie cam - it does split-screen live streaming and has phase-detection autofocus. High-end ZEISS lenses in front of all three sensors mark the return of an iconic partnership.
Nokia's OZO camera division is involved in the 8 too. It co-developed the 360° spatial surround audio recording, which will capture sound with a quality to match the sharpness of the 4K video. Another rare feature, binaural audio, is supposed to offer an even more immersive split-screen viewing experience.
Nokia 8 key features:
Body: 6000-series aluminum, IP54 splash resistance
Display: 5.3" IPS LCD, QHD resolution (554ppi), 700 nits brightness; Gorilla Glass 5; Glance screen
OS: Android 7.1 Nougat (basically stock)
Chipset: Snapdragon 835 chipset, 4GB RAM, 64GB of storage, microSD card slot
Main camera: two 13MP sensors (color + monochrome), 1.12µm pixels, Zeiss lens with f/2.0 aperture; OIS on the color sensor, Laser and phase detection autofocus, dual-LED flash
Video: 4K video capture, 360° spatial surround sound with 3 microphones; YouTube and Facebook livestreaming (with picture-in-picture)
Selfie camera: 13MP sensor, 1.12µm pixels, Zeiss lens with f/2.0 aperture, phase detection autofocus
Connectivity: single and dual SIM versions; Cat. 9 LTE (450/50Mbps), Wi-Fi ac, Bluetooth 5.0, ANT+, USB-C 3.1 (5Gbps)
Battery: 3,090mAh, Quick Charge 3.0 (18W)
Misc: Fingerprint reader, unlimited Google Photos storage
Main shortcomings
Battery capacity seems low
Not fully water-proof
No 1080p@60fps video recording
The Nokia 8 seems so thoughtfully designed and made that we had to go nitpicking to find flaws. Modest battery capacity? We have yet to see the actual battery endurance. Aluminum 6000 instead of 7000? We seriously doubt it that another bendgate could be on the way. Splash-resistant but not water-proof? This could be it but it's still better that than nothing.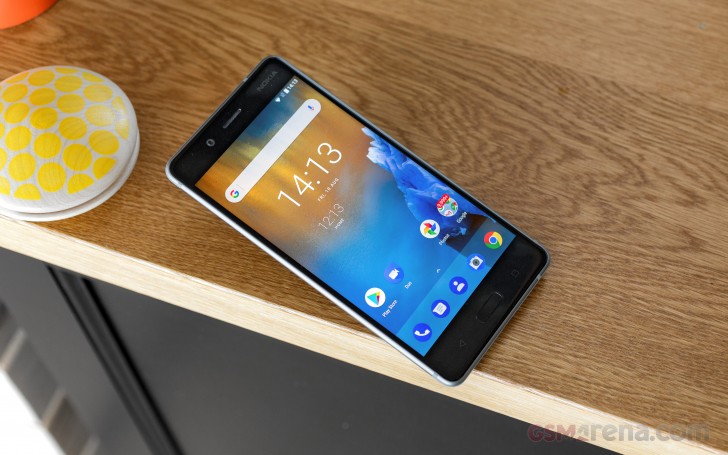 Nokia has a legacy to protect and a future to build. Once an industry pillar, the brand has a long way to come back from oblivion. And while the Nokia 3, 5 and 6 surely helped restore some confidence, it's up to the 8 to rekindle the old glory. Or go down trying. Curious to know which way it's heading? So we are - but first things first.
A
My phone always restarts :( I hate it and there are duplicate apps but If I delete the other get deleted, I need new phone
S
Since unboxing i can not use the screen in cold weather. Around 10c it stops responding. Even 15 and windy weather. All nokia 8 affected with this problem. :( Over all pretty good device.
P
I still own a Nokia 8 nowadays and I use it daily for a lot of calls, reading news and using some apps. Even for games it still handles pretty solid! Battery life haven't changed much since when it was new and I am just sad they did not kept thi...