Hardware overview
Let's be frank here, we all know that there is only one true material worthy of the original old-school Nokia experience and it's definitely not brushed aluminum. Joking aside, the Nokia 3 is mostly using polycarbonate and does it well.
We've said this before and we'll say it again: plastic has plenty of benefits - better shock absorption and overall durability for one. The Nokia 3's back side is covered up by a pretty light and soft layer, which has a great silky-smooth feel to it and looks prepared to take a lot of abuse.
The absence of unsightly humps is definitely a plus, but HMD could have gone the extra mile and made the rear removable as well. There is even a slight gap between the screen and the back plate that gives off the distinct impression that you can pop the Nokia 3 open, pretty old school. Perhaps even slap on another colorful piece of plastic, which used to be a Nokia staple. Still, this is more of a comment on a missed opportunity than criticizing an overall pretty sturdy and well-built phone.
And the plastic back is not the only thing that gives the Nokia 3 an eerie kind of similarity to older Lumia generation devices. The overall design language is definitely shared and it's no coincidence either. Sticking to a familiar appearance is a pretty sound strategy in the process of re-establishing the legendary Nokia brand. If nothing else, staying true to tradition might be the credibility-boost that an emerging company like HMD could very well use.
Plus, HMD sprinkled some 2017 styling on the Nokia 3 as well. Despite its budget nature, the Nokia 3 is set inside a metal frame. Again, there are a few details here and there we don't particularly enjoy, like the antenna bands of questionable necessity, given the all-plastic back. Still, we really dig the matte black finish.
As far as controls go, the button layout is pretty standard. A volume rocker and power button sit alone on the right bezel, positioned pretty high up. We found it to work pretty well for the most part on a 5-inch phone but having large hands would definitely help.
On the flip side, the relatively compact 143.4 x 71.4 x 8.5mm Nokia 3 coms with two card compartments. The Upper one is for SIM cards - one or two nano SIM chips, depending on the version. The one below that is a dedicated MicroSD card tray, for up to 256GB of additional storage. And just in case you were wondering, yes, the emphasis on the compact size of the Nokia 3 is definitely thinly veiled criticism against all the manufacturers out there opting for hybrid solutions on significantly bigger devices.
As for the bottom and top bezels, you get a 3.5mm audio jack above the earpiece. Next to it is a secondary noise-canceling mic - a rather uncommon feature in the budget segment. A micro USB connector sits in the middle of the bottom bezel, flanked by a single speaker. We have to admit, we kind of like the simple grille design.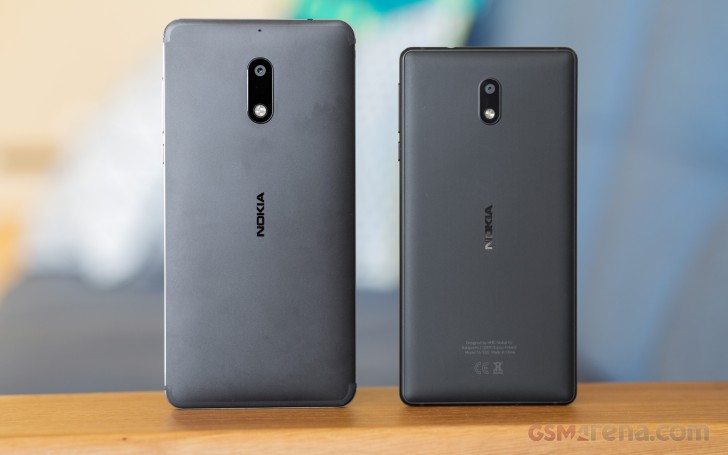 The loudspeaker on the Nokia 3 is surprisingly loud and managed to score a "Very Good" rating in our test routine. You can definitely count on the little smartphone in a noisy environment, especially if you opt for a higher-pitched ringtone, since the equalizer seems to favor those.
| | | | | |
| --- | --- | --- | --- | --- |
| Speakerphone test | Voice, dB | Pink noise/ Music, dB | Ringing phone, dB | Overall score |
| Samsung Galaxy J3 (2016) | 64.1 | 65.3 | 68.5 | Below Average |
| Xiaomi Redmi 4a | 62.8 | 67.5 | 72.1 | Average |
| Lenovo K6 Note | 63.2 | 69.5 | 71.0 | Average |
| Sony Xperia L1 | 64.7 | 70.4 | 72.3 | Average |
| Xiaomi Redmi Note 4 | 64.2 | 67.2 | 76.9 | Good |
| Huawei Honor 5c | 66.5 | 71.1 | 74.4 | Good |
| Lenovo K6 Note (Dolby Atmos Music preset) | 63.7 | 69.0 | 79.4 | Good |
| Sony Xperia L1 (ClearAudio) | 68.5 | 72.2 | 72.8 | Good |
| Meizu M5 | 63.7 | 69.1 | 82.5 | Good |
| Nokia 6 (Chinese version) | 63.0 | 70.2 | 85.2 | Good |
| Meizu M5s | 65.4 | 69.1 | 84.2 | Good |
| Xiaomi Redmi Note 4 (S625) | 67.3 | 70.3 | 81.5 | Very Good |
| Meizu M5 Note | 65.1 | 70.7 | 86.8 | Very Good |
| Nokia 3 | 70.6 | 71.0 | 83.6 | Very Good |
| Sony Xperia L1 (xLOUD) | 91.5 | 74.3 | 83.2 | Excellent |
Just to round the hardware tour up, the front of the Nokia 3 looks pretty slick with its 2.5D edges, slightly tapering off at the side. We find it a bit hard to believe the finish is Gorilla Glass, since it doesn't really feel rigid or smooth enough. Then again, our review unit got away without a single scratch after being tossed around the office quite a bit, so the screen glass appears to be doing its job well enough.
Navigation is handled by a trio of capacitive buttons. These are not backlit and can't be remapped, so you better make sure, you are comfortable with the arrangement. Other than that, the keys are perfectly responsive and won't let you down.
Speaking of dependability, the Nokia 3 is pretty well equipped on the connectivity front. The Dual-SIM option is a good value package and Cat.4 (150/50 Mbps) LTE seems to be the minimum requirement in the budget category in 2017.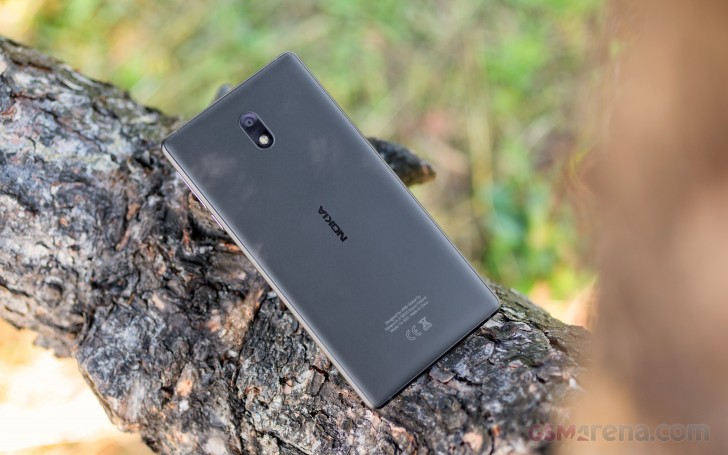 The entry-level Nokia doesn't skip on local connectivity either. It has dual-band Wi-Fi 802.11 b/g/n, with support for Wi-Fi Direct and a hotspot feature. The only thing it seems to be missing overall is 802.11ac, which we can't realistically expect in a sub-$200 phone anyway. Other small, but still interesting added value features include Bluetooth 4.0, with Low Energy profile support, USB OTG, and FM Radio, with RDS, NFC, as well as a decent set of sensors: accelerometer, gyro, proximity, compass.
It's really nice to see the Nokia 3 fully prepared to meet a modern connected lifestyle. Sadly, HMD made plenty of cut-backs in other areas.
Battery
For one, there is the battery. The Nokia 3 packs a total of 2630 mAh, which is definitely on the low-end. Just to put things into perspective, competing offers, like the Xiaomi Redmi 4 pack 4100 mAh in a body that is almost identical in size. If you have been keeping up with our recent review coverage in the budget smartphone segment, then you might remember we complained a lot about the batter downgrade in the Xiaomi Redmi 4a. Still, that phone has 3120 mAh.
Then again, one could make the argument that Sony Xperia L1, which we also reviewed recently, has a similarly sized 2620 mAh battery, an almost identical Mediatek MT6737T chipset and a 720p LCD display. True, but it didn't exactly shine in the battery department, only scoring a 63 hour endurance rating.
The Nokia 3 finds itself in pretty much the same boat, which should come as no surprise, given the many similarities between the pair. In fact, it did even worse, scoring only 53 hours of endurance in out standardized test.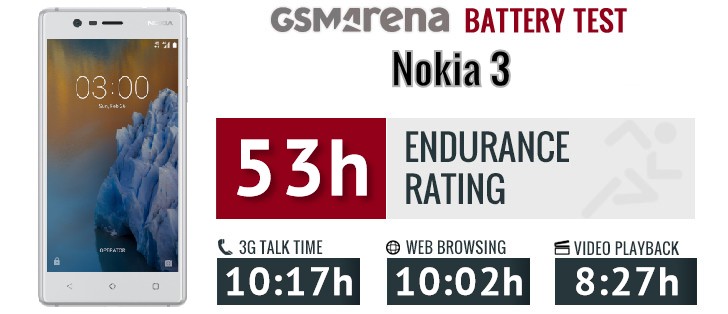 Looking at the numbers, the phone actually appears to handle itself pretty well during calls and web browsing. Even video playback is decent and that endurance number is achieved using the Google Photos app. We are pretty sure a well optimized dedicated video player app can do even better. Standby is the main issue with the Nokia 3. After multiple runs, it only managed to last 150 hours or so idling in standby, connected to the network with the screen off and Wi-Fi on.
Plus, to make things worse, there is the issue of charging, or rather, the lack of any fast charging solution. This is another grudge we had with the Xperia L1 as well. Still, to HMD's credit, at least the Nokia ships with a proper 5V@2A charger (not a 5V/850mA, like the Sony). 2A is the maximum rate at which you can replenish the 2630 mAh pack and that is enough to get it from about 3% or so of residual charge to 50% in about 45 minutes. A pretty slow charge for a battery pack of this size.
Display
As previously mentioned, the Nokia 3 has a 5-inch, 720p display - kind of the norm for budget offers these days. The panel is also surprisingly good, again considering the Nokia 3's sub $200 price. The "plasticky" finish on top is what drags the experience down a bit and adds some unpleasantly high level of reflectivity.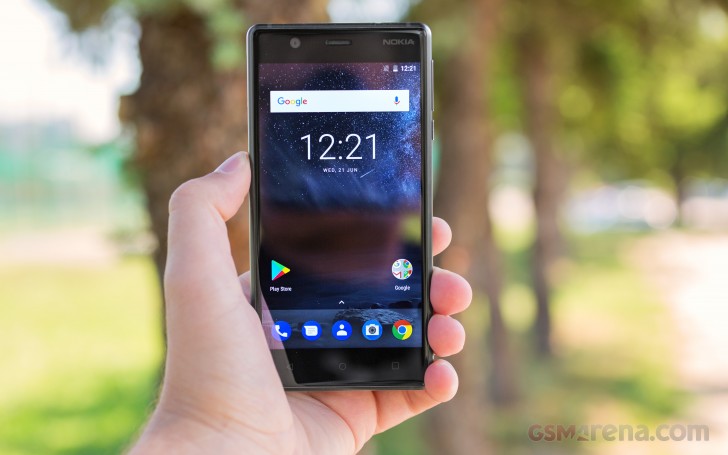 The Nokia 3 is plenty bright, topping out at around 477 nits. That is pretty comparable to the likes of the Xiaomi Redmi Note 4 and the Sony Xperia L1. Adaptive brightness is also enabled, but it is a little bit sluggish in reacting to changes. There is no "Max Auto" though, or outdoor boost feature, to temporarily go beyond 477 nits.
A tiny amount of light bleed is noticeable in black at 100%, but nothing really unusual for an LCD. Contrast is also pretty good - comparable to what you get from a Xiaomi Redmi Note 4 and noticeably better than on the Sony Xperia L1.
Display test
100% brightness
Black, cd/m2
White, cd/m2
Contrast ratio
Nokia 6 (Chinese version)
0.377
522
1385
Nokia 3
0.353
477
1351
Xiaomi Redmi Note 4 (S625)
0.322
484
1503
Xiaomi Redmi 4a
0.513
475
925
Lenovo Moto M
0.3
425
1417
Meizu M5
0.453
480
1060
Meizu M5 Note
0.614
463
754
Meizu M5s
0.426
407
955
Samsung Galaxy J3 (2016)
0.00
331
∞
Samsung Galaxy J3 (2016) outdoor mode
0.00
468
∞
Huawei Honor 7 Lite / Honor 5c
0.58
416
717
Lenovo K6 Note
0.383
521
1360
Asus Zenfone Selfie
0.36
333
928
Sony Xperia L1
0.47
450
957
Sony Xperia L1 (Max Auto)
0.571
531
930
Color accuracy is not a strong point of the Nokia 3. It managed an average deltaE of 9, with a maximum of 15.1, with brightness at full blast. Bringing the panel down to the standard 200 nits we use for certain battery testing scenarios, only made things worse. The display simply has a distinct Cyan, Blue-Greenish tint to it.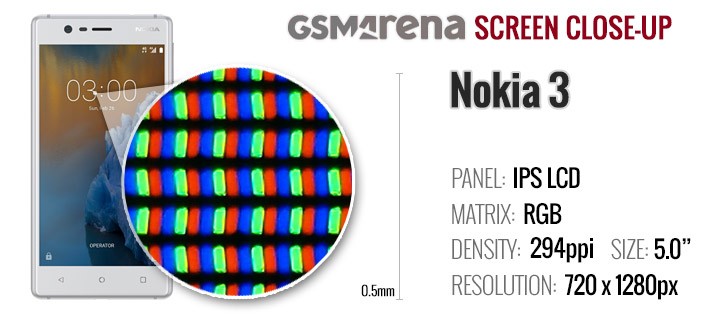 You don't get any color modes or manual correction options out of the box, but HMD did throw in a few interesting color correction schemes. These are experimental and meant to help people with particular types of color blindness. Fun to play around with for sure, but not really usable for most and they do take a noticeable toll on performance.
Sunlight legibility is on par with similar devices. That is to say, it is not spectacular in any way, but still decent enough for outdoor use.
Sunlight contrast ratio
Samsung Galaxy S8
4.768
Samsung Galaxy S8+
4.658
Samsung Galaxy S6 edge+
4.615
Samsung Galaxy S7 edge
4.439
OnePlus 3
4.424
Samsung Galaxy S7
4.376
HTC One A9
4.274
Samsung Galaxy Note7
4.247
Samsung Galaxy A3
4.241
OnePlus 3T
4.232
Google Pixel XL
4.164
ZTE Axon 7
4.154
Samsung Galaxy S6 edge
4.124
Samsung Galaxy A7 (2017)
4.124
Samsung Galaxy Note5
4.09
Huawei Nexus 6P
4.019
OnePlus X
3.983
Vivo Xplay5 Elite
3.983
Apple iPhone 7
3.964
Oppo R7s
3.964
Huawei P9 Plus
3.956
Meizu Pro 6 Plus
3.935
Lenovo Moto Z
3.931
Samsung Galaxy A7 (2016)
3.918
OnePlus 5
3.914
Samsung Galaxy C5
3.911
Samsung Galaxy C7
3.896
Samsung Galaxy A5
3.895
Samsung Galaxy J7 outdoor
3.879
Samsung Galaxy J2 outdoor
3.873
Samsung Galaxy A8
3.859
Sony Xperia XZs
3.818
Samsung Galaxy A9 (2016)
3.817
Motorola Moto X (2014)
3.816
Samsung Galaxy A5 (2017)
3.804
Samsung Galaxy J7 (2016) outdoor mode
3.802
Xiaomi Redmi Pro
3.798
LG V20 Max auto
3.798
Sony Xperia XZ
3.795
Samsung Galaxy A5 (2016)
3.789
Apple iPhone 6s
3.783
Meizu Pro 5
3.781
Microsoft Lumia 650
3.772
Xiaomi Mi 6
3.767
Samsung Galaxy J7 (2016)
3.756
Oppo F1 Plus
3.709
Vivo X5Pro
3.706
Samsung Galaxy A3 (2017)
3.688
Apple iPhone SE
3.681
Huawei Mate 9
3.68
Samsung Galaxy A7
3.679
Meizu PRO 6
3.659
BlackBerry Priv
3.645
Sony Xperia XA1 Ultra
3.597
Apple iPhone 7 Plus
3.588
LG G6
3.556
Apple iPhone 6s Plus
3.53
Motorola Moto Z Play
3.526
Samsung Galaxy J3 (2016)
3.523
Samsung Galaxy J3 (2016) outdoor mode
3.523
Acer Jade Primo
3.521
Microsoft Lumia 950
3.512
Oppo R7 Plus
3.499
nubia Z11
3.466
Huawei P10 Plus
3.456
HTC U Ultra
3.453
Samsung Galaxy J7
3.422
Meizu MX5
3.416
LG V20
3.402
Huawei P10
3.379
Oppo R9s
3.352
Honor 8 Pro
3.341
Oppo R7
3.32
Lenovo P2
3.316
Xiaomi Mi 5s
3.276
Nokia 6 (Chinese version)
3.244
Samsung Galaxy J2
3.235
Sony Xperia X Performance
3.234
Xiaomi Mi Note 2
3.228
Motorola Moto X Play
3.222
Oppo F3 Plus
3.218
Huawei Mate 9 Pro
3.206
Huawei P9
3.195
Lenovo Vibe Shot
3.113
Motorola Moto X Force
3.105
LG Nexus 5X
3.092
HTC U11
3.089
Huawei Mate S
3.073
Microsoft Lumia 640 XL
3.065
Sony Xperia XA1
3.012
Sony Xperia L1
2.994
Sony Xperia X
2.989
Huawei P10 Lite
2.974
Samsung Galaxy Note
2.97
Huawei Mate 8
2.949
Xiaomi Redmi 3S
2.913
Sony Xperia XA Ultra
2.906
LG G5
2.905
HTC One S
2.901
Xiaomi Redmi 3s Prime
2.893
Xiaomi Mi 5s Plus
2.884
Sony Xperia XZ Premium
2.877
Sony Xperia XZ Premium (sRGB)
2.877
Sony Xperia Z5
2.876
Nokia 3
2.871
Microsoft Lumia 550
2.851
Lenovo Moto M
2.813
Xiaomi Redmi 3 Pro
2.803
Sony Xperia Z5 compact
2.784
Meizu MX6
2.751
LG V10
2.744
Xiaomi Redmi 3
2.735
Xiaomi Redmi Note 4 (S625)
2.714
Meizu M5
2.71
Sony Xperia M5
2.69
Huawei P9 Lite
2.679
Xiaomi Redmi 4 Prime
2.679
Vivo V3Max
2.659
Xiaomi Mi Mix
2.658
Xiaomi Mi 4i
2.641
Xiaomi Redmi 4a
2.635
Sony Xperia XA
2.609
Motorola Moto G4 Plus
2.582
Motorola Moto G4 Plus (max auto)
2.582
Meizu M5s
2.58
Xiaomi Mi 4c
2.574
LeEco Le Max 2
2.567
Microsoft Lumia 640
2.563
Asus Zenfone 3 ZE552KL
2.563
Lenovo K6 Note
2.544
Lenovo Moto G4
2.544
Oppo F1
2.528
Sony Xperia Z5 Premium
2.525
Huawei Honor 7 Lite / Honor 5c
2.506
Sony Xperia M4 Aqua
2.503
Oppo F1s
2.481
Motorola Moto G
2.477
Lenovo Vibe K5 Plus
2.473
Huawei G8
2.471
Huawei nova
2.467
Sony Xperia Z
2.462
Lenovo Vibe K5
2.459
Meizu m3 max
2.447
HTC 10 evo
2.407
Huawei Honor 7
2.406
Sony Xperia E5
2.386
ZUK Z1 by Lenovo
2.382
Samsung Galaxy J5 (2016)
2.378
HTC 10
2.378
Oppo F3
2.376
vivo V5 Plus
2.371
Meizu m1 note
2.362
Huawei nova plus
2.329
HTC One E9+
2.305
Alcatel One Touch Hero
2.272
Lenovo Vibe K4 Note
2.254
Sony Xperia C5 Ultra
2.253
Xiaomi Redmi Note 3 (MediaTek)
2.249
Sony Xperia C4 Dual
2.235
Xiaomi Mi Note
2.234
Motorola Moto G (2014)
2.233
Huawei P8
2.196
Meizu M5 Note
2.189
Huawei Honor 6
2.169
Xiaomi Redmi Note 2
2.166
OnePlus Two
2.165
HTC One X
2.158
LG Aka
2.145
Xiaomi Redmi Note 4 (X20)
2.145
Archos 50 Diamond
2.134
Xiaomi Redmi Note
2.119
Xiaomi Mi 4S
2.095
Acer Liquid X2
2.084
Huawei P8lite
2.078
vivo V5
2.059
Moto G 3rd gen max manual
2.026
Xiaomi Mi Max
1.996
Sony Xperia E4g
1.972
OnePlus One
1.961
Meizu m3 note
1.923
Meizu m2 note
1.892
BlackBerry Leap
1.892
ZTE Nubia Z9 mini
1.759
Sony Xperia U
1.758
Asus Zenfone Selfie
1.68
Motorola Moto E (2nd Gen)
1.675
ZTE Nubia Z9
1.659
Jolla Jolla
1.605
Motorola Moto E
1.545
Sony Xperia M
1.473
Sony Xperia L
1.351
Xiaomi Redmi 2
1.311
HTC Desire C
1.3
Meizu MX
1.221
Sony Xperia E
1.215