Verizon's Wear24 Android Wear 2.0 smartwatch arrives on May 11, pricing revealed Comments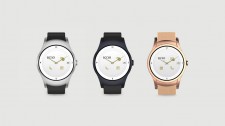 E
Do you happen to know if the watch will be compatible with other carriers sim cards?
K
This looks good in photos, pricey, has the stuff you want:
- AW2.0
- a big battery
- High-Res AMOLED display
- full-circle screen
- waterproofing
- NFC payments

So where are the corners cut? Hmmm.
Thickness = 13.5mm's (just as a comparison the LG Urbane is 10.9mm's)
LTE = an extra monthly mobile expense if you opt in
Heart Rate sensor = It's missing!
Light sensor = Must manually adjust brightness
GPS = ...or rather lack of

I do wonder what it looks and feels like in person.
Still think the LG Urbane is one of the best wearables out there, despite its age.