Highly customized gallery with unacceptable lag
The Gallery app is custom-made and looks pretty cool. When you start it up, it uses a virtual pile of your photos for a background. Unfortunately, tapping them does nothing - you have to go into the Camera roll, My library, Online, Friends or MotoCast sub-galleries to access your photos.
Anyway, once you go into a sub-gallery, things start to look up. Browsing local galleries is much like the standard experience with pictures stacked into albums. You can change that view to Timeline (view photos a day, a week or a month old), Albums, Locations, Tags or Folders.
Flipping the phone landscape launches a Cover Flow-like 3D landscape mode, with cool looking shadow effects.
Online and Friends sub-galleries handle online photo albums for you and your friends - Picasa, Facebook, Flickr and Photobucket are supported. MotoCast syncs photos between your phone and your computer, so you don't have to worry if you copied some photos to the phone or not - as long as your computer is running, you have access to them. The downside of this approach stems from just that - unlike cloud services, you need to keep your PC on for MotoCast to work.
One thing that disappointed us in previous Moto models was zooming - and they haven't fixed it for the ICS update either. Pinch-zooming is very choppy, unbecoming for a phone with a reasonably powerful chipset, and double tap zooms in and out without any animation. At least panning is smooth, but this is not acceptable for what should have been mature software by now. Hopefully, Google will crack a few whips and get things done.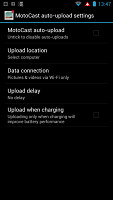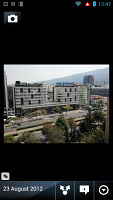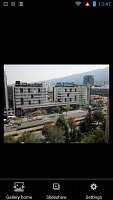 MotoCast options • The preview in the gallery
Sharing photos through the RAZR MAXX gallery is fairly easy and can be done over Bluetooth, Email, Text messaging and any of the photo-sharing services you have signed up for. You can also set up one of those accounts for Quick upload. The Quick upload option uploads the selected photo to the selected service with a single tap but unfortunately doesn't work with multiple images.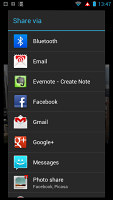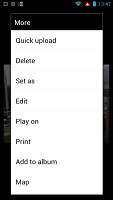 Share and edit options in the gallery
The gallery has the standard ICS photo editing features. You can add light enhancements (e.g. fill light, highlights, shadows and so on), effects, color tones (warmth, saturation, B&W, etc.), along with cropping, straightening, red eye correction and a few others.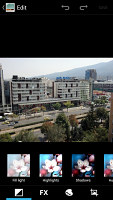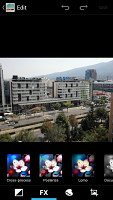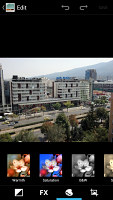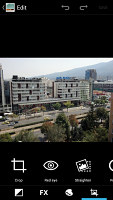 Editing gives you many built-in features
Video player handles 1080p, audio a problem
The video player on the Motorola RAZR MAXX is pretty basic - you access the videos through the standard Gallery or Files apps. In the Gallery, it offers the same UI as the gallery and the same 3D landscape view.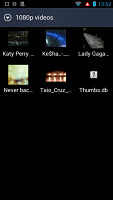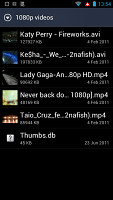 Opening video files with the file browser
The good news is there's pretty good support for multiple video codecs: out of the various DivX, XviD, MP4, X264 files we tried only one refused to play. Videos played smoothly and looked great on the qHD SuperAMOLED screen, and we even had no issues with the 1080p clips. This is where the microHDMI port becomes very useful as the Motorola RAZR MAXX can take over as a video player for your HDTV - with some limitations though.
The options in the video player are limited to forward and backward scrubbing and viewing the video in its original resolution (only if it's lower than the screen resolution). No brightness settings, subtitles or anything more advanced than simply playing the video is available.
Anyway, the biggest issue we found with the player wasn't video codec support - the audio codecs were the ones causing problems. Videos that used AC3 and DTS (the most common audio codecs for HD videos in MKV format) wouldn't play.
Still, a third party player from the market can solve the issue of missing features.
Music player with tons of settings and info
The Motorola RAZR MAXX running ICS comes with a custom music player that looks a lot like the gallery. It offers several different music sources - My library (with MotoCast integration), Internet radio and DLNA servers.
Once you get into the My library, you are presented with an interface that works a lot like the phonebook - complete with a feature that's a lot like quick contacts. You can view your tracks grouped by artist, album, genre, view all songs or use playlists.
One cool feature that can be accessed from the quick shortcuts is the info screen, which shows you artist bio, related events, photos, music videos, discography and an option to browse similar artists.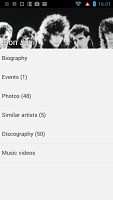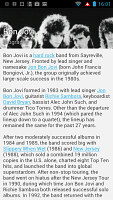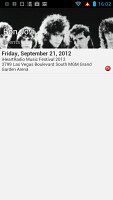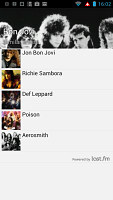 A cool screen with a lot of info on any artist in your library
Anyway, when you get into the Now playing interface you can see the album art (with a shortcut for the artist info screen) and you have shortcuts to share the song you're listening to on a social network.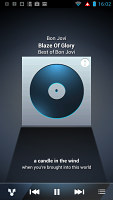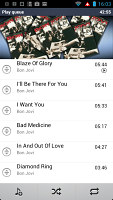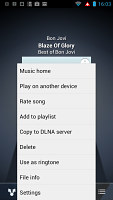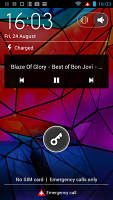 The Now playing mode • Lyrics • Track info on the lockscreen
There's a wide array of audio settings available - both for headphones and loudspeaker playback.
For headphones you get 3D stereo, Home theater, Live Stage or Custom, which includes yet more things like Extreme Bass, Bass punch, Balanced, Brilliant Treble and Vocalizer but no actual custom equalizer settings. You can switch the equalizer off too if you like.
For playing music on the loudspeaker, you only get the Custom equalizer settings.
The music player would also automatically fetch lyrics for the currently playing song and display them karaoke style. You can also tap on the two-line lyrics autocue to view the lyrics for the whole song.
The music player has extensive DLNA options. You can choose to continue playing a track on another DLNA device, copy it to a DLNA server, share the phone's music library over DLNA and there are even options to let other devices upload songs to the phone or enable Xbox support.
Excellent audio output
As expected, the Motorola RAZR MAXX did really well in our audio quality test. Just like its RAZR XT910 sibling it got excellent scores all over the field and impressed with its high volume levels in the first part of our test. Indeed, when connected to an active external amplifier, the RAZR MAXX is among the best performers we have seen.
Things are as impressive when you plug in a pair of headphones, but the RAZR MAXX still remains a competent performer. Stereo crosstalk and intermodulation distortion took the biggest hits, while volume levels went from great to good. Frequency response also worsened a bit, but still remained decent.
| | | | | | | |
| --- | --- | --- | --- | --- | --- | --- |
| Test | Frequency response | Noise level | Dynamic range | THD | IMD + Noise | Stereo crosstalk |
| Motorola RAZR MAXX | +0.20, -0.30 | -91.0 | 90.2 | 0.0021 | 0.012 | -91.1 |
| Motorola RAZR MAXX (headphones attached) | +0.67, -0.18 | -90.5 | 89.8 | 0.027 | 0.533 | -60.9 |
| Motorola RAZR XT910 | +0.01, -0.08 | -90.9 | 90.0 | 0.0020 | 0.013 | -90.2 |
| Motorola RAZR XT910 (headphones attached) | +0.67, -0.18 | -89.2 | 88.5 | 0.027 | 0.534 | -56.0 |
| HTC One S | +0.13, -0.10 | -91.0 | 90.6 | 0.0089 | 0.015 | -92.6 |
| HTC One S (headphones attached) | +0.13, -0.04 | -90.7 | 90.6 | 0.011 | 0.065 | -74.0 |
| Huawei Ascend P1 | +0.07, -0.07 | -90.3 | 89.6 | 0.0066 | 0.014 | -90.4 |
| Huawei Ascend P1 (headphones attached) | +0.08, -0.04 | -88.3 | 86.3 | 0.011 | 0.068 | -39.3 |
| Samsung I9100 Galaxy S II | +0.04, -0.09 | -91.4 | 91.9 | 0.0042 | 0.066 | -89.7 |
| Samsung I9100 Galaxy S II (headphones attached) | +1.05, -0.22 | -90.0 | 90.2 | 0.013 | 0.647 | -49.4 |
| Apple iPhone 4S | +0.02, -0.11 | -91.2 | 91.2 | 0.0020 | 0.012 | -93.0 |
| Apple iPhone 4S (headphones attached) | +0.05, -0.10 | -91.3 | 91.3 | 0.0068 | 0.071 | -66.7 |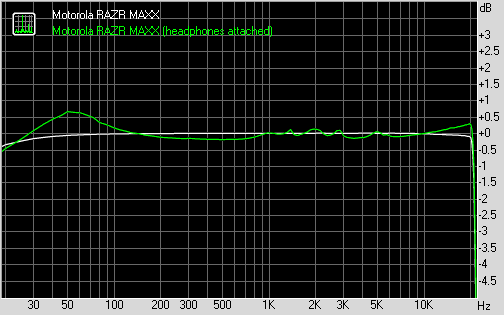 Motorola RAZR MAXX frequency response
You can learn more about the whole testing process here.