Phonebook has Gtalk integration
Contacts are part of the Phone app and the layout is pretty standard - you get a list of all contacts sorted alphabetically with an alphabet scroll to quickly jump to a specific letter. Quick contacts are available too for easy access to some features.
Contacts can be synced with multiple services, including Google's own, as well as Exchange accounts, Facebook and Twitter among others. Viewing a single contact is pretty standard too, except you can swipe left to view recent Gtalk messages. Unfortunately, nothing else goes in here - no recent calls, texts, no social networking updates, nothing but Gtalk, which really limits its use.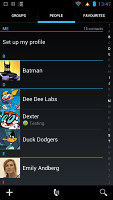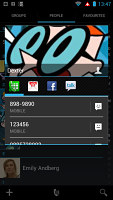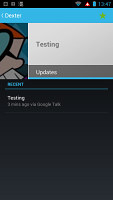 The Phonebook • Limited social networking integration in the phonebook
If you've connected your phone to a social networking account, you'll get links to the contact's profile in those networks under the Connections heading. That's all it does though.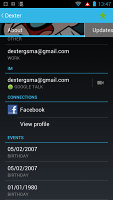 This is the extent of the social networking integration
You can add new contact details besides the preset ones. There's no limit to the fields you can add to a contact. You can also link contacts, which aggregates information from multiple services into a single, combined entry.
You can also star contacts so they go into the Favorites tab - which is a two-column grid of large thumbnails of the contact's photos. Those contacts are shown in the Phonebook tab in the dialer in the same format, with the regular phonebook below them.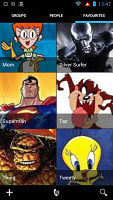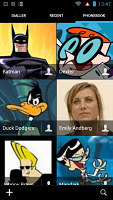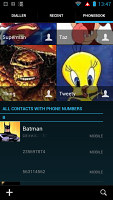 Favorites • Phonebook tab in the dialer
Telephony has Smart dialing, smart tricks
The Motorola RAZR MAXX didn't have any reception issues and the sound was loud and clear on both ends of calls. The RAZR MAXX features a secondary microphone to suppress ambient noise during calls.
Upon an incoming call, you get a similar interface to that of the lockscreen. You can accept or reject a call, including rejecting a call with an SMS.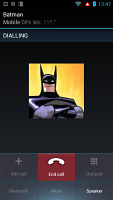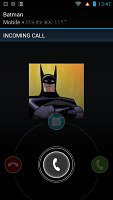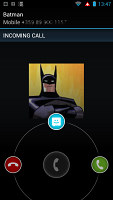 Calling Batman • Batman calls back
Smart dialing is enabled on the MAXX. It shows only one matching contact at a time - you can use the down arrow to reveal alternative suggestions.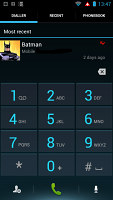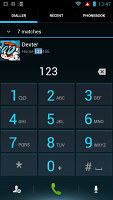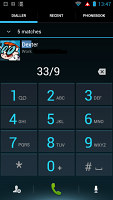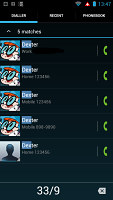 Smart dialing and voice commands
Voice commands are here too (a custom Motorola job), available through a handy shortcut in the dialer. You can use them to dial, send a message, play a song and a few other options. A press and hold on the Search key will bring up the default Android voice command feature.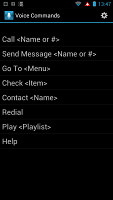 Motorola's custom voice commands
The call log integrates into the dialer and has a couple of clever tricks. First off, each call entry has several arrows next to it - green for outgoing calls, blue for incoming and red for missed. Calls to/from a single contact are grouped and the arrows show the sequence of calls with that contact. The other trick is to press and hold on a cal log entry and choose "Add to tasks". That puts down a reminder in the Tasks app, e.g. "Call Dexter".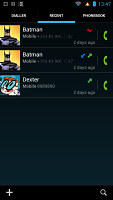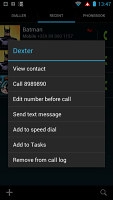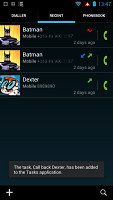 The call log knows helpful tricks
Another cool thing you can do is make the phone read out the caller ID for an incoming call, assign custom ringtones to contacts or even enable a reject call option. There's also an option for hearing aid compatible devices.
We ran our traditional loudspeaker test on the Motorola RAZR MAXX. The handset rated as Good and its vibration was quite strong too. The loudspeaker is a little quieter than what the RAZR XT910 has, but you shouldn't have issues hearing it in all but the loudest environments. More info on our loudspeaker test can be found here.
| | | | | |
| --- | --- | --- | --- | --- |
| Speakerphone test | Voice, dB | Pink noise/ Music, dB | Ringing phone, dB | Overal score |
| Sony Xperia sola | 60.9 | 59.0 | 61.7 | Below Average |
| HTC One V | 66.9 | 65.3 | 67.7 | Below Average |
| Apple iPhone 4S | 65.8 | 64.5 | 74.6 | Average |
| Sony Xperia S | 72.7 | 61.8 | 69.6 | Average |
| HTC One S | 65.1 | 64.6 | 76.7 | Average |
| Sony Xperia Go | 65.8 | 65.4 | 76.9 | Good |
| Motorola RAZR MAXX | 70.6 | 66.3 | 81.2 | Good |
| Motorola RAZR XT910 | 74.7 | 66.6 | 82.1 | Very Good |
| HTC Desire | 76.6 | 75.7 | 84.6 | Excellent |
All-in-one Messaging app is gone, garden variety instead
Motorola used to have a really awesome app called Messaging that combined every conceivable form of messaging - texting, email, IM and social networking solutions. It's gone now.
What you do get is the Messages app, which is pretty much your ordinary Android SMS and MMS department - threaded messaging is enabled and the message composer has a neat and simple interface.
Messages can easily be added to the Tasks app to serve as reminders and they can be locked to prevent accidental deletion. There's an option to enable delivery reports and you can limit the number of messages in a conversation (200 by default).
The tap-to-compose box starts off as a single line but it will expand as you go, up to eight lines. You also get a quick character counter (and message part counter) as you type.
A press-and-hold in the tap-to-compose area gives you access to actions such as cut, copy and paste. You are free to paste the copied text across applications like email, notes, chats, etc.
Converting an SMS to MMS is pretty simple - you just add a photo or an audio file to go with the text or you can choose to go into a full-blown MMS editor.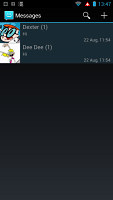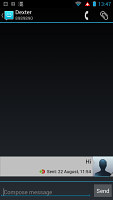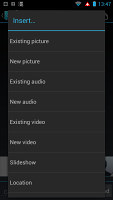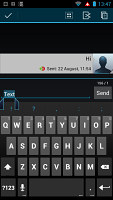 Inserting content into a message • Text selection and options
Gmail and generic email clients
For email there are the Gmail app and a generic email app. In Gmail, batch operations are supported and allow multiple emails to be archived, labeled or deleted. You can enable push email or schedule automatic updates. There's an option to only sync over Wi-Fi, which is sure to save you data charges.
A combined inbox for any email service provider is available in the generic email app called simply Email. Batch operations are supported here as well.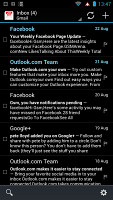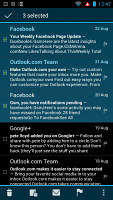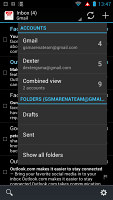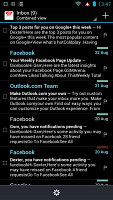 The generic Email app has Batch actions • combined inbox
To help you navigate your busy inbox there's conversation view and also emails can be sorted by date, sender, importance and status (read/unread), attachment or flagged. The app shows a preview for each email consisting of two, three or four lines (you can set that in the options).
It supports simple gesture actions too - you can set an action for left-to-right and right-to-left swipes on emails in the list. Available actions are mark as read/unread, move or delete.
Another nice feature is the Dark theme, which is enabled by default. It uses a black background to minimize energy consumption on the AMOLED screen.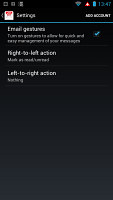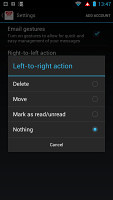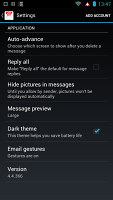 Swipe left or right gestures can do simple actions • the dark theme increases battery life
For text input on the Motorola RAZR MAXX you get two options - the Swype keyboard (enabled by default) or the standard Motorola QWERTY keyboard. There's handwriting recognition, which is useful for entering Chinese characters. Typing is pretty comfortable as the keyboard is multitouch capable and the big screen helps too. You can go to landscape mode if you want it even bigger.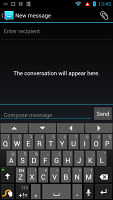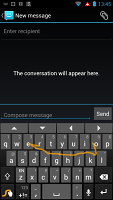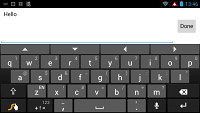 The default text input on the Motorola RAZR MAXX is Swype
If you have a Bluetooth or a USB keyboard hooked up, you can enable the US International keyboard layout (but other layouts are not available). If there's a mouse or a trackpad, the pointer speed can be adjusted. These are all helpful settings if you have a dock and use your RAZR MAXX as a PC replacement.