6.7-inch main and 2.7-inch external display
The Motorola Razr 2022 has two separate displays on board, each interesting in its own right. Let's start with the internal one. It uses a 6.7-inch foldable AMOLED panel. Beyond its obvious party trick of folding in half, the Razr 2022's internal screen is a great panel for a few reasons. For one, it can refresh at up to 144Hz. It also supports 10-bit color and is certified for HDR10+. Resolution-wise, it has 1080 x 2400 pixels, which works out to a perfectly-sharp 393 ppi and an aspect ratio of 20:9. That aspect ratio is notably wider than, say, the Samsung Galaxy Z Flip4 - a detail worth noting.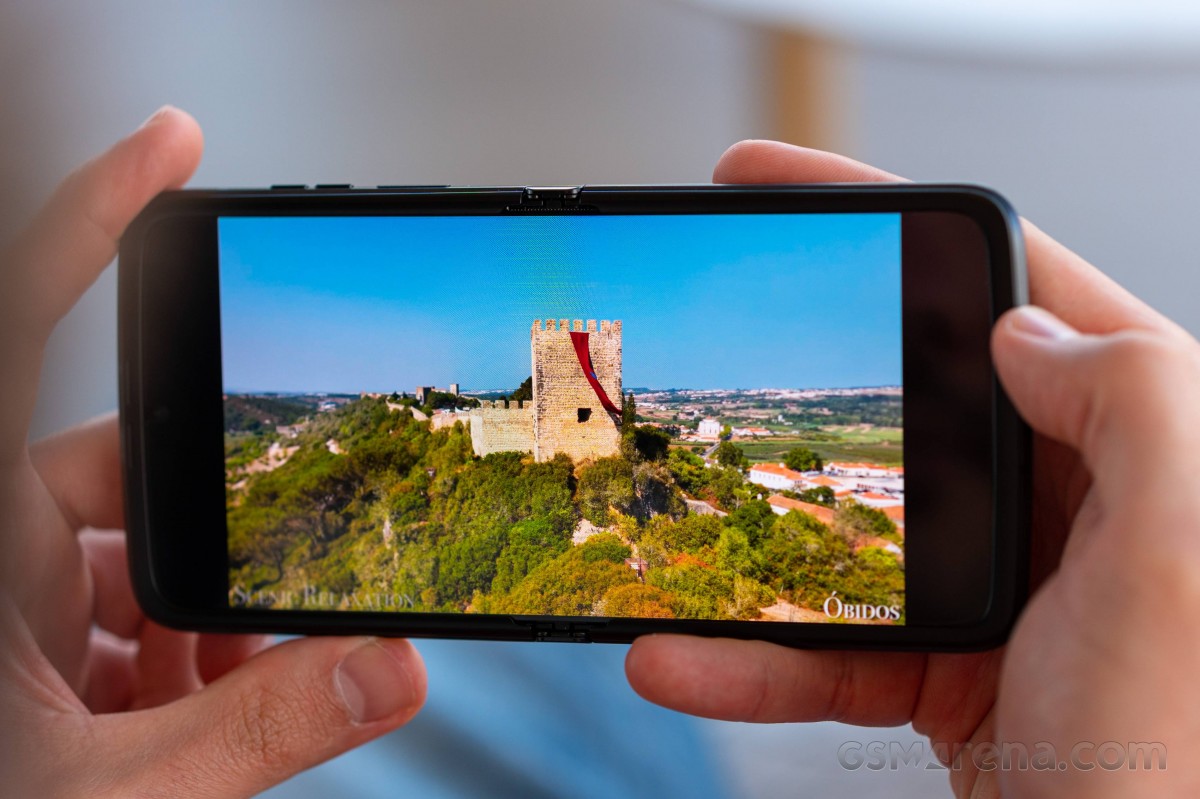 The 6.7-inch display on the Razr 2022 also offers impressive performance. We measured just shy of 500 nits of maximum brightness on the slider. There is a max auto mode beyond that, which makes the panel shine at over 1000 nits, making it a pleasure to use even in bright sunny conditions.
Display test
100% brightness
Black,cd/m2
White,cd/m2
Contrast ratio
Xiaomi Mix Fold 2 (Max Auto)
0
1054
∞
Samsung Galaxy Z Fold4 (Cover display, Max Auto)
0
1034
∞
Motorola Razr 2022 (Max Auto)
0
1033
∞
Samsung Galaxy Z Fold4 (Max Auto)
0
1000
∞
Xiaomi Mix Fold 2 (Cover Display, Max Auto)
0
940
∞
Samsung Galaxy Z Flip3 5G (Max Auto)
0
935
∞
Samsung Galaxy Z Flip4 (Max Auto)
0
919
∞
Huawei P50 Pocket (Max Auto)
0
803
∞
Oppo Find N Cover (Max Auto)
0
785
∞
Oppo Find N (Max Auto)
0
582
∞
Xiaomi Mix Fold 2
0
522
∞
Huawei P50 Pocket
0
521
∞
Samsung Galaxy Z Flip4
0
505
∞
Samsung Galaxy Z Fold4
0
505
∞
Oppo Find N Cover
0
505
∞
Samsung Galaxy Z Flip3 5G
0
503
∞
Xiaomi Mix Fold 2 (Cover Display)
0
501
∞
Motorola Razr 2022
0
496
∞
Oppo Find N
0
490
∞
Samsung Galaxy Z Fold4 (Cover display)
0
486
∞
Motorola Razr 2022 (Cover display)
0
369
∞
The outside 2.7-inch AMOLED panel isn't quite as bright as its sibling. We measured about 370 nits. It can be a bit hard to use outdoors, which is something worth noting. On a more positive note, its resolution of 573 x 800 pixels is quite high, making most apps at least somewhat usable on it, despite the slightly odd aspect ratio.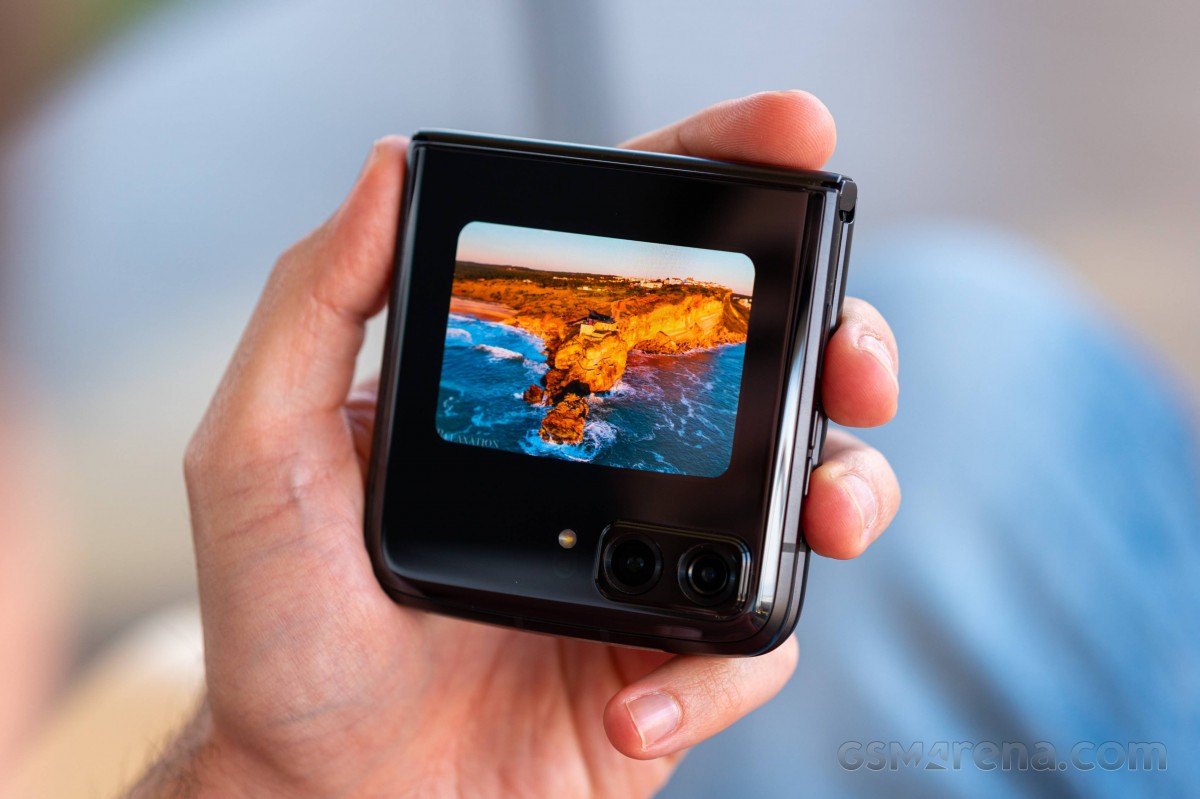 Circling back to the main display and its performance characteristics, we were impressed by the panel's color accuracy. The Razr 2022 has two color modes available in settings - saturated and natural.
Saturated aims for the DCI-P3 color space and gets very close to what we would consider color-accurate. All three color channels are just a bit boosted by Motorola to achieve that signature OLED "pop". If color accuracy is what you are after, the Natural mode will be up your alley. It fully covers the sRGB color space and is extremely color accurate.
We already mentioned that the display on the Razr 2022 is HDR10+ certified. Beyond that, the phone also reports decoding support for HDR10, HDR10+ and HLG.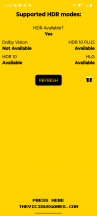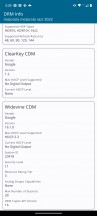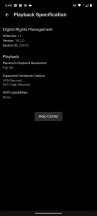 HDR support • DRM info • Netflix playback capabilities
It also has the highest Widevine L1 DRM certification in place, allowing streaming services such as Netflix to saturate its resolution and offer up FullHD streams.
High refresh rate handling
The Razr 2022 offers a variable refresh rate of up to 144Hz. When we say variable, we mean that the phone has quite a few refresh rate "steps" available, hidden away behind the non-descriptive "Auto" mode in settings.
The main display on the Razr 2022 can do 48Hz, 60Hz, 90Hz, 120Hz and 144Hz. As far as we managed to test, the external display is fixed at 60Hz. Motorola has implemented a pretty dynamic refresh rate management system. When you leave the Razr 2022 on Auto refresh rate mode, it operates at 120Hz while interacting with the phone and 120Hz or 90Hz when something is actively moving on the screen.
Leave the phone alone on a static image for a few seconds, and it will automatically drop to 60Hz to conserve energy. The only time we saw a drop to 48Hz was on the always-on-display for brief moments.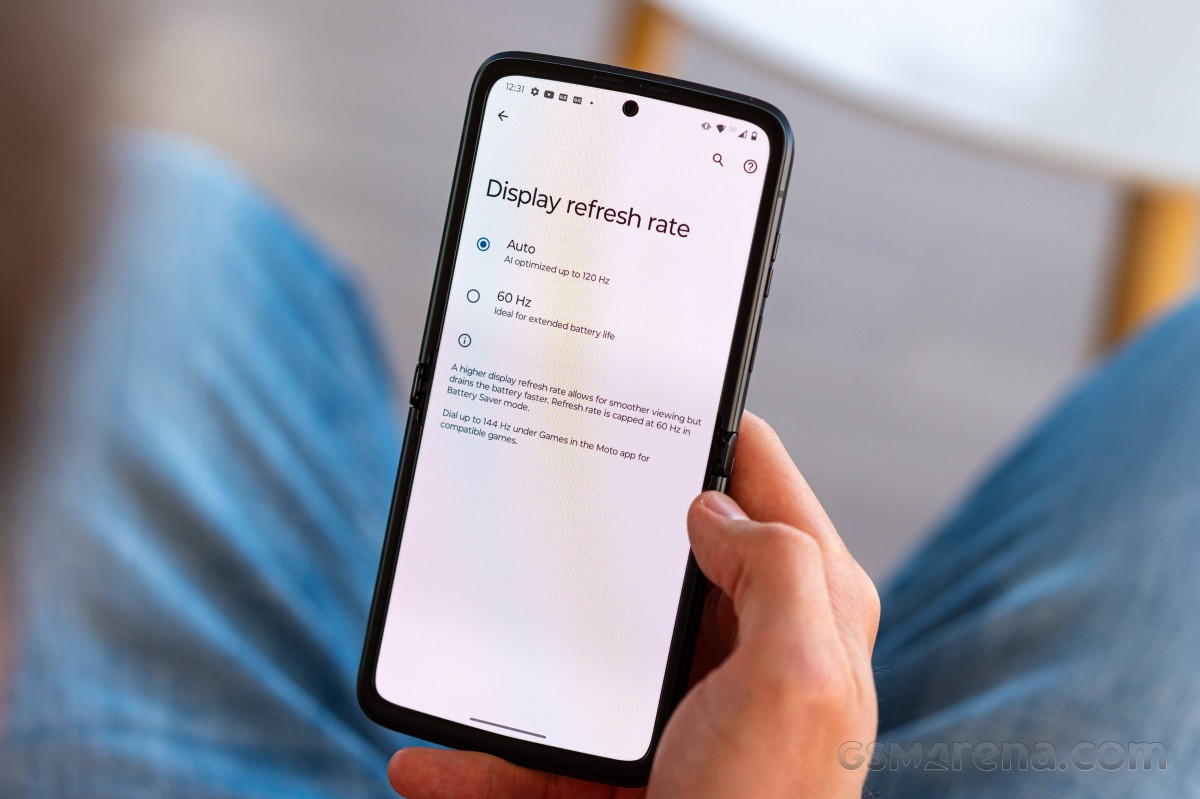 There are seemingly extra "smarts" at play as well, namely that the phone recognizes video playback and is a lot more aggressive in dropping its refresh rate down to 60Hz while a video is playing.
144Hz is meant exclusively for gaming on the Razr 2022. The only way you can access the mode is through the Motorola Games launcher on a per-game basis. The good news is that most games we tried that we know can render at over 60fps were more than happy to do so.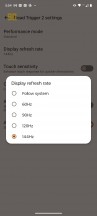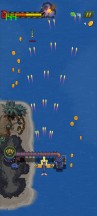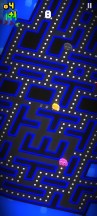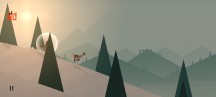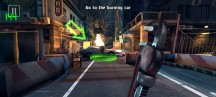 High refresh rate gaming at up to 144Hz
There were still some exceptions, but most games worked just fine all the way up to 144Hz mode, and some graphical benchmarks did as well.
Overall, the automatic refresh rate system on the Razr 2022 works quite well. It is fluent and comprehensive in its actions. We particularly appreciate the ability to set a fixed refresh rate on a per-game basis and would like to see Motorola extend that ability to any app in the future. Other than that and the odd game that refused to comply with our refresh rate setting, we have no gripes with the system.
Battery life
Battery life has always been a bit of a sore spot on modern foldables. It just sort of comes with the territory. The Motorola Razr 2022 packs a rather small 3,500 mAh battery. All the while, it is running on the flagship Qualcomm Snapdragon 8+ Gen 1 chipset, which is not exactly the most efficient part around.
This adds up to a rather modest total endurance rating of 64 hours in our proprietary test. Network standby proved to be sort of an Achilles' heel for the Razr 2022. Aside from that, its on-screen tests and general screen-on times are not that bad.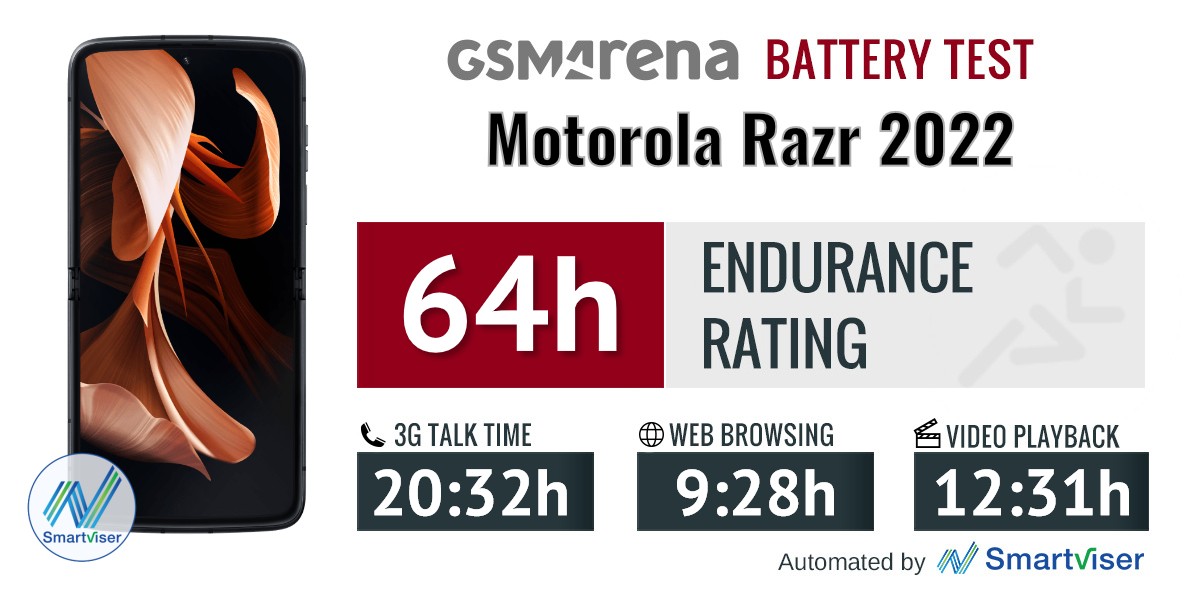 Our battery tests were automated thanks to SmartViser, using its viSerDevice app. The endurance rating denotes how long the battery charge will last you if you use the device for an hour of telephony, web browsing, and video playback daily. More details can be found here.
Video test carried out in 60Hz refresh rate mode. Web browsing test is done at the display's highest refresh rate whenever possible. Refer to the respective reviews for specifics. To adjust the endurance rating formula to match your own usage patterns, check out our all-time battery test results chart, where you can also find all phones we've tested.
Charging speed
The Razr 2022 ships with a 30W TurboPower charger. At its core, it is a USB Power Delivery charger rated for 5V@3A, 9V@3A and 10V@3A outputs. While we appreciate the use of modern, standardized charging protocols and a USB Type-C to Type-C cable, it should be noted that we experienced some issues with the reversible connector. Namely, reversing the connector oftentimes resulted in a lower charging rate. This is not an isolated issue; we've seen it on other phones, so just be aware that it's a thing.
Even when working correctly, charging on the Motorola Razr 2022 isn't particularly fast. In fact, it is kind of sluggish, especially considering the relatively small battery pack. The Razr 2022 managed to charge from zero to 19% in 15 minutes, then 37% in 30 minutes. A full charge took just over an hour and a half.
30min charging test (from 0%)
Higher is better
Motorola Edge 30 Neo
92%
Motorola Edge 30 Fusion
82%
Xiaomi Mix Fold 2
77%
Huawei P50 Pocket
70%
Samsung Galaxy S22
63%
Asus Zenfone 8
60%
Oppo Find N
57%
Samsung Galaxy Z Flip4
55%
Samsung Galaxy Z Fold4
50%
Sony Xperia 1 IV
47%
Sony Xperia 5 IV
45%
Samsung Galaxy Z Flip3 5G
40%
Motorola Razr 2022
37%
Samsung Galaxy Z Fold3 5G
33%
Motorola Moto G62
24%
Time to full charge (from 0%)
Lower is better
Motorola Edge 30 Neo
0:40h
Xiaomi Mix Fold 2
0:45h
Motorola Edge 30 Fusion
0:52h
Huawei P50 Pocket
0:54h
Samsung Galaxy S22
1:03h
Oppo Find N
1:05h
Samsung Galaxy Z Flip4
1:15h
Samsung Galaxy Z Fold4
1:19h
Asus Zenfone 8
1:28h
Samsung Galaxy Z Flip3 5G
1:30h
Motorola Razr 2022
1:34h
Sony Xperia 1 IV
1:42h
Sony Xperia 5 IV
1:45h
Motorola Moto G62
1:46h
Samsung Galaxy Z Fold3 5G
1:46h
It is worth noting that the Razr 2022 has a rather odd charging behavior - it starts off taking in around 22 wats from the charger for about a minute, then quickly drops down to about 8 to 9 wats and stays there for the duration of the charging session. Mind you, we used the bundled charger and cable, and the phone wasn't getting hot either, so there is no logical explanation for why it charged so slowly across two different charging sessions.
Speaker test
The Razr 2022 has the classic hybrid stereo speaker setup, where the earpiece also works as an extra channel. It's assigned the left channel in portrait orientation, and the phone switches channels in landscape depending on the orientation. Each speaker gets its own channel only - there's no outsourcing of some (lower) frequencies from the earpiece to the 'main' speaker on the bottom.
The phone posted a rather impressive result for loudness in our test, managing a solid "VERY GOOD" score. In terms of output quality, the Moto is solid, with particularly good mids. For what it's worth, it sounds good to our ears, with clean vocals and even some bass.
The Razr 2022 comes with Dolby Atmos optimization and equalizers to fine-tune your multimedia experience.
Use the Playback controls to listen to the phone sample recordings (best use headphones). We measure the average loudness of the speakers in LUFS. A lower absolute value means a louder sound. A look at the frequency response chart will tell you how far off the ideal "0db" flat line is the reproduction of the bass, treble, and mid frequencies. You can add more phones to compare how they differ. The scores and ratings are not comparable with our older loudspeaker test. Learn more about how we test here.