Have it your way
Motorola Moto X (2014) review: Have it your way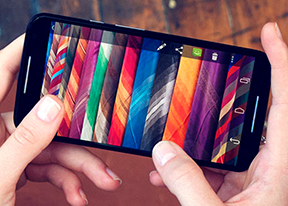 Introduction
The new Moto X arrived exactly a year after its predecessor brought us customizable looks, wrapped in a sleek body, proudly wearing the "Made in USA" label. The new flagship of the company is likely one of the last Motorola products developed during Google's reign of the company - the storied American brand is bound to soon become part of Lenovo.
Moto X (2014) official photos
Like the first generation Moto X, the successor boasts a customizable body. This year, the manufacturer has brought even more personalization possibilities to the table, headed by high quality, genuine Horween leather back options.
The Qualcomm Snapdragon 801 SoC found inside the Moto X is the default option in this year's class of high-end Android smartphones. The device's 5.2" 1080p AMOLED display and the 13MP camera with UHD video recording are also ready to take on the competition.
As always, here goes the full list of features the new Moto X has to offer, followed by some of its shortcomings.
Key features
Quad-band GSM; HSDPA/LTE connectivity
5.2" AMOLED display, 1920 x 1080 pixels, 424ppi; Corning Gorilla Glass 3
Android 4.4.4 KitKat with stock UI (upgradable to Android L)
Qualcomm Snapdragon 801 MSM8974AC chipset with quad-core 2.5GHz Krait 400 processor, Adreno 330 GPU and 2GB of RAM
13MP camera, dual-LED ring flash, 2160p video recording
2MP front-facing camera with 1080p video recording
16/32GB of built-in storage
Active noise cancellation with four microphones
2,300mAh non-removable battery
Gesture controls via built-in IR sensors
Available voice control and active notifications
Sleek, customizable body with superb build, tactility, and handling; optional genuine leather or eco-friendly wood back covers
Attractive pricing both on and off contract
Main disadvantages
No stereo speakers (the cheaper Moto G has them)
Lack of memory expansion slot
No version with 64GB of memory at launch
Rather low battery capacity
At a quick glance, the Moto X (2014) specs are up speed with most of its peers. Unlike its predecessor, which banked heavily on attractive looks and superior handling to cover up its hardware shortcomings, the new Moto X offers chipset, display, and camera worthy of a 2014 Android flagship.
Still, with trademark features such as QHD screen or Snapdragon 805 chipset not making the list, the Moto X will once agin be defined by its appearance and build quality. The new model elevates both to proportions unseen before in this price range. The all-new metal frame combined with the optional leather or wood back covers makes the device a highly desirable object from the get go.
Memory expansion slot would have surely been a welcome sight, but, once again, the feature didn't make it and unfortunately, neither did the 64GB built-in memory version. Another major question mark is the battery life of the new Moto X - the non-removable 2,300mAh unit is simply not on par with what's featured in today' Android flagships.
Hit the next page for a closer look at the latest Motorola flagship. As always, we'll kick our review off with an unboxing of the Moto X, followed by design and hardware inspection.
Editorial: You may notice that this review is shorter than usual and doesn't include some of our proprietary tests. The reason is it has been prepared and written away from our test labs. Still, we think we've captured the essence of the device in the same precise, informative and detailed way that's become our trademark. Enjoy the good read!
?
Is the smartphone waterproof? Can we root it and get root permission on apps?
l
When I am making a call I hardly hear what my opponent says and it makes hot when I am playing games and browsing