Smooth LCD with two cutouts
The 1080 x 2520px resolution of the 6.7" display makes up for an extra tall 21:9 aspect ratio. The 90Hz refresh rate enables buttery-smooth animations and gameplay for supported titles and you get HDR10 support too. Interestingly enough, we couldn't make it to work in the Netflix app, but YouTube had no issues serving HDR content. Perhaps it's a glitch that Motorola and Netflix will quickly resolve as the Netflix's app clearly stated that the Moto G 5G Plus supports the Widevine L1.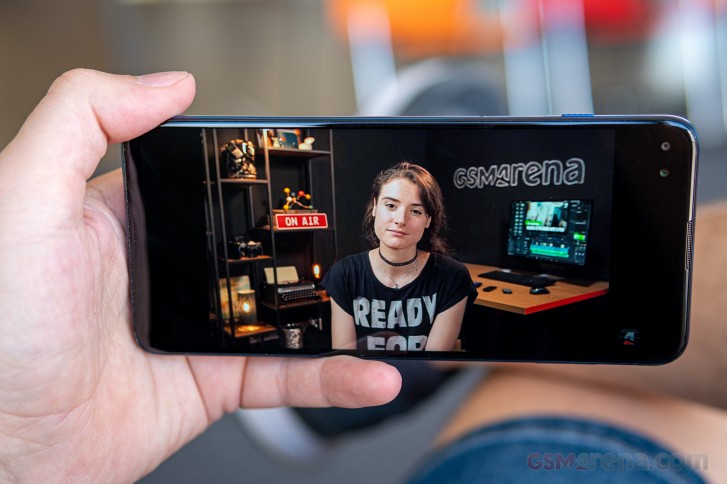 Moving to the actual tests - with the slider cranked up manually to 100%, the display hits 443 nits and when set to auto mode, it can go up to 543 nits in bright environments. That's not very bright compared to other phones in the same class, but should still provide sufficient legibility in any lighting conditions.
Display test
100% brightness
Black,cd/m2
White,cd/m2
Contrast ratio
Motorola Moto G 5G Plus
0.349
443
1269:1
Motorola Moto G 5G Plus (Max Auto)
0.466
543
1165:1
Motorola Moto G Pro
0.296
421
1422:1
Motorola Moto G Pro (Max Auto)
0.452
642
1420:1
Xiaomi Mi 10 Lite 5G
0
442
∞
Xiaomi Mi 10 Lite 5G (Max Auto)
0
610
∞
Xiaomi Mi Note 10 Lite
0
424
∞
Xiaomi Mi Note 10 Lite (Max Auto)
0
596
∞
Realme 6
0.343
451
1315:1
Realme 6 Pro
0.318
421
1324:1
Color accuracy is the biggest issue of the display. With the default Saturated color mode, the average dE2000 is 6.3 and a maximum deviation of 12. As usual, whites and grays are way off, getting closer to blue while cyans, purples, yellows, blues and reds, are a bit overly saturated. Going for the natural mode does improve color accuracy quite a bit lowering the average dE2000 to 3.1 but also lowering the maximum brightness down to 392 nits. Whites, grays and cyans remain somewhat inaccurate.
Battery life
The Moto G 5G Plus boasts a 5,000 mAh battery, which proved to be more than enough to power up the current hardware for hours on end. We are pretty happy with the talk time and the screen-on tests. We ran the web browsing test at 90Hz while the video was at 60Hz because the adaptive refresh rate option switches back to 60Hz when you don't need the extra refresh rate - like with videos and with static images.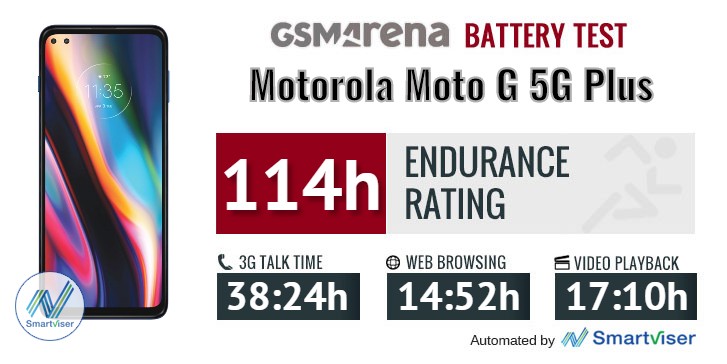 Our battery tests were automated thanks to SmartViser, using its viSerDevice app. The endurance rating above denotes how long a single battery charge will last you if you use the Motorola Moto G 5G Plus for an hour each of telephony, web browsing, and video playback daily. We've established this usage pattern so that our battery results are comparable across devices in the most common day-to-day tasks. The battery testing procedure is described in detail in case you're interested in the nitty-gritty. You can check out our complete battery test table, where you can see how all of the smartphones we've tested will compare under your own typical use.
The 20W fast charging, while better than nothing only fills 35% of the admittedly large battery in 30 minutes, while a full recharge took approximately 2 hours and 10 minutes.
Speaker test
The Moto G 5G Plus has a single, bottom-firing loudspeaker as most phones do and it's not particularly impressive in any aspect. The whole sound experience can be described as average - in terms of quality and loudness.
Use the Playback controls to listen to the phone sample recordings (best use headphones). We measure the average loudness of the speakers in LUFS. A lower absolute value means a louder sound. A look at the frequency response chart will tell you how far off the ideal "0db" flat line is the reproduction of the bass, treble, and mid frequencies. You can add more phones to compare how they differ. The scores and ratings are not comparable with our older loudspeaker test. Learn more about how we test here.
Audio output quality
We've recently discontinued our audio output quality test.
The reason for that is that most phones that arrived for testing were already excellent in this regard and whatever difference there was, it was marginal and probably indistinguishable to anything but our lab equipment.