Big 6.7-inch IPS with centered punch-hole
The Moto G 5G features a 6.7-inch, IPS LCD panel with 1080 x 2400px resolution (20:9 aspect ratio). Pretty similar to the Plus' 6.7-inch IPS but with a couple of key differences. The punch-hole for the front-facing camera is centered, and the refresh rate is a standard 60Hz.
HDR10 is supported, though, but as with the Plus, we found it to work only on YouTube but not on Netflix. The latter supports HD video streaming as the handset is Widevine L1-certified.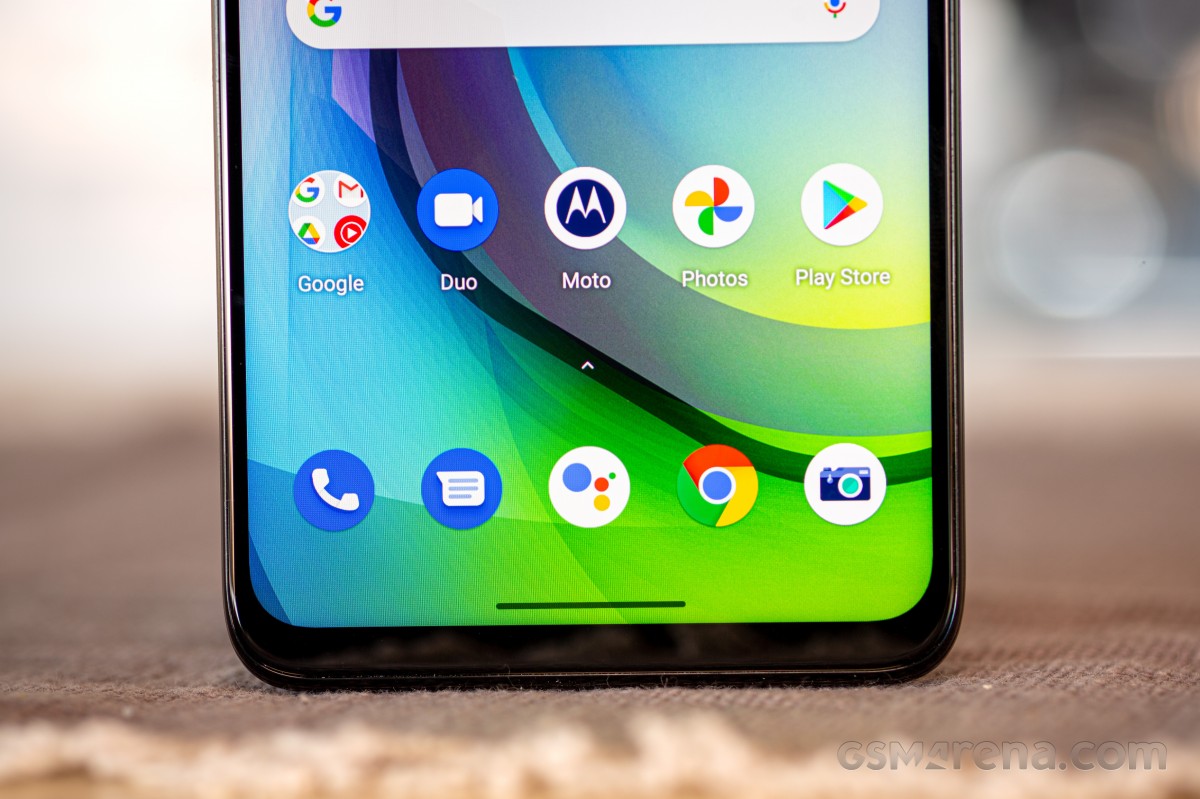 Another big difference that popped up after doing our usual round of testing is the brightness. With the brightness slider cranked up to maximum, the display can peak at 484 nits, and there's no Max Auto mode to boost beyond that. The Plus at least could go up to 543 nits.
Display test
100% brightness
Black,cd/m2
White,cd/m2
Contrast ratio
Motorola Moto G 5G Plus
0.349
443
1269:1
Motorola Moto G 5G Plus (Max Auto)
0.466
543
1165:1
Motorola Moto G 5G
0.341
484
1419:1
Realme 7 Pro
0
459
∞
Realme 7 Pro (Max Auto)
0
585
∞
Realme 7 5G
0.376
484
1287:1
Realme 7 5G (Max Auto)
0.667
571
856:1
Samsung Galaxy A42 5G
0
395
∞
Samsung Galaxy A42 5G (Max Auto)
0
570
∞
Xiaomi Mi 10T Lite
0.348
476
1368:1
Xiaomi Mi 10T Lite (Max Auto)
0.455
596
1310:1
Color accuracy isn't stellar in the default Saturated mode as the average dE2000 is 6.7 mostly due to boosted cyans and blue-ish whites and grays. Going for the Natural mode will bring down the dE2000 to 3.2, but the white still remains a bit blue-ish.
Battery life
Even though the Moto G 5G and the Plus iteration have the same display size (6.7"), software and batteries (5,000 mAh), the vanilla comes out on top when it comes to battery endurance. The Moto G 5G scored the impressive 131h Endurance score with impressive runtimes in both the screen-on and screen-off tests.
In fact, an overall score of 131h earns the Moto G 5G's one of the top positions in our all-time battery rankings. It sits right under its siblings, the Moto G9 Plus and the Moto G8 Power (we are currently reviewing the G9 Power but don't have the numbers just yet).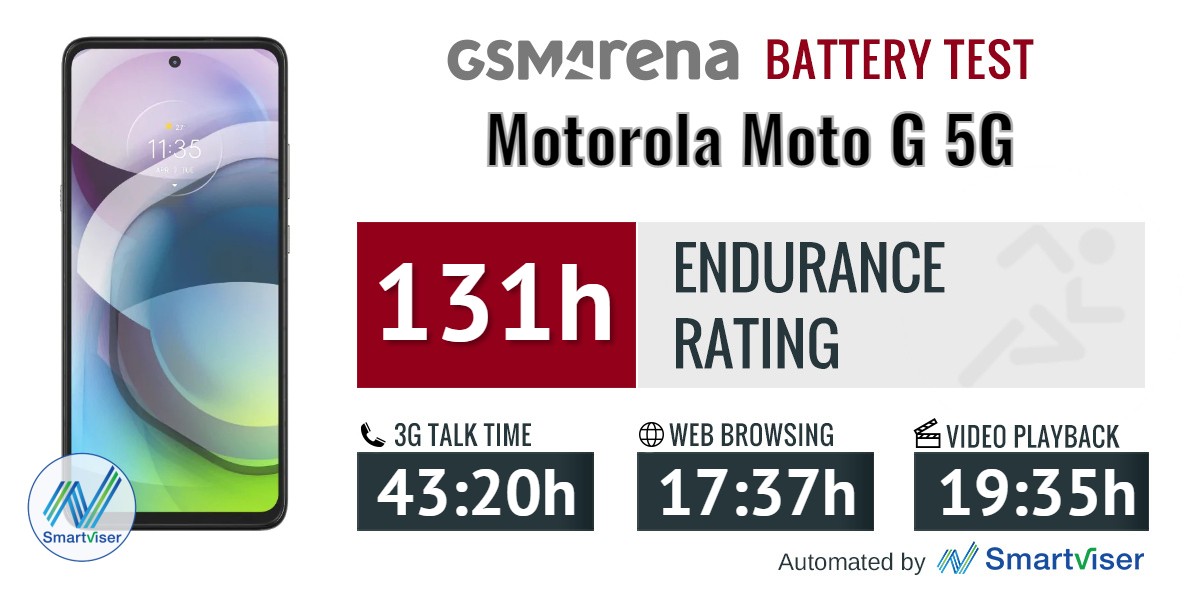 Our battery tests were automated thanks to SmartViser, using its viSerDevice app. The endurance rating above denotes how long a single battery charge will last you if you use the Motorola Moto G 5G for an hour each of telephony, web browsing, and video playback daily. We've established this usage pattern so that our battery results are comparable across devices in the most common day-to-day tasks. The battery testing procedure is described in detail in case you're interested in the nitty-gritty. You can check out our complete battery test table, where you can see how all of the smartphones we've tested will compare under your own typical use.
Charging speed
Like the Moto G 5G Plus, the standard model performed poorly in our charging test, reaching 100% from a flat battery in 2 hours and 11 minutes. And it seems that even in the beginning, the charging curve isn't very steep either as the battery had only reached 36% by the 30-minute mark. That's considerably slower than the competition, although it can probably be expected given the 20W charger and the big 5,000 mAh unit.
30min charging test (from 0%)
Realme 7 Pro
94%
Xiaomi Mi 10T Lite 5G
68%
Realme 7 5G
57%
Motorola Moto G 5G
36%
Motorola Moto G 5G Plus
35%
Samsung Galaxy A42 5G
27%
Time to full charge (from 0%)
Realme 7 Pro
0:37h
Xiaomi Mi 10T Lite 5G
0:58h
Realme 7 5G
1:06h
Samsung Galaxy A42 5G
2:01h
Motorola Moto G 5G Plus
2:10h
Motorola Moto G 5G
2:11h
Speaker test
We weren't expecting excellent sound quality from a mid-range device such as the Moto G 5G, and we didn't get one either. The vocals are mostly clean, but that's mostly due to the absence of deep bass. And since the handset relies on just a bottom-facing speaker, the results were to be expected.
Still, we are a bit disappointed by the reasonably low loudness the speaker produces. It falls behind the competition quite a bit.
Use the Playback controls to listen to the phone sample recordings (best use headphones). We measure the average loudness of the speakers in LUFS. A lower absolute value means a louder sound. A look at the frequency response chart will tell you how far off the ideal "0db" flat line is the reproduction of the bass, treble, and mid frequencies. You can add more phones to compare how they differ. The scores and ratings are not comparable with our older loudspeaker test. Learn more about how we test here.
Audio output quality
We've recently discontinued our audio output quality test.
The reason for that is that most phones that arrived for testing were already excellent in this regard. Whatever difference there was, it was marginal and probably indistinguishable to anything but our lab equipment.