Display
The Moto GP Power offers a large 6.8-inch IPS LCD screen with basic HD+ resolution and a 20:9 aspect ratio. The sharpness is far from ideal at 263ppi, but the phone is rather cheap, so it's not unexpected. The panel has a punch-hole cutout around the top left corner and in that whole is the selfie camera.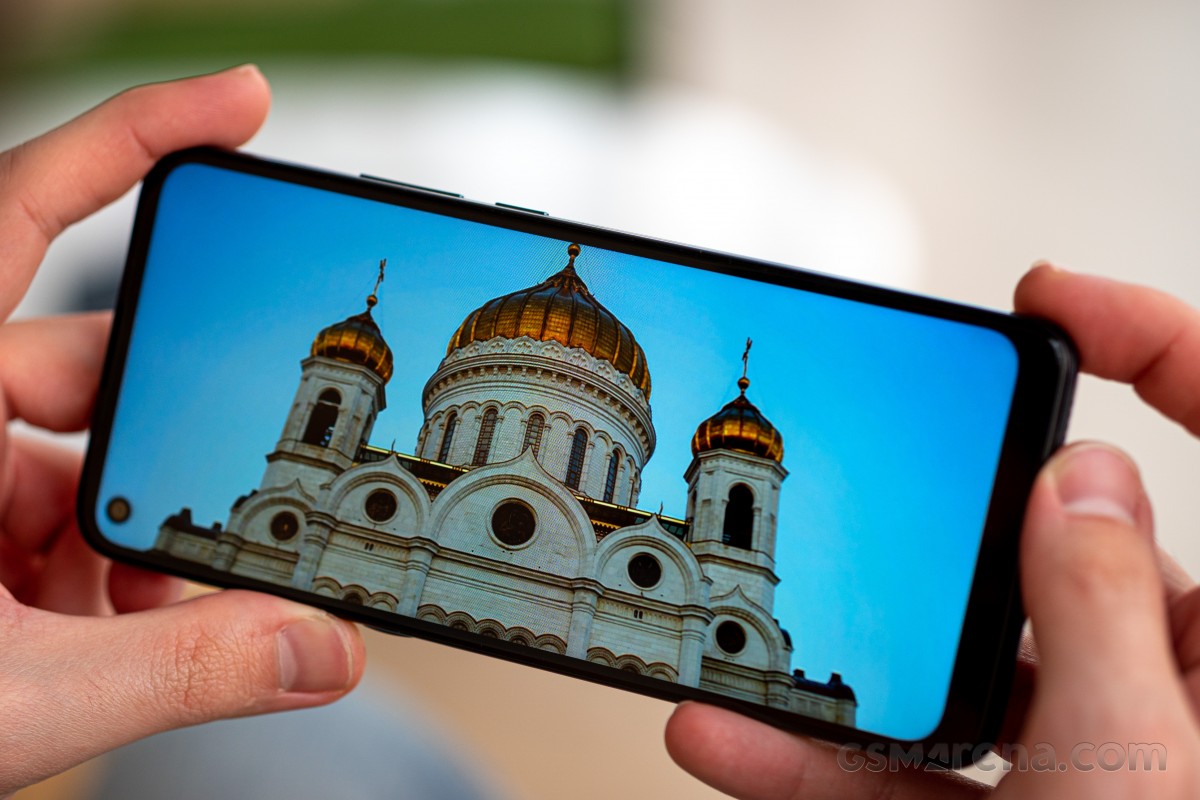 There is no information on the screen's protective glass, so we can't tell for sure where it's a Gorilla or something else.
The first thing you'll probably notice is the uneven backlight around the selfie cutout. This has always been an issue with LCD screens, especially ones of lower quality, and there is no workaround. You will get used to it, eventually, and it's only really prominent against light backgrounds.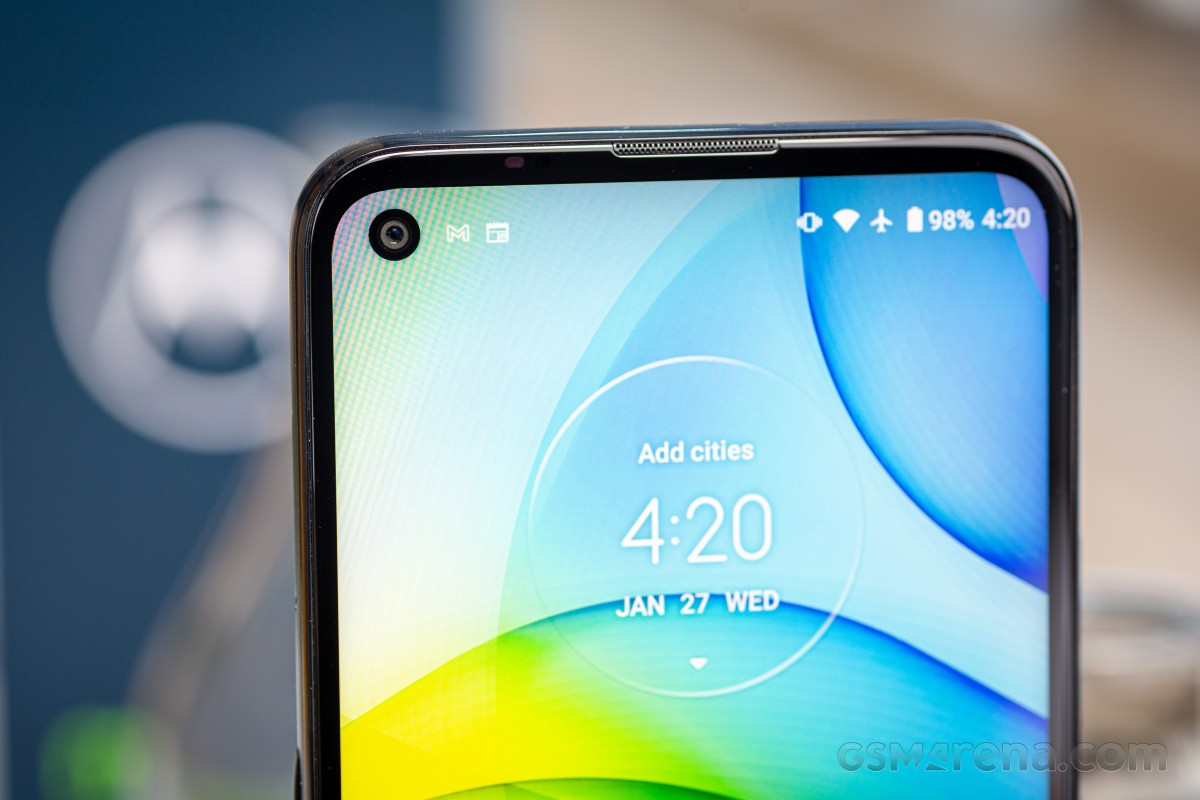 The Moto G9 Power screen doesn't look that bright, and our display test confirms it. We measured a maximum brightness of 435nits in manual mode and 521nits in auto mode. It's an average result for an LCD screen, so screen legibility may not be stellar on a bright sunny day.
The black levels of the Moto G8 Power screen turned out quite good, and overall, the panel offers an excellent contrast ratio of 1680:1.
The minimum brightness at the far left of the scrubber is just 3 nits, which is a great one.
Display test
100% brightness
Black,cd/m2
White,cd/m2
Contrast ratio
Moto G9 Power
0.259
435
1680:1
Moto G9 Power (Max Auto)
0.325
521
1603:1
Motorola Moto G8 Power
0.341
500
1466:1
Motorola Moto G8 Power (Max Auto)
0.53
741
1398:1
Motorola Moto G9 Plus
0.315
427
1356:1
Motorola Moto G9 Plus (Max Auto)
0.39
522
1338:1
Motorola Moto G8 Plus
0.317
477
1505:1
Motorola Moto G8 Plus (Max Auto)
0.395
581
1471:1
Xiaomi Redmi Note 9S
0.303
421
1389:1
Xiaomi Redmi Note 9S (Max Auto)
0.42
575
1369:1
Xiaomi Redmi Note 9T
0.337
413
1226:1
Xiaomi Redmi Note 9T (Max Auto)
0.412
471
1143:1
Realme 7
0.31
457
1474:1
Realme 7 (Max Auto)
0.374
526
1406:1
Realme 7 5G
0.376
484
1287:1
Realme 7 5G (Max Auto)
0.667
571
856:1
Xiaomi Poco X3 NFC
0.354
460
1299:1
Xiaomi Poco X3 NFC (Max Auto)
0.515
631
1225:1
Poco M3
0.252
395
1567:1
Poco M3 (Max Auto)
0.277
439
1585:1
Samsung Galaxy A42 5G
0
395
∞
Samsung Galaxy A42 5G (Max Auto)
0
570
∞
Huawei P40 Lite
0.425
461
1085:1
Huawei P40 Lite (Max Auto)
0.501
515
1028:1
The Moto G9 Power offers three color modes - Natural, Boosted, Saturated (default). The color reproduction isn't great when you are using the default setting - we measured an average deltaE of 5.4 against sRGB targets and a maximum deviation of 8.2. There is a noticeable blue tinge here. Choosing Boosted yields similar results.
If you opt for Natural colors, the accuracy improves, and we captured an average deltaE of 2.7 against sRGB targets - a pretty great one.
Battery life
The Moto G9 Power has one of the beefiest batteries within a smartphone - a massive 6,000mAh cell. According to Motorola, it should last you about 60 hours on a single charge.
Well, we've put the G9 Power through our battery life test, and it did splendidly. The G9 Power outdid its predecessor and scored a magnificent endurance rating of 155 hours. It did splendidly in all scenarios - video, calls, web browsing and even stand-by performance.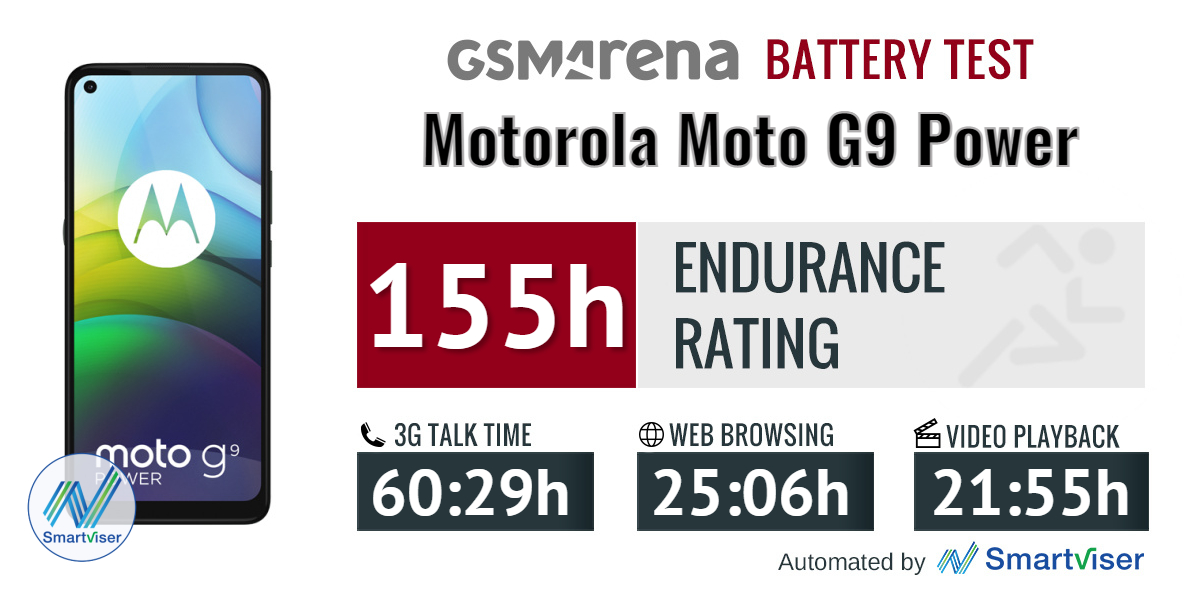 We do appreciate the Moto G9 Power massive battery, but we can't but feel some of its potential has been wasted by the fact that it doesn't support reverse charging, so you can't use it as a powerbank.
Our battery tests were automated thanks to SmartViser, using its viSerDevice app. The endurance rating above denotes how long a single battery charge will last you if you use the Moto G9 Power for an hour each of telephony, web browsing, and video playback daily. We've established this usage pattern so that our battery results are comparable across devices in the most common day-to-day tasks. The battery testing procedure is described in detail in case you're interested in the nitty-gritty. You can check out our complete battery test table, where you can see how all of the smartphones we've tested will compare under your own typical use.
Charging speed
The Moto G9 Power supports 20W Turbo Charge, and a 20W adapter is included as part of the retail bundle. Don't expect a miracle, though, especially with that large battery.
Just like previous Moto G models, this G9 Power isn't charging that speedy. In fact, 20% for 30 minutes is rather sluggish.
30min charging test (from 0%)
Realme 7 Pro
94%
Realme 7
58%
Poco X3 NFC
55%
Motorola Moto G9 Plus
54%
Xiaomi Redmi Note 9S
37%
Xiaomi Redmi Note 9T
33%
Motorola Moto G9 Play
31%
Motorola Moto G8 Power
29%
Samsung Galaxy A42 5G
27%
Poco M3
25%
Motorola Moto G9 Power
20%
You need about 75 minutes to hit the 50% mark, while a complete top-up takes 2 hours and 19 minutes.
Time to full charge (from 0%)
Realme 7 Pro
0:37h
Realme 7
1:05h
Motorola Moto G9 Plus
1:15h
Poco X3 NFC
1:15h
Xiaomi Redmi Note 9S
1:45h
Xiaomi Redmi Note 9T
1:50h
Samsung Galaxy A42 5G
2:01h
Motorola Moto G9 Power
2:19h
Poco M3
2:30h
Motorola Moto G9 Play
2:39h
Speaker loudness and quality
The Moto G9 Power has one bottom-firing speaker, and that's quite disappointing. The Moto G8 Power had one very loud stereo speaker setup; it was one of its key features, in fact. But for reasons unknown, Motorola gave that feature the boot.
So, the one speaker on the G9 Power scored an Average mark on our speaker test. As for the quality - it's okay but not as good as on the G8 Power. While the G9 model offers some bass and okay mid-tones, it seems to completely lack in the high-frequency range.
Use the Playback controls to listen to the phone sample recordings (best use headphones). We measure the average loudness of the speakers in LUFS. A lower absolute value means a louder sound. A look at the frequency response chart will tell you how far off the ideal "0db" flat line is the reproduction of the bass, treble, and mid frequencies. You can add more phones to compare how they differ. The scores and ratings are not comparable with our older loudspeaker test. Learn more about how we test here.