Display
The resolution of the display is roughly the same as the one from the last generation - 720 x 1600px, but it has grown in size and it is now 6.5" instead of 6.2". It's an IPS LCD panel still and there are virtually no halos around the notch and the bezels.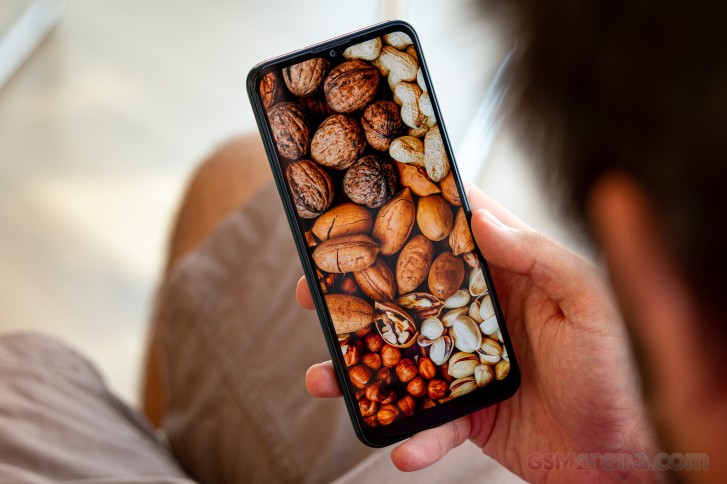 The display's maximum brightness seems to be sufficient for rather comfortable outdoor use. With the slider cranked up to the maximum, the display can go up to 383 nits. When adaptive brightness is turned on, the panel can boost up to 465 nits in bright conditions, which isn't a lot on its own, but it's par for the course in this class.
Display test
100% brightness
Black,cd/m2
White,cd/m2
Contrast ratio
Motorola Moto G9 Play
0.197
383
1944:1
Motorola Moto G9 Play (Max Auto)
465
:1
Xiaomi Redmi Note 9S
0.303
421
1389:1
Xiaomi Redmi Note 9S (Max Auto)
0.42
575
1369:1
Xiaomi Redmi Note 9
0.298
370
1242:1
Xiaomi Redmi Note 9 (Max Auto)
0
466
∞
Samsung Galaxy A21s
0.317
408
1287:1
Samsung Galaxy A21s (Max Auto)
0.384
491
1279:1
Realme 6i
0.328
528
1610:1
Color accuracy, however, isn't one of its strongest suits. With the default "Saturated" preset, the panel produces rather blue-ish whites. The average dE2000 is 5.3 while the maximum is 8.8 - not particularly bad results but not good either. Going for the "Natural" preset, you can bring down the average dE2000 down to 4.4 with almost no change in the whites - they remain blue-ish.
Battery life
With a generous 5,000 mAh battery and not so demanding Snapdragon 662 chipset, the battery life is expectedly excellent. We got an overall score of 120h, which puts it among the top smartphones in this regard. The standby and screen-on runtimes were all excellent while the Moto G9 Play did exceptionally well in the call test.
Unfortunately we didn't have the chance to test out the Moto G8 Play and compare it directly to its successor but it's evident even from the specs sheet that the G9 Play poses a big leap in battery endurance.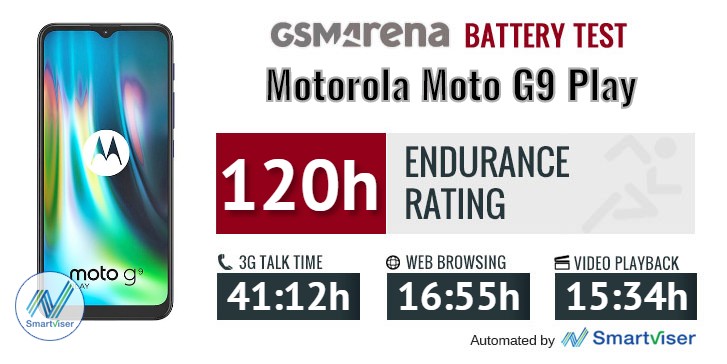 Our battery tests were automated thanks to SmartViser, using its viSerDevice app. The endurance rating above denotes how long a single battery charge will last you if you use the Motorola Moto G9 Play for an hour each of telephony, web browsing, and video playback daily. We've established this usage pattern so that our battery results are comparable across devices in the most common day-to-day tasks. The battery testing procedure is described in detail in case you're interested in the nitty-gritty. You can check out our complete battery test table, where you can see how all of the smartphones we've tested will compare under your own typical use.
Charging
Motorola calls it TurboPower fast charging, and it's rated at 20W, but it doesn't seem to be enough for a 5,000 mAh battery. In our 30-minute charging test, the battery replenished about 31% of its capacity, while a full charge took a good 2:39 hours. Still, it's pretty much on par with the competition, and it's something you'd expect from a phone in this price range.
30min charging test (from 0%)
Xiaomi Redmi Note 9S
37%
Realme 6i
33%
Motorola Moto G9 Play
31%
Xiaomi Redmi Note 9
31%
Samsung Galaxy A21s
26%
Time to full charge (from 0%)
Xiaomi Redmi Note 9S
1:45h
Xiaomi Redmi Note 9
2:33h
Motorola Moto G9 Play
2:39h
Speaker test
The handset has a single, bottom-firing loudspeaker that isn't incredibly loud and doesn't sound very hot either. It lacks bass, and there's noticeable distortion at higher volume levels, but about what you'd expect in the segment.
Use the Playback controls to listen to the phone sample recordings (best use headphones). We measure the average loudness of the speakers in LUFS. A lower absolute value means a louder sound. A look at the frequency response chart will tell you how far off the ideal "0db" flat line is the reproduction of the bass, treble, and mid frequencies. You can add more phones to compare how they differ. The scores and ratings are not comparable with our older loudspeaker test. Learn more about how we test here.
Audio output quality
We've recently discontinued our audio output quality test.
The reason for that is that most phones that arrived for testing were already excellent in this regard and whatever difference there was, it was marginal and probably indistinguishable to anything but our lab equipment.