Display
The Moto G8 Power packs a 6.4-inch IPS LCD screen with 1080p+ resolution and 19:9 aspect ratio. It has a punch-hole cutout around the top left corner to make way for the selfie camera and its corners are trendily rounded.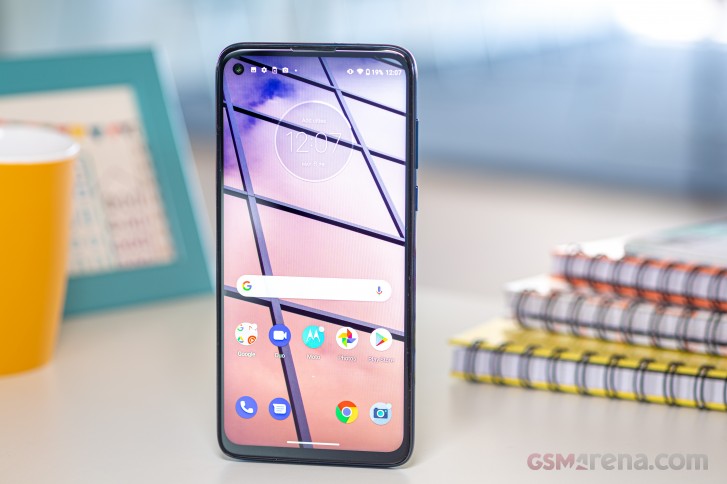 The exact screen resolution is 2,300 x 1,080 pixels or about 399ppi. The make of the protective glass was not specified by Motorola.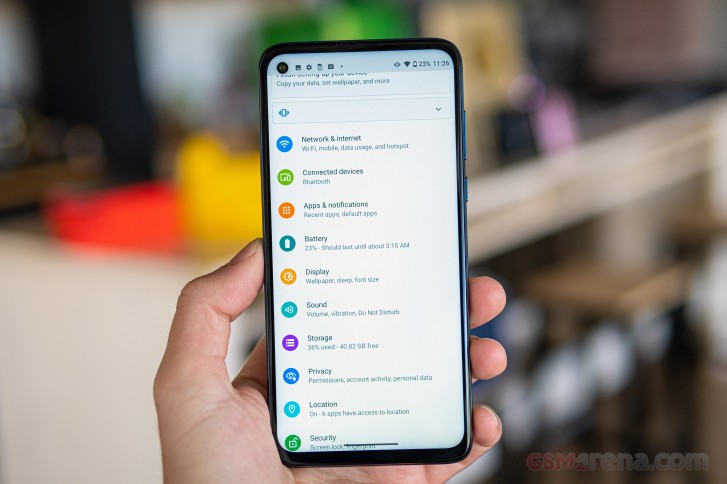 One of the first things you will notice is the uneven backlight around the punch hole. It is annoying only on bright backgrounds, but it was to be expected as the LCD LED backlighting is not perfect (and it can't be). Such dimming can also be observed around the edges of the screen, though not as strong as near the notch.
Other than that, the Moto G8 Power screen looks bright and punchy. We measured a maximum brightness if 500 nits in manual mode, and 741 nits in auto mode. That's more than enough for an LCD screen and you will have no issues even in the brightest of days.
The black levels of the Moto G8 Power screen turned out quite good, too, and overall, the panel offers an excellent contrast ratio of about 1500:1.
The minimum brightness at the far left of the scrubber is just 3.2 nits, which is a great one.
Display test
100% brightness
Black,cd/m2
White,cd/m2
Contrast ratio
Motorola Moto G8 Power
0.341
500
1466:1
Motorola Moto G8 Power (Max Auto)
0.53
741
1398:1
Motorola Moto G7 Power
0.298
499
1674:1
Motorola Moto G7 Power (Max Auto)
0.459
636
1386:1
Motorola Moto G8 Plus
0.317
477
1505:1
Motorola Moto G8 Plus (Max Auto)
0.395
581
1471:1
Realme 6
0.343
451
1315:1
Realme 6i
0.328
528
1610:1
Realme 6 Pro
0.318
421
1324:1
Xiaomi Redmi Note 9S
0.303
421
1389:1
Xiaomi Redmi Note 9S (Max Auto)
0.42
575
1369:1
Xiaomi Redmi Note 8 Pro
0.347
460
1326:1
Xiaomi Redmi Note 8 Pro (Max Auto)
0.486
640
1317:1
Xiaomi Redmi Note 8T
0.331
450
1360:1
Xiaomi Redmi Note 8T (Max Auto)
0.453
600
1325:1
Samsung Galaxy A51
0
413
∞
Samsung Galaxy A51 (Max Auto)
0
636
∞
Color reproduction is consistently off on the Moto G8 Power, regardless of which of the three color modes you choose. Be it Natural, Boosted, or Saturated, you can expect a strong blue shift of the white and grays, to the tune of a DeltaE of 8-9. That is not so bad - it's not a color-accurate screen but it's not a deal-breaker either.
The default Saturated mode got us an average DeltaE of 5.8 against sRGB targets, whereas in Natural we measured an average DeltaE of 4.7 - the best result in this testing.
Battery life and charging
The Moto G8 Power packs a massive 5,000 mAh battery, which should last you for up to three days of normal usage according to Motorola's claims. The phone supports Moto's 18W TurboPower fast charging and it fills 29% of the depleted 5,000mAh battery in 30mins.
Quite expectedly, the Moto G8 Power turned out to be a remarkable performer in our battery test with a 136-hour Endurance rating. It did a great job in all tested scenarios - video, calls, web browsing and even stand-by performance.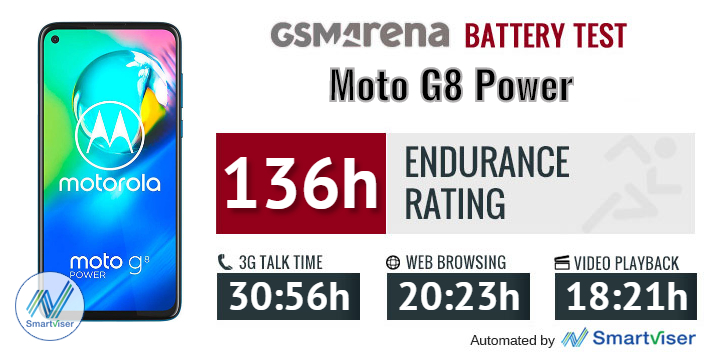 Our battery tests were automated thanks to SmartViser, using its viSerDevice app. The endurance rating above denotes how long a single battery charge will last you if you use the Motorola Moto G8 Power for an hour each of telephony, web browsing, and video playback daily. We've established this usage pattern so that our battery results are comparable across devices in the most common day-to-day tasks. The battery testing procedure is described in detail in case you're interested in the nitty-gritty. You can check out our complete battery test table, where you can see how all of the smartphones we've tested will compare under your own typical use.
Speakers
The Motorola Moto G8 Power has a stereo speaker configuration, just like the G8 Plus. It is quite common - the earpiece doubles as a second speaker. The G8 Power earpiece is equally powerful as the bottom one though - both in loudness and output, so it is not just a gimmick.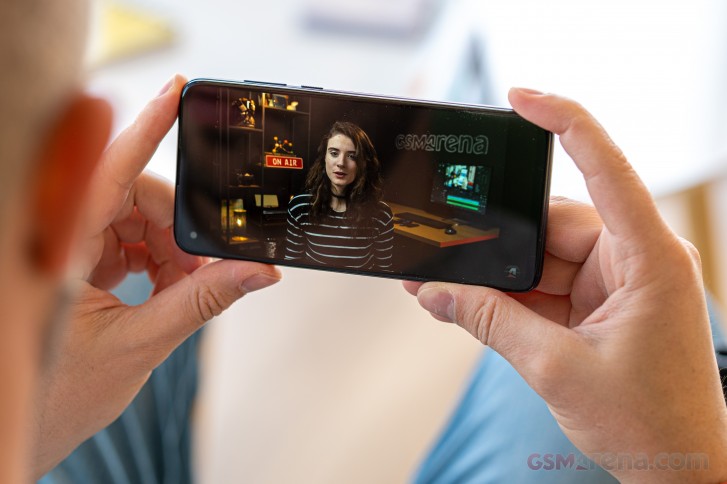 In our new speaker test, the Moto G8 Powers scored a Very Good mark for loudness. As for the quality - it's good. The vocals are great, there is a good presentation of high notes although not as rich as we hoped it to be and the bass is completely absent.
Use the Playback controls to listen to the phone sample recordings (best use headphones). We measure the average loudness of the speakers in LUFS. A lower absolute value means a louder sound. A look at the frequency response chart will tell you how far off the ideal "0db" flat line is the reproduction of the bass, treble, and mid frequencies. You can add more phones to compare how they differ. The scores and ratings are not comparable with our older loudspeaker test. Learn more about how we test here.
Audio output quality
We've recently discontinued our audio output quality test.
The reason for that is that most phones that arrived for testing were already excellent in this regard and whatever difference there was, it was marginal and probably indistinguishable to anything but our lab equipment.