Clean Android 13
Being a Motorola phone, the Moto G53 runs a very clean, nearly AOSP-looking version of Android 13 with just a few Moto mods on top. We still believe that this clean appearance is a selling factor generally applicable to all Moto devices.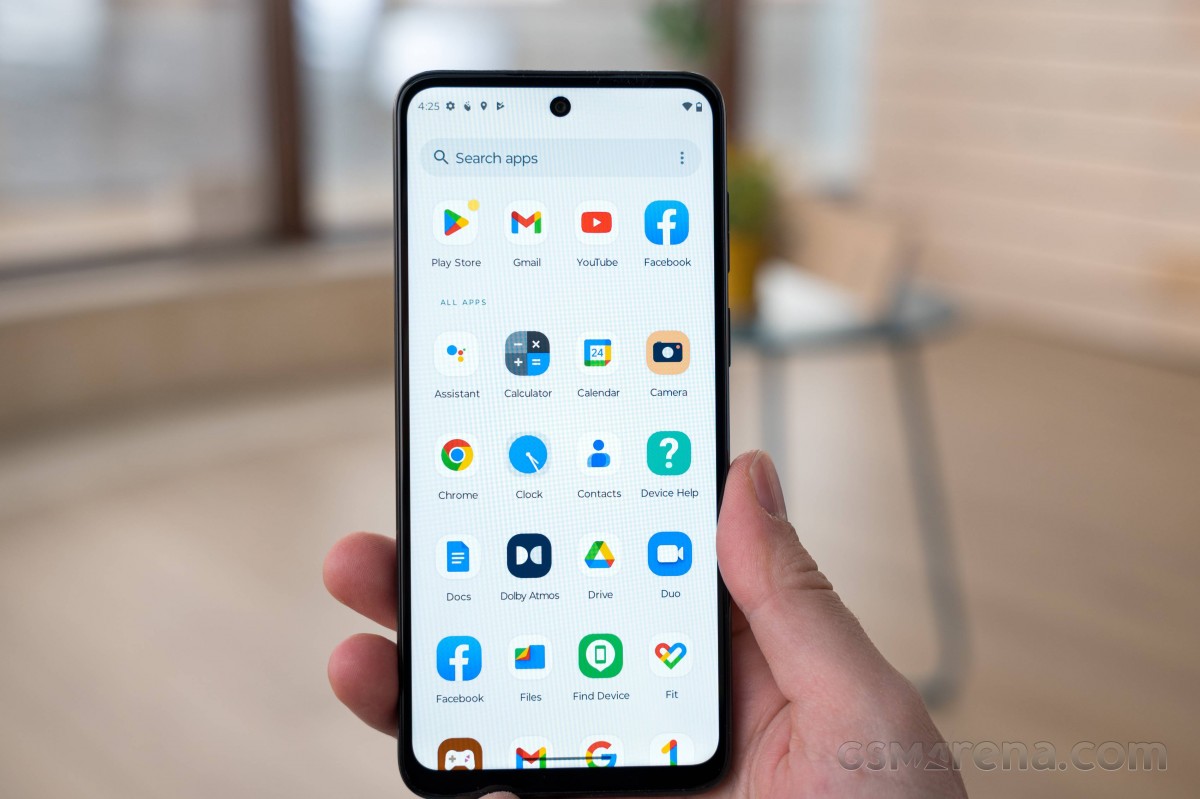 The Quick Settings and notification shade are pretty distinct in recent AOSP versions with big and bubbly buttons, of which you only get four on the first pull, up to 8 on the second, and the full-screen notification shade.
On to widgets, which saw an overhaul with Android 12. The widget picker offers responsive previews for differently-sized widgets. The new API supports dynamic coloring by tying into the Material You theming engine, allowing the widgets to adapt to the wallpaper.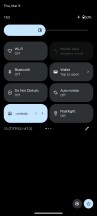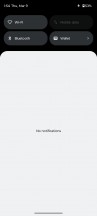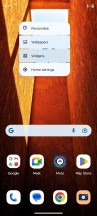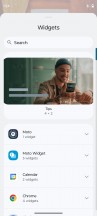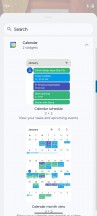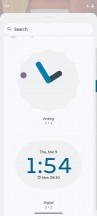 Quick settings • Notification shade • Widgets
The Material You auto-theming feature is here, too, though it's masked behind a slightly customized Moto-specific theming engine. You can still get wallpaper-based accent colors, which will apply to Google apps and the settings menu. Motorola also has a separate Interactive wallpapers app from which you can download a number of dynamic wallpapers.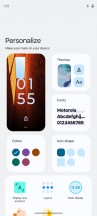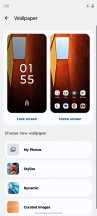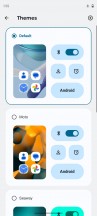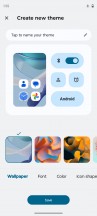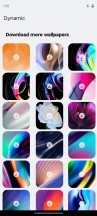 Theming and interactive wallpapers
As is usually the case, Motorola has added a handful of useful extras. They are all placed in a Moto settings app that lists them in categories. The Moto app itself has a new look.
The first category is personalization - that's where the OS-native auto-theming found a foster home. There is also a wide selection of Moto wallpapers in addition to Google's own, plus the option to leverage AI to create your own from the photos in your gallery.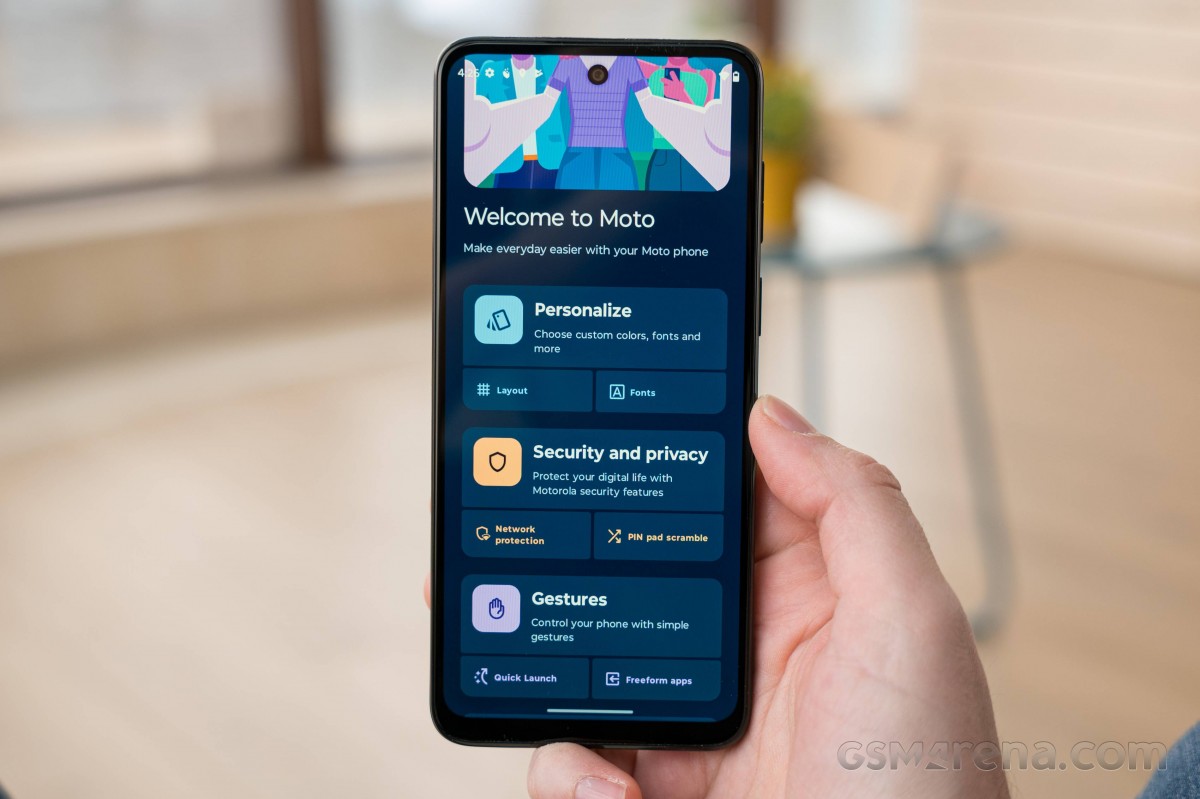 Then come the gestures. By now, you must have seen Moto's karate chop motion that turns on and off the flashlight and the twisting motion that launches the camera app. Both work even when the device is locked.
The lift-to-unlock gesture works well with the face unlock, as it unlocks the device as soon as you pick it up and look at the screen. A swipe-to-split function is available, too - it triggers split-screen multitasking. You can also double-tap the back of the phone to do a custom action.
The display-related features are Peek Display and Attentive Display. The former works as a second-best alternative to the Always-on display feature, which is actually missing, but with some added functionality to make up for it.
The screen lights up when it detects motion that's close to the phone or when you pick it up. Once you've received some kind of notification, you can tap on it, see the message, and even interact with it from the lock screen.
Attentive Display disables the screen timeout as long as there's a face looking at the screen.
Then there's the Play section. Here, you'll find the Gametime utility, which offers the usual functionality of tools like call and notification blocking and screen recording. Additionally, there are optional shortcuts for media playback when the screen is locked using the volume keys and a Dolby Atmos sound enhancement utility.
With recent versions, Google has been investing heavily in the privacy and security aspects of Android. This includes things like the Privacy dashboard, which offers a unified view of what permission is being used by what app and when.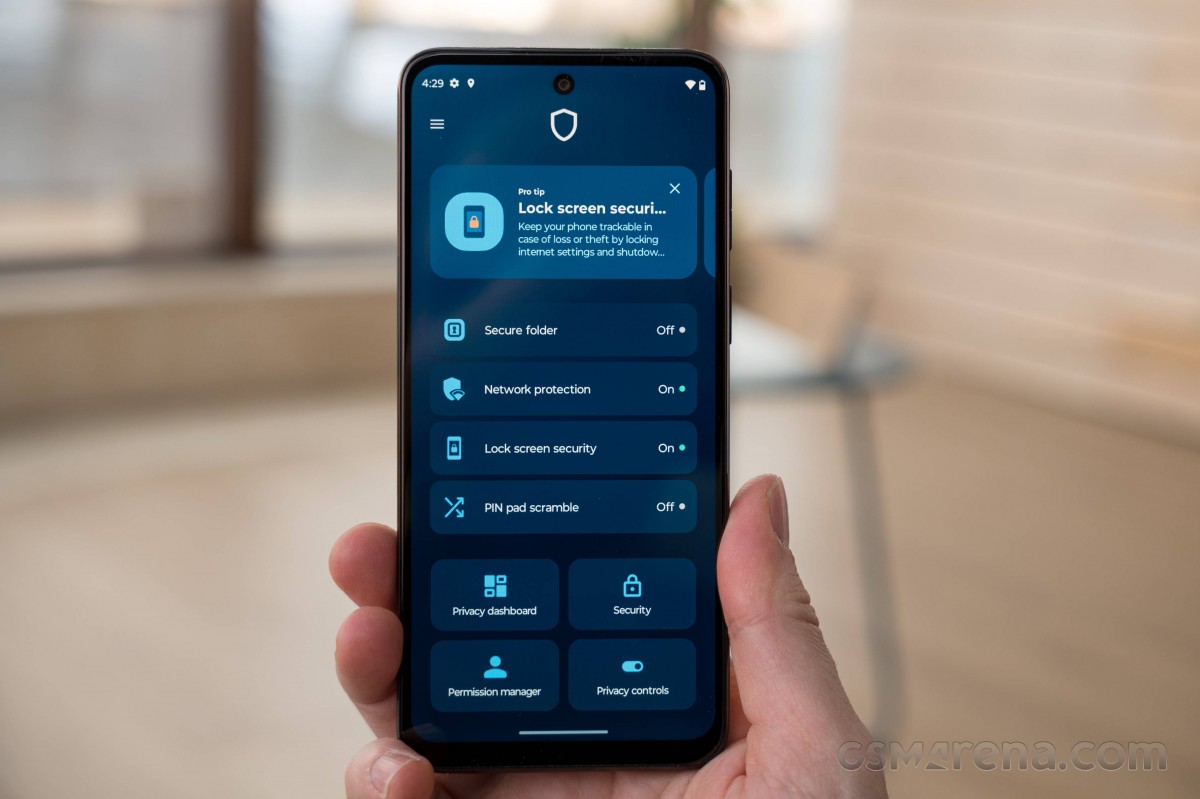 There are also the camera and microphone indicators in the top right corner of the screen for an immediate clue that you're being watched/listened to, but also the quick toggles to limit access to those altogether. There is also the option to determine whether an app gets your precise coordinates or an approximate location.
Secure folder is pretty self-explanatory. It is a vault to keep your sensitive apps and files. There are a few interesting network protection options on board, like the ability to block certain apps from accessing the network while you are connected to an unsecured Wi-Fi hotspot.
Other interesting security features include the ability to lock your network and security settings for as long as your screen is locked. Also, the ability to scramble your pin input interface for higher security. You can access all of these security and privacy settings through a separate Moto Secure app shortcut as well.
A relatively new feature is the Overcharge protection toggle in the Battery menu. It will cut off charging once it detects that the phone hasn't been unplugged for three days straight and keep the battery charged at a much healthier 80%.
Predictably, the Moto G53 is missing the "Ready For" feature Motorola is offering on some of its higher-end models.
Performance and benchmarks
The Moto G53 5G runs on the Snapdragon 480+ chipset. The 480+ is an upgraded variant of the Snapdragon 480 that came out in 2021 as the first chip in the Snapdragon 4xx series to support 5G connectivity. The Snapdragon 480+ is made on an 8nm LPP process and has two Kryo 460 Gold (Cortex-A76) CPU cores clocked at up to 2.2 GHz, plus another six Kryo 460 Silver (Cortex-A55) ones working at up to 1.8 GHz. There is also an Adreno 619 GPU on board and an X51 internal 5G/LTE modem. The Snapdragon 480+ is paired with up to 8GB of LPDDR4X RAM. Our review unit has 4GB of RAM and 128GB of internal storage.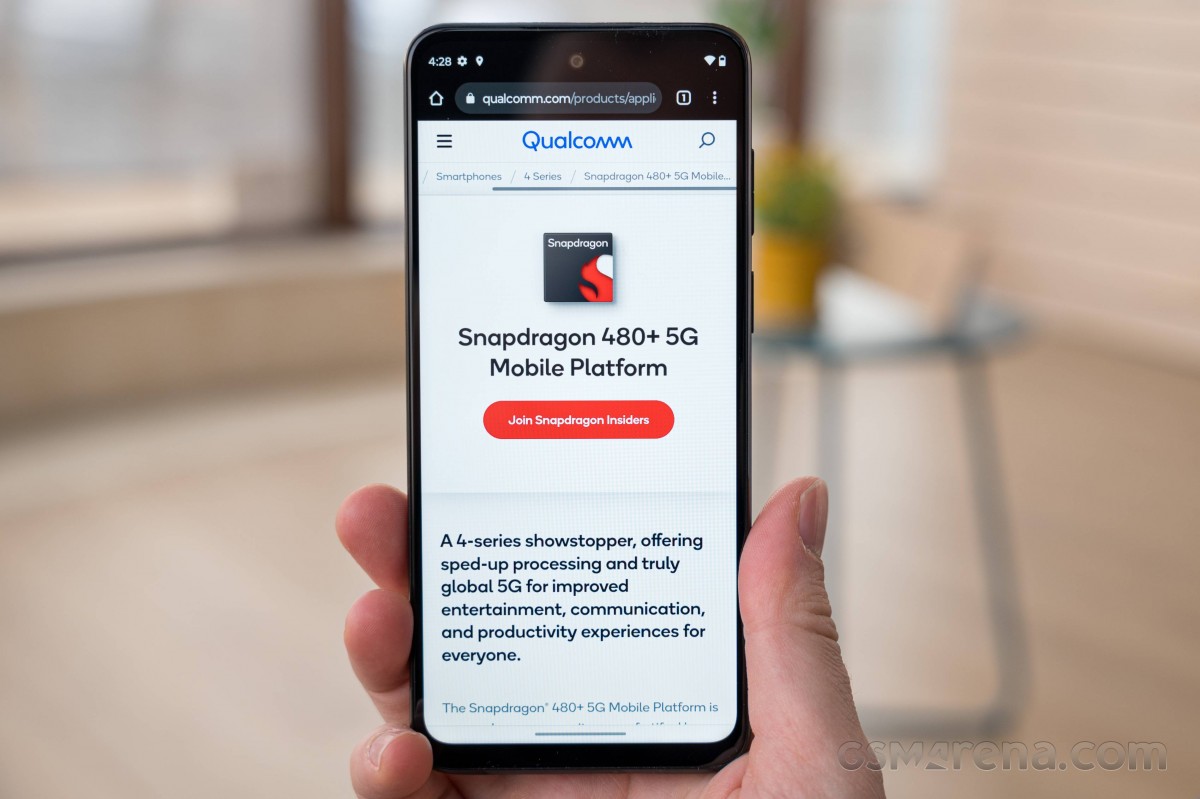 In a sense, the Snapdragon 480+ is a bit of a downgrade compared to the Snapdragon 680 inside the Moto G52. Presumably, Motorola had to make that sacrifice in order to deliver 5G connectivity at this price point.
Let's start with some CPU testing and GeekBench. The Snapdragon 480+ has pretty lackluster multi-core CPU performance. Inside the Moto G53, in particular, it seems to even be underperforming a bit compared to similarly-equipped devices like the Moto G51 5G and Moto G62. Not by a lot, mind you.
The Moto G53 fairs a lot better in single-core tests, which is arguably the more important bit when it comes to day-to-day average use.
GeekBench 5 (multi-core)
Higher is better
Xiaomi 13 Lite
2936
Realme 10 Pro+
2371
Poco X5
2088
Realme 10 Pro
2021
Motorola Edge 30 Neo
1964
Galaxy A23 5G
1940
Galaxy A33 5G
1900
Xiaomi Poco M5
1896
Motorola Edge
1862
Motorola Moto G72
1842
Poco M4 Pro
1836
Poco M4 Pro 5G
1797
Realme 10
1762
Redmi Note 11 Pro
1729
Galaxy A14 5G
1727
Moto G62
1697
Moto G51 5G
1696
Redmi Note 11
1662
Galaxy A23
1632
Motorola Moto G53
1594
Galaxy A13
588
GeekBench 5 (single-core)
Higher is better
Realme 10 Pro+
842
Xiaomi 13 Lite
795
Galaxy A33 5G
742
Realme 10 Pro
698
Poco X5
693
Galaxy A23 5G
676
Motorola Edge 30 Neo
670
Poco M4 Pro 5G
597
Motorola Edge
586
Realme 10
567
Motorola Moto G53
557
Xiaomi Poco M5
550
Motorola Moto G72
546
Moto G62
543
Moto G51 5G
543
Galaxy A14 5G
530
Poco M4 Pro
523
Redmi Note 11 Pro
511
Galaxy A23
380
Redmi Note 11
376
Galaxy A13
153
AnTuTu is a much more compound benchmark that incorporates CPU, GPU and memory tests, among other things. It is actually pretty favorable towards the Moto G53 5G.
AnTuTu 9
Higher is better
Xiaomi 13 Lite
534143
Realme 10 Pro+
522376
Realme 10 Pro
401860
Poco X5
400895
Galaxy A33 5G
394918
Xiaomi Poco M5
386311
Realme 10
385829
Motorola Moto G72
383317
Motorola Edge 30 Neo
380818
Poco M4 Pro 5G
353663
Redmi Note 11 Pro
319093
Galaxy A23 5G
318821
Poco M4 Pro
318444
Motorola Moto G53
314195
Galaxy A14 5G
307886
Moto G62
303072
Moto G51 5G
302859
Galaxy A23
273554
Redmi Note 11
244526
Galaxy A13
136286
The Adreno 619 GPU inside the Moto G53 is pretty weak as well. However, there is one saving grace, of sorts, in the HD+ native resolution of the phone's display. This allows for relatively higher on-screen test results. Still, nothing amazing, though. We can at least see that the Moto G53 performs on par with the Moto G51 5G and G62 in off-screen tests, which means that Motorola is making the most out of the Snapdragon 480+ chipset.
GFX Aztek ES 3.1 High (onscreen)
Higher is better
Xiaomi 13 Lite
23
Motorola Moto G53
20
Realme 10 Pro+
16
Galaxy A33 5G
15
Motorola Edge 30 Neo
12
Motorola Edge
12
Galaxy A23 5G
12
Realme 10 Pro
11
Realme 10
10
Moto G62
9.7
Moto G51 5G
9.7
Motorola Moto G72
9.3
Xiaomi Poco M5
8.9
Galaxy A14 5G
8.3
Poco M4 Pro
8.3
Galaxy A23
4.7
Redmi Note 11
4.6
Galaxy A13
3.3
GFX Aztek ES 3.1 High (offscreen 1440p)
Higher is better
Xiaomi 13 Lite
15
Realme 10 Pro+
11
Galaxy A33 5G
10
Motorola Edge 30 Neo
7.8
Realme 10 Pro
7.8
Galaxy A23 5G
7.6
Moto G62
6.5
Realme 10
6.5
Motorola Moto G53
6.4
Moto G51 5G
6.4
Motorola Moto G72
6
Xiaomi Poco M5
5.9
Galaxy A14 5G
5.5
Poco M4 Pro
5.5
Galaxy A23
3.2
Redmi Note 11
3.1
Galaxy A13
2.2
GFX Aztek Vulkan High (onscreen)
Higher is better
Xiaomi 13 Lite
23
Motorola Moto G53
20
Galaxy A33 5G
15
Realme 10 Pro+
15
Motorola Edge 30 Neo
12
Motorola Edge
12
Galaxy A23 5G
12
Realme 10 Pro
12
Moto G62
10
Moto G51 5G
10
Realme 10
9.3
Motorola Moto G72
8.7
Xiaomi Poco M5
8.2
Galaxy A14 5G
7.9
Poco M4 Pro
7.7
Redmi Note 11
4.8
Galaxy A23
4.6
Galaxy A13
3.4
GFX Aztek Vulkan High (offscreen 1440p)
Higher is better
Xiaomi 13 Lite
17
Galaxy A33 5G
10
Realme 10 Pro+
10
Realme 10 Pro
8.3
Motorola Edge 30 Neo
8.2
Galaxy A23 5G
8
Motorola Moto G53
6.7
Moto G62
6.7
Moto G51 5G
6.7
Realme 10
6.1
Motorola Moto G72
5.5
Galaxy A14 5G
5.3
Xiaomi Poco M5
5.3
Poco M4 Pro
5.1
Galaxy A23
3.2
Redmi Note 11
3.1
Galaxy A13
2.3
As we go lower in GPU testing intensity, the Adreno 619 finally starts posting some more reasonable benchmark scores. At least on-screen, that is, in 720p resolution.
GFX Car Chase ES 3.1 (onscreen)
Higher is better
Xiaomi 13 Lite
33
Motorola Moto G53
29
Realme 10 Pro+
21
Galaxy A33 5G
20
Motorola Edge
18
Realme 10
17
Motorola Edge 30 Neo
16
Galaxy A23 5G
16
Realme 10 Pro
16
Moto G51 5G
15
Moto G62
14
Motorola Moto G72
13
Poco M4 Pro 5G
13
Galaxy A14 5G
12
Redmi Note 11 Pro
12
Poco M4 Pro
12
Xiaomi Poco M5
12
Redmi Note 11
6.8
Galaxy A23
6.7
Galaxy A13
5.2
GFX Car Chase ES 3.1 (offscreen 1080p)
Higher is better
Xiaomi 13 Lite
39
Realme 10 Pro+
27
Galaxy A33 5G
23
Motorola Edge 30 Neo
20
Motorola Edge
19
Galaxy A23 5G
19
Realme 10 Pro
19
Motorola Moto G53
16
Moto G62
16
Moto G51 5G
16
Poco M4 Pro 5G
16
Motorola Moto G72
15
Galaxy A14 5G
15
Xiaomi Poco M5
15
Redmi Note 11 Pro
14
Realme 10
14
Poco M4 Pro
14
Galaxy A23
8.3
Redmi Note 11
8
Galaxy A13
6.2
The Moto G53 even manages to break through the 60fps barrier in the lower-intensity Manhattan OpenGL ES 3.0 tests.
GFX Manhattan ES 3.1 (onscreen)
Higher is better
Xiaomi 13 Lite
59
Motorola Moto G53
55
Realme 10 Pro+
38
Galaxy A33 5G
35
Motorola Edge
32
Motorola Edge 30 Neo
29
Galaxy A23 5G
29
Realme 10 Pro
29
Realme 10
28
Moto G62
26
Moto G51 5G
26
Motorola Moto G72
24
Poco M4 Pro 5G
23
Redmi Note 11 Pro
22
Xiaomi Poco M5
22
Galaxy A14 5G
21
Poco M4 Pro
21
Redmi Note 11
12
Galaxy A23
12
Galaxy A13
8.3
GFX Manhattan ES 3.1 (offscreen 1080p)
Higher is better
Xiaomi 13 Lite
64
Realme 10 Pro+
45
Galaxy A33 5G
38
Motorola Edge 30 Neo
35
Realme 10 Pro
35
Motorola Edge
34
Galaxy A23 5G
33
Motorola Moto G53
29
Moto G51 5G
29
Moto G62
28
Motorola Moto G72
26
Poco M4 Pro 5G
26
Galaxy A14 5G
25
Realme 10
25
Xiaomi Poco M5
25
Redmi Note 11 Pro
24
Poco M4 Pro
24
Redmi Note 11
15
Galaxy A23
15
Galaxy A13
9.4
GFX Manhattan ES 3.0 (onscreen)
Higher is better
Xiaomi 13 Lite
80
Motorola Moto G53
67
Galaxy A33 5G
56
Realme 10 Pro+
56
Motorola Edge
48
Realme 10
44
Motorola Edge 30 Neo
43
Realme 10 Pro
41
Galaxy A23 5G
39
Motorola Moto G72
37
Moto G62
37
Poco M4 Pro 5G
37
Moto G51 5G
36
Xiaomi Poco M5
35
Galaxy A14 5G
34
Redmi Note 11 Pro
34
Poco M4 Pro
33
Redmi Note 11
18
Galaxy A23
18
Galaxy A13
14
GFX Manhattan ES 3.0 (offscreen 1080p)
Higher is better
Xiaomi 13 Lite
90
Realme 10 Pro+
68
Galaxy A33 5G
60
Motorola Edge
50
Motorola Edge 30 Neo
47
Realme 10 Pro
47
Galaxy A23 5G
44
Motorola Moto G53
41
Motorola Moto G72
41
Moto G62
41
Moto G51 5G
41
Galaxy A14 5G
40
Realme 10
40
Poco M4 Pro 5G
40
Xiaomi Poco M5
40
Redmi Note 11 Pro
37
Poco M4 Pro
37
Redmi Note 11
21
Galaxy A23
20
Galaxy A13
16
In practice, the G53 does fair reasonably well with gaming. Casual titles run just fine, but more intensive ones do experience stutters and slowdowns. As long as you have your expectations set accordingly, you can definitely have some quality gaming time on the G53, especially with all of the extra gaming features Motorola has put in place.
3DMark Wild Life Vulkan 1.1 (offscreen 1440p)
Higher is better
Xiaomi 13 Lite
2969
Galaxy A33 5G
2260
Realme 10 Pro+
2252
Xiaomi Poco M5
1321
Realme 10
1320
Motorola Moto G72
1255
Poco M4 Pro 5G
1232
Realme 10 Pro
1218
Motorola Edge 30 Neo
1201
Galaxy A23 5G
1200
Galaxy A14 5G
1197
Redmi Note 11 Pro
1101
Poco M4 Pro
1099
Motorola Moto G53
981
Moto G62
971
Moto G51 5G
970
Galaxy A13
510
Redmi Note 11
439
Galaxy A23
429
3DMark Wild Life Extreme (offscreen 1440p)
Higher is better
Xiaomi 13 Lite
828
Realme 10 Pro+
622
Xiaomi Poco M5
369
Realme 10
366
Motorola Moto G72
347
Galaxy A14 5G
331
Motorola Moto G53
291
The Snapdragon 480+ might not be a chart-topper, but it is a pretty efficient chip. It doesn't run particularly hot, either. The Moto G53 never got above lukewarm under prolonged loads, and the chipset faired excellently with thermal throttling. It is done in a very controlled and gradual, not to mention minimal manner.
All things considered, the Moto G53 offers decent performance for day-to-day use but is largely unimpressive in this regard. We feel like Motorola sacrificed too much in the way of performance just to fit 5G into a budget price category. Some competitors from Xiaomi, POCO, Realme and Samsung manage to offer more raw power and 5G connectivity for a similar price, challenging the G53 in terms of value.