Fast and fairly bright LCD
The Moto G51 5G has the same 6.8-inch screen diagonal as the Moto G200, but it's definitely not the same panel underneath. The Moto G51, as a more budget offering, "settles" for a 120Hz refresh rate rather than 144Hz, but it would still appear perfectly smooth to the vast majority of users. Especially if you are upgrading from a standard 60Hz panel or even 90Hz. The resolution is 1080 x 2400px at 20:9 ratio. Pretty standard these days. There are no HDR certifications attached to this IPS LCD panel, but we didn't expect it to have any in the first place.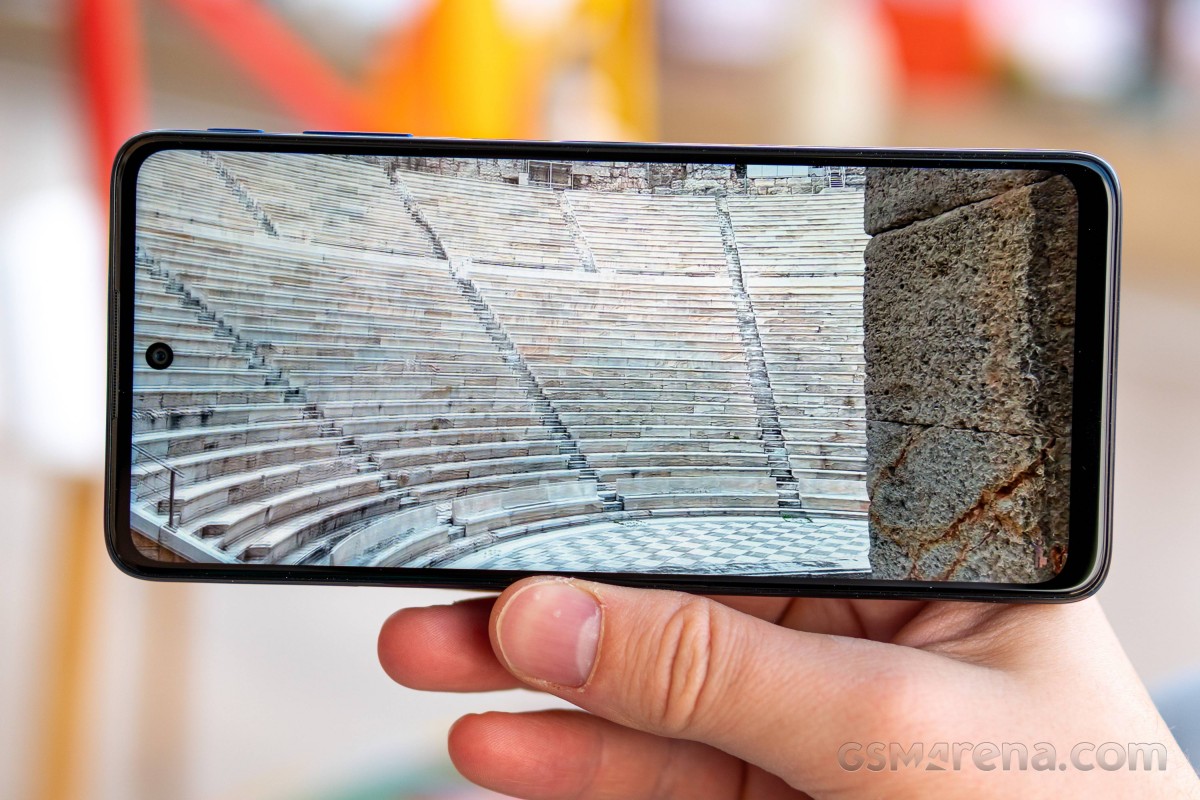 In our brightness test, however, the display surprised us with solid 595 nits in Auto mode, which should be enough for comfortable outdoor use. Using the manual brightness slider would get you up to 498 nits, which is also respectable.
Display test
100% brightness
Black,cd/m2
White,cd/m2
Contrast ratio
Motorola Moto G50
0.199
362
1819:1
Motorola Moto G51 5G
0.298
487
1634:1
Motorola Moto G51 5G (Max Auto)
0.36
595
1653:1
Xiaomi Redmi Note 10
0
475
∞
Xiaomi Redmi Note 10 (Max Auto)
0
682
∞
Xiaomi Redmi Note 9T
0.337
413
1226:1
Xiaomi Redmi Note 9T (Max Auto)
0.412
471
1143:1
Xiaomi Redmi 9T
0.239
381
1594:1
Xiaomi Redmi 9T (Max Auto)
0.32
437
1366:1
Poco X3 Pro
0.327
458
1401:1
Poco X3 Pro (Max Auto)
0.4
534
1335:1
Samsung Galaxy A22 5G
0.236
385
1631:1
Samsung Galaxy A22
0
391
∞
Samsung Galaxy A22 (Max Auto)
0
597
∞
Realme 8 5G
0.334
472
1413:1
Realme 8 5G (Max Auto)
0.408
577
1414:1
Realme 8s 5G
0.311
411
1322:1
Realme 8s 5G (Max Auto)
0.383
530
1384:1
Of course, the color accuracy isn't ideal and as it's often the case, whites and grays appear too blue-ish. Other colors are also a bit saturated. An easy way to fix this is to go for the Natural color preset in the settings menu. It makes white look a bit pink-ish, but it's definitely more bearable. It did bring down the average dE2000 down to 2.8 - an excellent reading. Motorola has provided a color temperature slider as well, so you can perhaps keep the saturated colors in the Saturated mode but ease back on that blue-ish tint.
Moving onto refresh rate management, Motorola was one of the first OEMs to implement some sort of smart adjustment on the fly, and we can see it here as well. It is pretty simple yet effective.
If you aren't touching the display, it will revert back to 60Hz. Otherwise, it would run pretty much everything at 120Hz with the small exception of the Google Photos gallery and when watching videos. It looks like the system recognizes video players and dials down to 60Hz. Launching YouTube or Netflix would immediately bring down the refresh rate.
Given the budget nature of the chipset, there aren't probably many games, if any at all, that could go beyond 60 fps, so you won't be able to benefit from the HRR panel during gaming.
Battery life
The Moto G51 employs a very efficient Snapdragon 480+ SoC and a big 5,000 mAh battery, so the results from our battery tests don't surprise us at all. The device can go for hours on end when watching videos or browsing. Standby times are also respectable, and combined with the excellent screen-on results, it's enough to put it ahead of the competition. The overall endurance score of 124 hours is nothing but excellent.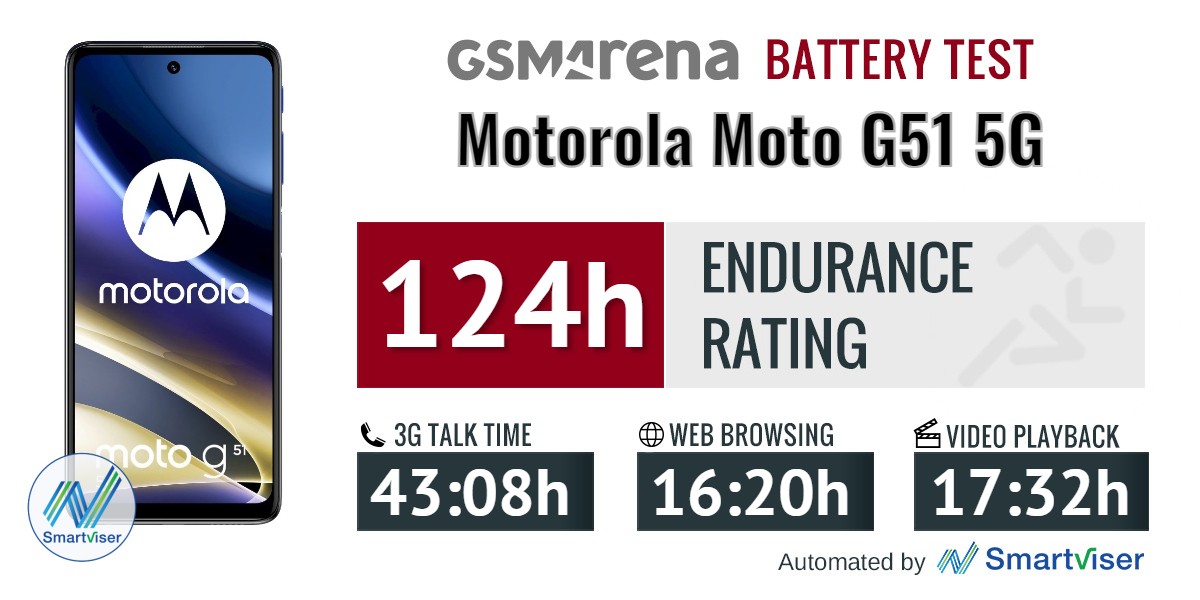 Our battery tests were automated thanks to SmartViser, using its viSerDevice app. The endurance rating denotes how long the battery charge will last you if you use the device for an hour of telephony, web browsing, and video playback daily. More details can be found here.
Video test carried out in 60Hz refresh rate mode. Web browsing test done at the display's highest refresh rate whenever possible. Refer to the respective reviews for specifics. To adjust the endurance rating formula to match your own usage patterns check out our all-time battery test results chart where you can also find all phones we've tested.
Interestingly enough, the overall battery life of the Moto G51 is a step back from the Moto G50's. Despite their near-identical standby and 3G talk time scores, the G50 got a significantly higher score of 133h thanks to its impeccable web browsing and video playback scores.
Charging speed
Interestingly, only the Indian variant gets a decent 20W charging support while the global version of the phone settles for less than optimal 10W. We can even argue that this is unacceptable for a phone released towards the end of 2021. Even the Samsung Galaxy A22 5G comes with a 15W charger.
Anyway, we mean to say that this big 5,000 mAh battery takes a lot of time to charge, so in the 30-minute test, we got just 26% of the juice back, while a full charge from 0 to 100% took a good 2 hours and 35 minutes.
30min charging test (from 0%)
Higher is better
Xiaomi Redmi Note 10
65%
Poco X3 Pro
50%
Realme 8 5G
29%
Motorola Moto G51 5G (Global variant, 10W)
26%
Motorola Moto G50
23%
Samsung Galaxy A22 5G
23%
Time to full charge (from 0%)
Lower is better
Poco X3 Pro
1:08h
Xiaomi Redmi Note 10
1:13h
Realme 8 5G
2:20h
Samsung Galaxy A22 5G
2:29h
Motorola Moto G51 5G (Global variant, 10W)
2:35h
Motorola Moto G50
2:35h
Speaker
As expected, the Moto G51 employs a single, bottom-firing speaker, which is pretty much the standard at this price point except for a few Xiaomis, the Poco X3 Pro included, which happens to be one of Moto G51's direct competitors.
Anyway, the phone's single speaker scored -28.3 LUFS in our 7-track test, enough for an "Average" rating. The Poco X3 Pro, with its stereo speakers, stands out from the crowd as sensibly louder.
As far as quality is concerned, the G51 sounds relatively flat, and distortion starts to creep in at higher volumes. None of this is surprising, though.