Almost AOSP Android 11, some Moto mods
If you are looking at Motorola phones to buy, you are probably here because of the clean Android experience, Android 11 out of the box on the Moto G30. While the UI basics are, indeed, stock, Motorola has introduced a host of neat features that add value without getting in the way.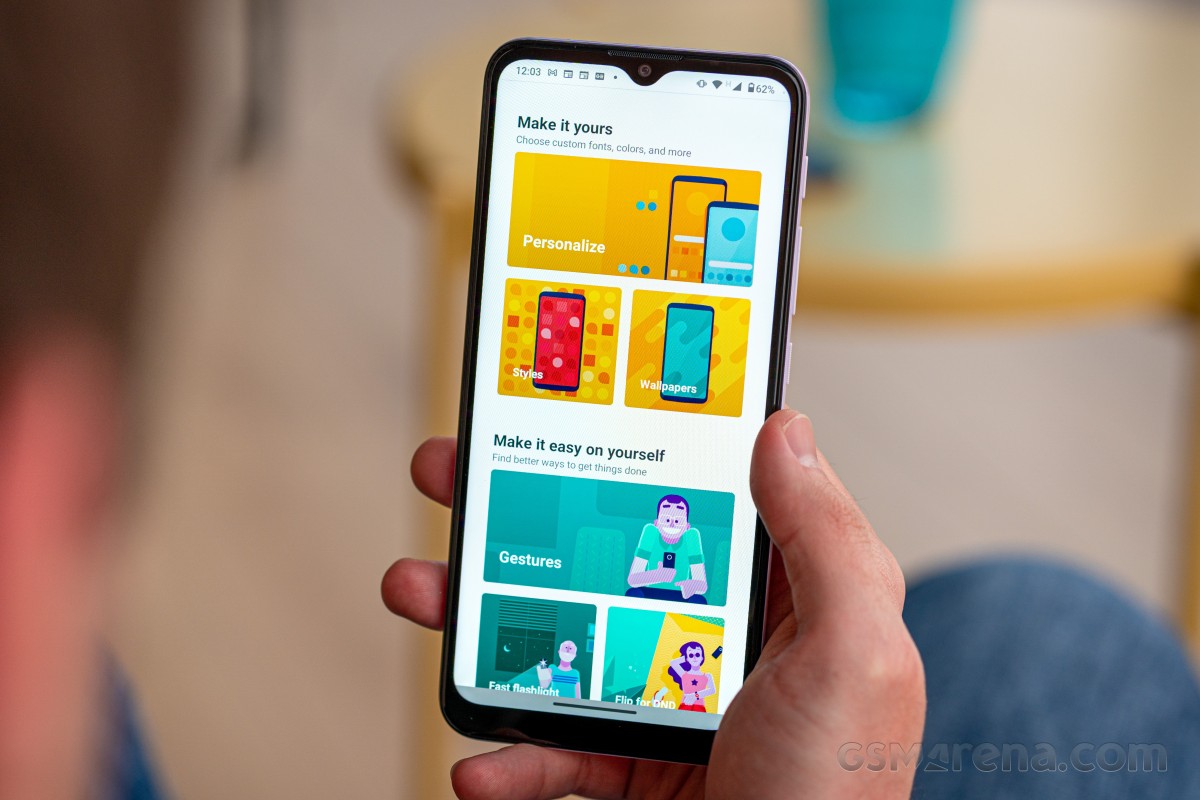 A single Moto app combines all the proprietary features. The first category is personalization allowing you to choose the icon shapes, the quick toggles appearance, the accent colors and the font. There is also a wide selection of wallpapers, the same ones you'd find in the Google Wallpapers app, plus some Moto-specific interactive ones.
Then come the gestures. The karate chop motion that turns on and off the flashlight is here along with the twisting motion that launches the camera app. Both work even when the device is locked. The lift to unlock gesture works well with the face unlock as it unlocks the device as soon as you pick it up and look at the screen. A new addition is the swipe to split function that triggers the split-screen functionality.
The display-related features are Peek Display and Attentive Display. The former works as a second-best alternative to the Always-on display but with some added functionality. The screen lights up when it detects motion that's close to the phone (most likely uses the proximity sensor) or when you pick it up. Once you've received some kind of notification, you can tap on it and see the message itself and even interact with it from the lock screen. As for the Attentive Display, it's pretty self-explanatory - it disables the screen timeout as long as there's a face looking at the screen. Pretty useful when reading long articles, though you do probably scroll often enough for the screen not to lock anyway.
Since Android 11 brings some new features of its own, Motorola has added a 'What's new' section to get you acquainted with those. The one-time permissions allow you to grant access to certain apps to your storage, location, contacts, etc., only temporary. You will be asked again when the app needs the said permission once more when you use it. Notification grouping is an effort to keep your notification shade tidy and focus on your conversations. Notification cards from ongoing conversations from your messaging apps will appear on top as high-priority compared to other app notifications.
Bubbles is one of the long-awaited features for messaging apps that Facebook's Messenger has had for years now. The apps that support the feature will prompt you with a notification in the form of a floating, interactive bubble. Tapping on it will open up the chart for a quick reply, just like Messenger.
Nearby Share with other Android devices a recent Android version is also possible, so transferring files has never been easier. And lastly, we have the updated power menu that now displays shortcuts to connected devices such as home automation or Chromecast through the Google Home app.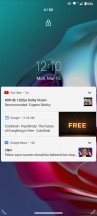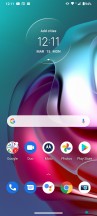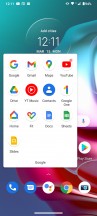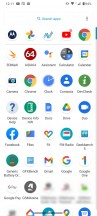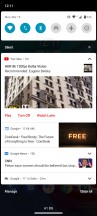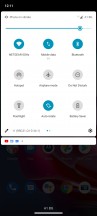 Lockscreen • Homescreen • Folder view • App drawer • Notifications • Quick toggles
The optimized charging feature is a new find that's not necessarily inherited from the Android 11 OS, but it basically does what all similar features from other brands offer. It learns your usage and charging patterns, so it doesn't 'overcharge' the battery, although this term isn't exactly correct. What it does is charge the handset to 80% and then delay the last 20% until right before you disconnect the adaptor. You need to toggle it on, though, as it's disabled by default.
The G30 being more powerful than the G10, we didn't really encounter any delays or hiccups in general operation across the UI and menus. The fingerprint reader, as we mentioned on the previous page, leaves a slightly unresponsive impression. It's not that it's slow to unlock - you get the vibration feedback when the fingerprint's scan is successful; it's just that lighting up the display takes a bit longer than usual.
Synthetic benchmarks
The Moto G30 is powered by the Snapdragon 662 chipset, a midrange piece of silicon introduced in 2020 and built on an 11nm process. It features an octa-core CPU in a 4+4 configuration with Kryo 260 Gold cores in the high-performance cluster (Cortex-A73-based) and Kryo 260 Silver ones (Cortex-A53-based) for less demanding tasks. The graphics department is handled by the Adreno 610 GPU.
Different RAM and storage options exist, from 4GB/64GB to 6GB/128GB, with our review unit being the base spec.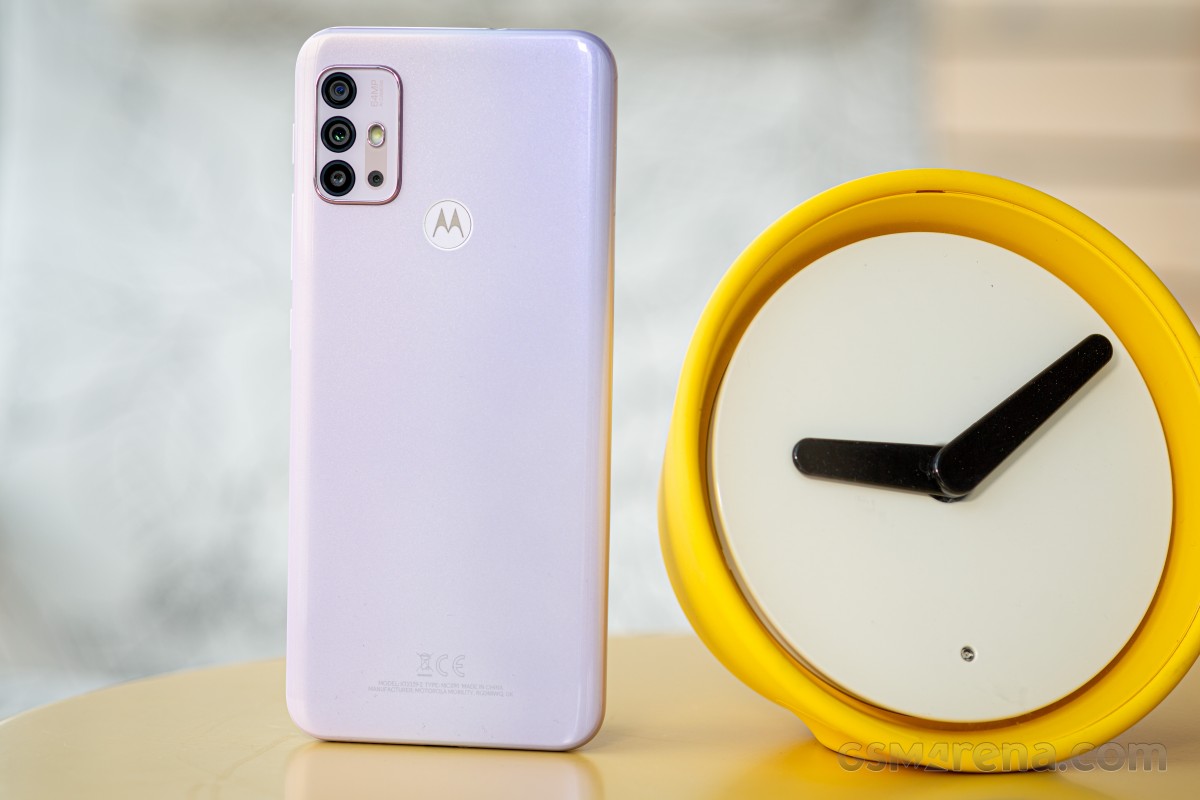 The Moto G30 posted predictable numbers in benchmarks, on par with other SD66x-equipped handsets. The Realme 7 with its beefier Helio G95 and the Poco X3 NFC with a 7-series SD732G are in a different league for CPU performance in GeekBench. The Galaxy A21s that you can get for Moto G30 money in most places isn't as powerful, while the more expensive A31 is slightly ahead in single-core, slightly behind in multi-core.
GeekBench 5 (multi-core)
Higher is better
Poco X3 NFC
1777
Realme 7
1681
Motorola Moto G9 Play
1402
Xiaomi Redmi 9T
1400
Realme Narzo 20A
1400
Poco M3
1398
Motorola Moto G8 Power
1394
Motorola Moto G9 Power
1374
Realme Narzo 20
1328
Realme 7i
1318
Honor 10X Lite
1317
Motorola Moto G30
1265
Samsung Galaxy A31
1216
Motorola Moto G10
1139
Samsung Galaxy A21s
1100
Samsung Galaxy A12
1034
Samsung Galaxy A02s
495
GeekBench 5 (single-core)
Higher is better
Poco X3 NFC
568
Realme 7
536
Realme Narzo 20
385
Samsung Galaxy A31
352
Motorola Moto G9 Power
315
Motorola Moto G9 Play
314
Realme Narzo 20A
314
Realme 7i
312
Motorola Moto G8 Power
311
Poco M3
308
Xiaomi Redmi 9T
307
Motorola Moto G30
306
Honor 10X Lite
300
Motorola Moto G10
247
Samsung Galaxy A21s
184
Samsung Galaxy A12
169
Samsung Galaxy A02s
131
This is more or less the way things stand in Antutu - Moto G30 is a bit more powerful than the Galaxies in the price range, on par with the SD66x competitors, and way behind the Realme 7 and the Poco X3.
AnTuTu 8
Higher is better
Realme 7
292828
Poco X3 NFC
283750
Realme Narzo 20
193912
Motorola Moto G9 Power
182875
Xiaomi Redmi 9T
177917
Poco M3
177904
Motorola Moto G8 Power
173607
Realme 7i
172933
Motorola Moto G30
170968
Motorola Moto G9 Play
170064
Realme Narzo 20A
169543
Honor 10X Lite
161375
Samsung Galaxy A31
151815
Motorola Moto G10
140230
Samsung Galaxy A12
107189
Samsung Galaxy A21s
107157
Samsung Galaxy A02s
90811
When it comes to GPU oomph, the Moto G30 has just the right amount of it for its 720p display and puts out respectable fps numbers in the onscreen tests in GFXBench. The Realme 7 and the Poco X3 remain ahead, even with their higher-res 1080p screens, with the gap widening in raw-power offscreen tests.
GFX Manhattan ES 3.1 (offscreen 1080p)
Higher is better
Realme 7
34
Poco X3 NFC
33
Realme Narzo 20
16
Honor 10X Lite
15
Motorola Moto G30
14
Motorola Moto G9 Play
13
Poco M3
13
Motorola Moto G9 Power
13
Xiaomi Redmi 9T
13
Motorola Moto G8 Power
13
Realme Narzo 20A
13
Samsung Galaxy A31
13
Realme 7i
13
Motorola Moto G10
9.4
Samsung Galaxy A21s
9.4
Samsung Galaxy A12
7.7
Samsung Galaxy A02s
6.1
GFX Manhattan ES 3.1 (onscreen)
Higher is better
Realme Narzo 20
32
Realme 7
28
Poco X3 NFC
27
Motorola Moto G30
26
Motorola Moto G9 Play
26
Motorola Moto G9 Power
26
Realme Narzo 20A
26
Realme 7i
25
Motorola Moto G10
19
Samsung Galaxy A21s
19
Samsung Galaxy A12
13
Honor 10X Lite
13
Motorola Moto G8 Power
12
Samsung Galaxy A31
12
Samsung Galaxy A02s
12
Poco M3
11
Xiaomi Redmi 9T
10
GFX Car Chase ES 3.1 (offscreen 1080p)
Higher is better
Realme 7
20
Poco X3 NFC
19
Realme Narzo 20
16
Honor 10X Lite
8.2
Samsung Galaxy A31
8
Xiaomi Redmi 9T
7.5
Motorola Moto G30
7.3
Poco M3
7.2
Motorola Moto G9 Power
7.2
Realme Narzo 20A
7.2
Motorola Moto G8 Power
7.1
Motorola Moto G9 Play
7
Realme 7i
7
Samsung Galaxy A21s
6
Motorola Moto G10
5.2
Samsung Galaxy A02s
3.4
Samsung Galaxy A12
3.3
GFX Car Chase ES 3.1 (onscreen)
Higher is better
Realme Narzo 20
18
Realme 7
17
Poco X3 NFC
16
Motorola Moto G30
13
Motorola Moto G9 Play
13
Motorola Moto G9 Power
13
Realme Narzo 20A
13
Realme 7i
13
Samsung Galaxy A21s
11
Motorola Moto G10
9.2
Samsung Galaxy A31
7
Honor 10X Lite
7
Motorola Moto G8 Power
6.6
Samsung Galaxy A02s
6.1
Poco M3
5.9
Xiaomi Redmi 9T
5.8
Samsung Galaxy A12
5