A 144Hz LCD display
The Motorola Moto G200 5G packs an upgraded display over the Moto G100 - it has a larger panel with fewer perforations and a faster 144Hz refresh rate. The screen supports HDR10 and is calibrated for the DCI-P3 color space.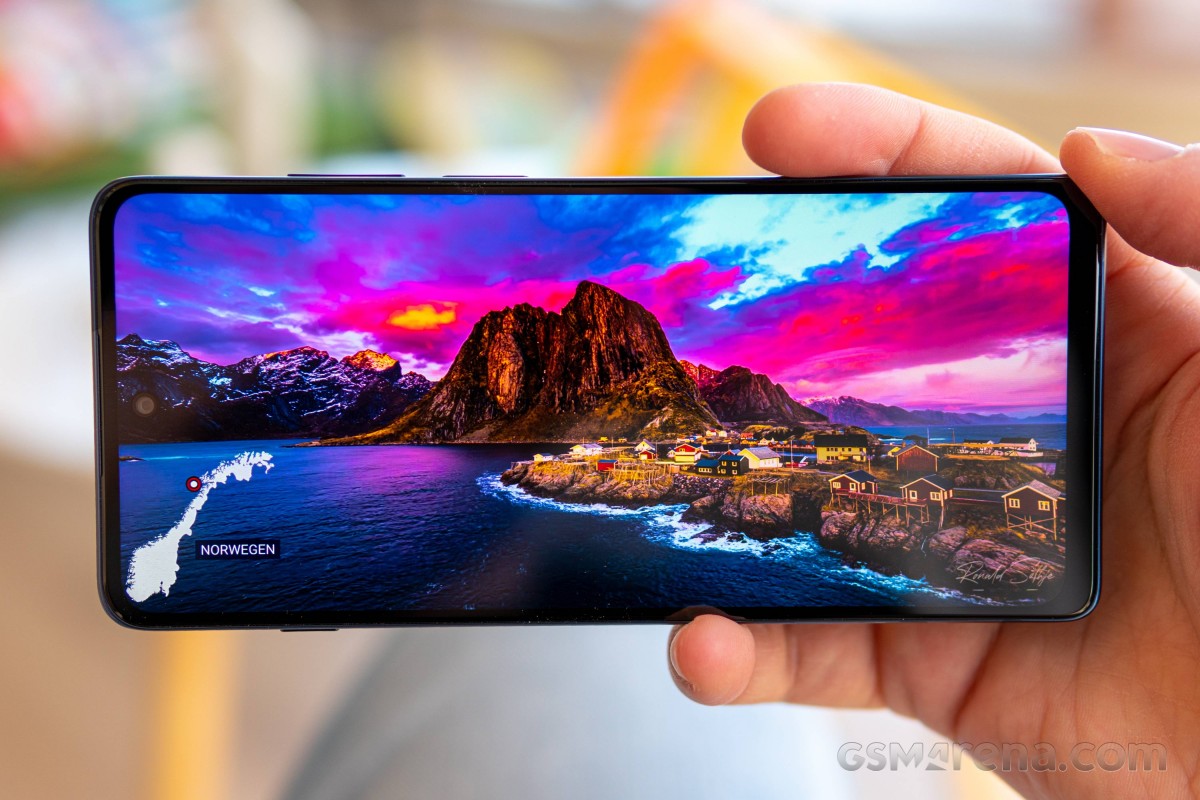 The 6.8-inch IPS TFT LCD screen has a resolution of 1,080 x 2,460 or 395ppi, making for a 20:9 aspect ratio. There is a single centered punch hole for the selfie camera and thankfully no weird light bleed or uneven backlighting around the cutout. The panel is protected by a flat sheet of tempered glass.
Let's start with our traditional display test - we recorded 462 nits of maximum brightness when manually adjusting it with the scrubber. Combined with the deep blacks we got an excellent contrast ratio of 1633:1.
There is a 100-nit boost when using Adaptive Brightness and expose the phone to a bright light. This means we measured 558 nits and once again got a superb contrast ratio of 1627:1.
The minimum brightness at point white was outstanding at just 1.9 nits, meaning using the phone in a very dark room will be no trouble at all.
Display test
100% brightness
Black,cd/m2
White,cd/m2
Contrast ratio
Motorola Moto G200 5G
0.283
462
1633:1
Motorola Moto G200 5G (Max Auto)
0.343
558
1627:1
Motorola Moto G100
0.349
498
1427:1
Motorola Moto G100 (Max Auto)
0.434
613
1412:1
Motorola Edge 20
0
466
∞
Motorola Edge 20 (Max Auto)
0
650
∞
Motorola Edge 20 Pro
0
484
∞
Motorola Edge 20 Pro (Max Auto)
0
673
∞
Realme GT 5G
0
443
∞
Realme GT 5G (Max Auto)
0
650
∞
Samsung Galaxy A52s 5G
0
383
∞
Samsung Galaxy A52s 5G (Max Auto)
0
800
∞
Poco X3 Pro
0.327
458
1401:1
Poco X3 Pro (Max Auto)
0.4
534
1335:1
Xiaomi Mi 11T
0
498
∞
Xiaomi Mi 11T (Max Auto)
0
798
∞
OnePlus 8T
0
497
∞
OnePlus 8T (Max Auto)
0
802
∞
The Moto G200 5G supports DCI-P3 color space. It comes with two Color modes - Saturated (default) and Natural. Both yield relatively accurate presentation excluding the white and gray hues. When using the Saturated option those have a noticeable shift towards blue, while in the Natural mode the shift is towards red.
You can tweak further the color temperature in either mode, but it won't lead to significantly better accuracy.
Then there is the HDR10 support. Both YouTube and Amazon Prime stream high-res HDR content hassle-free. The Moto G200 supports Widevine L1 DRM, but just like other Moto phones, this one is not whitelisted in Netflix and while it can offer Full HD streaming, it won't do HDR.
Finally, let's talk about the refresh rate behavior. Motorola offers three modes - fixed 60Hz, fixed 144Hz, and Auto.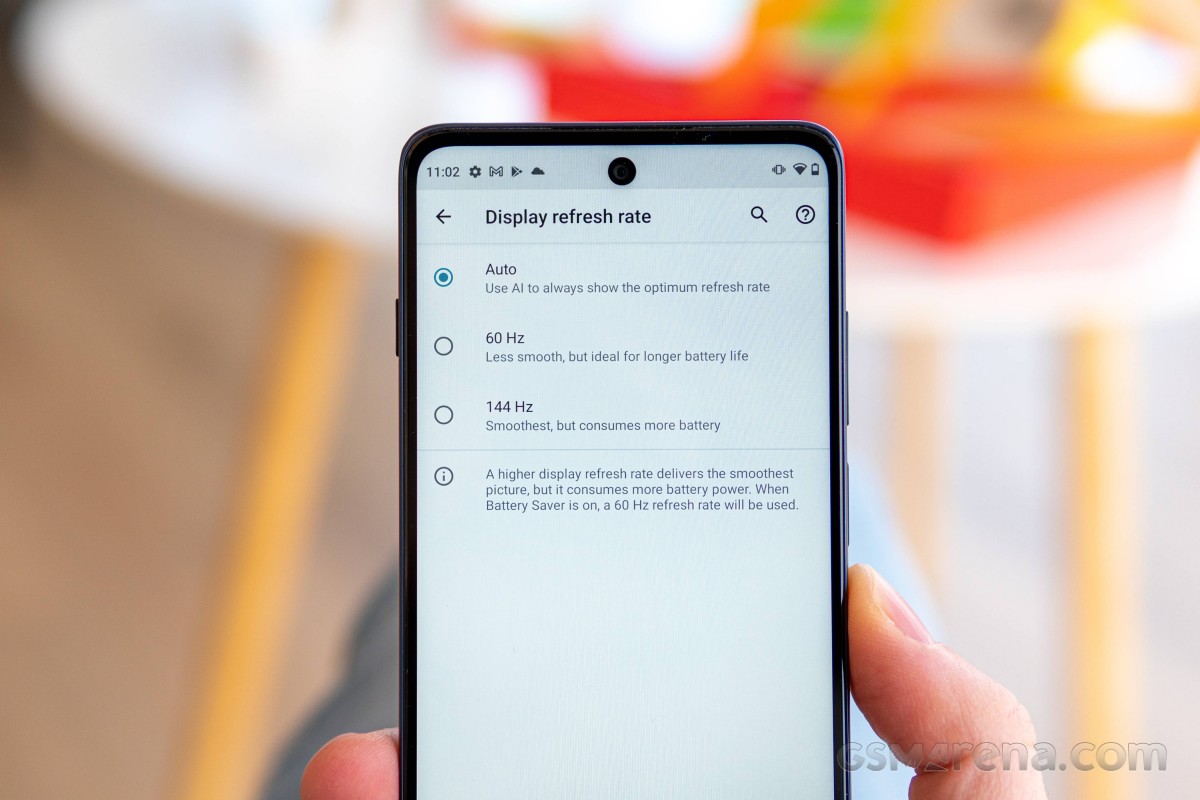 The fixed 60Hz and 144Hz always force the respective refresh rate, no matter what.
The Auto on the other hand toggles between 48Hz, 60Hz, 90Hz and 120Hz. In theory it should be able to use 50Hz, too, but it will never go to 144Hz. This mode should strike the best balance between power efficiency and smoothness and is the default option.
When using Auto, UI and compatible apps are shown at 120Hz, while 48Hz is used for static images (and if you are not touching the screen). Same goes for streaming - UI is usually 120Hz, while the video is either 60Hz or 48Hz depending on its frame rate.
Gaming is a bit different - most games with unlocked refresh rate ran at 120Hz, but some like Dead Trigger 2 (also unlocked) used 60Hz. We tried a bunch of games, and the majority got to 120Hz, so it's safe to say that apps like Dead Trigger 2 are exceptions rather than the rule.
Battery life
The Motorola Moto G200 5G is powered by a large 5,000 mAh battery and the maker is promising about 36 hours of battery life on a single charge and heavy usage. Our test is a bit different, but the results are indeed good.
The Moto G200 5G scored a total endurance rating of 102 hours. It did great when it comes to call time, and it didn't disappoint in our on-screen tests with 13+ hours of web browsing and 15 hours of video playback. The only average component was the standby battery draw.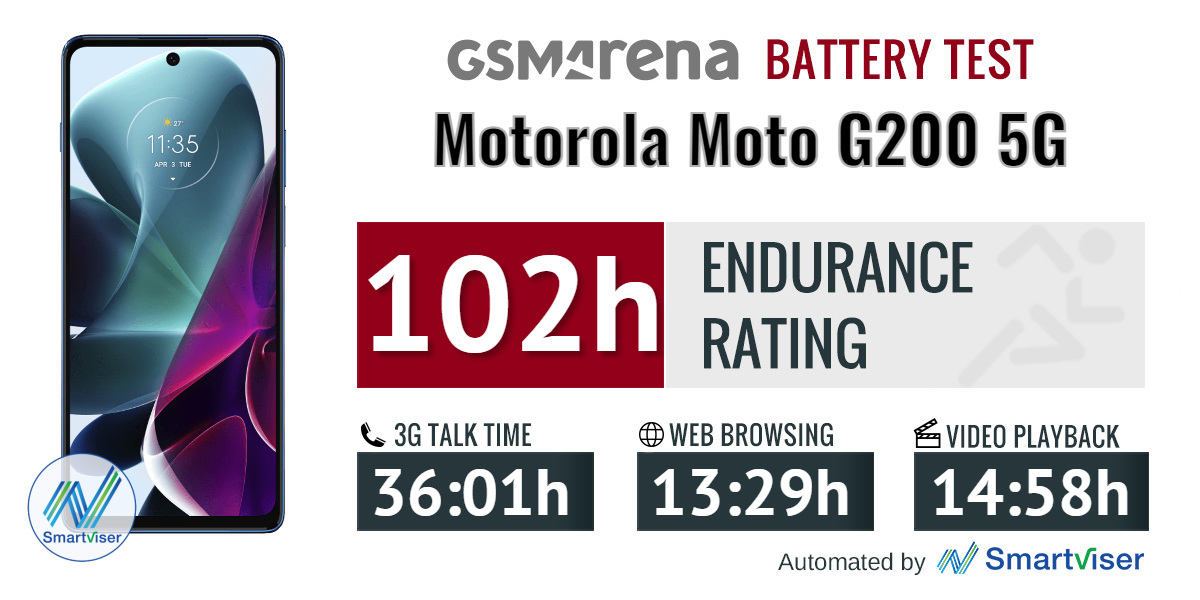 Our battery tests were automated thanks to SmartViser, using its viSerDevice app. The endurance rating denotes how long the battery charge will last you if you use the device for an hour of telephony, web browsing, and video playback daily. More details can be found here.
Video test carried out in 60Hz refresh rate mode. Web browsing test done at the display's highest refresh rate whenever possible. Refer to the respective reviews for specifics. To adjust the endurance rating formula to match your own usage patterns check out our all-time battery test results chart where you can also find all phones we've tested.
Charging speed
The Moto G200 5G supports 33W TurboPower charging and comes with the required charger in the box.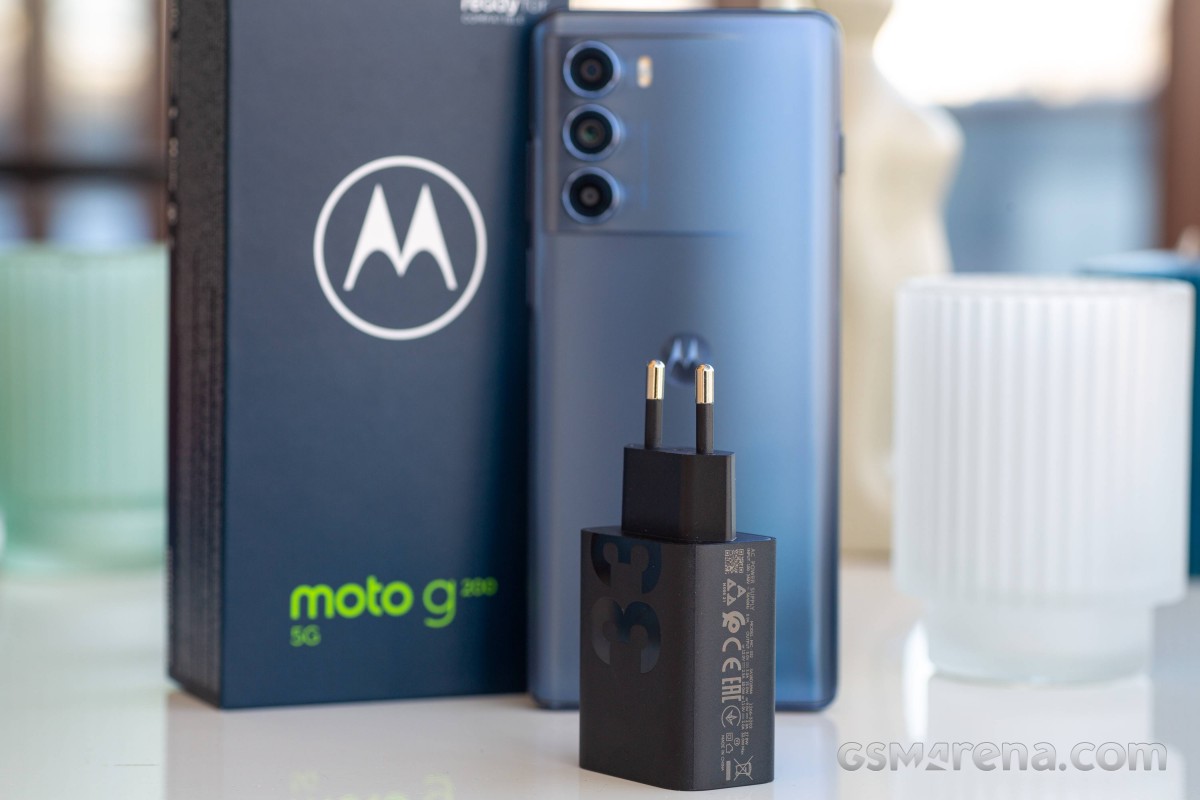 When hooked on the 33W power adapter, the G200 goes from 0% to 52% in 30 minutes.
30min charging test (from 0%)
Higher is better
OnePlus 8T
94%
Realme 8 Pro
88%
Realme GT 5G (65W)
87%
Xiaomi 11T
86%
Motorola Edge 20
68%
Motorola Edge 20 Pro
53%
Samsung Galaxy A52s 5G
53%
Motorola Moto G200 5G
52%
Xiaomi Redmi Note 10 Pro
50%
Motorola Moto G100
37%
Xiaomi Redmi Note 10 5G
33%
A full charge requires 74 minutes, a superb result within and even outside the mid-range segment.
Time to full charge (from 0%)
Lower is better
OnePlus 8T
0:36h
Realme 8 Pro
0:38h
Realme GT 5G (65W)
0:39h
Xiaomi 11T
0:41h
Motorola Edge 20
1:01h
Motorola Moto G200 5G
1:14h
Motorola Edge 20 Pro
1:17h
Xiaomi Redmi Note 10 Pro
1:21h
Samsung Galaxy A52s 5G
1:28h
Motorola Moto G100
1:54h
Xiaomi Redmi Note 10 5G
2:00h
Speaker quality
The Motorola Moto G200 5G features a single bottom-firing speaker, which is a bit disappointing.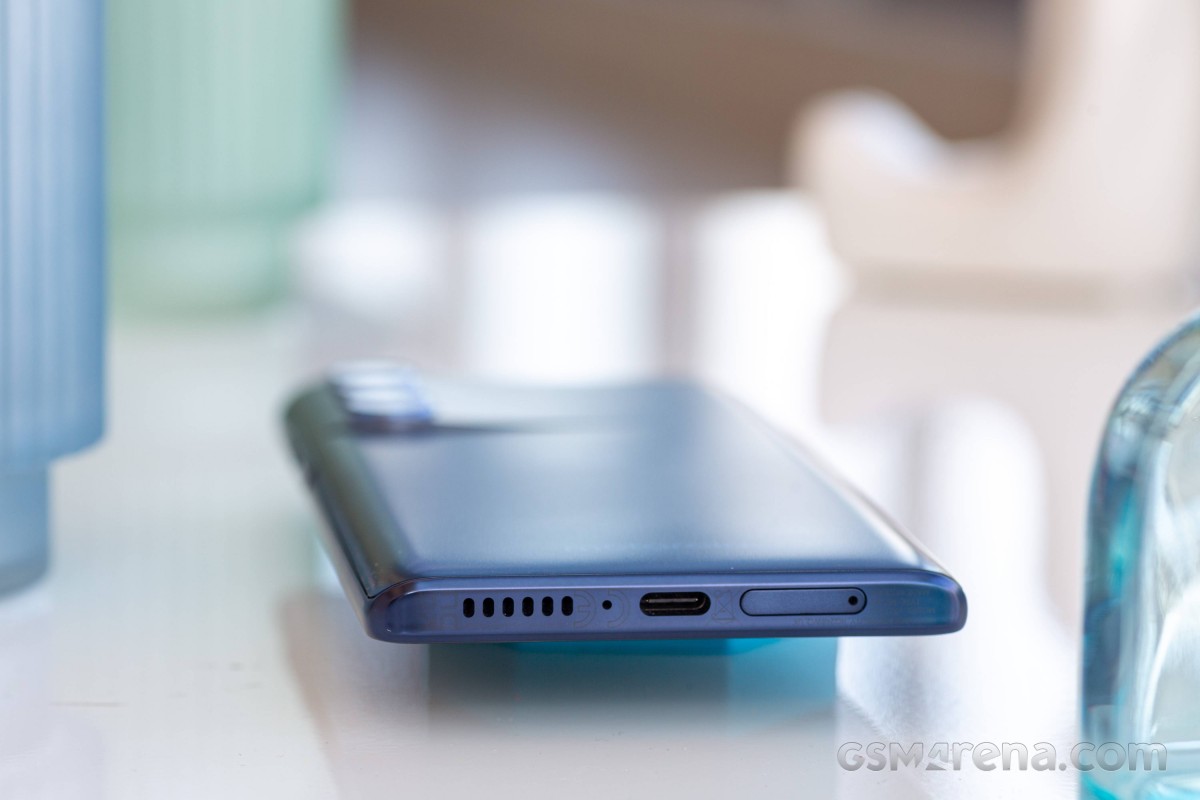 The speaker scored a Good mark in our loudness test and we can confirm it's decently loud when ringing or playing Moto's notification sounds.
The speaker quality on the other hand is mediocre - voice and mid-tones in general sound okay, but there is no bass, and the high tones are barely there.
Use the Playback controls to listen to the phone sample recordings (best use headphones). We measure the average loudness of the speakers in LUFS. A lower absolute value means a louder sound. A look at the frequency response chart will tell you how far off the ideal "0db" flat line is the reproduction of the bass, treble, and mid frequencies. You can add more phones to compare how they differ. The scores and ratings are not comparable with our older loudspeaker test. Learn more about how we test here.