Standard IPS display
Unlike the Moto G30, the G10 doesn't have a fancy 90Hz display and settles for a standard 60Hz one. It's limited by resolution as well and offers a typical for its class 720 x 1600px resolution, making up for a fairly tall 20:9 aspect ratio. It all fits in a 6.5-inch diagonal, just like the G30.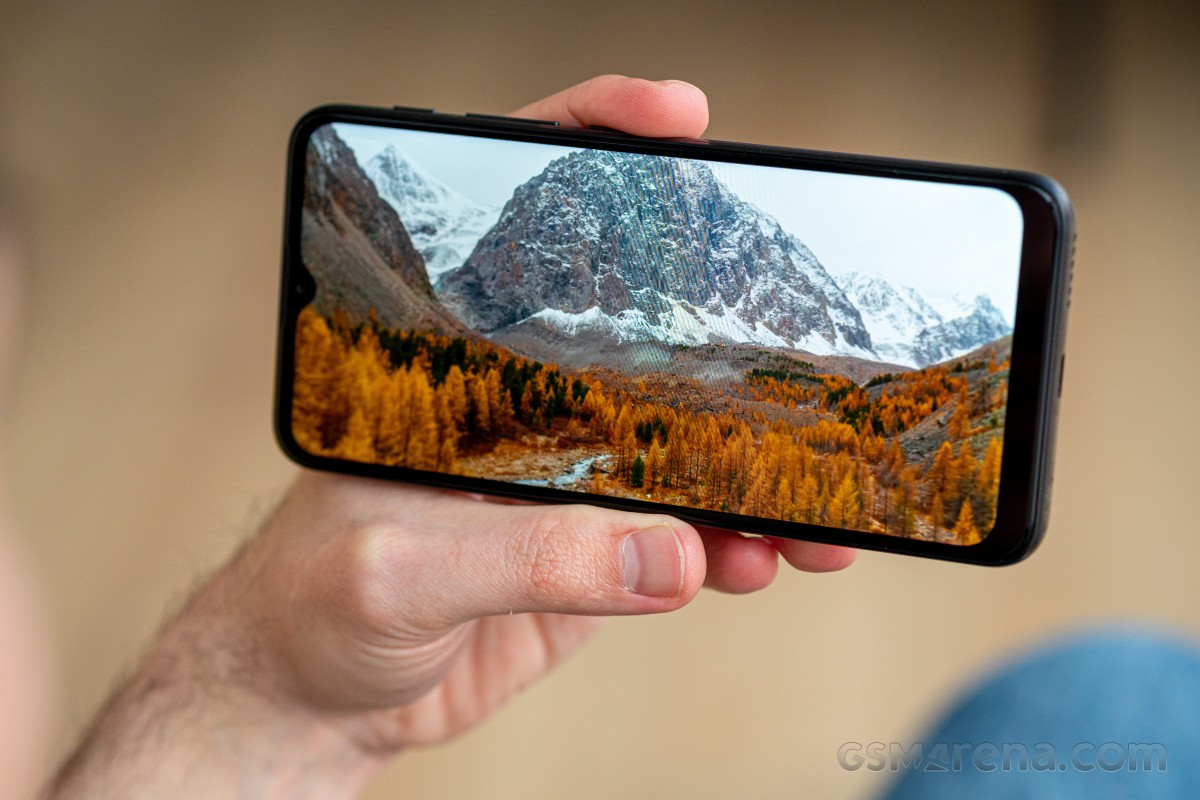 As the specs suggested, our tests also confirmed that the LCD panel is average or even mediocre at best, even for this price bracket. The maximum recorded brightness is 370 nits, and if you are looking for better color accuracy, switching to Natural mode will limit it to just 320 nits. Unfortunately, there's no additional brightness boost in Auto mode either, so watching videos or even reading will be a challenge outdoors on a bright sunny day. The good news is that the contrast is considerably above average 1878:1, which means the blacks are quite deep for an LCD.
Display test
100% brightness
Black,cd/m2
White,cd/m2
Contrast ratio
Motorola Moto G10
0.197
370
1878:1
Motorola Moto G30
0.204
403
1975:1
Motorola Moto G30 (Max Auto)
0.241
468
1942:1
Xiaomi Redmi 9T
0.239
381
1594:1
Xiaomi Redmi 9T (Max Auto)
0.32
437
1366:1
Samsung Galaxy A02s
0.23
406
1765:1
Samsung Galaxy A21s
0.317
408
1287:1
Samsung Galaxy A21s (Max Auto)
0.384
491
1279:1
Xiaomi Redmi Note 9
0.298
370
1242:1
Xiaomi Redmi Note 9 (Max Auto)
0
466
∞
The minimum brightness is also low enough for comfortable reading in a dark room. On a white sample and the brightness slider left at minimum, we got 2.2 nits.
Battery life
The Moto G10 comes with a 5,000mAh battery. The phone did great in our endurance tests and even got close to devices with bigger batteries. An overall Endurance rating of 152h is more than admirable. We were particularly impressed by the standby runtime and the screen-on scores.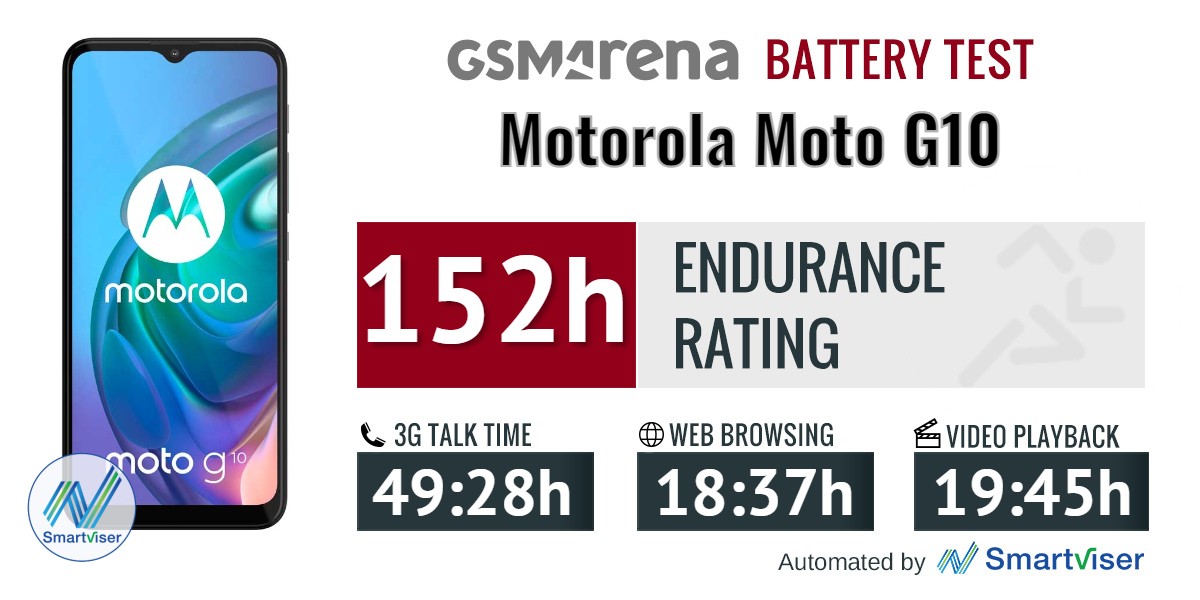 Our battery tests were automated thanks to SmartViser, using its viSerDevice app. The endurance rating denotes how long the battery charge will last you if you use the device for an hour of telephony, web browsing, and video playback daily. More details can be found here.
All test results shown are achieved under the highest screen refresh rate mode. You can adjust the endurance rating formula manually so it matches better your own usage in our all-time battery test results chart where you can also find all phones we've tested.
Charging speed
By today's standard, even the midrangers have some sort of fast charging while low-end phones have adopted at least 15-18W charging. The Moto G10, however, settles for a less than ideal 10W charging, which, when coupled with a 5,000 mAh battery, results in rather slow charging speeds. Even the Redmi 9T, which has a 6,000 mAh unit on board, charges considerably faster.
It's nice to see Motorola offering an optimized charging feature. It charges the handset to 80% and then delays the last 20% until it's closer to the time you are expected to unplug your phone so the battery is not forced to sit idling at 100% for a prolonged time.
30min charging test (from 0%)
Motorola Moto G30
32%
Samsung Galaxy A02s
30%
Samsung Galaxy A21s
26%
Xiaomi Redmi 9T
25%
Motorola Moto G10
22%
Time to full charge (from 0%)
Motorola Moto G30
2:28h
Xiaomi Redmi 9T
2:30h
Samsung Galaxy A02s
2:36h
Motorola Moto G10
3:00h
Speakers
The Moto G10 uses a single, bottom-firing speaker that doesn't impress with either quality or loudness. It scored just about average in this test, while upon subjective listening, the quality is average as well. Don't expect fullness or any bass, and be careful with the volume as things get distorted when you bump up the slider too much.
Use the Playback controls to listen to the phone sample recordings (best use headphones). We measure the average loudness of the speakers in LUFS. A lower absolute value means a louder sound. A look at the frequency response chart will tell you how far off the ideal "0db" flat line is the reproduction of the bass, treble, and mid frequencies. You can add more phones to compare how they differ. The scores and ratings are not comparable with our older loudspeaker test. Learn more about how we test here.