Familiar Moto-modded stock-ish look
The Edge 40 doesn't stray from Motorola's usual path when it comes to software. You're getting a nearly AOSP-looking version of Android (13, in this case), augmented by a handful of proprietary features. Unfortunately, the Edge 40 is only promised to get 2 OS upgrades over the course of its software support, even though it will get security updates all the way to January 2028 (a little under 5 years).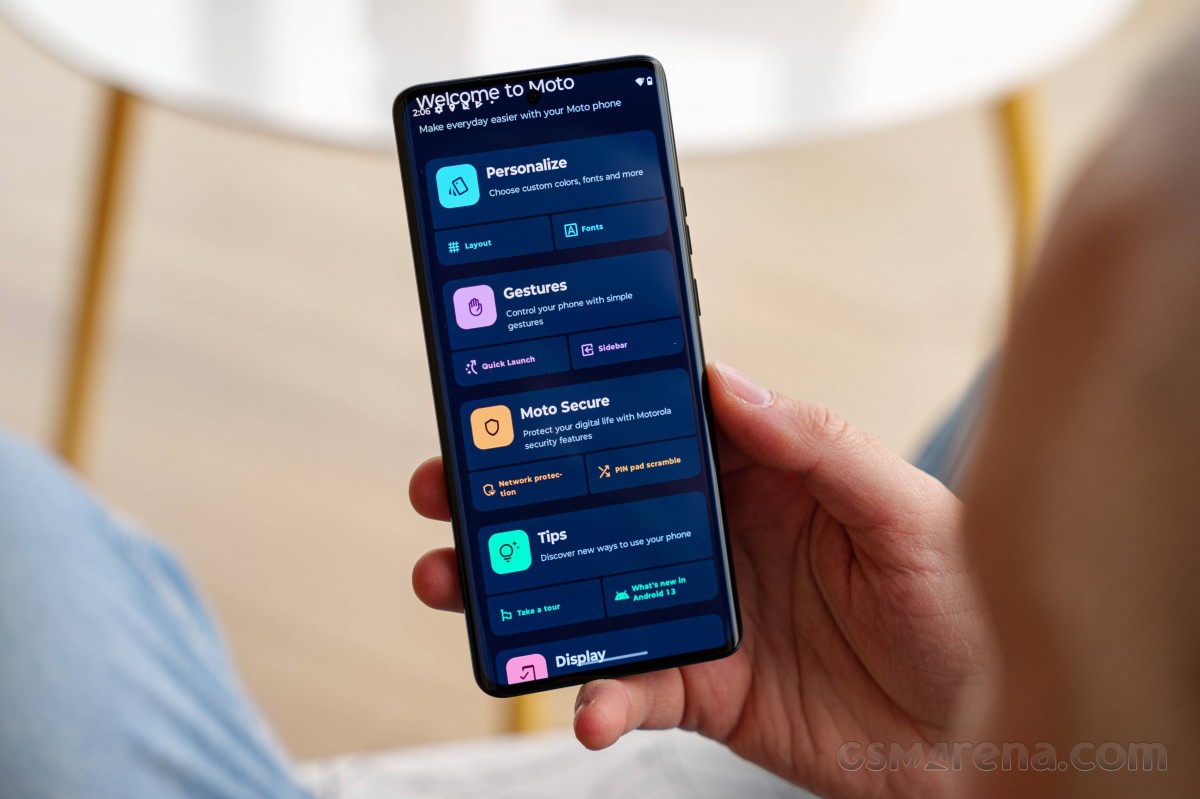 Regardless of what the future holds for the Edge 40 support, we still believe that the clean appearance is a selling factor generally applicable to all Moto devices, while the added functionality helps widen the appeal for even more users.
One thing that readily sets apart AOSP (or Pixel) versions of Android, and in turn Motorola's, from essentially all manufacturers' overlays is the Quick Settings and notification shade. That means big and bubbly buttons, of which you only get four on the first pull, up to 8 on the second, and a full-screen notification shade.
Widgets are another thing some makers like to take their own path, but Motorola sticks with Android's interface, introduced with v.12 and carried over for another OS version. The widget picker offers responsive previews for differently-sized widgets. The API supports dynamic coloring by tying into the Material You theming engine, allowing the widgets to adapt to the wallpaper.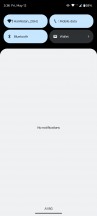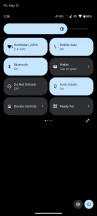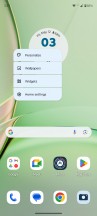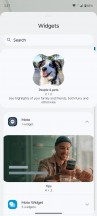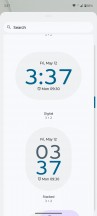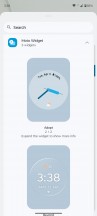 Quick settings • Notification shade • Widgets
The Material You auto-theming feature is here too, though it's masked behind a slightly customized Moto-specific theming interface. You can still get wallpaper-based accent colors, which will apply to Google apps and the settings menu.
As is usually the case, Motorola has added a handful of useful extras. They are all placed in a Moto settings app that lists them in categories. The Moto app itself has a new fresh look this year.
The first category is personalization - that's where the OS-native auto-theming is housed on Moto phones. There is also a wide selection of Moto wallpapers in addition to Google's own, plus the option to leverage AI to create your own from the photos in your gallery.
Then come the gestures. By now, you must have seen Moto's karate chop motion that turns on and off the flashlight and the twisting motion that launches the camera app. Both work even when the device is locked.
The lift-to-unlock gesture works well with the face unlock, as it unlocks the device as soon as you pick it up and look at the screen. A swipe-to-split function is available, too - it triggers split-screen multitasking. You can also double-tap the back of the phone to do a custom action.
The display-related features are Peek Display and Attentive Display. The former works as a second-best alternative to the Always-on display feature, which is actually missing, but with some added functionality to make up for it.
The screen lights up when it detects motion that's close to the phone or when you pick it up. Once you've received some kind of notification, you can tap on it, see the message, and even interact with it from the lock screen.
Attentive Display disables the screen timeout as long as there's a face looking at the screen.
You also get Edge Lights as an alternative to a notification LED. Motorola wants us to place the phone flat on its face though, which we're not too keen on.
Then there's the Play section. Here, you'll find the Gametime utility, which offers the usual functionality of tools like call and notification blocking and screen recording. Additionally, there are optional shortcuts for media playback when the screen is locked using the volume keys and a Dolby Atmos sound enhancement utility.
With recent versions, Google has been investing heavily in the privacy and security aspects of Android. This includes things like the Privacy dashboard, which offers a unified view of what permission is being used by what app and when.
There are also the camera and microphone indicators in the top right corner of the screen for an immediate clue that you're being watched/listened to, but also the quick toggles to limit access to those altogether. There is also the option to determine whether an app gets your precise coordinates or an approximate location.
Secure folder is pretty self-explanatory. It is a vault to keep your sensitive apps and files. There are a few interesting network protection options on board, like the ability to block certain apps from accessing the network while you are connected to an unsecured Wi-Fi hotspot.
Other interesting security features include the ability to lock your network and security settings for as long as your screen is locked. Also, the ability to scramble your pin input interface for higher security. You can access all of these security and privacy settings through a separate Moto Secure app shortcut as well.
Motorola's 'Ready For' platform (now more often styled with capitalized words, though not with any significant consistency), introduced in 2021 and available on high-end Motos like this one, enables a multitude of use cases that put the phone in the center of a big-screen experience. Connecting a TV or a monitor allows you to get a Windows-desktop-like environment, play a game on your phone, display it on the external screen, or even have a video chat on a larger display.
The connection can be made with a cable - either with the 'Ready For' cable (or another USB-C MHL Alt solution) or with a USB-C-to-C cable with a compatible monitor. Alternatively, you can connect wirelessly to a Miracast-capable display.
If you don't have a mouse and/or keyboard handy, the phone's screen can be used as a trackpad and/or keyboard.
You can also use 'Ready For' on a Windows-based PC - it runs within a window on your desktop. This is helpful when you want to run an Android app from your computer or multi-task between devices on just one screen.
Another use case of 'Ready for' on a Windows PC is for video calls, where you can use the phone's camera to capture yourself and an external display to see the other participants.
Performance and benchmarks
The Edge 40 has the Mediatek Dimensity 8020 chipset inside. On paper, the SoC looks like sort of a rebadged Dimensity 1100 and that one never got too popular - we've only reviewed a single device with it, the Poco X3 GT. Made on a 6nm process, the D8020 features an octa-core CPU with a 'classic' 2x4 configuration (4x2.6 GHz Cortex-A78 & 4x2.0 GHz Cortex-A55) and a Mali-G77 MC9 GPU.
We know of two memory configurations for the Edge 40 - 128GB and 256GB (as reviewed), each featuring 8GB of RAM.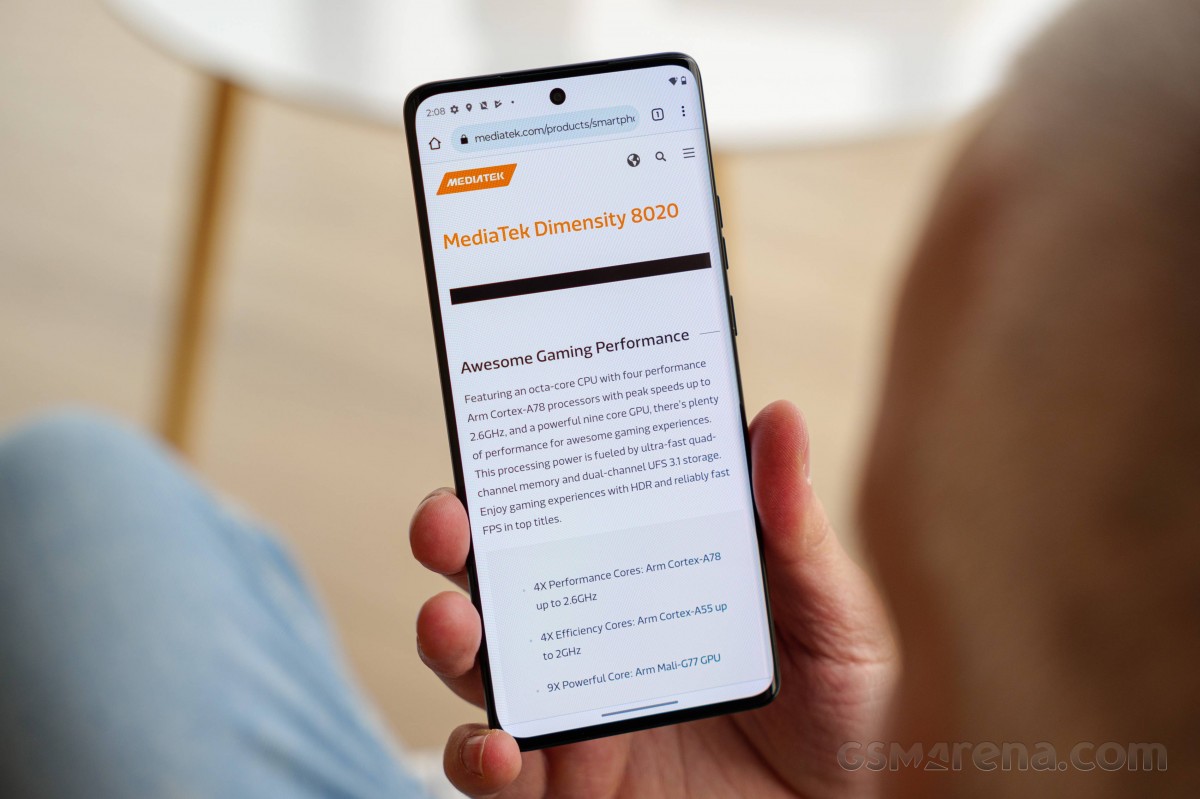 The Edge 40 put up a solid performance in GeekBench, posting notably higher results than that Poco X3 GT we mentioned - so there must be something else beyond the cores and clock rates that differentiates the CPUs of the D8020 and D1100.
While the Pixel 7 and 7a have an advantage over the Moto under single-core load (thanks to the beefier prime cores), the Edge 40 actually wins the multi-core comparison. Naturally, the Edge 40 is not on the same level as SD 8 Gen 2 devices, like its Pro stablemate. Conversely, SD695 handsets can't match the Moto's performance, particularly under multi-threaded loads, where even the SD778 struggles to keep up.
GeekBench 5 (single-core)
Higher is better
Motorola Edge 40 Pro
1482
Motorola Edge 30 Fusion
1073
Google Pixel 7
1051
Google Pixel 7a
1051
Realme 10 Pro+
842
Nothing Phone (1)
820
Motorola Edge 40
799
Xiaomi 13 Lite
795
Poco X5 Pro
781
Galaxy A54
770
Redmi Note 12 Pro+
767
Poco X3 GT
693
Moto G82
671
Sony Xperia 10 V
667
GeekBench 5 (multi-core)
Higher is better
Motorola Edge 40 Pro
4896
Motorola Edge 30 Fusion
3458
Motorola Edge 40
3320
Google Pixel 7
3288
Google Pixel 7a
3191
Nothing Phone (1)
3024
Xiaomi 13 Lite
2936
Poco X5 Pro
2930
Galaxy A54
2703
Realme 10 Pro+
2371
Poco X3 GT
2310
Redmi Note 12 Pro+
2208
Moto G82
1977
Sony Xperia 10 V
1897
In Antutu, the Pixels do manage to stay ahead of the Moto, though the Edge 40 does maintain a lead over the Poco X3 GT. 7-series Snapdragons also can't quite keep up with the D8020's pace here.
AnTuTu 9
Higher is better
Motorola Edge 40 Pro
1273764
Motorola Edge 30 Fusion
827929
Google Pixel 7
813114
Google Pixel 7a
765281
Motorola Edge 40
688347
Nothing Phone (1)
592789
Poco X3 GT
578505
Xiaomi 13 Lite
534143
Poco X5 Pro
531398
Realme 10 Pro+
522376
Galaxy A54
506678
Redmi Note 12 Pro+
498710
Moto G82
380812
Sony Xperia 10 V
357142
In graphics benchmarks, the Pixels maintain an edge over the Edge 40, and SD 8 Gen 2 devices are in a league of their own (though they are pricier, obviously). The Moto does inch ahead of the sort of similarly equipped Poco X3 GT on a regular basis, and it's also notably more powerful than the rest of the midrange competition.
GFX Aztek ES 3.1 High (onscreen)
Higher is better
Motorola Edge 40 Pro
86
Google Pixel 7a
50
Google Pixel 7
49
Motorola Edge 30 Fusion
43
Motorola Edge 40
33
Poco X3 GT
29
Nothing Phone (1)
23
Xiaomi 13 Lite
23
Galaxy A54
19
Realme 10 Pro+
16
Redmi Note 12 Pro+
16
Moto G82
12
Sony Xperia 10 V
11
GFX Aztek ES 3.1 High (offscreen 1440p)
Higher is better
Motorola Edge 40 Pro
60
Google Pixel 7a
32
Google Pixel 7
31
Motorola Edge 30 Fusion
26
Motorola Edge 40
21
Poco X3 GT
20
Nothing Phone (1)
15
Xiaomi 13 Lite
15
Galaxy A54
13
Realme 10 Pro+
11
Redmi Note 12 Pro+
11
Moto G82
7.9
Sony Xperia 10 V
7.8
GFX Aztek Vulkan High (onscreen)
Higher is better
Motorola Edge 40 Pro
98
Google Pixel 7a
49
Google Pixel 7
46
Motorola Edge 30 Fusion
35
Motorola Edge 40
31
Poco X3 GT
28
Nothing Phone (1)
23
Xiaomi 13 Lite
23
Galaxy A54
19
Realme 10 Pro+
15
Redmi Note 12 Pro+
15
Moto G82
13
Sony Xperia 10 V
11
GFX Aztek Vulkan High (offscreen 1440p)
Higher is better
Motorola Edge 40 Pro
68
Google Pixel 7a
33
Google Pixel 7
31
Motorola Edge 30 Fusion
23
Motorola Edge 40
20
Poco X3 GT
19
Xiaomi 13 Lite
17
Nothing Phone (1)
16
Galaxy A54
13
Realme 10 Pro+
10
Redmi Note 12 Pro+
10
Moto G82
8.2
Sony Xperia 10 V
8.1
GFX Car Chase ES 3.1 (onscreen)
Higher is better
Motorola Edge 40 Pro
112
Google Pixel 7a
62
Motorola Edge 30 Fusion
62
Google Pixel 7
59
Motorola Edge 40
43
Poco X3 GT
38
Nothing Phone (1)
33
Xiaomi 13 Lite
33
Poco X5 Pro
28
Galaxy A54
25
Redmi Note 12 Pro+
22
Realme 10 Pro+
21
Moto G82
16
Sony Xperia 10 V
16
GFX Car Chase ES 3.1 (offscreen 1080p)
Higher is better
Motorola Edge 40 Pro
127
Google Pixel 7
66
Google Pixel 7a
64
Motorola Edge 30 Fusion
63
Motorola Edge 40
50
Poco X3 GT
44
Xiaomi 13 Lite
39
Nothing Phone (1)
37
Galaxy A54
31
Realme 10 Pro+
27
Redmi Note 12 Pro+
26
Moto G82
21
Sony Xperia 10 V
19
3DMark Wild Life Vulkan 1.1 (offscreen 1440p)
Higher is better
Motorola Edge 40 Pro
12230
Google Pixel 7a
6646
Google Pixel 7
6569
Motorola Edge 30 Fusion
5797
Motorola Edge 40
4476
Poco X3 GT
3991
Xiaomi 13 Lite
2969
Nothing Phone (1)
2921
Galaxy A54
2818
Realme 10 Pro+
2252
Redmi Note 12 Pro+
2248
Moto G82
1211
Sony Xperia 10 V
1205
3DMark Wild Life Extreme (offscreen 1440p)
Higher is better
Motorola Edge 40 Pro
3660
Google Pixel 7a
1859
Google Pixel 7
1848
Motorola Edge 40
1261
Xiaomi 13 Lite
828
Galaxy A54
808
Redmi Note 12 Pro+
630
Realme 10 Pro+
622
Sony Xperia 10 V
358
Sustained performance on the Edge 40 is not too shabby either. We recorded a very modest and gradual rampdown in the one-hour CPU throttling test we run, and essentially rock-solid stability in the 3D Mark stress tests.