Extra smooth 6.55-inch OLED display
We've gotten used to seeing a higher-than-most refresh rates on Motorola displays and the Edge 40 continues along that path with a 144Hz panel. It's not the 165Hz we saw on the Edge 40 Pro, but it's still higher than the competition's 120Hz. The Edge 40's display is also marginally smaller than the Pro's, at 6.55 inches in diagonal vs. 6.67 inches, while resolution and aspect ratio are the same (1,080x2,400px, 20:9).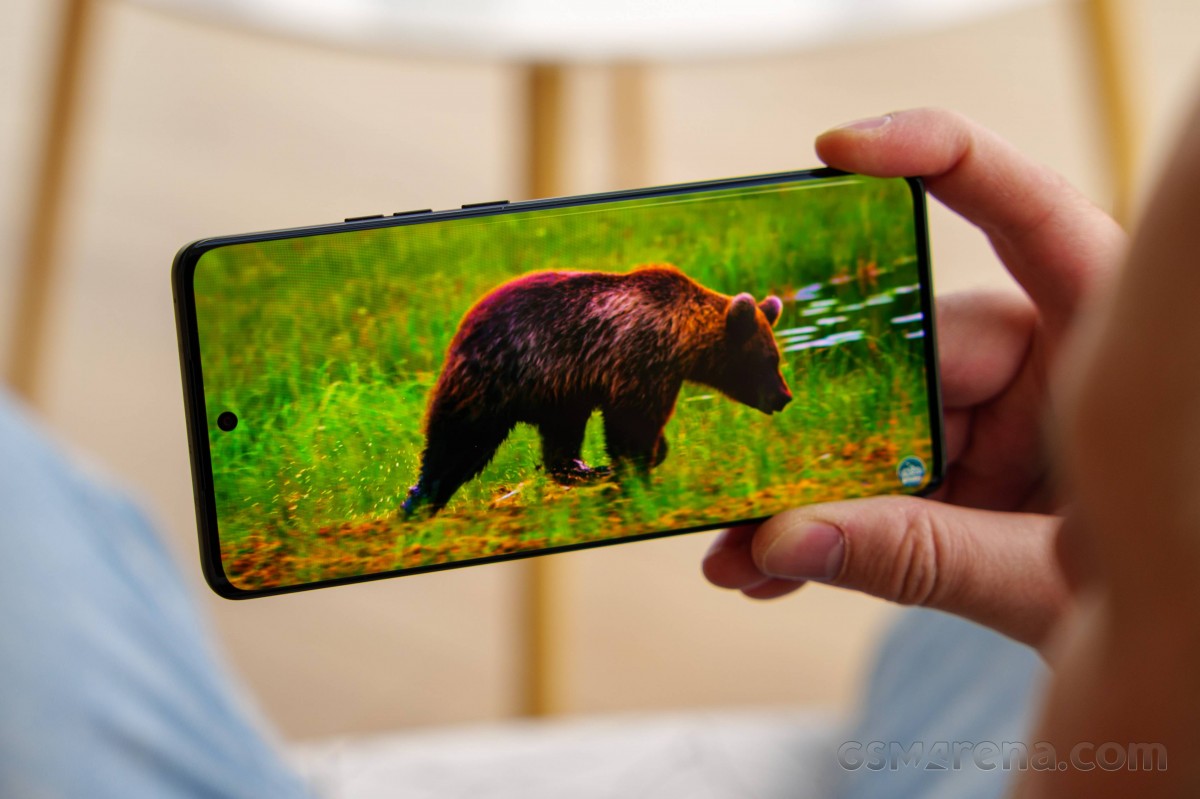 When it comes to brightness, the Edge 40 is a top performer. It pushes upwards of 1000nits in bright ambient conditions with the Adaptive brightness enabled in settings, essentially the same result as the Edge 40 Pro. We also measured the exact same 516nits when adjusting the brigntness manually. Rivals in the upper midrange are almost as bright as the Moto when placed under the sun, but almost, while the Nothing Phone (1) is quite a bit dimmer.
Max display brightness test
White test pattern, 75% fill (nits)
Sort by
Manual mode
Auto mode
Motorola Edge 40 Pro

1050

516

Motorola Edge 40

1043

516

Redmi Note 12 Pro+

990

535

Galaxy A54

980

457

Pixel 7

974

460

Sony Xperia 10 V

947

624

Motorola Edge 30 Fusion

946

516

Xiaomi 13 Lite

938

512

Realme 10 Pro+

809

484

Samsung Galaxy S21 FE 5G

792

385

Nothing phone (1)

663

466
Color accuracy
Color reproduction on the Motorola Edge 40 is handled in a relatively simple way - you get two modes (the default Saturated and Natural) plus a seven-position temperature slider for a little extra adjustment.
Saturated mode delivers a wide color gamut and overall very vivid colors, with only average accuracy for DCI-P3 targets. The white point is the worst offender and grays, too, are off to blue. If you bump the temperature slider towards warm, the color shift changes from blue to green and overall accuracy doesn't improve, while further action in the warm direction makes things progressively worse.
Natural mode, meanwhile, delivers good accuracy when displaying sRGB content, with only the faintest green tinge in the white and gray test swatches.
HDR and streaming
The Edge 40 Pro's display carries a Dolby Vision certification, while the vanilla model we have here only supports HDR10+. They specifically say the Edge 40 should be good for Netflix HDR playback, but we didn't get that on our unit and it may be a matter of the streaming service whitelisting the device at some point. The Widevine L1 certification did allow for FullHD playback.
We did get HDR streams in Prime Video (also promised in the phone's specs), while YouTube said it served HDR streams, but they didn't quite have the expected brightness boost.
Refresh rate
Alongside the higher-than-most refresh rate, Motorola phones also typically have a very straightforward software implementation and that's also the case on the Edge 40. There are three specific modes - 60Hz, 120Hz, and 144Hz, and they will all maintain the respective refresh rate with little regard for what's being displayed (with small exceptions) or if you're interacting with the phone or not.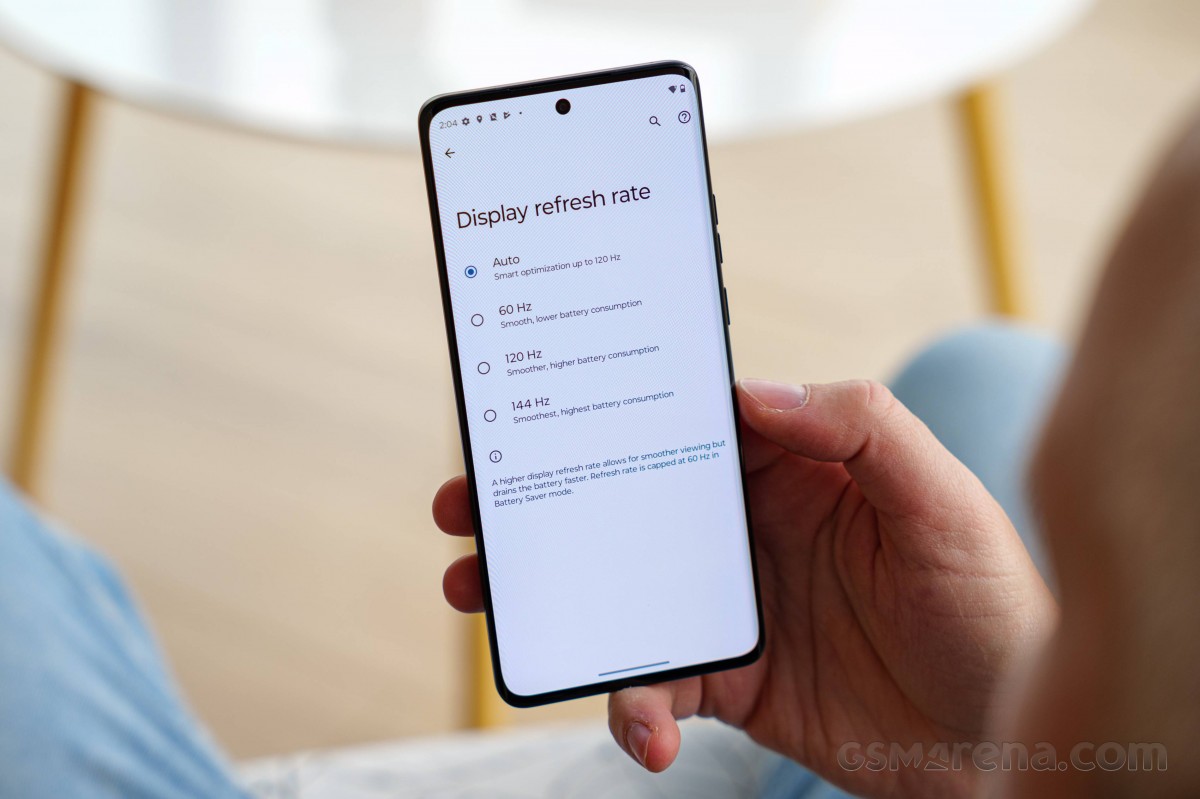 The Auto mode does introduce some auto switching. It will maintain 120Hz for the UI as long as you're touching it and it will switch to 60Hz when idling. It will also use 90Hz liberally but won't go as high as 144Hz.
Browsers will maintain 90Hz (and not 120Hz) when you're scrolling, but will otherwise drop to 60Hz. Video playback apps will default to 60Hz when displaying fullscreen videos, though a 90-60Hz switch is implemented for the UI outside of fullscreen playback.
Games are seemingly capped at 60Hz in Auto when they're set to the 'follow system' setting. You can set a higher refresh rate on a per-game basis, or pick one of the higher global settings from the display settings menu before gaming- it's just that the Auto isn't gaming-friendly.
Motorola Edge 40 battery life
Among the Edge 40's key selling points are its relative compactness and low weight, and one of the ways Motorola has achieved that is by fitting a somewhat smallish 4,400mAh battery. In our testing, that didn't prove that big of an issue, though it does depend on how you choose to look at it.
We only got okayish results for standby from the Edge 40, particularly for a phone with a non-flagship chipset like this one. In the active tests, on the other hand, things were looking pretty good.
Nearly 30h on a voice call is not too shabby. Then the 14:23h of Wi-Fi web browsing is almost long enough to be called impressive, given that it's carried out at a constant 144Hz. The almost 20h of video playback (at 60Hz) is also a very good result, especially considering the battery capaciy.
All in all, the Motorola Edge 40 earned an Endurance rating of 98h.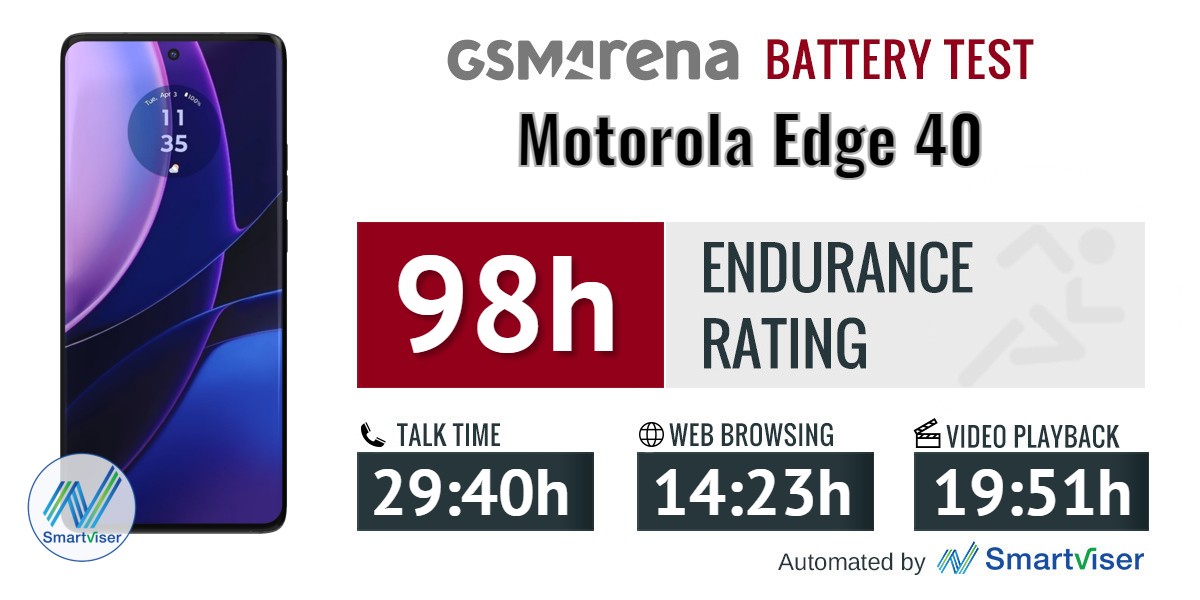 Our battery tests were automated thanks to SmartViser, using its viSerDevice app. The endurance rating denotes how long the battery charge will last you if you use the device for an hour of telephony, web browsing, and video playback daily. More details can be found here.
Video test carried out in 60Hz refresh rate mode. Web browsing test done at the display's highest refresh rate whenever possible. Refer to the respective reviews for specifics. To adjust the endurance rating formula to match your own usage - check out our all-time battery test results chart.
Charging speed
The Edge 40 ships with a nice USB Power Delivery adapter rated at 68W. Motorola promises a 0-100% time of 39 minutes and in our testing we clocked 40 minutes - so pretty accurate then. A 30-minute session on the charger will get you to 92% from a fully depleted battery. Our power meter peaked at 54W, which, while not quite maxing out the adapter's label, is still pretty solid.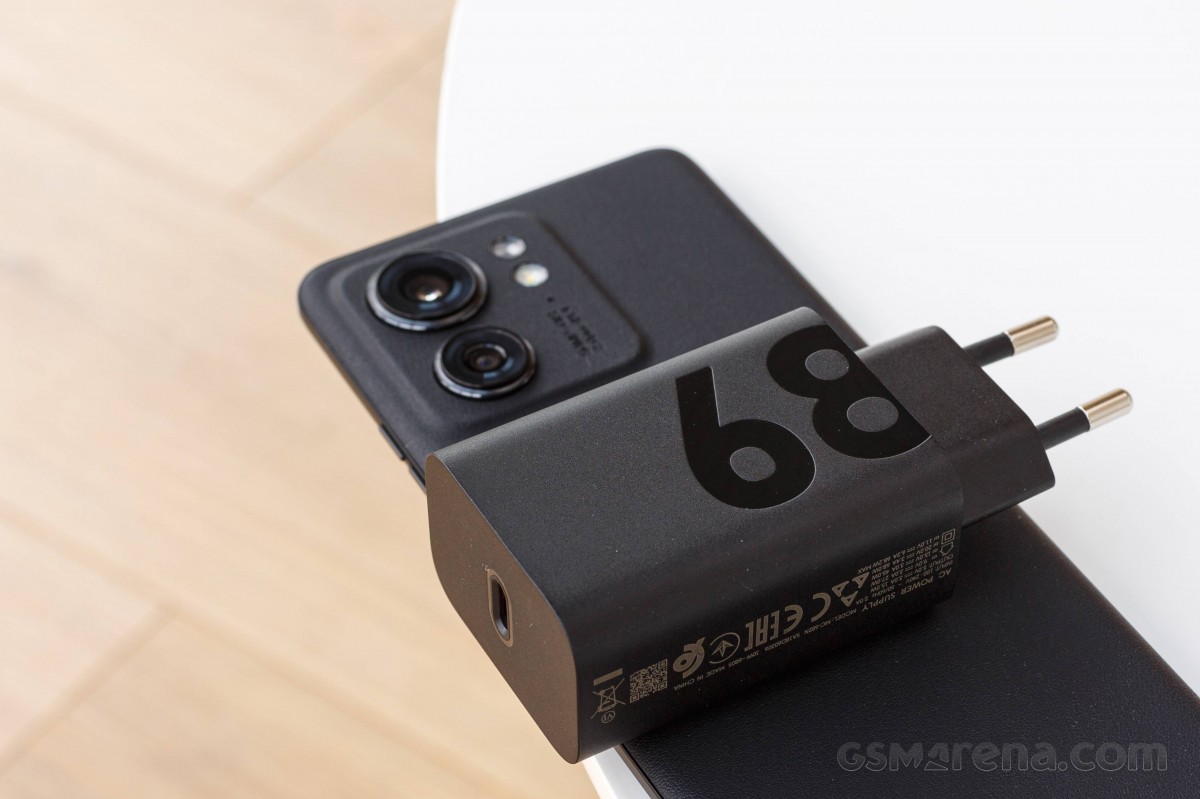 Naturally, the Edge 40 Pro is quicker with its 125W charging rating. But the non-Pro is looking very good next to potential competitors, with the Pixels in particular being substantially slower (one even more so than the other).
15min/30min charging test (from 0%)
Higher is better
Sort by
15 min time
30 min time
Motorola Edge 40 Pro

100%

83%

Motorola Edge 40

92%

58%

Realme 10 Pro+

86%

53%

Xiaomi 13

83%

48%

Xiaomi 13 Lite

83%

46%

Motorola Edge 30 Fusion

82%

N/A

Galaxy A54

56%

30%

Google Pixel 7

48%

25%

Nothing phone (1)

48%

N/A

Sony Xperia 10 V (65W PD)

37%

20%

Google Pixel 7a

36%

20%
* Tap/hover over the device names for more info
Time to full charge (from 0%)
Lower is better
| | |
| --- | --- |
| Motorola Edge 40 Pro | 0:23h |
| Motorola Edge 40 | 0:40h |
| Realme 10 Pro+ | 0:41h |
| Xiaomi 13 Lite | 0:42h |
| Xiaomi 13 | 0:42h |
| Motorola Edge 30 Fusion | 0:52h |
| Galaxy A54 | 1:03h |
| Nothing phone (1) | 1:31h |
| Google Pixel 7 | 1:40h |
| Google Pixel 7a | 1:57h |
| Sony Xperia 10 V (65W PD) | 1:58h |
* Tap/hover over the device names for more info
The Edge 40 supports wireless charging and its specs read a 15W maximum power. There doesn't appear to be a certification listing for the phone on the WPC website just yet.
A relatively new feature on recent Motos is the Overcharge protection toggle in the Battery menu. It will cut off charging once it detects that the phone hasn't been unplugged for three days straight and keep the battery charged at a much healthier 80%. There's no 'Charge boost' option here like there is on the Pro and Power sharing is also not available.
Speaker test
The Edge 40 employs a conventional hybrid stereo speaker setup where the earpiece also works as an extra channel. It's assigned the left channel when the phone is held vertically and channels will be switched in landscape depending on the orientation - Motorola even makes a mention of this otherwise most logical behavior in the Dolby Atmos 'learn more' section. Each speaker gets its own channel only - there's no outsourcing of some (lower) frequencies from the earpiece to the 'main' speaker on the bottom.
Unlike on the Pro, the Edge 40's top speaker only outputs sound towards the front, so you won't be getting spillage from your voice calls.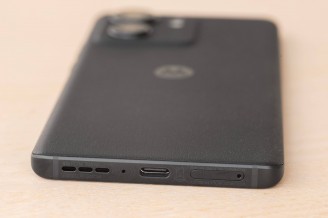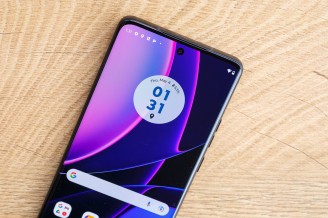 Bottom speaker • Top speaker/earpiece
The phone earned a 'Very Good' rating for loudness in our test - on par or louder than potential competitors, but a notch below the 'Excellent' Edge 40 Pro. That said, the non-Pro sounds better to our ears than its supposedly louder stablemate. Sound is a lot more balanced out of the Edge 40 with no obvious flaws. Both the Pixel 7 and the Nothing Phone (1) sound more muffled and 'cheaper', and it's only the Galaxy A54 that potentially has a minor advantage over the Moto, mostly in the low end of the spectrum.
Use the Playback controls to listen to the phone sample recordings (best use headphones). We measure the average loudness of the speakers in LUFS. A lower absolute value means a louder sound. A look at the frequency response chart will tell you how far off the ideal "0db" flat line is the reproduction of the bass, treble, and mid frequencies. You can add more phones to compare how they differ. The scores and ratings are not comparable with our older loudspeaker test. Learn more about how we test here.