Extra smooth 6.67-inch OLED display
The Edge 30 Ultra outdoes the competition in at least one aspect of its display capabilities and it's refresh rate - as is common with fancier Motos, this one supports up to 144Hz refresh rate, while non-gaming alternatives are almost universally capped at 120Hz. Dubbed 'Endless Edge Display', the curved OLED panel measures 6.67 inches in diagonal and has a 1,080x2,400px resolution (20:9 aspect, 394ppi density).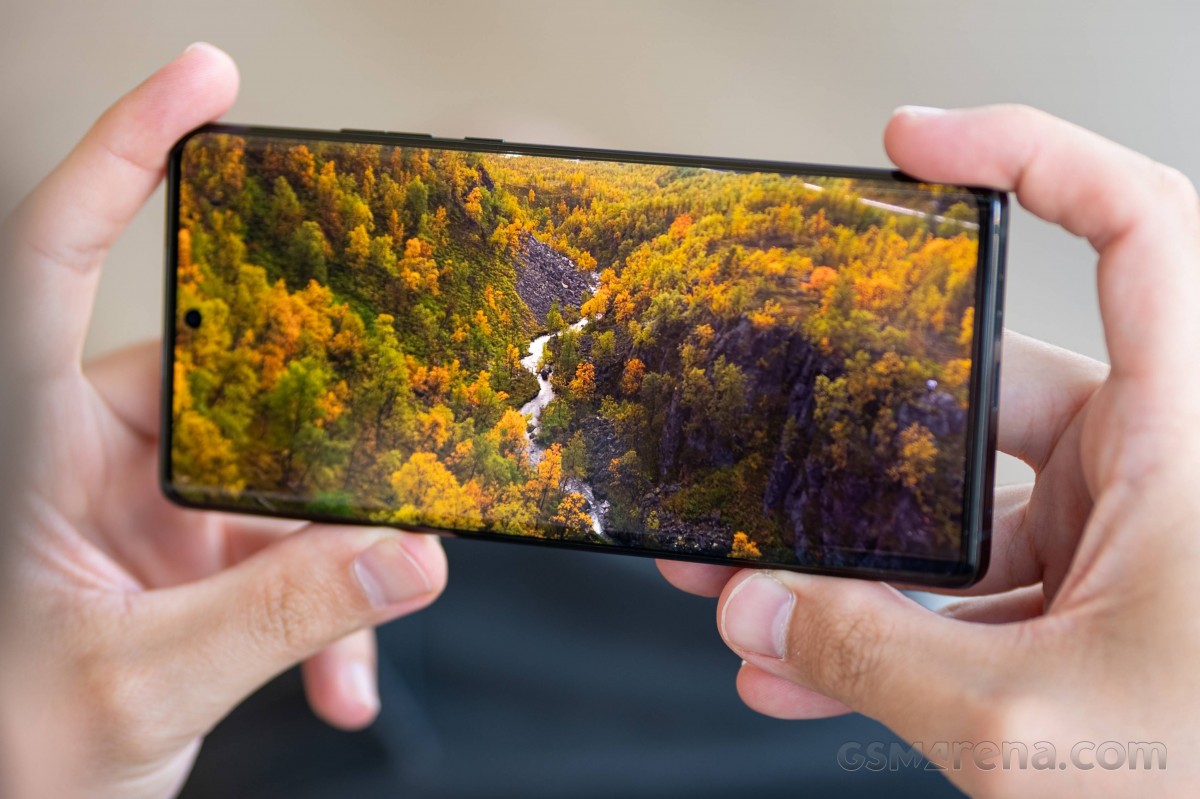 Motorola mentions a peak brightness of 1250nits, and we gather that's for small patches of white in HDR applications. In our standardized testing, we got a maximum brightness of 1047 nits with the adaptive toggle turned on and the phone in bright ambient conditions. We'd call that an excellent value and one that only Samsung's latest can beat by a meaningful margin. The 499nits we got when operating the slider manually are more or less par for the course.
Display test
100% brightness
Black,cd/m2
White,cd/m2
Contrast ratio
Motorola Edge 30 Ultra
0
499
∞
Motorola Edge 30 Ultra (Max Auto)
0
1047
∞
Motorola Edge 30 Pro
0
485
∞
Motorola Edge 30 Pro (Max Auto)
0
685
∞
Motorola Edge 30 Fusion
0
516
∞
Motorola Edge 30 Fusion (Max Auto)
0
946
∞
OnePlus 10T
0
517
∞
OnePlus 10T (Max Auto)
0
819
∞
OnePlus 10 Pro
0
498
∞
OnePlus 10 Pro (Max Auto)
0
780
∞
Realme GT2 Pro
0
482
∞
Realme GT2 Pro (Max Auto)
0
778
∞
Realme GT2 Explorer Master
0
497
∞
Realme GT2 Explorer Master (Max Auto)
0
798
∞
Samsung Galaxy S22+
0
468
∞
Samsung Galaxy S22+ (Extra brightness)
0
782
∞
Samsung Galaxy S22+ (Max Auto)
0
1214
∞
Xiaomi 12 Pro
0
506
∞
Xiaomi 12 Pro (Max Auto)
0
1050
∞
It's not quite as rosy when it comes to color reproduction - it's rather blue, in fact. The default Saturated mode does offer a wide color gamut, but its white point is somewhat heavily shifted towards blue (dE2000 is around 9). Nudging the temperature slider one notch (out of 3) towards warm lowers the white's deviation to 4 units (still cold), and improves the average as well. The 2 out of 3 warm setting shifts things to green now and is about as bad as the default setting, while the warmest option makes things properly bad with an even heavier yellowish-green tint.
On a more positive note, the Natural mode is very well tuned for sRGB content and for our set of test swatches, we got an average dE2000 of 2.2, and but the faintest green tinge in the whites.
The Edge 30 Ultra offers HDR10+ support, and we got HDR streams from YouTube and Amazon Prime Video. Netflix wouldn't cooperate, but we imagine it's a matter of time for the streaming platform to whitelist the model.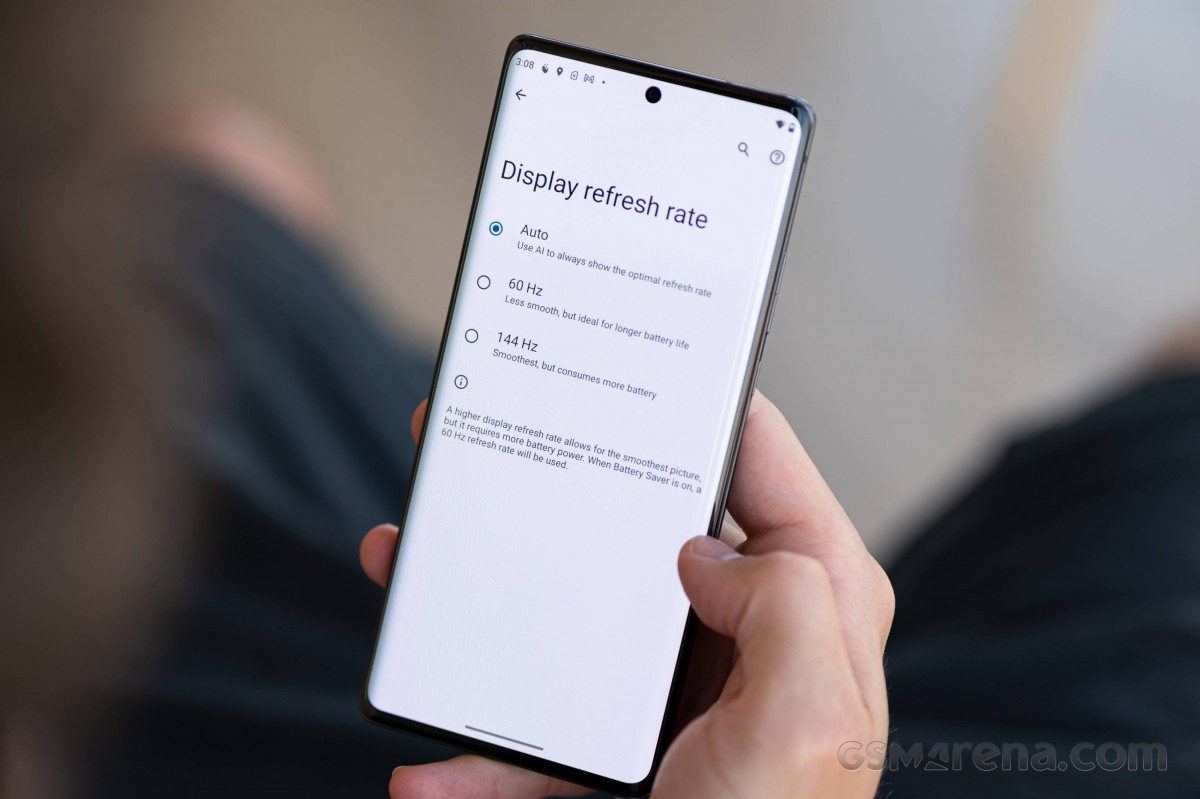 Just as we observed on the Edge 30 Fusion most recently, the Edge 30 Ultra has three modes for refresh rate - 60Hz, 144Hz, and Auto. The former two are really straightforward - the phone is simply set to a static 60Hz or 144Hz, and that's that.
The Auto mode is a bit more complex and will switch between 120, 90, and 60Hz, based on what's being displayed on the phone or how you're interacting with it. It won't go as high as 144Hz - you need to be in the 144Hz mode for that. It also didn't appear to trigger 48Hz in our experience, even though it should be able to according to our software that reads into Android's internals. The 48Hz mode could be reserved for the Always-on display, but refresh rate readings aren't reliable, so we can't confirm. It doesn't work for 24/48fps videos, for what that's worth.
It's worth noting that the Edge 30 Ultra is more than happy to maintain 120Hz in a browser when there's moving content there - it's not something that you can count on from every phone.
The automatic refresh rate switching mode isn't quite as reliable when it comes to gaming - just as we observed on the Edge 30 Fusion. Some games we tried ran at 120Hz while others at 60Hz, despite the fact that we know these titles can render at above 60fps. From the Game time utility, you do get to force any of the available refresh rates (60, 90, 120, or 144Hz), but that doesn't necessarily mean that the game will indeed go above 60fps. The 144Hz mode maintains 144Hz irrespective of what you're doing, gaming included.
Motorola Edge 30 Ultra battery life
The Edge 30 Ultra has a 4,610mAh battery inside, not quite the 5,000mAh of the OnePlus 10 Pro, but a smidge more than the 4,500mAh capacity found in the Galaxy S22+.
In our testing, we got solid results out of the Motorola, with the screen-on tests being semi-impressive. The 19 hours of video playback (at a fixed 60Hz), for example, is a couple of hours more than the OP or the Galaxy phone.
The 13:39h result in the web browsing matches the OP's, and is an hour and a half shorter than the S22+'s, but the Moto ran it at a constant 144Hz, which makes it more remarkable. We re-ran the test in Auto mode, which kept things at 120Hz most of the time with some auto switching to 60Hz, but that didn't bring a significant improvement - 14:08h.
The voice call longevity is a bit below what these other two scored, and the somewhat meh standby results didn't help either, so the overall Endurance rating turned out just 92h. Still, the excellent performance in the all-important screen-on tests should be the key takeaway here, we think.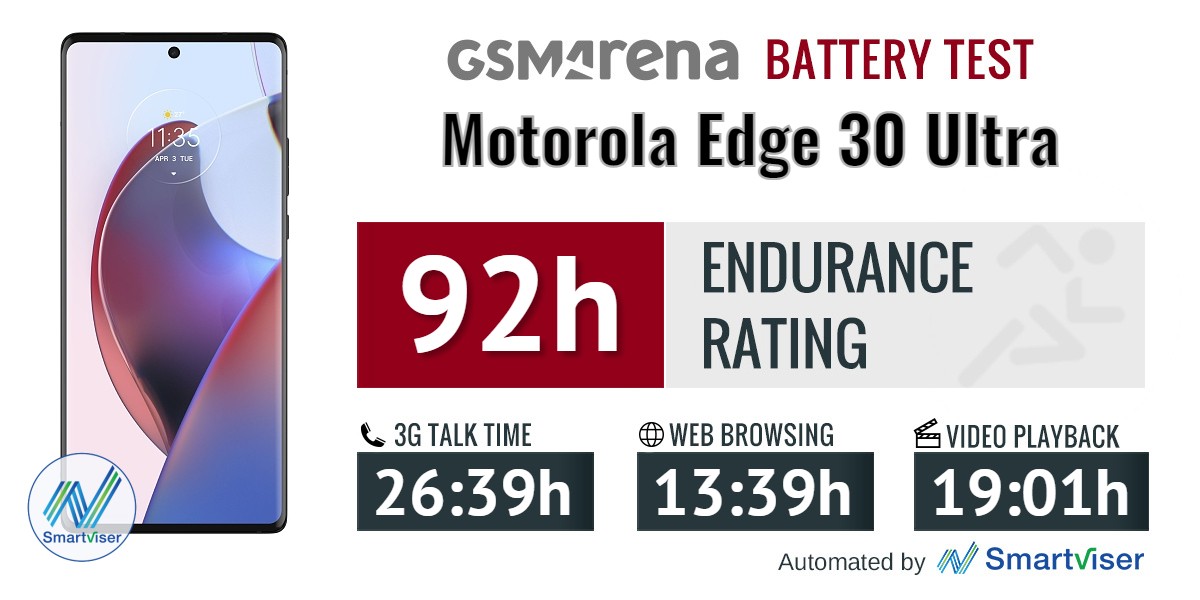 Our battery tests were automated thanks to SmartViser, using its viSerDevice app. The endurance rating denotes how long the battery charge will last you if you use the device for an hour of telephony, web browsing, and video playback daily. More details can be found here.
Video test carried out in 60Hz refresh rate mode. Web browsing test done at the display's highest refresh rate whenever possible. Refer to the respective reviews for specifics. To adjust the endurance rating formula to match your own usage - check out our all-time battery test results chart.
Charging speed
The 125W charger Motorola bundles with the Edge 30 Ultra is quite a chonker at 166g, but when you put it into perspective - it's a 125W USB PowerDelivery charger - its size is quite reasonable. It's also fairly compact, too - again, perspective.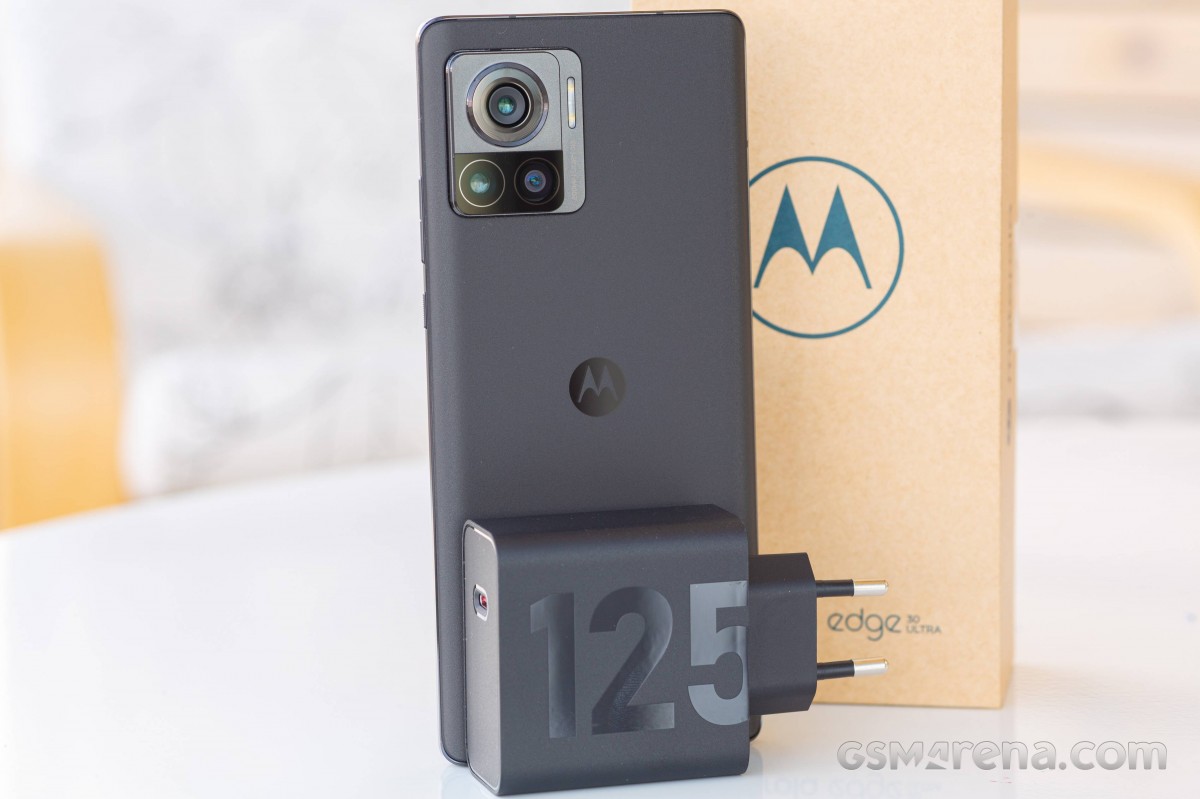 Those 125 watts may be a bit of an overstatement, though the phone did steadily draw a rather remarkable 105-ish watts in the 0-10% range, after which we saw power values in the mid-70s, mid-50s and mid-40s as the battery filled up.
So, using this bundled adapter, we clocked a zero to 100% time of 33 minutes, with the battery indicator showing 95% at the 30-minute mark. As a side note, a mere 10 minutes will get you from dead to high 40s charge, which is great to have for those instances when you simply have to leave the house in minutes, and you realize your battery is dead.
30min charging test (from 0%)
Higher is better
OnePlus 10T
100%
Xiaomi 12 Pro (120W)
100%
Realme GT2 Explorer Master
100%
Realme GT Neo3 150W
100%
OnePlus 10 Pro
98%
Motorola Edge 30 Ultra
95%
Realme GT2 Pro
91%
Xiaomi 12
87%
Motorola Edge 30 Pro
85%
Motorola Edge 30 Fusion
82%
Xiaomi 12S Ultra
73%
Samsung Galaxy S22+ (25W)
62%
Xiaomi 12 Pro (65W PD)
62%
Asus Zenfone 9
57%
Time to full charge (from 0%)
Lower is better
Realme GT Neo3 150W
0:16h
OnePlus 10T
0:19h
Xiaomi 12 Pro (120W)
0:21h
Realme GT2 Explorer Master
0:25h
OnePlus 10 Pro
0:32h
Motorola Edge 30 Ultra
0:33h
Realme GT2 Pro
0:40h
Xiaomi 12
0:46h
Xiaomi 12S Ultra
0:50h
Xiaomi 12 Pro (65W PD)
0:50h
Motorola Edge 30 Fusion
0:52h
Motorola Edge 30 Pro
0:53h
Samsung Galaxy S22+ (25W)
1:02h
Asus Zenfone 9
1:15h
The Edge 30 Ultra also supports wireless charging, and Motorola specifies a 50W rating using the right peripherals (the TurboPower 50W Wireless Charging Stand, which we didn't have for testing). There doesn't appear a certification listing for the phone on the WPC website, but its sister model, the Moto X30 Pro, is listed to comply with the Extended Power Profile for a maximum of 15 watts. Again, proprietary solutions are known to be off-spec, so the 50W Motorola quotes could very well be true.
Speaker test
The Edge 30 Ultra has the classic hybrid stereo speaker setup where the earpiece also works as an extra channel. It's assigned the left channel when in portrait, and the phone switches channels in landscape depending on the orientation like it should. Each speaker gets its own channel only - there's no outsourcing of some (lower) frequencies from the earpiece to the 'main' speaker on the bottom.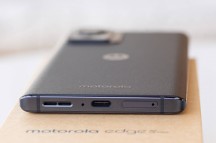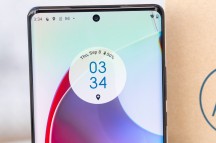 Bottom speaker • Top speaker/earpiece
The phone posted a rather impressive result for loudness in our test, numerically speaking, though it still fell short of earning an 'Excellent' rating and placed in the 'Very Good' category. That puts it on par with the Edge 30 Pro and potential rivals like the OnePlus 10 Pro or the Galaxy S22+, though these last two are not quite as loud.
In terms of output quality, the Moto is solid if not particularly exceptional in any way. For what it's worth, it sounds better to our ears than the OP and the Galaxy - nice vocals, clean treble, some bass.
Use the Playback controls to listen to the phone sample recordings (best use headphones). We measure the average loudness of the speakers in LUFS. A lower absolute value means a louder sound. A look at the frequency response chart will tell you how far off the ideal "0db" flat line is the reproduction of the bass, treble, and mid frequencies. You can add more phones to compare how they differ. The scores and ratings are not comparable with our older loudspeaker test. Learn more about how we test here.