Design
The Edge 30 Fusion sports an undeniably classy aesthetic. It is not a particularly large device and fits very snugly in hand. Much of that comfort comes from its symmetrically curved front and back sides. The slope is not too gentle and not too aggressive. As the saying goes, it feels "just right".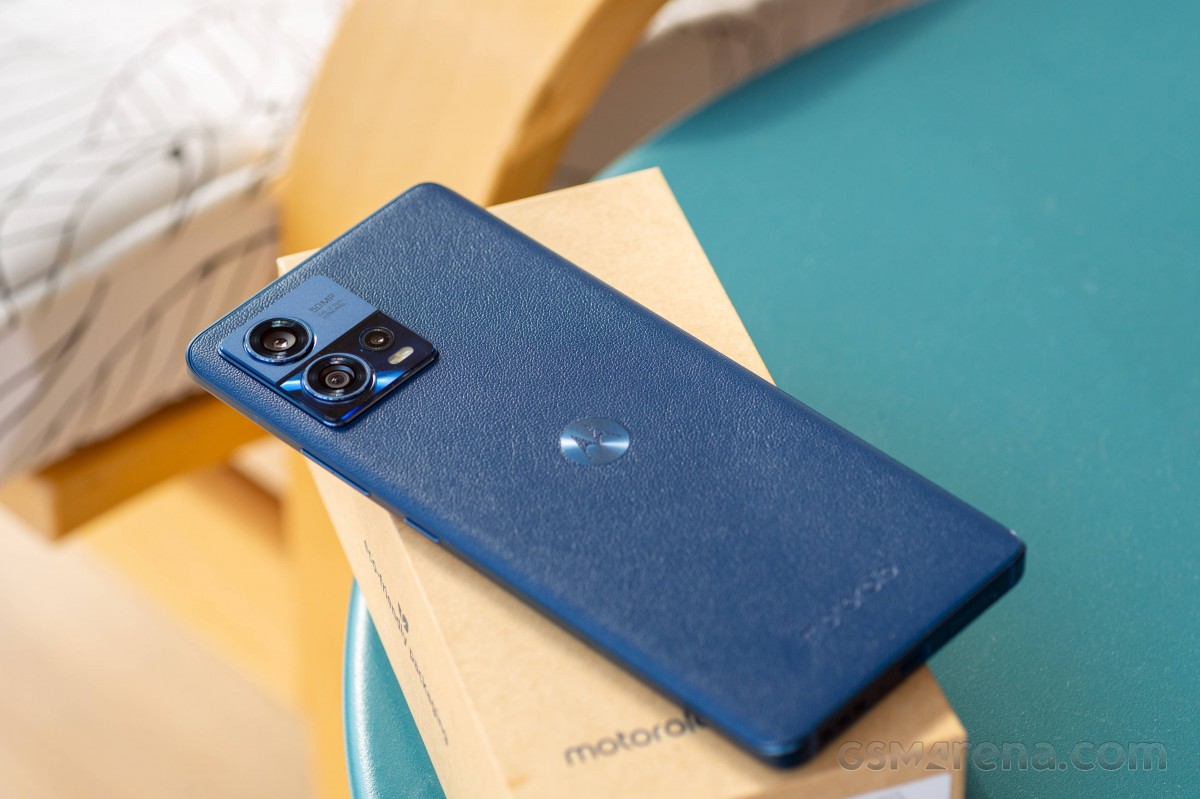 The middle metal frame has sharp chamfers, which help with the overall grip, even though the frame is pretty thin.
The back side of the Edge 30 Fusion is what really gives it its overall design vibe without really standing out since it's a very subdued and classy look. The faux leather back is soft to the touch and feels great in hand. There is just something about seeing and feeling a material other than glass on a modern smartphone that makes it just a bit special in a retro sort of way.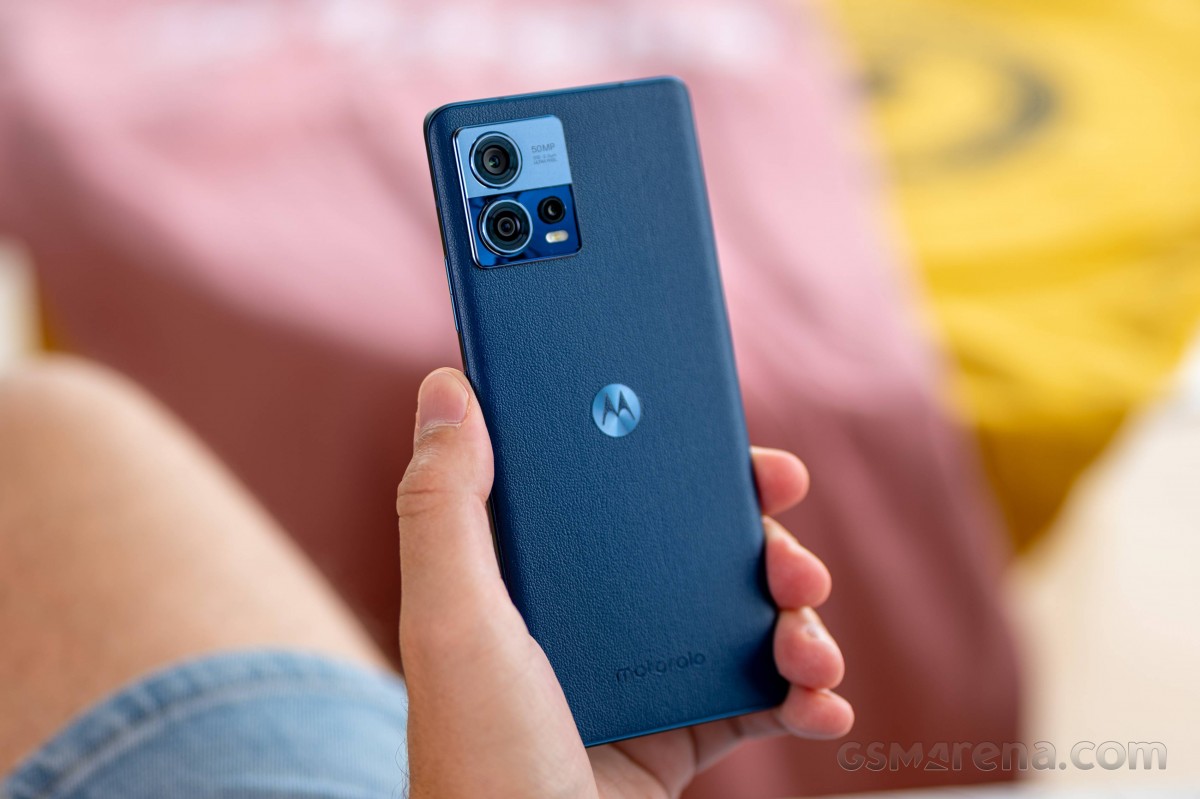 You can get the Edge 30 Fusion in one of three colors - Neptune Blue Cosmic Grey and Aurora White. All three have their middle metal frame color-matched with the back too.
If the leather look doesn't appeal to you for some reason the Cosmic Grey and Aurora White variants actually have glass backs instead. These are made from Gorilla Glass 5 for extra protection.
We tend to describe certain phone designs as "youthful and fun," and if there ever was a polar opposite to that look, it would probably be the Edge 30 Fusion. The way that leather texture and two-tone camera island look and tie together with the curvature and middle frame just make us want to break out a leather briefcase and put on a tie.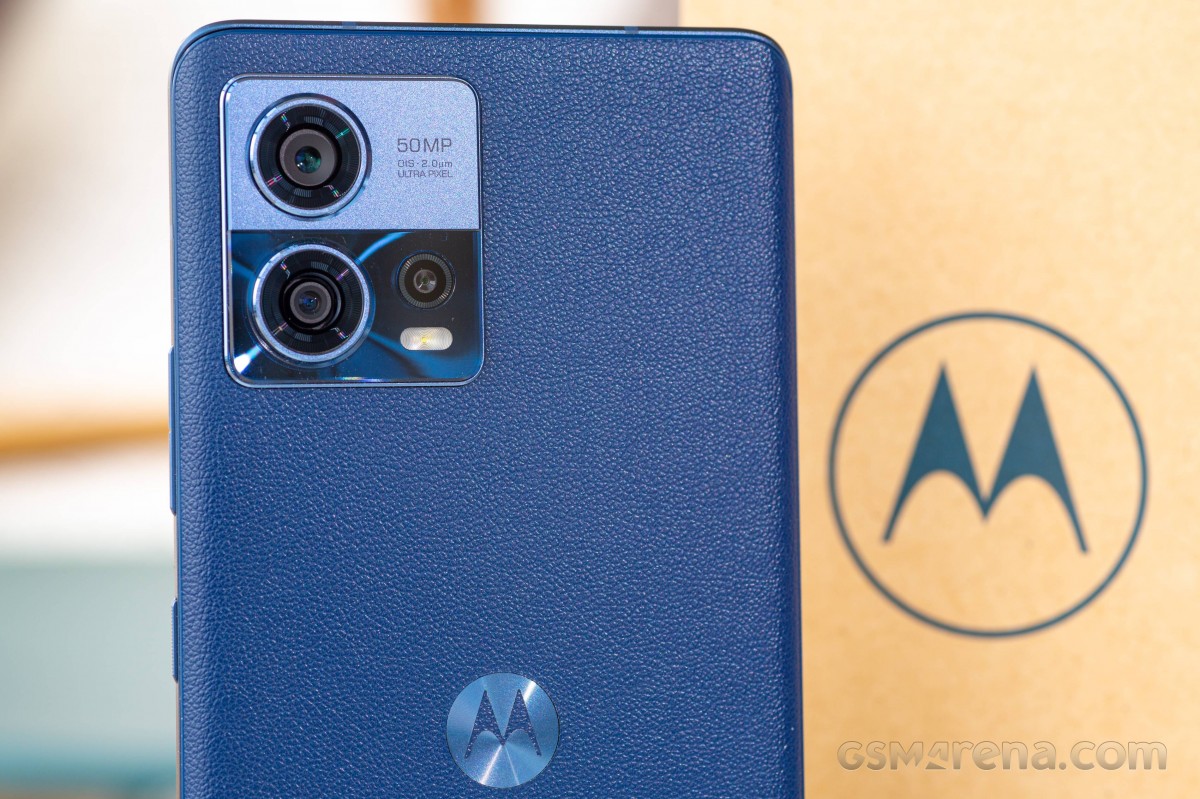 Speaking of the camera island, we really like what Motorola has done with the design. Its multiple levels, shapes, accent rings, and colors flow flawlessly.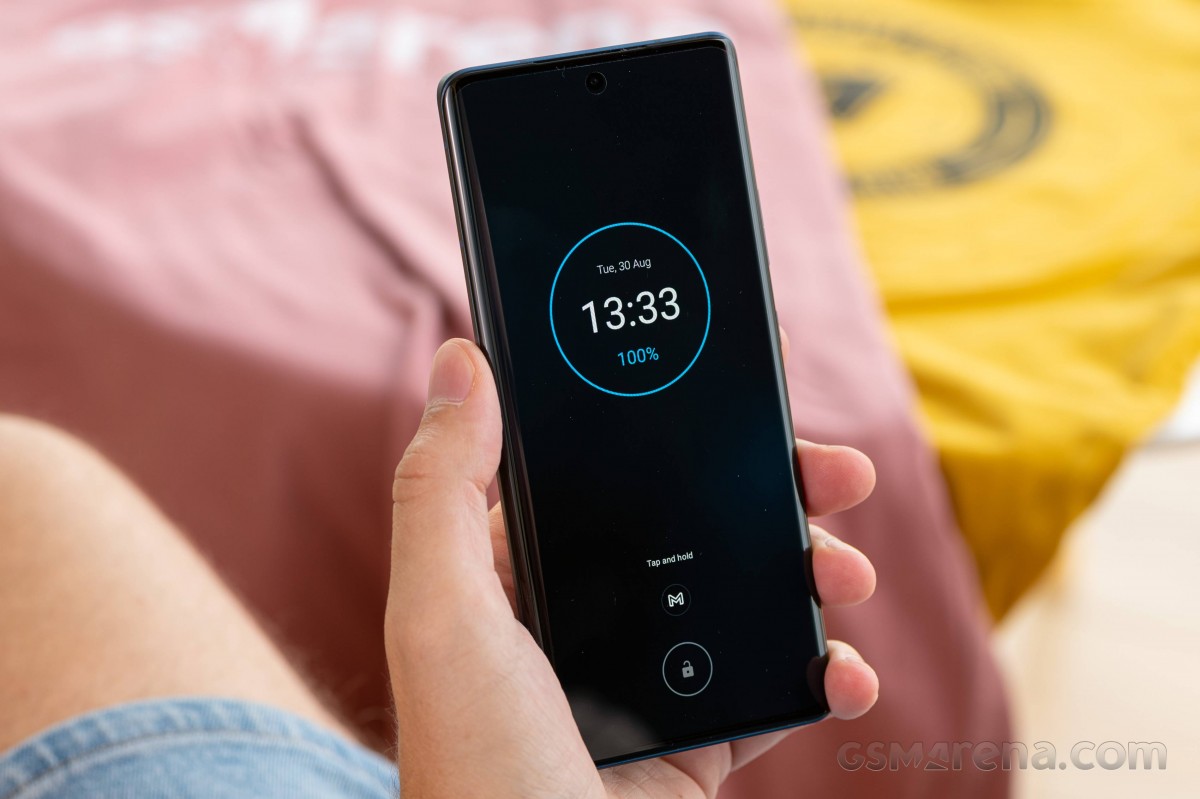 The phone's front side is just as stealthy and subdued as every other part. The earpiece is nearly invisible, tucked away inside the pretty thin top bezel. Which, by the way, is symmetrical in size with the bottom one, which makes for a sense of order. Motorola even managed to fit a proximity and light sensor in that top bezel.
The selfie camera punch hole is a bit lower on the display than most phones which one could argue makes it a bit more distracting. It's nothing drastic, though.
Materials and build quality
The Edge 30 Fusion doesn't just look the part but feels exquisite as well. All of the materials look and feel premium and are very well fitted together. There is absolutely no flex in the chassis, and the phone itself feels dense on the inside with no hollowness, despite the fact that it is pretty light at 175 grams. As we already mentioned, it has an excellent in-hand feel partly because of its great weight distribution and also thanks to the premium materials used.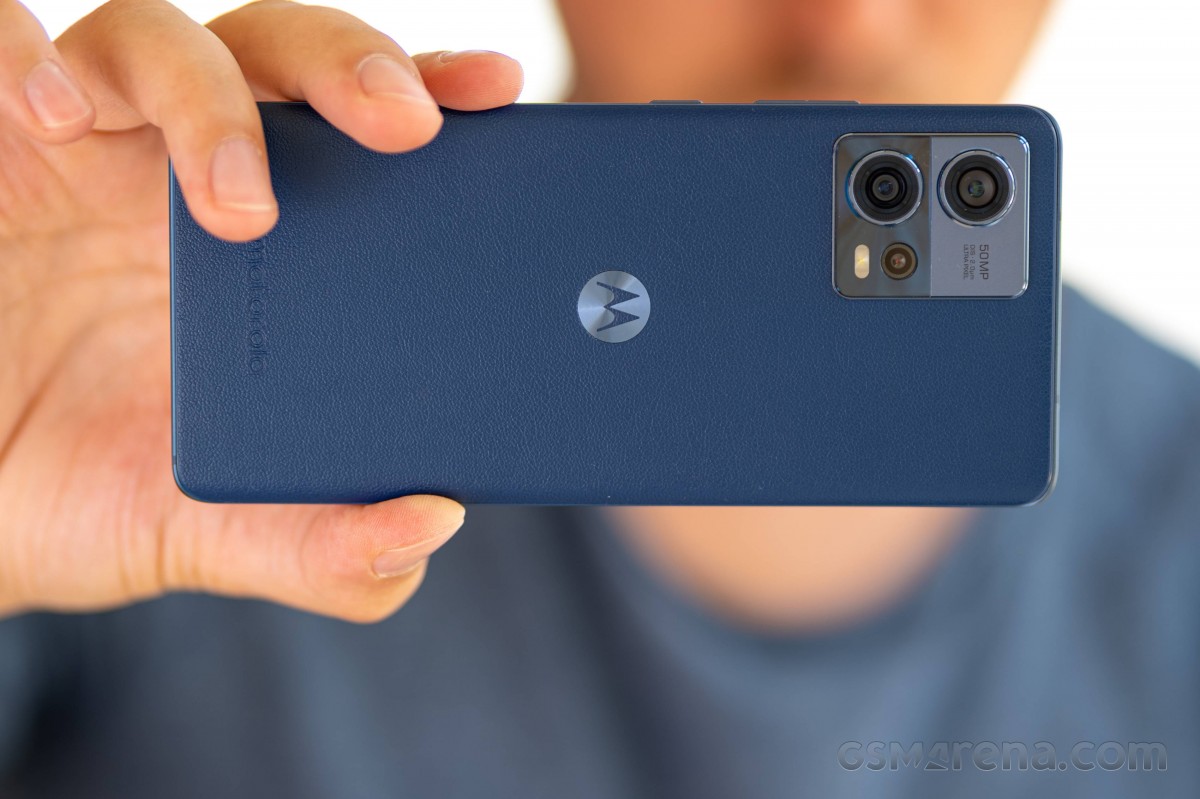 The Edge 30 Fusion employs a three-piece "sandwich" construction with a solid metal middle frame sandwiched between the vegan leather back and the glass front. The latter is Gorilla Glass 5, which offers plenty of peace of mind. There is also a pre-applied plastic screen protector on top. It feels decent enough, but it is a bit on the thick side, doesn't really cover the entire display area perfectly and is slightly misaligned with the selfie camera on our unit. Still, it didn't bother us enough to actually remove it, which speaks to its credit.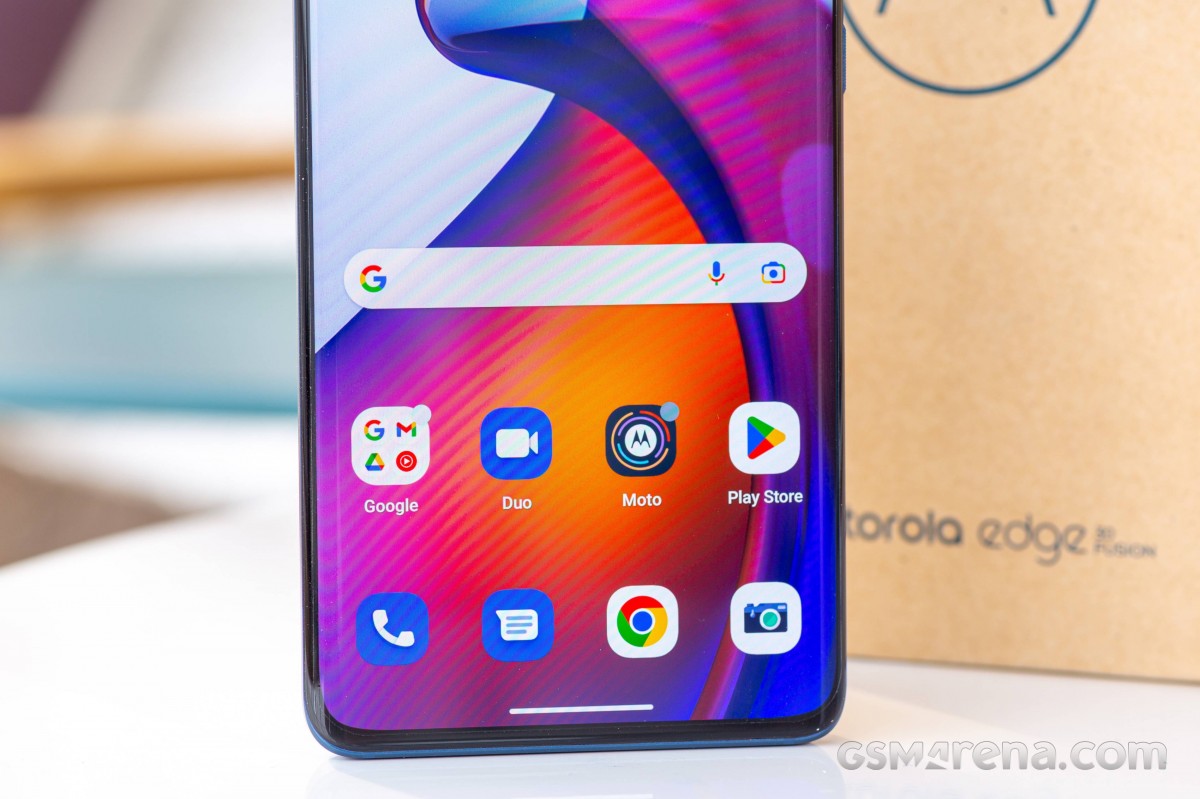 The Edge 30 Fusion has IP52 ingress protection. In typical Motorola fashion, the phone is still marketed as being "splash and dust resistant". Looking a bit closer, we did notice that the SIM card tray has an obvious red rubber gasket. This suggests that the phone is quite likely to survive even a quick dip in unsalted water, but we wouldn't advise counting on that in any way.
Controls and connectivity
Let's start with a quick tour of the Edge 30 Fusion first. The right-hand side houses a power button and volume rocker. We aren't overly pleased with these buttons. They are quite thin due to the thin profile of the middle frame and are hard to press properly. They have rather poor tactile feedback, too and feel "mushy". They are also positioned a bit low vertically. Motorola could and should have done a lot better. At least the power button is textured, which makes it easy to feel out.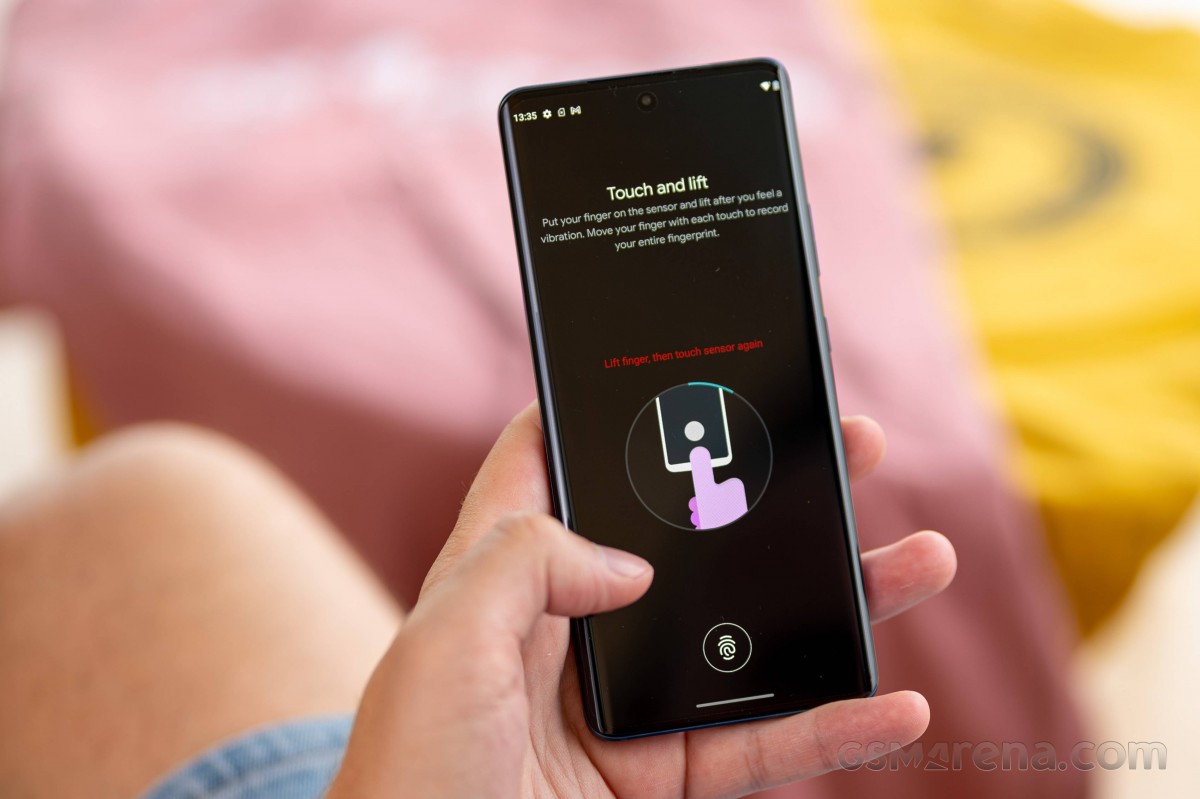 There is no fingerprint reader here. The Edge 30 Fusion has an under-display optical unit. It is fast and very reliable. No complaints there.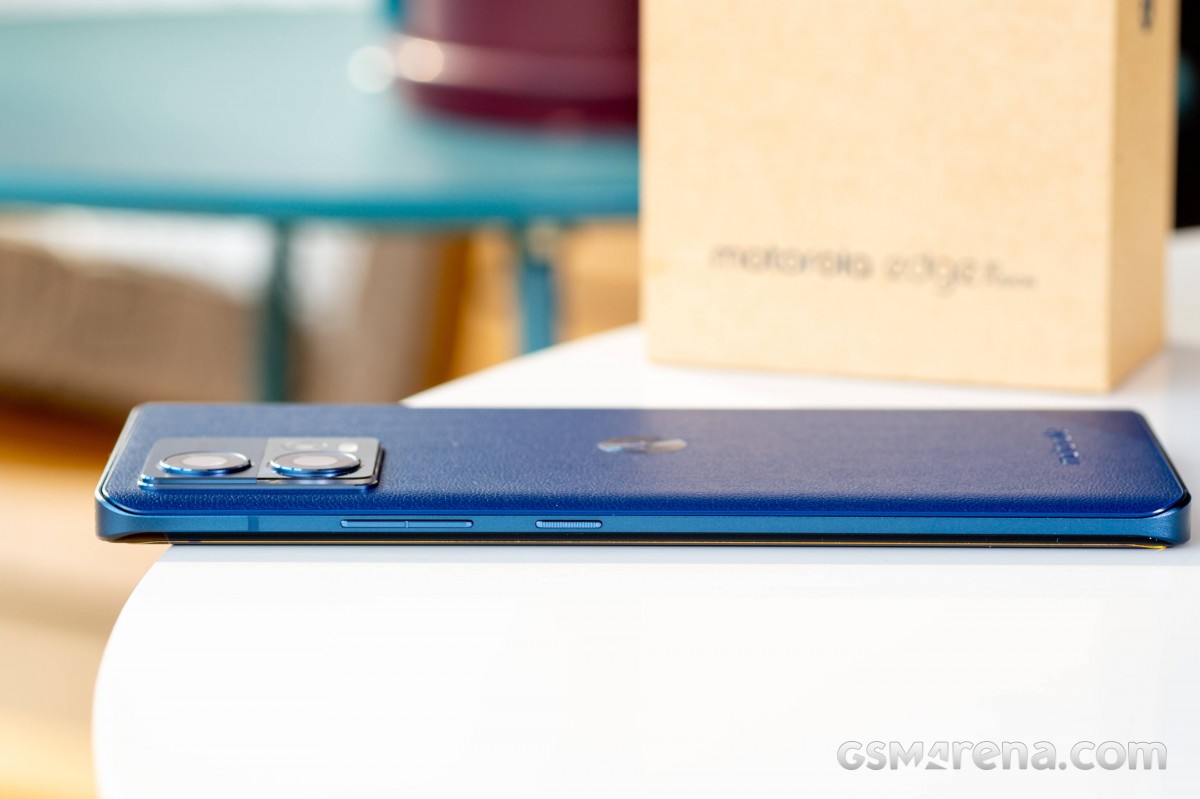 The left frame on the phone is bare, sans a few antenna lines.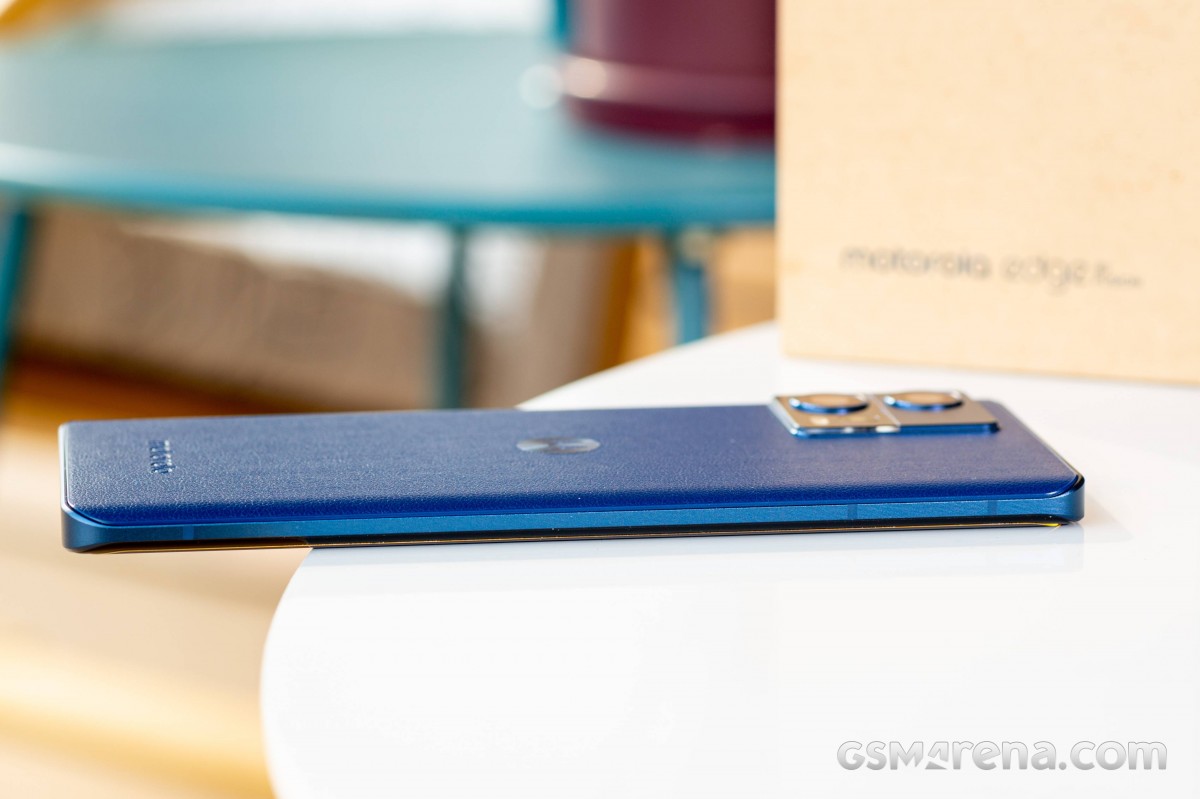 The same goes for the top side of the Edge 30 Fusion. It just houses the secondary noise-canceling microphone and a few antenna lines. There is also a "Dolby Atmos" text, which is not where we usually find text on phones. Still, it's subtle and doesn't work against the stealthy nature of the overall design.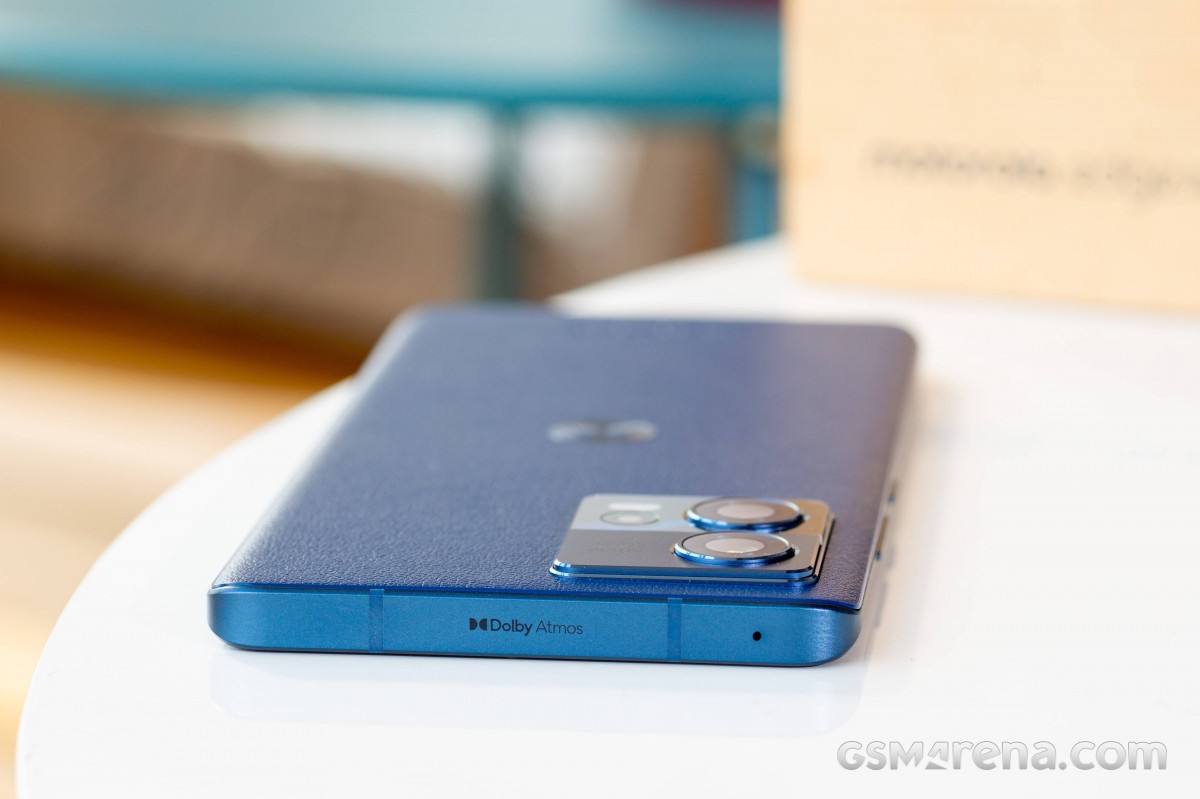 The bottom of the phone has the main bottom-firing speaker. The amplified earpiece handles the other channel of the hybrid stereo system - a common setup nowadays. The main microphone is also down there, and so is the SIM tray, which just has room for two nano SIM cards. The Edge 30 Fusion lacks an SD card slot and a 3.5mm jack.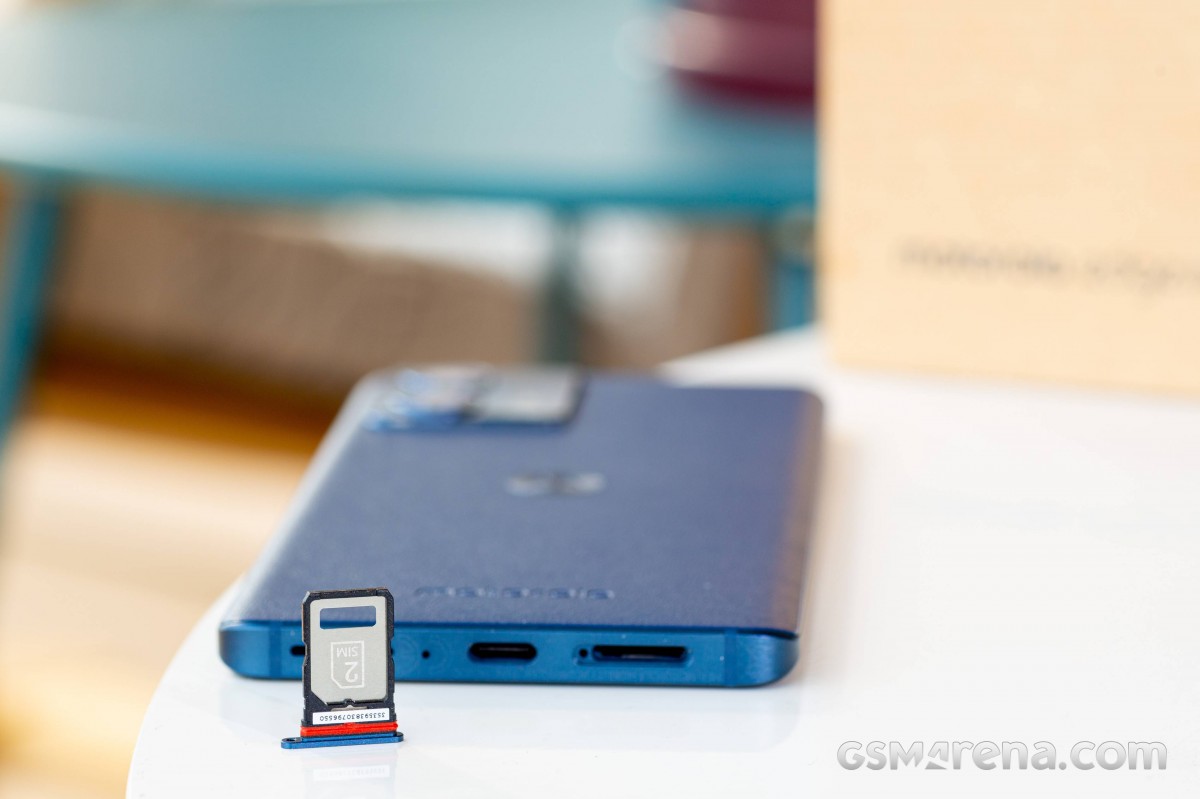 The Type-C port of the Edge 30 Fusion is also on the bottom frame. Going by the data transfer speeds, we achieved, it seems to just have a USB 2.0 controller behind it, which tops out at 480 Mbps. However, Motorola does claim USB 3.1 support. In any case, the Motorola Edge 30 Fusion is ready for compatible, which means that you can attach a monitor to the phone using Type-C alt mode.
Motorola has a special desktop environment, which you can use on the larger monitor, which you can use for increased productivity alongside a mouse and keyboard. Naturally, there is USB OTG or Host support, too, so you can attach any number of USB devices to the Motorola Edge 30 Fusion too.
In terms of other connectivity, the Snapdragon 888+ provides great SA/NSA Sub6 5G support with dual SIM standby. Locally, there is dual-band Wi-Fi 6(ax), Bluetooth 5.2 with LE support and NFC. There is also dual-band GPS with band L5 as well as GLONASS, BDS and GALILEO. There is no FM radio.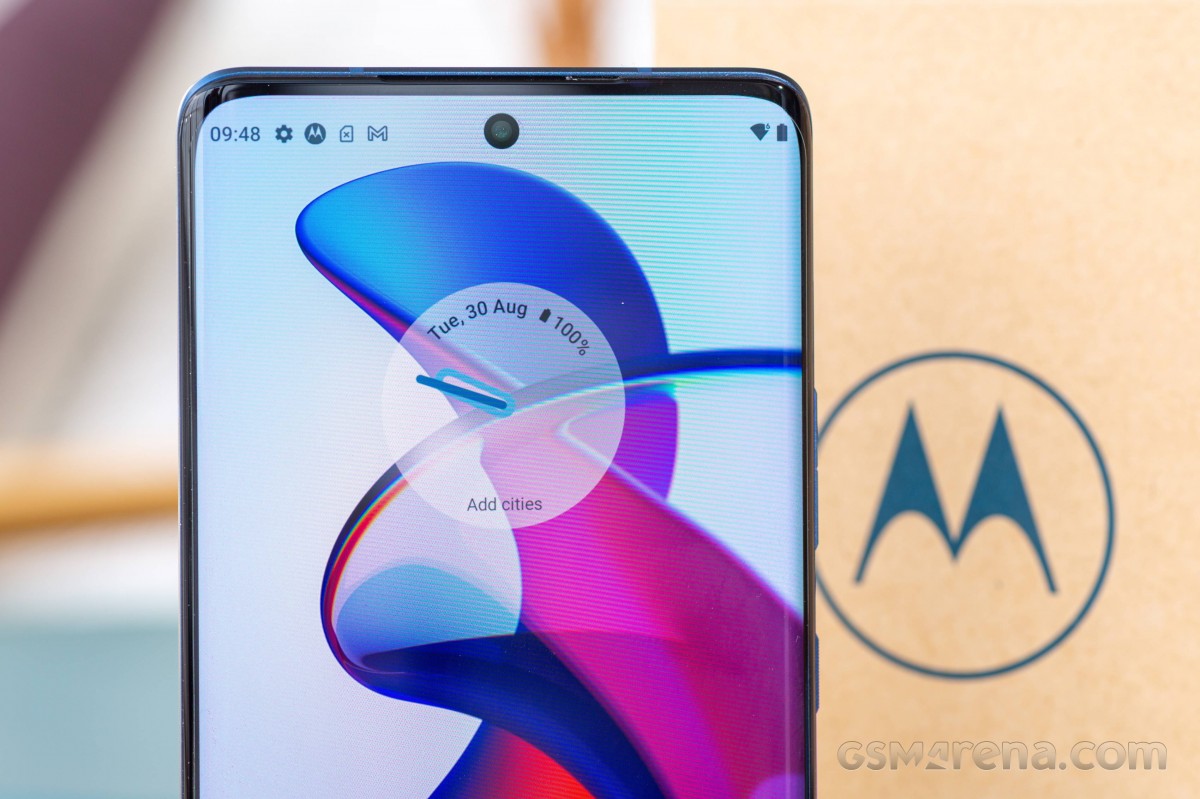 The Edge 30 Fusion has a rich selection of sensors on board. As already mentioned, a stk3acx combo proximity and light sensor is nestled to the right of the earpiece above the display. There is also an icm4x6xx accelerometer, gyroscope combo, and an mmc56x3x magnetometer and compass combo. In case you were wondering, there is no notification LED, which is the norm nowadays. Motorola has an always-on display and notification interface on-screen as a substitute, though.