Clean Android 11, Moto perks, Ready For
The Motorola Edge 20, just as all recent Moto phones, offers a stock Android look but with a fair share of in-house features added on top. The latest addition is the 'Ready For' functionality, which is something like DeX for OneUI by Samsung.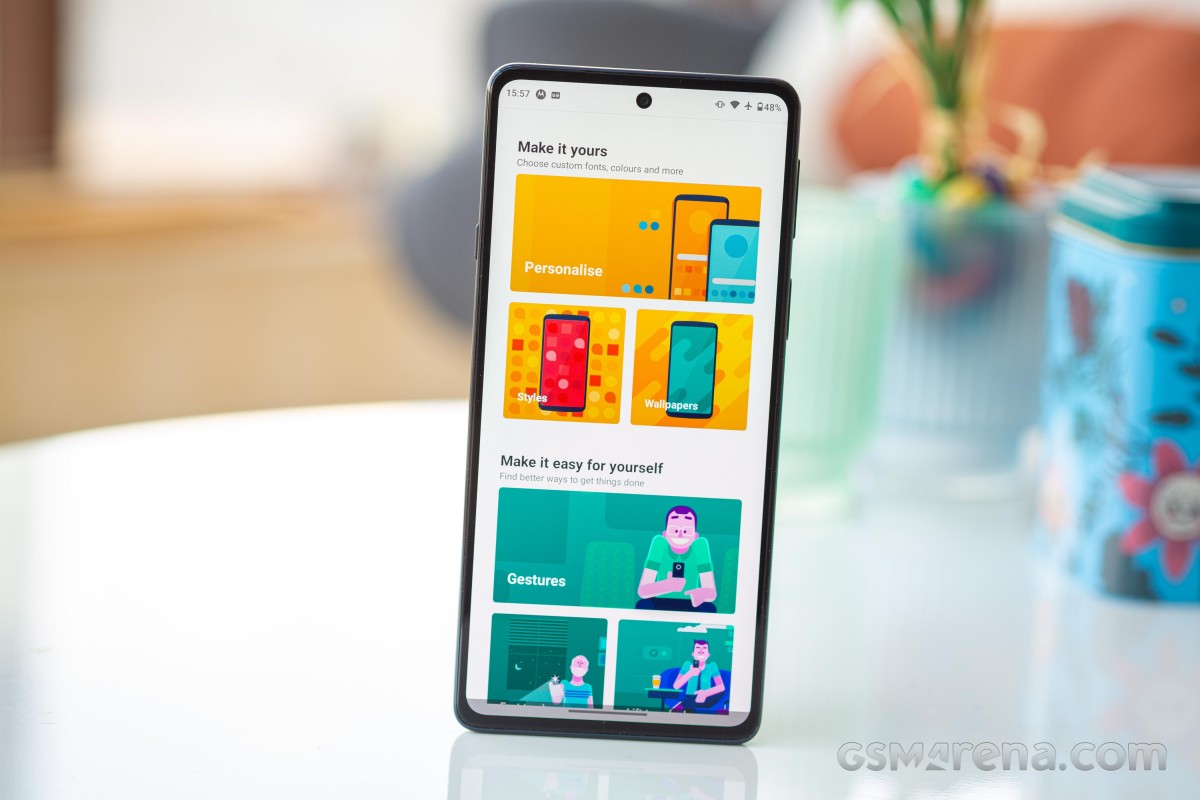 The majority of the proprietary features are arranged in the Moto app. The first category is personalization allowing you to choose the icon shapes, the quick toggles appearance, the accent colors and the font. There is also a wide selection of wallpapers, the same ones you'd find in the Google Wallpapers app, plus some Moto-specific interactive ones.
Then come to the gestures. By now, you all must have seen the karate chop motion that turns on and off the flashlight and the twisting motion that launches the camera app. Both work even when the device is locked.
The lift-to-unlock gesture works well with the face unlock as it unlocks the device as soon as you pick it up and look at the screen.
A new addition is the swipe-to-split function that triggers the split-screen functionality.
There is also Power touch. When you double-tap the power button, a shortcut menu appears where you can arrange apps, tools and even contacts for quick access.
The display-related features are Peek Display and Attentive Display. The former works as a second-best alternative to the Always-on display but with some added functionality. The screen lights up when it detects motion that's close to the phone or when you pick it up. Once you've received some kind of notification, you can tap on it and see the message itself and even interact with it from the lock screen.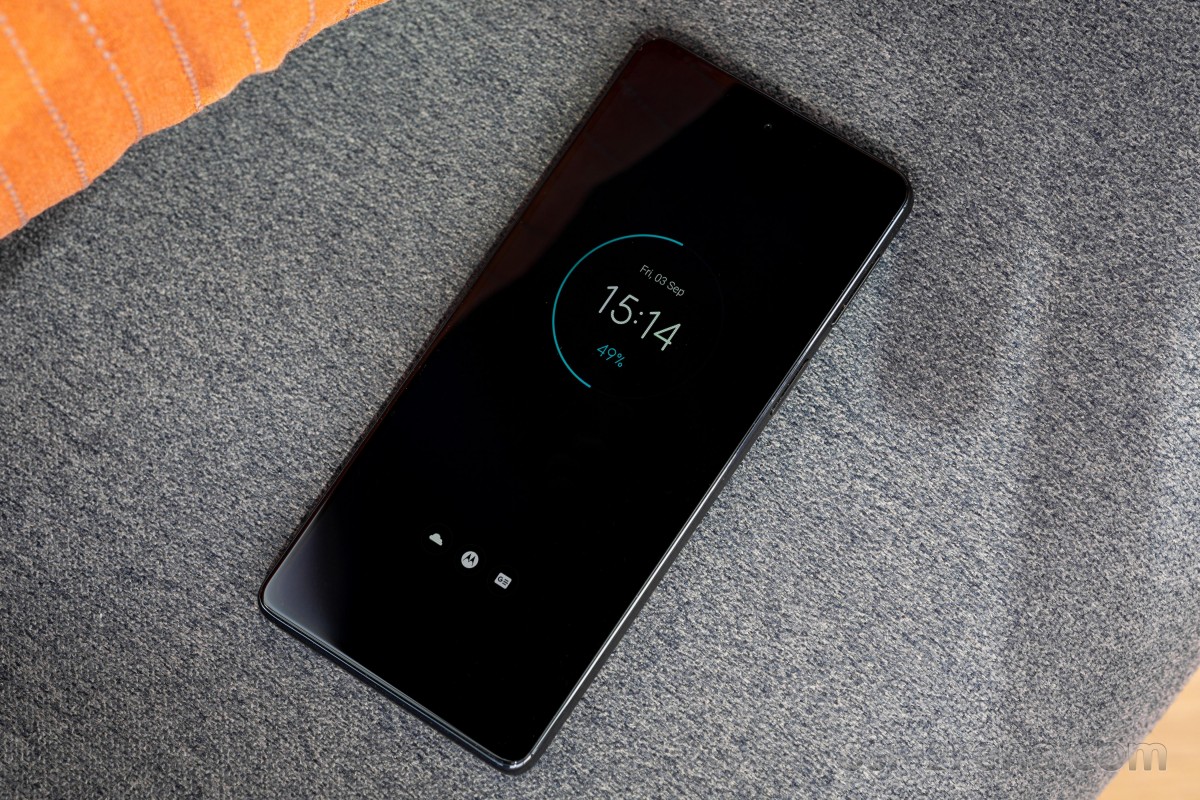 As for the Attentive Display, it's pretty self-explanatory - it disables the screen timeout as long as there's a face looking at the screen. Pretty useful when reading long articles, though you do probably scroll often enough for the screen not to lock anyway.
All of these aside, the rest is pretty much Android 11 as Google intended it to be. Google's apps handle the multimedia, too - you get Photos and YT Music.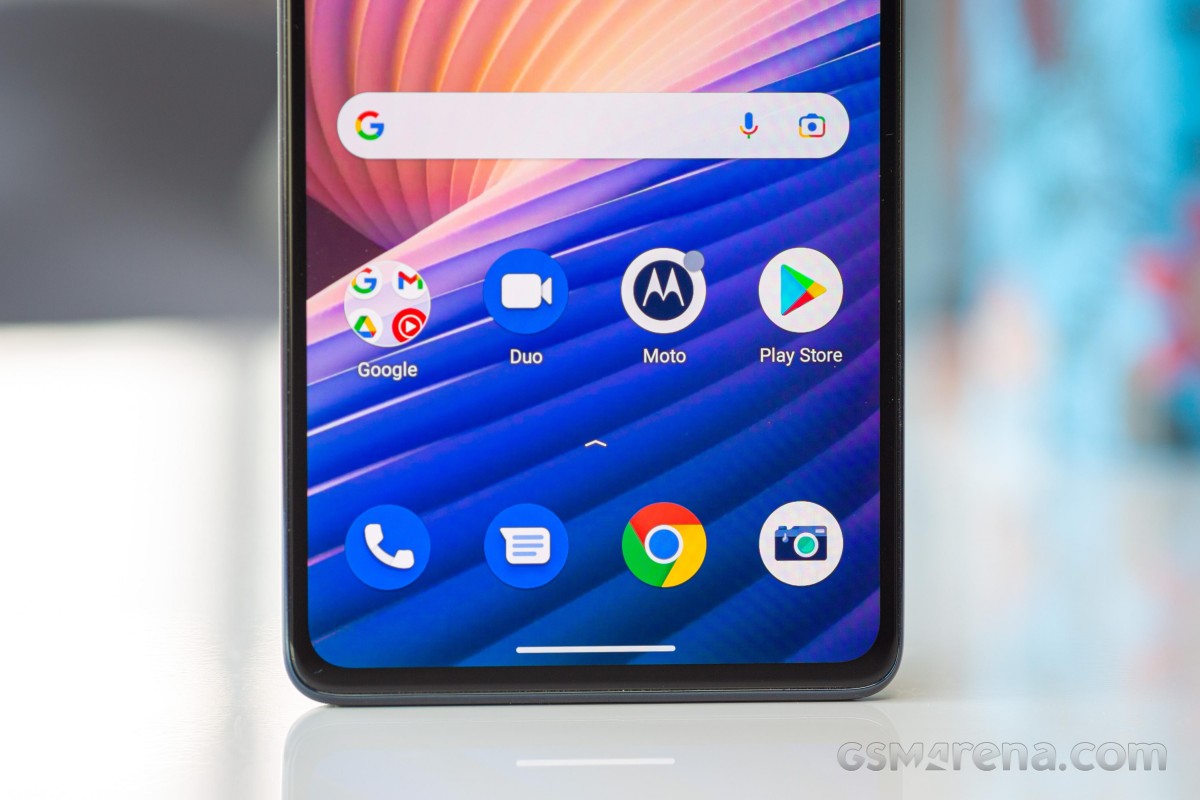 Notification grouping keeps your notification shade tidy and focuses on your conversations. Notification cards from ongoing conversations from your messaging apps will appear on top as high-priority compared to other app notifications. Notification Bubbles are available, too.
Bubbles is one of the long-awaited features for messaging apps that Facebook's Messenger has had for years now. The apps that support the feature will prompt you with a notification in the form of a floating, interactive bubble. Tapping on it will open up the chart for a quick reply, just like Messenger.
Nearby Share with other devices running a recent Android version is also possible, making file transfers easier than ever.
And lastly, we have the updated power menu that now displays shortcuts to connected devices such as home automation or Chromecast through the Google Home app.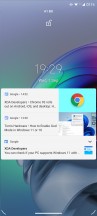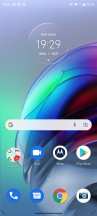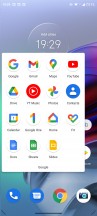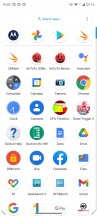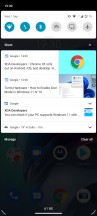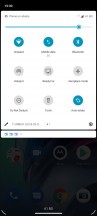 Lockscreen • Homescreen • Folder view • App drawer • Notifications • Quick toggles
Motorola introduced the Ready For platform earlier this year - it enables you to use the phone as the heart of a big-screen setup for several use cases.
By connecting a Miracast-capable TV, you can get a Windows-desktop-like experience, play a game on your phone, display it on the external screen, or even have a big-screen video chat experience. If you don't have a mouse and/or keyboard handy, the phone's screen can be used as a trackpad and/or keyboard.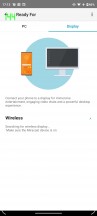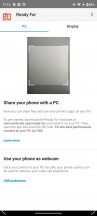 Ready For Wireless • Wired with Windows PC
You can also use Ready For on a Windows-based PC - it runs within a window on your desktop. This is helpful for when you want to run an Android app from your computer or to multi-task between devices on just one screen.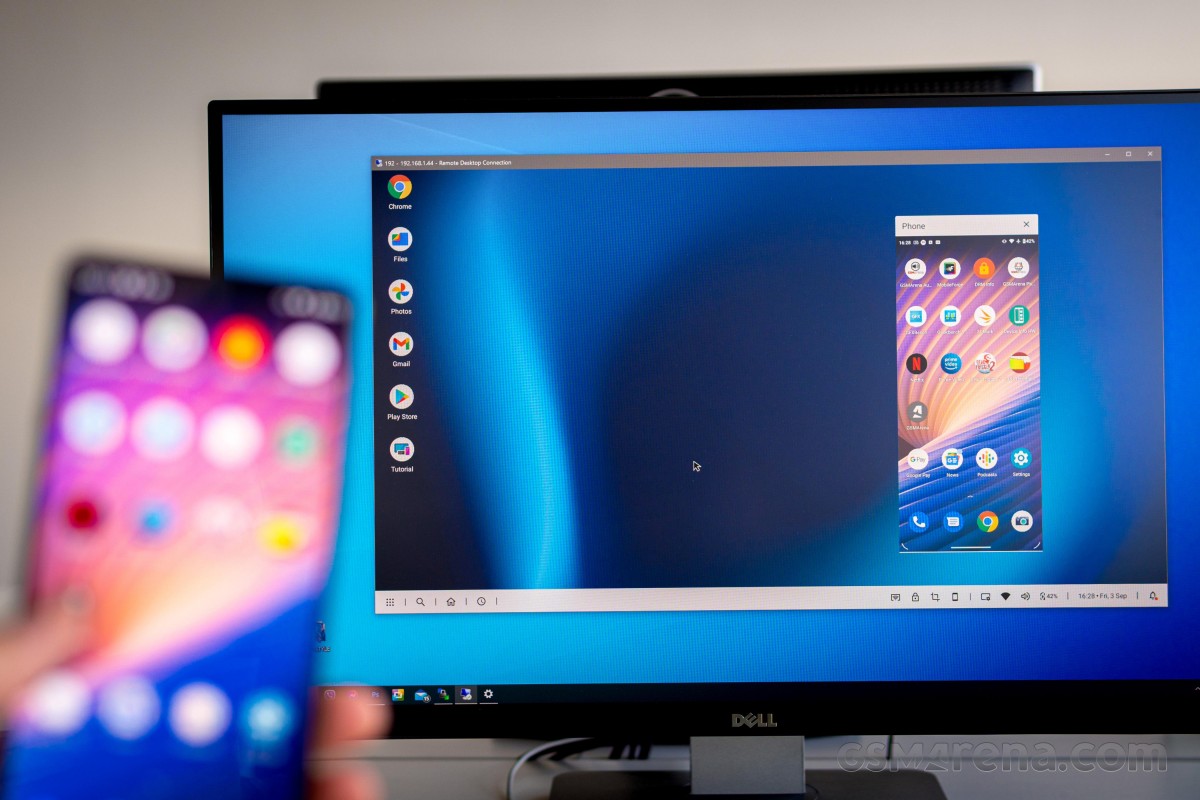 Here, you can also enable Phone mode and view your phone's screen on the Ready For big desktop screen, which is on your Windows desktop. That's some inception-level multi-tasking!
Another use case of Ready For on a Windows PC is for video calls, where you can use the phone's camera to capture yourself and an external display to see the other participants.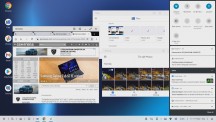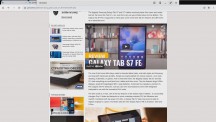 Ready For • How to close Full Screen app
The final Ready For use case is for gaming on a bigger screen - be it TV or laptop/monitor. You connect an external controller and run the game on the phone, with the obvious benefit being the larger display for gameplay.
Performance and benchmarks
The Motorola Edge 20 is one of the first smartphones we meet running on the Snapdragon 778G 5G chipset. It is manufactured by TSMC on a 6nm process and is similar to the Snapdragon 780G, which is used on other phones.
The SD778G packs an octa-core Kryo 670 CPU in a 1+3+4 configuration, with a Cortex-A78-based prime core (up to 2.4GHz), three more of those clocked at 2.2GHz, and a quartet of Cortex-A55 derivatives ticking at up to 1.9GHz.
The GPU is Adreno 642L, which should be perfectly capable of handling intensive 3D games, including HRR ones.
Finally, a built-in Snapdragon X53 5G modem is also part of the package.
The Motorola Edge 20 is available in two storage versions - 128GB and 256GB (UFS) - both with 8GB LPDDR4X RAM. There is no microSD expansion slot.
And now, let's see some benchmark scores.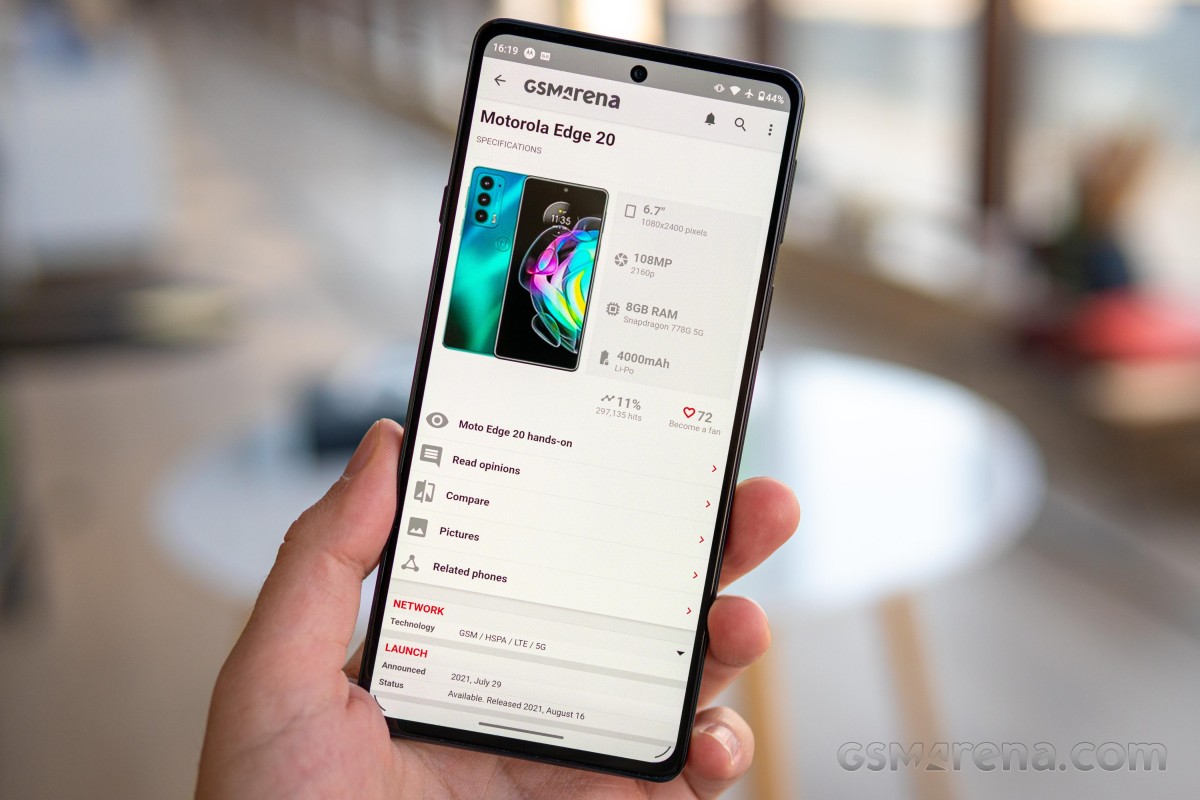 The Snapdragon 778G CPU is as powerful as the one inside the Poco X3 Pro's Snapdragon 860 chip. The performance is also close to what Dimensity 1200 CPU within the OnePlus Nord 2.
GeekBench 5 (multi-core)
Higher is better
Realme GT 5G
3555
Motorola Edge+
3295
Realme GT Explorer Master
3050
Realme GT Master
2917
Motorola Moto G100
2860
OnePlus Nord 2
2792
Poco X3 Pro
2574
Motorola Edge 20
2550
Poco X3 GT
2310
Motorola Edge
1862
Google Pixel 5a 5G
1337
GeekBench 5 (single-core)
Higher is better
Realme GT 5G
1139
Realme GT Explorer Master
1020
Motorola Moto G100
950
Motorola Edge+
910
OnePlus Nord 2
814
Realme GT Master
785
Motorola Edge 20
762
Poco X3 Pro
735
Poco X3 GT
693
Motorola Edge
586
Google Pixel 5a 5G
574
The Adreno 642L GPU seems quite capable of putting up a gaming show even if it's not a chart-topper.
GFX Manhattan ES 3.0 (onscreen)
Higher is better
Poco X3 GT
97
Poco X3 Pro
93
Motorola Edge+
89
Motorola Moto G100
89
Motorola Edge 20
70
Realme GT 5G
60
Realme GT Explorer Master
60
OnePlus Nord 2
59
Realme GT Master
57
Motorola Edge
48
Google Pixel 5a 5G
48
GFX Car Chase ES 3.1 (onscreen)
Higher is better
Realme GT 5G
55
Realme GT Explorer Master
50
Motorola Edge+
48
Motorola Moto G100
47
Poco X3 Pro
38
Poco X3 GT
38
OnePlus Nord 2
38
Motorola Edge 20
29
Realme GT Master
27
Google Pixel 5a 5G
19
Motorola Edge
18
3DMark Wild Life Vulkan 1.1 (offscreen 1440p)
Higher is better
Realme GT 5G
5872
Realme GT Explorer Master
4255
OnePlus Nord 2
4224
Motorola Moto G100
4114
Poco X3 GT
3991
Poco X3 Pro
3401
Motorola Edge 20
2494
Realme GT Master
2481
Google Pixel 5a 5G
1674
Finally, the AnTuTu score isn't that great, and it hints at mid-range class all-round performance.
AnTuTu 9
Higher is better
Realme GT 5G
810433
Realme GT Explorer Master
717879
Motorola Moto G100
681559
OnePlus Nord 2
598022
Poco X3 GT
578505
Realme GT Master
529263
Motorola Edge 20
488574
Google Pixel 5a 5G
373168
The Motorola Edge 20 is equipped well enough to handle all current apps and games, plus it has adequate hardware to offer a lag-free Ready For desktop experience. It didn't throttle after multiple benchmark runs and its chassis didn't hot, just slightly warm.
We decided to run a couple of stress tests as it looked like the Edge 20 has adequate cooling for its internals. And indeed, we got some particularly good numbers!
When using the GPU at 100%, the Motorola Edge 20 managed to keep a stable performance with a total score of 98.9%. That's an imperceptible drop!
Then we ran the CPU throttle test, and it concluded that the Edge 20 can keep 78% of its maximum performance over the course of one hour of 100% peak CPU usage. That's an excellent number for a smartphone with a passive cooling solution.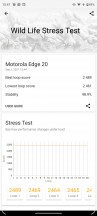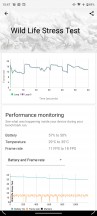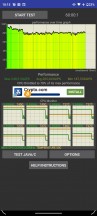 3D Mark • 3D Mark • CPU Stress Test
Overall, we are happy with the performance of the Motorola Edge 20. It is great for this class, allows for stutter-free experience and smooth HRR gaming. The phone also gets an excellent mark for stability and sustained performance. We couldn't have wished for more.