6.5-inch IPS, 60Hz display
The Motorola Defy has a rather pedestrian display. It is a simple 6.5-inch IPS panel, with 720 x 1600-pixel resolution, which works out to about 270 ppi. It only does 60Hz and pixel response time is not particularly impressive either, with signs of ghosting when you scroll slowly. Kind of disappointing for a phone that costs over EUR300 these days as that sort of money can actually get you a high refresh rate FullHD AMOLED panel. However, we still need to take into consideration the specialized nature of the Motorola Defy here.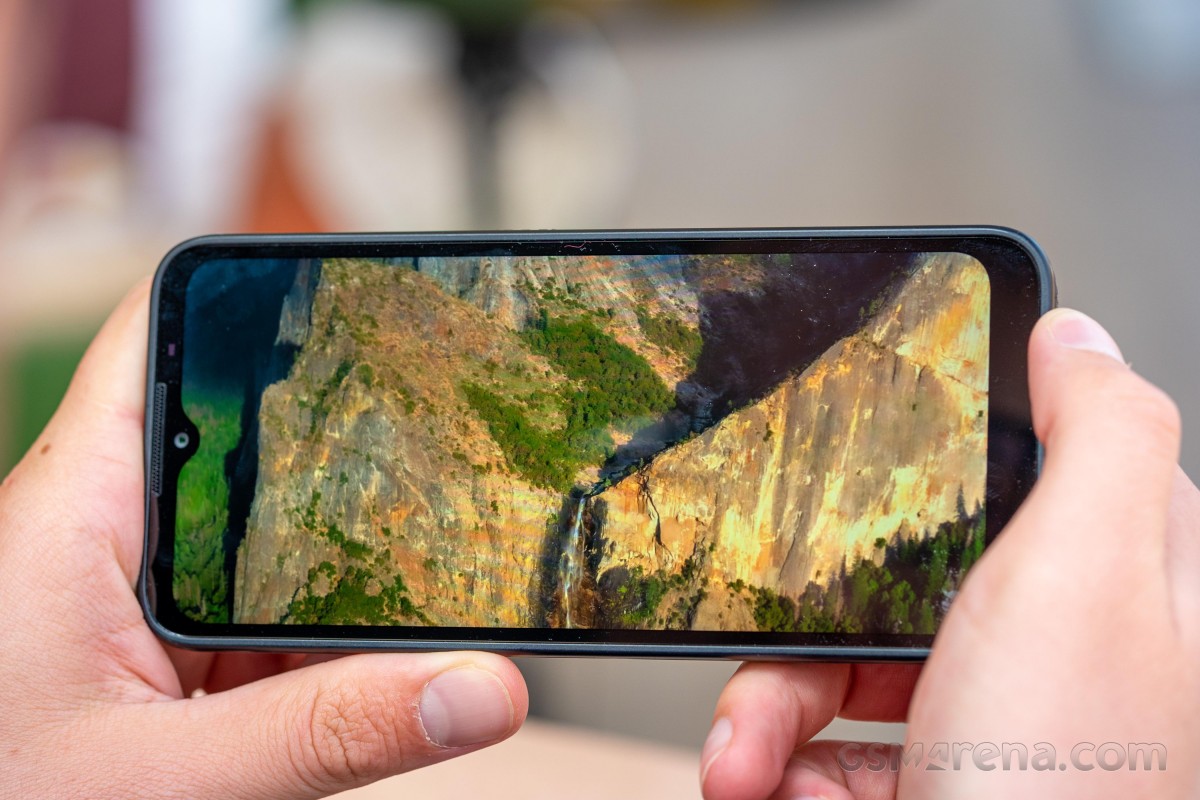 The Motorola Defy 2021's display doesn't get overly bright, topping-out at 436 nits in our tests. That means that while not perfect in terms of outdoor visibility, it is still serviceable. And thanks to the rather deep black levels, contrast on the Motorola Defy is actually quite good when indoors.
Display test
100% brightness
Black,cd/m2
White,cd/m2
Contrast ratio
Xiaomi Mi 11 Lite 5G (Max Auto)
0
846
∞
Samsung Galaxy A32 (Max Auto)
0
814
∞
Xiaomi Redmi Note 10 Pro (Max Auto)
0
725
∞
Poco F3 (Max Auto)
0
716
∞
Poco F3 (Max Auto)
0
716
∞
Realme 8 (Max Auto)
0
657
∞
Realme GT 5G (Max Auto)
0
650
∞
Realme X7 Max 5G (Max Auto)
0
640
∞
Poco M3 Pro 5G (Max Auto)
0.366
536
1464:1
Poco X3 Pro (Max Auto)
0.4
534
1335:1
Poco X3 Pro (Max Auto)
0.4
534
1335:1
Xiaomi Mi 11 Lite 5G
0
514
∞
Poco F3
0
511
∞
Poco F3
0
511
∞
Xiaomi Redmi Note 10 5G (Max Auto)
0.275
492
1789:1
Motorola Moto G30 (Max Auto)
0.241
468
1942:1
Poco X3 Pro
0.327
458
1401:1
Realme 8
0
458
∞
Poco X3 Pro
0.327
458
1401:1
Xiaomi Redmi Note 10 Pro
0
457
∞
Realme GT 5G
0
443
∞
Motorola Defy
0.23
436
1896:1
Realme X7 Max 5G
0
433
∞
Poco M3 Pro 5G
0.28
413
1475:1
Motorola Moto G30
0.204
403
1975:1
Samsung Galaxy A32
0
393
∞
Samsung Galaxy A22 5G
0.236
385
1631:1
Xiaomi Redmi Note 10 5G
0.21
377
1795:1
Motorola Moto G50
0.199
362
1819:1
Color accuracy is not a strong suit on the Motorola Defy. There are a total of three color profiles to choose from - Saturated, Boosted and Natural. There is no white point adjustment or fine-tuning control beyond that.
All of the profiles appear to be aiming for the sRGB color space, but none of them quite manages to get there. Saturated mode is the default and it manages to reproduce a pretty balanced color palette overall - pretty accurate reds and a bit too saturated blues. Boosted doesn't do much for the blues, but oddly, despite its name desaturates reds a bit. Natural comes closest, though it is still far from what could be considered accurate. Interestingly enough, the white point seems to be the biggest issue in this mode. If a temperature slider was included in the OS, we could probably warm things up a bit and actually get good color accuracy, but that's not the case.
The Motorola Defy actually has the highest Widevine L1 DRM, which is great to see, but also kind of a waste, given the phone's native 720p+ resolution. Netflix does successfully pick up the L1 certification, but only offers HD streaming. Anything more would be a waste.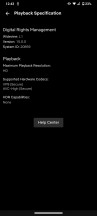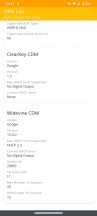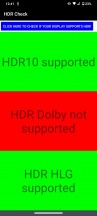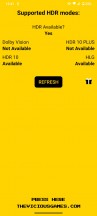 Netflix playback support • DRM info • HDR support
Interestingly enough, Netflix says that there is no HDR support available on the Motorola Defy and indeed, its specs don't advertise any either. The panel in question is likely not capable of reproducing HDR even though on a software level, the phone does report HDR10 and HLG support.
Battery life
The Motorola Defy has a 5,000 mAh battery at its disposal, matching the Motorola Moto G30, which we recently reviewed. In fact, both phones also use the same Snapdragon 662 chipset and have pretty similar HD+, 6.5-inch displays. The G30 can do 90Hz, but we have already proven in the past that the jump up from 60Hz to 90Hz rarely puts a noticeable strain on the battery with modern panels. All of this suggests that the Motorola Defy should have pretty similar battery endurance to the Moto G30 and that is indeed the case.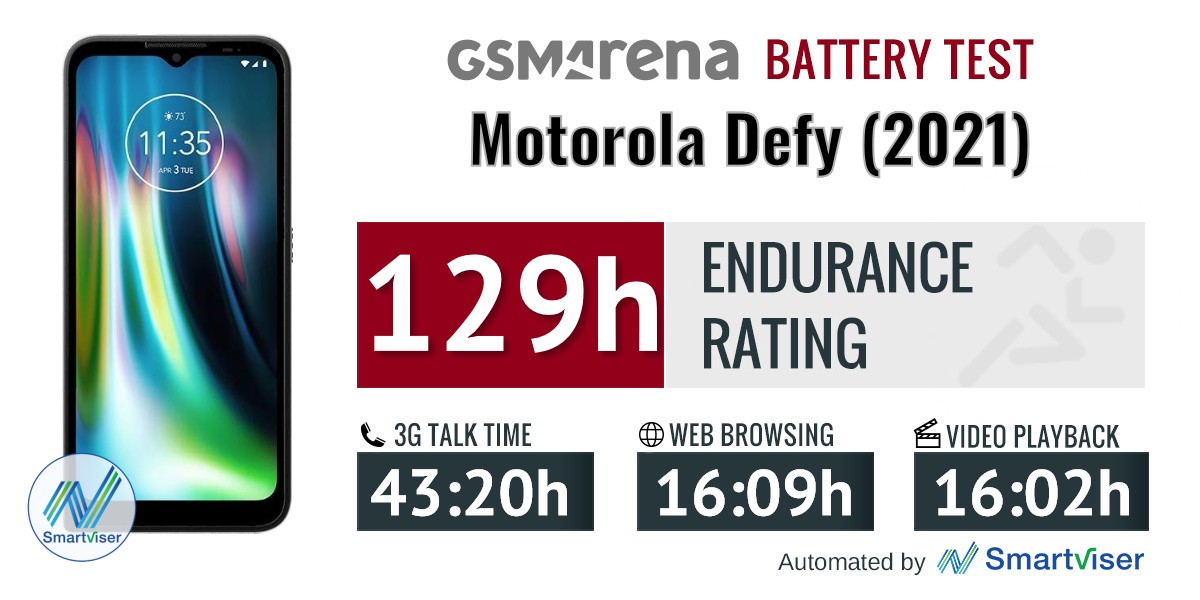 Our battery tests were automated thanks to SmartViser, using its viSerDevice app. The endurance rating denotes how long the battery charge will last you if you use the device for an hour of telephony, web browsing, and video playback daily. More details can be found here.
Video test carried out in 60Hz refresh rate mode. Web browsing test done at the display's highest refresh rate whenever possible. Refer to the respective reviews for specifics. To adjust the endurance rating formula to match your own usage patterns check out our all-time battery test results chart where you can also find all phones we've tested.
The Motorola Defy did great all around. It's modem is super efficient during both standby and calls, pushing it over 43 hours in the latter category. That's what you want to see from a phone that might often find itself away from mains power from prolonged periods of time. 16 hours or so in the two on-screen tests are also great. Overall, no complaints regarding battery life.
Charging speed
The Motorola Defy (2021) ships with a 20W charger in the box. It is a Quick Charge 3.0 unit, rated for 5V/3A, 10V/2A, and 12V/1.67A output. Once again - this is a familiar setup, just like what was included with the Moto G30.
Expectedly, charging speeds between the two devices are just as similar as their battery endurance numbers. The Motorola Defy does seem to top off a tad slower, but the variance is within margin of error. Starting from zero, the Motorola Defy gets up to 31% in 30 minutes and a full charge takes a bit over two and a half hours. Hardly record-breaking numbers, but still a bit better than many budget devise out there.
30min charging test (from 0%)
Higher is better
Poco F3
67%
OnePlus Nord CE 5G
67%
Xiaomi Redmi Note 10
65%
Xiaomi Mi 11 Lite 4G
58%
Xiaomi Redmi Note 10 Pro
50%
Poco X3 Pro
50%
Motorola Moto G100
37%
Poco M3 Pro 5G
33%
Motorola Moto G30
32%
Motorola Defy
31%
Samsung Galaxy A32
25%
Poco M3
25%
Motorola Moto G50
23%
Samsung Galaxy A22 5G
23%
Samsung Galaxy A12
20%
Time to full charge (from 0%)
Lower is better
Poco F3
0:56h
OnePlus Nord CE 5G
1:03h
Xiaomi Mi 11 Lite 4G
1:04h
Poco X3 Pro
1:08h
Xiaomi Redmi Note 10
1:13h
Xiaomi Redmi Note 10 Pro
1:21h
Motorola Moto G100
1:54h
Poco M3 Pro 5G
2:00h
Samsung Galaxy A32
2:19h
Motorola Moto G30
2:28h
Samsung Galaxy A22 5G
2:29h
Poco M3
2:30h
Motorola Defy
2:33h
Motorola Moto G50
2:35h
Samsung Galaxy A12
3:03h
Speaker test
The Motorola Defy has a single bottom-firing speaker at its disposal. Kind of disappointing, since a stereo setup can easily be had for this kind of money elsewhere. Even a hybrid stereo setup with the earpiece would have been appreciated. Just like the display, clearly compromises have been made to fit a rugged device within the price frame.
The speaker isn't particularly loud, nor incredibly richly sounding. The Motorola Defy has an equalizer for the loudspeaker, called Audio effects. It is quite flexible and you can dial-in a sound profile of your liking, but it can't do much to overcome the deficiencies of the speaker.
We did try out the default balanced present and it managed to slightly improve frequency response in the lows, while also decreasing the maximum loudness a bit in the process. Not by much, though.
Use the Playback controls to listen to the phone sample recordings (best use headphones). We measure the average loudness of the speakers in LUFS. A lower absolute value means a louder sound. A look at the frequency response chart will tell you how far off the ideal "0db" flat line is the reproduction of the bass, treble, and mid frequencies. You can add more phones to compare how they differ. The scores and ratings are not comparable with our older loudspeaker test. Learn more about how we test here.