Display
Just like its generic sibling, the Moto G4 Plus comes equipped with a FullHD IPS panel. It already has a resolution of 1080p, which marks a jump from the 720p in previous Moto G generations and we really can't expect Motorola to go any higher even in the "Plus". Otherwise, the price would have been a bit different if nothing else. Plus, it wouldn't really be all that wise to torture the Adreno 405 any further. But more on that later.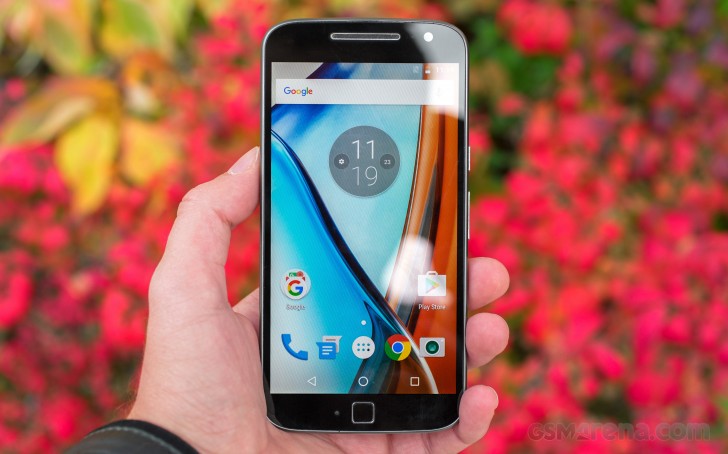 There are two color profiles here as well - Normal and Vibrant. They do differ slightly (mostly gamma correction) but nothing really all that spectacular. The panel on the G4 Plus turned out to be surprisingly good, but, interestingly enough, not quite as good as that on the G4.
It scored an average deltaE of 3.8 and a maximum of 5.6 in terms of color deviation in its top color mode, which just happens to be Normal. The biggest deviation in this case is for Orange. Switching over to Vibrant mode results in Magenta as the least accurate.
All this considered, however, the regular Moto G4 did manage to score even better with a deltaE of 2.6 and a maximum of just 3.7. This might be due to a difference in panels or perhaps the software calibration or even the drivers and controller. We can't really say for sure.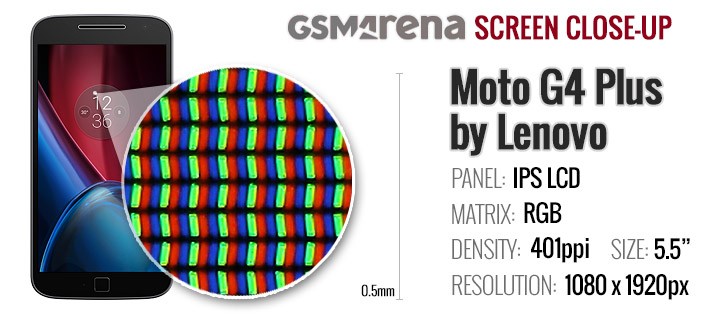 Contrast levels on the Moto G4 Plus also turned out to be impressive, albeit yet again only a nudge below those on its regular sibling.
Display test
100% brightness
Black, cd/m2
White, cd/m2
Contrast ratio
Lenovo Moto G4
0.32
495
1560
Motorola Moto G4 Plus
0.333
478
1435
Motorola Moto G4 Plus (max auto)
0.432
587
1359
Apple iPhone 6s Plus
0.43
590
1382
Meizu m3 note
0.52
425
816
Xiaomi Redmi Note 3 (MediaTek)
0.42
403
953
Meizu MX5
0
346
∞
Oppo F1 Plus
0.00
351
∞
Vivo V3Max
0.66
596
903
While decent, sunlight legibility of the Moto G4 Plus is nothing to phone home about. Plus, the front panel is a bit more reflective than we would have liked.
Sunlight contrast ratio
Samsung Galaxy S6 edge+
4.615
Samsung Galaxy S7 edge
4.439
OnePlus 3
4.424
Samsung Galaxy S7
4.376
HTC One A9
4.274
Samsung Galaxy Note7
4.247
Samsung Galaxy A3
4.241
Google Pixel XL
4.164
ZTE Axon 7
4.154
Samsung Galaxy S6 edge
4.124
Samsung Galaxy Note5
4.09
Huawei Nexus 6P
4.019
OnePlus X
3.983
Vivo Xplay5 Elite
3.983
Oppo R7s
3.964
Apple iPhone 7
3.964
Huawei P9 Plus
3.956
Samsung Galaxy A7 (2016)
3.918
Samsung Galaxy C5
3.911
Samsung Galaxy C7
3.896
Samsung Galaxy A5
3.895
Samsung Galaxy J7 outdoor
3.879
Samsung Galaxy J2 outdoor
3.873
Samsung Galaxy A8
3.859
Samsung Galaxy A9 (2016)
3.817
Motorola Moto X (2014)
3.816
Samsung Galaxy J7 (2016) outdoor mode
3.802
Xiaomi Redmi Pro
3.798
LG V20 Max auto
3.798
Sony Xperia XZ
3.795
Samsung Galaxy A5 (2016)
3.789
Apple iPhone 6s
3.783
Meizu Pro 5
3.781
Microsoft Lumia 650
3.772
Samsung Galaxy J7 (2016)
3.756
Oppo F1 Plus
3.709
Vivo X5Pro
3.706
Sony Xperia X Compact
3.694
Apple iPhone SE
3.681
Samsung Galaxy A7
3.679
Meizu PRO 6
3.659
BlackBerry Priv
3.645
Apple iPhone 7 Plus
3.588
Apple iPhone 6s Plus
3.53
Samsung Galaxy J3 (2016)
3.523
Samsung Galaxy J3 (2016) outdoor mode
3.523
Acer Jade Primo
3.521
Microsoft Lumia 950
3.512
Oppo R7 Plus
3.499
nubia Z11
3.466
Samsung Galaxy J7
3.422
Meizu MX5
3.416
LG V20
3.402
Oppo R7
3.32
Xiaomi Mi 5s
3.276
Xiaomi Mi 5
3.24
Samsung Galaxy J2
3.235
Sony Xperia X Performance
3.234
Motorola Moto X Play
3.222
Huawei P9
3.195
Lenovo Vibe Shot
3.113
Motorola Moto X Force
3.105
LG Nexus 5X
3.092
Huawei Mate S
3.073
Microsoft Lumia 640 XL
3.065
Sony Xperia X
2.989
Samsung Galaxy Note
2.97
Huawei Mate 8
2.949
Xiaomi Redmi 3S
2.913
Sony Xperia XA Ultra
2.906
LG G5
2.905
HTC One S
2.901
Xiaomi Mi 5s Plus
2.884
Sony Xperia Z5
2.876
Microsoft Lumia 550
2.851
Xiaomi Redmi 3 Pro
2.803
Sony Xperia Z5 compact
2.784
LG V10
2.744
Xiaomi Redmi 3
2.735
Sony Xperia M5
2.69
Huawei P9 Lite
2.679
Vivo V3Max
2.659
Xiaomi Mi 4i
2.641
Sony Xperia XA
2.609
Motorola Moto G4 Plus
2.582
Motorola Moto G4 Plus (max auto)
2.582
Xiaomi Mi 4c
2.574
LeEco Le Max 2
2.567
Microsoft Lumia 640
2.563
Lenovo Moto G4
2.544
Oppo F1
2.528
Sony Xperia Z5 Premium
2.525
Huawei Honor 7 Lite / Honor 5c
2.506
Sony Xperia M4 Aqua
2.503
Oppo F1s
2.481
Motorola Moto G
2.477
Lenovo Vibe K5 Plus
2.473
Huawei G8
2.471
Huawei nova
2.467
Sony Xperia Z
2.462
Lenovo Vibe K5
2.459
Huawei Honor 7
2.406
Sony Xperia E5
2.386
ZUK Z1 by Lenovo
2.382
HTC 10
2.378
Samsung Galaxy J5 (2016)
2.378
Huawei nova plus
2.329
HTC One E9+
2.305
Alcatel One Touch Hero
2.272
Apple iPhone 4S
2.269
Lenovo Vibe K4 Note
2.254
Sony Xperia C5 Ultra
2.253
Xiaomi Redmi Note 3 (MediaTek)
2.249
Sony Xperia C4 Dual
2.235
Xiaomi Mi Note
2.234
Motorola Moto G (2014)
2.233
LG Nexus 5
2.228
Huawei P8
2.196
Huawei Honor 6
2.169
Xiaomi Redmi Note 2
2.166
OnePlus Two
2.165
HTC One X
2.158
LG Aka
2.145
Xiaomi Redmi Note 4
2.145
Archos 50 Diamond
2.134
Xiaomi Redmi Note
2.119
Xiaomi Mi 4S
2.095
Acer Liquid X2
2.084
Huawei P8lite
2.078
Moto G 3rd gen max manual
2.026
Xiaomi Mi Max
1.996
Sony Xperia E4g
1.972
OnePlus One
1.961
Meizu m3 note
1.923
BlackBerry Leap
1.892
Meizu m2 note
1.892
HTC Butterfly
1.873
ZTE Nubia Z9 mini
1.759
Sony Xperia U
1.758
Asus Zenfone Selfie
1.68
Motorola Moto E (2nd Gen)
1.675
ZTE Nubia Z9
1.659
Jolla Jolla
1.605
Motorola Moto E
1.545
Sony Xperia M
1.473
Xiaomi Redmi 2
1.311
HTC Desire C
1.3
Sony Xperia C
1.283
Meizu MX
1.221
Sony Xperia E
1.215
Connectivity
Just like its regular sibling, the Moto G4 Plus is available as a dual-SIM phone in some regions, single-SIM in others. Both have LTE Cat. 4 connectivity - that's 150Mbps down and 50Mbps up, and it comes in several versions with different band support.
Dual-band Wi-Fi a/b/g/n/ac is supported along with Bluetooth 4.2 LE. There's no NFC, however.
The microUSB 2.0 port supports OTG so that you can hook up flash drives and other USB accessories to it. It cannot output video, and there's no MHL or SlimPort functionality.
Battery
The battery department is another area Motorola decided not to change in the Plus model. Both devices are equipped with a 3,000 mAh battery pack and make pretty decent use of it, considering the hardware at hand.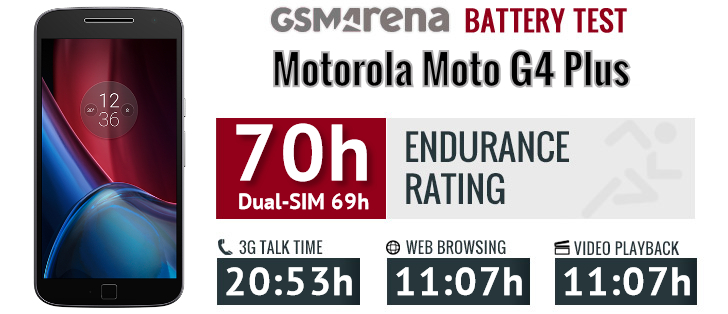 With an overall endurance rating of 70 hours, the Plus punched in a respectable score and one pretty consistent to its regular sibling. With over 20 hours of talk time, you can count on the G4 Plus as an all-day communication driver, if nothing else. However, despite its slightly dated and consequently less efficient Snapdragon 617 SoC, the budget handset did pretty well in the web and video playback departments as well.
Having an always-on fingerprint reader definitely takes its toll on the battery and the strain is reflected in the G4 Pro's standby time. On the other hand, the fact that we were forced to use a third-party and more efficient video player, boosted out video numbers quite a bit and offset the final result.
One thing that still grinds our gears with Motorola's approach to battery packs is their non-removable nature. Sure, we get that most other manufacturers are already way past the point of no return in this respect and, like many others, the G4 has a somewhat oddly shaped battery. But, if you are going to go through the trouble of making a removable back panel, we really don't see why you wouldn't go a bit further and make the pack user-replaceable. It would certainly make for a good selling point to put on the brochure. That's actually what they did with the Moto E3. But, we digress.
The battery testing procedure is described in detail in case you're interested in the nitty-gritties. You can also check out our complete battery test table, where you can see how all of the smartphones we've tested will compare under your own typical use.