Meta's paid verification service is now live for Facebook and Instagram users in the US
Meta's Twitter-inspired paid verification service initially went live in Australia and New Zealand, and starting today it's also available to Facebook and Instagram users in the US.
The service costs $11.99 per month if you sign up on the web, or $14.99 through a mobile app store. The former option only allows you to get a blue checkmark for Facebook, while the latter bundles Instagram too. Aside from the badge, the service gets you "proactive impersonation protection" as well as direct access to customer support, exclusive stickers, and 100 Stars per month on Facebook to show support for other creators.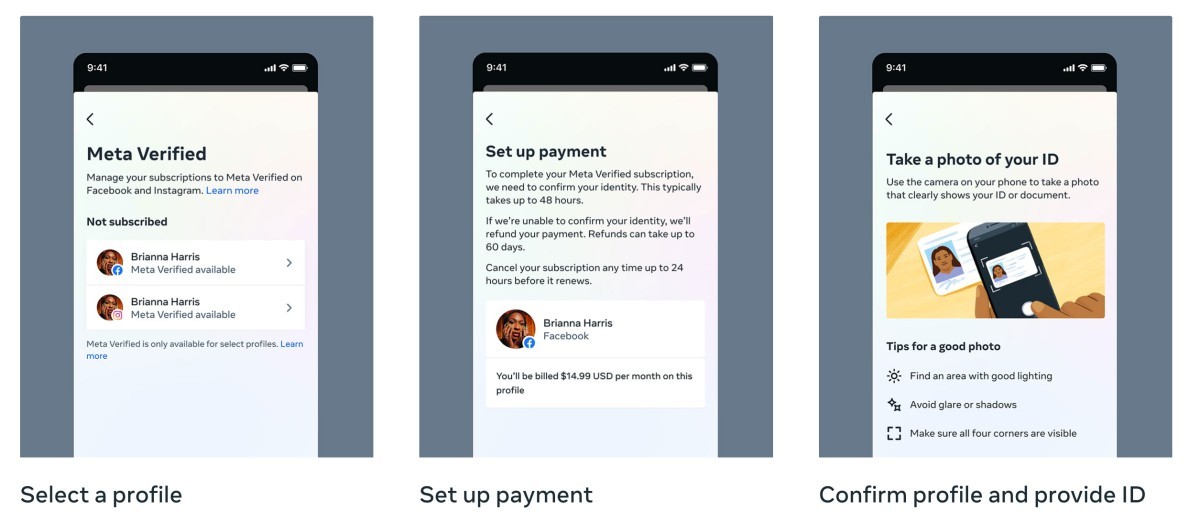 In order to use the service you need to be 18 years old and there's a verification process to go through, which involves having a photo ID. You also need to have two-factor authentication turned on. If you use Meta Verified and want to change your profile name, photo, username, or date of birth, you'll then have to go through the verification process again.
To get started with Meta Verified, if you're in the US, go to your settings on Instagram or Facebook and then click Accounts Center. If the paid verification service is available for your account, you'll see "Meta Verified available" under your name and profile picture. Tap that, add a payment method, go through the verification process, and you're golden.
Those who are already verified on Instagram and Facebook won't have to pay for Meta Verified going forward, at least until Meta gets rid of the 'legacy' verification badges.
?
Facebook is useless and should be put in the garbage bin of history
O
This verification process may actually only be useful for some stars, politicians or big business companies - but not for normal people.
J
you are paying for identity theft in advance. NEVER upload your details online. Alkways give a false birthday for starters. Anyone who asks you to pay to communicate online when you can text, email, write a letter or MAKE A PHONE CALL instead (and wi...
ADVERTISEMENTS