Display
The Meizu Pro 6 packs a 5.2" Super AMOLED screen of 1080p resolution, which results in 423ppi. The images are crystal clear and sharp, the viewing angles are excellent, as is the contrast.
The screen of the Pro 6 is half an inch smaller than the Pro 5's, but in its defense it improves the pixel density, helps the handling and, most importantly, brings 3D Press capabilities. We'll explore these in detail in due time.
The pixel arrangement is the usual Diamond PenTile. According to Meizu, the Pro 6 uses a 5.5 generation Samsung AMOLED panel.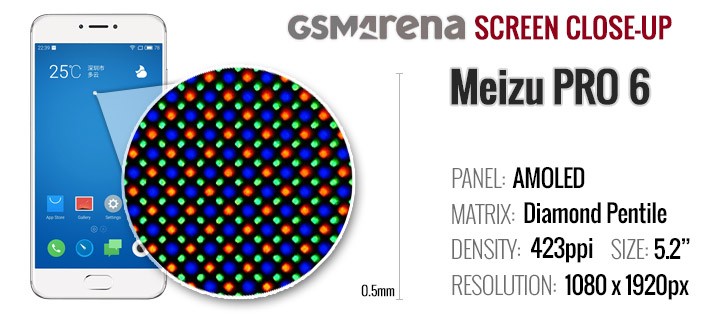 The colors provided by the Meizu Pro 6 are good, but not perfect, just like it was with the Pro 5. The two displays are tuned slightly differently as the average DeltaE of the Pro 6 is slightly lower at 5.3 (for the primaries, plus black and white), but the max DeltaE is higher at 10.2. What it means is the Pro 6 screen is well calibrated (Avg DeltaE of 5.3, anything below 4 is considered perfectly calibrated), but the white color (DeltaE of 10.2) is way off, which explains the less than perfect score.
The white color came out bluish in all of the display modes, but we were able to get better calibration by moving the color slider midway into the Warm option.
The contrast is as good as an AMOLED screen can offer and the brightness, at 360 nits, is slightly better than the promised 350 nits. The AMOLED units aren't known to be very bright to begin with - the Pro 5 is slightly dimmer (322nits), while the Galaxy S6 display (363nits) is on par with the Pro 6.
A definite positive point is that the minimum level of brightness is only 3 nits, which would make for an extremely comfortable reading experience in pitch dark environments.
You will probably notice the screen is not completely dim at pitch black color. It turns out lots of the AMOLEDs out there can't go completely dark, but we can only guess about the reasons. Some suggest this is to prevent screen burn-in, while others point to backlight leaks - the current passing through the LEDs to sustain the screen refresh rate. Anyway, this shouldn't bother you, but it gives a better explanation of the results below.
Display test
100% brightness
Black, cd/m2
White, cd/m2
Contrast ratio
Meizu Pro 5
0
321
∞
Meizu Pro 6
0.01
360
40000
Meizu MX5
0
346
∞
Meizu MX4 Pro
0.69
775
1127
Xiaomi Mi 5
0.51
628
1227
Samsung Galaxy S7
0.00
391
∞
Apple iPhone 6s Plus
0.43
590
1382
OnePlus Two
0.30
399
1334
Huawei P9
0.46
500
1094
Sony Xperia Z5
0.59
583
986
Samsung Galaxy S6
0.00
363
∞
The sunlight legibility is great and you'll have no problem seeing what's happening on the screen even under bright sunlight.
Sunlight contrast ratio
Samsung Galaxy S6 edge+
4.615
Samsung Galaxy S7 edge
4.439
Samsung Galaxy S7
4.376
HTC One A9
4.274
Samsung Galaxy A3
4.241
Samsung Galaxy S6
4.124
Samsung Galaxy S6 edge
4.124
Samsung Galaxy Note5
4.09
Huawei Nexus 6P
4.019
OnePlus X
3.983
Oppo R7s
3.964
Samsung Galaxy A7 (2016)
3.918
Samsung Galaxy A5
3.895
Samsung Galaxy J7 outdoor
3.879
Samsung Galaxy J2 outdoor
3.873
Samsung Galaxy A8
3.859
Apple iPhone 6
3.838
Microsoft Lumia 950XL
3.837
Samsung Galaxy A9 (2016)
3.817
Motorola Moto X (2014)
3.816
Samsung Galaxy A5 (2016)
3.789
Apple iPhone 6s
3.783
Meizu Pro 5
3.781
Microsoft Lumia 650
3.772
Oppo F1 Plus
3.709
Vivo X5Pro
3.706
Apple iPhone SE
3.681
Samsung Galaxy A7
3.679
Meizu PRO 6
3.659
BlackBerry Priv
3.645
Apple iPhone 6s Plus
3.53
Acer Jade Primo
3.521
Microsoft Lumia 950
3.512
Oppo R7 Plus
3.499
Samsung Galaxy J7
3.422
Meizu MX5
3.416
Oppo R7
3.32
Xiaomi Mi 5
3.24
Samsung Galaxy J2
3.235
Motorola Moto X Play
3.222
Huawei P9
3.195
Lenovo Vibe Shot
3.113
Motorola Moto X Force
3.105
LG Nexus 5X
3.092
Huawei Mate S
3.073
Microsoft Lumia 640 XL
3.065
Apple iPhone 6 Plus
3.023
Sony Xperia X
2.989
Samsung Galaxy Note
2.97
Huawei Mate 8
2.949
LG G5
2.905
HTC One S
2.901
Sony Xperia Z5
2.876
Microsoft Lumia 550
2.851
Sony Xperia Z5 compact
2.784
Meizu MX4 Pro
2.765
LG V10
2.744
Xiaomi Redmi 3
2.735
Sony Xperia M5
2.69
Vivo V3Max
2.659
Xiaomi Mi 4i
2.641
Xiaomi Mi 4c
2.574
Microsoft Lumia 640
2.563
Oppo F1
2.528
Sony Xperia Z5 Premium
2.525
Sony Xperia M4 Aqua
2.503
Motorola Moto G
2.477
Lenovo Vibe K5 Plus
2.473
Huawei G8
2.471
Sony Xperia Z
2.462
Huawei Honor 7
2.406
ZUK Z1 by Lenovo
2.382
HTC 10
2.378
Samsung Galaxy J5 (2016)
2.378
HTC One E9+
2.305
Alcatel One Touch Hero
2.272
Lenovo Vibe K4 Note
2.254
Sony Xperia C5 Ultra
2.253
Xiaomi Redmi Note 3 (MediaTek)
2.249
Sony Xperia C4 Dual
2.235
Motorola Moto G (2014)
2.233
LG Nexus 5
2.228
Huawei P8
2.196
Xiaomi Redmi Note 2
2.166
OnePlus Two
2.165
HTC One X
2.158
LG Aka
2.145
Archos 50 Diamond
2.134
Xiaomi Redmi Note
2.119
Acer Liquid X2
2.084
Huawei P8lite
2.078
Moto G 3rd gen max manual
2.026
Sony Xperia E4g
1.972
OnePlus One
1.961
BlackBerry Leap
1.892
Meizu m2 note
1.892
HTC Butterfly
1.873
ZTE Nubia Z9 mini
1.759
Sony Xperia U
1.758
Asus Zenfone Selfie
1.68
Motorola Moto E (2nd Gen)
1.675
ZTE Nubia Z9
1.659
Motorola Moto E
1.545
Sony Xperia M
1.473
Xiaomi Redmi 2
1.311
Sony Xperia C
1.283
Meizu MX
1.221
Battery life
The Pro 6 has 500mAh less battery capacity compared to the Pro 5 - for a total of 2,550 mAh. But unlike the energy-efficient Exynos chipset, we didn't quite know what to expect of the new Helio X25 chip.
We ran our battery test and it outed mixed-bag results. The smartphone does average across all of our tests, including the single-SIM and dual-SIM standby.
The rating of 57 hours isn't bad at all - it means you can use the Pro 6 for two full days and then some if you are to make an hour of 3G talks, web browsing and video playback each day. Putting a second SIM card drops the rating down to 54 hours. Such usage pattern is of course entirely artificial, but we've established it so our battery results are comparable across devices.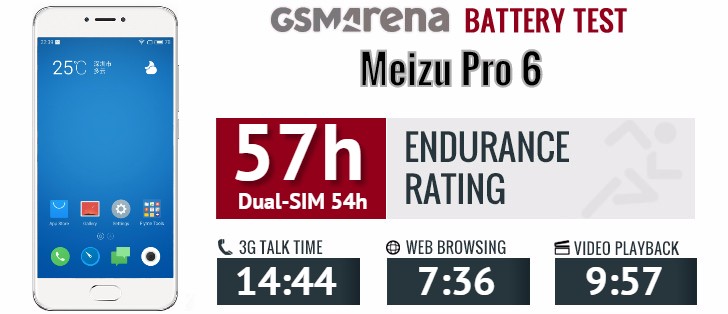 Obviously the new MediaTek Helio X25 is far from an energy efficient hardware, just like the rest of the MT chipsets we've met so far. Naturally, we've tested the phone on Performance Power Mode. You can save a few more hours on the Balanced Plan, if you like. We surely miss the Exynos chip on the new generation.
This is how long a single battery charge will last you if you use the Meizu Pro 6 for an hour each of telephony, web browsing, and video playback daily. Such usage pattern is of course entirely artificial, but we've established it so our battery results are comparable across devices.
The battery testing procedure is described in detail in case you're interested in the nitty-gritties. You can also check out our complete battery test table, where you can see how all of the smartphones we've tested will compare under your own typical use.
Connectivity
The Meizu Pro 6 supports LTE Cat.6 connectivity and you can tap into an LTE network on either SIM, but the other will default to a GSM network. The LTE bands our review unit supports include 1(2100), 3(1800), 7(2600), 38(2600), 39(1900), 40(2300), 41(2500). Dual SIM telephony is also supported, but the slot isn't hybrid and you can't put a microSD card inside.
The rest of the wireless connectivity features include dual-band Wi-Fi a/b/g/n/ac support and Wi-Fi Direct. There is also support for Bluetooth 4.1, NFC, and GPS and GLONASS. Wireless screen mirroring is available via the Miracast protocol.
The Pro 6 supports USB Type-C and fast charging. If you have a proper USB OTG adapter, you can attach peripherals and thumb drives. You should be able to charge other devices, but you'd need to get a special adapter as Meizu hasn't included one in the package.