Meizu Pro 7 tipped to feature a Kirin 960 SoC, ultrasound fingerprint sensor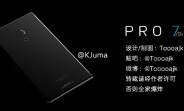 The Meizu Pro 6s that was unveiled less than two weeks ago, but it's such a minor upgrade over the Pro 6 (if at all an upgrade) that it's no wonder that a Pro 7 is not only in the works, but coming by the end of the year.
What are claimed to be leaked presentation slides for the smartphone's announcement reveal a ton of key specs. Chief among those is the Kirin 960 chipset. It seems that gone are the days of Meizu's partnership with Samsung that brought us the Exynos 7420-powered Pro 5. Instead, the Pro 7 is tipped to rely on Huawei's latest SoC, which introduces the new Cortex-A73 CPU cores and the Mali-G71 Vulkan-enabled GPU.
The 'more is better' trend has been ruling in the RAM department for a while now and 6GB is the new 4GB - the Pro 7 is keeping up with the times, the slides suggest. Additionally, the Sony IMX 386 sensor should be tasked with handling image capture - the same 12MP one as in the Pro 6s.
More intriguingly, the Sonavation name slapped on a slide hints at an ultrasound under-glass fingerprint sensor. That, and the fact that such a solution is actually pictured on a slide itself.
You might want to hold off that Pro 6s purchases, by the way, as the Pro 7 is allegedly scheduled for a December 24 announcement.
S
It's going to be a lot better than the SD821 and the Exynos 8890, and who told you it isn't battery efficient?
D
It isnt so much about being able to do this stuff now, its about solidifying the next few years of products ahead of time. If everyone pushed for the truly latest and greatest tech each year, they run the risk of not being able to make anything bette...
?
I will be surprised if they actually manage to make an almost bezelless display. Why though can a small Chinese manufacturer do it and the big ones can't, that's what I'm wondering.
ADVERTISEMENT