One, Two, Three, Five!
Meizu M5 Note review: One, Two, Three, Five!
Introduction
Meizu's Note series were off to a great start with the m1 note. The m2 note did some upgrades in expense of a few features, while the m3 note turned out a worthy successor though it trailed behind the Xiaomi's mid-range crop. It's time for Meizu to freshen up its Note lineup again, and today we get our hands on the newly released M5 Note.
Fun fact! Did you notice there is a missing fourth model in the series? The number four is considered a bad omen in China and skipping it is quite usual. The fear of the number four actually has a proper Greek name - tetraphobia. And yes, we just looked this up.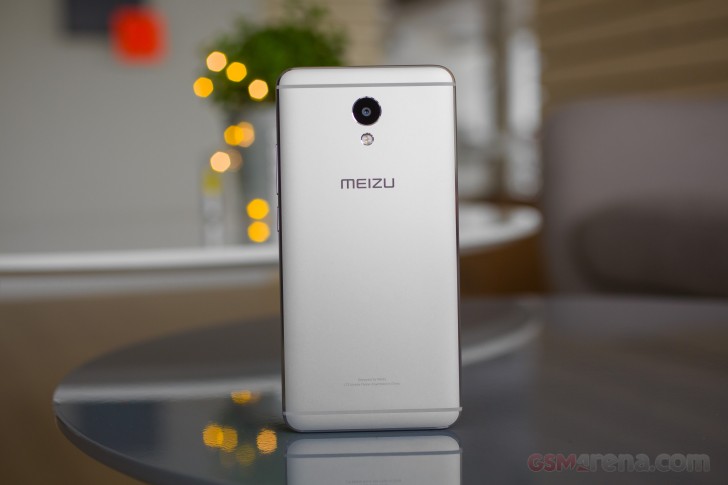 The M5 Note comes with a refined design, easily noticeable, but not breaking up with its roots. There is also more storage, if you are ready to pay for it, and Android Marshmallow comes pre-installed.
The rest is pretty much as we left it on the m3 note - Helio P10 chipset, a 13MP main camera, the iconic mTouch key with a fingerprint scanner, and a beefy 4,000 mAh battery.
Meizu M5 Note at a glance:
Metal unibody; 5.5" 1080p IPS display of 403ppi
MediaTek Helio P10 chipset: octa-core processor, Mali-T860MP2 GPU, 3GB/4GB of RAM
13MP camera, two-tone LED flash; 1080p @30fps; 5MP front-facing camera
16/32/64GB of built-in storage, microSD slot
mTouch v2.1 Home button with a fingerprint scanner
4,000 mAh battery, fast charging (35% in 30 minutes)
Android Marshmallow 6.0 OS with Flyme 5.2
Dual SIM; LTE Cat.6; Wi-Fi a/b/g/n; Bluetooth 4.0; GPS and GLONASS; microUSB port
It seems Meizu was focused more on the Note's appearance, rather on its performance and camera skills. And that would have been OK, if it weren't for the overcrowded mid-range market.
But we are yet to unwrap the M5 Note and put it through its paces. We are hoping Meizu has put some twists here and there, and we'll make sure to search for those.
We're experimenting with a shorter review format for this phone as it gives the spare time to review a broader range of devices. We hope it still answers all the questions you may have about the device. Our goal was to give you our impressions in a shorter, concise manner but without sacrificing the performance assessment and the results from the full tests we normally perform. We hope you enjoy it. Any feedback is welcome.
Hardware
The Meizu M5 Note has the same footprint as its predecessor, though it's gained about 12g in weight. While the M5 Note looks the same at the front, the metal back has changed a bit and it's for the better - there is a prominent chamfer between the frame and the rear surface. This tiny design twist makes for a better grip and stylish appearance.
The retail box of the Meizu M5 Note includes only the basics - a fast 24W charger plug and a microUSB cable. There are no headphones inside.
The M5 Note is all-metal in the luxury kind of way - there are no big plastic strips at the back, just two tiny antenna bands. A glass covers the entire front and it has 2.5D edges - it's probably a Dinorex T2X-1 glass, but Meizu didn't share any specifics.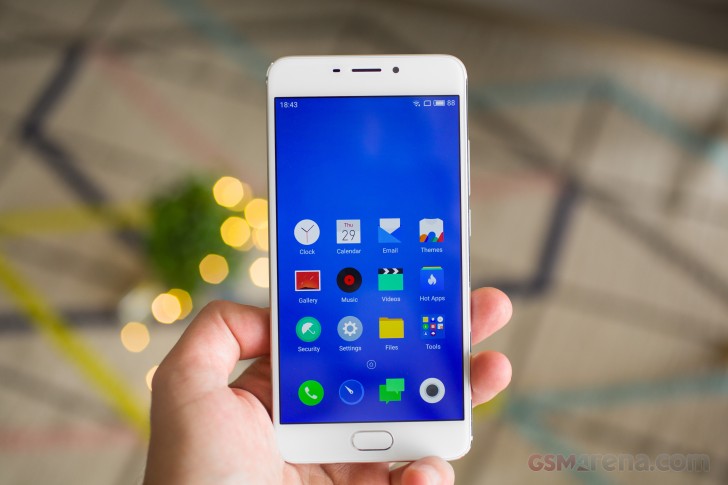 The 5.5" screen has an IPS matrix of 1080p resolution or in other words 403ppi density. Its viewing angles are close to perfection, very wide and with no color distortion, though its sunlight legibility is below average with a score of 2.189.
Sunlight contrast ratio
Samsung Galaxy S6 edge+
4.615
Samsung Galaxy S7 edge
4.439
OnePlus 3
4.424
Samsung Galaxy S7
4.376
HTC One A9
4.274
Samsung Galaxy Note7
4.247
Samsung Galaxy A3
4.241
OnePlus 3T
4.232
Google Pixel XL
4.164
ZTE Axon 7
4.154
Samsung Galaxy S6 edge
4.124
Samsung Galaxy Note5
4.09
Huawei Nexus 6P
4.019
OnePlus X
3.983
Vivo Xplay5 Elite
3.983
Oppo R7s
3.964
Apple iPhone 7
3.964
Huawei P9 Plus
3.956
Meizu Pro 6 Plus
3.935
Lenovo Moto Z
3.931
Samsung Galaxy A7 (2016)
3.918
Samsung Galaxy C5
3.911
Samsung Galaxy C7
3.896
Samsung Galaxy A5
3.895
Samsung Galaxy J7 outdoor
3.879
Samsung Galaxy J2 outdoor
3.873
Samsung Galaxy A8
3.859
Samsung Galaxy A9 (2016)
3.817
Motorola Moto X (2014)
3.816
Samsung Galaxy A5 (2017)
3.804
Samsung Galaxy J7 (2016) outdoor mode
3.802
LG V20 Max auto
3.798
Xiaomi Redmi Pro
3.798
Sony Xperia XZ
3.795
Samsung Galaxy A5 (2016)
3.789
Apple iPhone 6s
3.783
Meizu Pro 5
3.781
Microsoft Lumia 650
3.772
Samsung Galaxy J7 (2016)
3.756
Oppo F1 Plus
3.709
Vivo X5Pro
3.706
Sony Xperia X Compact
3.694
Samsung Galaxy A3 (2017)
3.688
Apple iPhone SE
3.681
Huawei Mate 9
3.68
Samsung Galaxy A7
3.679
Meizu PRO 6
3.659
BlackBerry Priv
3.645
Apple iPhone 7 Plus
3.588
Apple iPhone 6s Plus
3.53
Motorola Moto Z Play
3.526
Samsung Galaxy J3 (2016)
3.523
Samsung Galaxy J3 (2016) outdoor mode
3.523
Acer Jade Primo
3.521
Microsoft Lumia 950
3.512
Oppo R7 Plus
3.499
nubia Z11
3.466
Samsung Galaxy J7
3.422
Meizu MX5
3.416
LG V20
3.402
Oppo R9s
3.352
Oppo R7
3.32
Lenovo P2
3.316
Xiaomi Mi 5s
3.276
Samsung Galaxy J2
3.235
Sony Xperia X Performance
3.234
Xiaomi Mi Note 2
3.228
Motorola Moto X Play
3.222
Huawei P9
3.195
Lenovo Vibe Shot
3.113
Motorola Moto X Force
3.105
LG Nexus 5X
3.092
Huawei Mate S
3.073
Microsoft Lumia 640 XL
3.065
Sony Xperia X
2.989
Huawei Mate 8
2.949
Xiaomi Redmi 3S
2.913
Sony Xperia XA Ultra
2.906
LG G5
2.905
HTC One S
2.901
Xiaomi Redmi 3s Prime
2.893
Xiaomi Mi 5s Plus
2.884
Sony Xperia Z5
2.876
Microsoft Lumia 550
2.851
Lenovo Moto M
2.813
Xiaomi Redmi 3 Pro
2.803
Sony Xperia Z5 compact
2.784
Meizu MX6
2.751
LG V10
2.744
Xiaomi Redmi 3
2.735
Meizu M5
2.71
Sony Xperia M5
2.69
Huawei P9 Lite
2.679
Xiaomi Redmi 4 Prime
2.679
Vivo V3Max
2.659
Xiaomi Mi Mix
2.658
Xiaomi Mi 4i
2.641
Sony Xperia XA
2.609
Motorola Moto G4 Plus
2.582
Motorola Moto G4 Plus (max auto)
2.582
Xiaomi Mi 4c
2.574
LeEco Le Max 2
2.567
Asus Zenfone 3 ZE552KL
2.563
Microsoft Lumia 640
2.563
Lenovo K6 Note
2.544
Lenovo Moto G4
2.544
Oppo F1
2.528
Sony Xperia Z5 Premium
2.525
Huawei Honor 7 Lite / Honor 5c
2.506
Sony Xperia M4 Aqua
2.503
Oppo F1s
2.481
Motorola Moto G
2.477
Lenovo Vibe K5 Plus
2.473
Huawei G8
2.471
Huawei nova
2.467
Sony Xperia Z
2.462
Lenovo Vibe K5
2.459
Meizu m3 max
2.447
Huawei Honor 7
2.406
Sony Xperia E5
2.386
ZUK Z1 by Lenovo
2.382
Samsung Galaxy J5 (2016)
2.378
HTC 10
2.378
Meizu m1 note
2.362
Huawei nova plus
2.329
HTC One E9+
2.305
Alcatel One Touch Hero
2.272
Apple iPhone 4S
2.269
Lenovo Vibe K4 Note
2.254
Sony Xperia C5 Ultra
2.253
Xiaomi Redmi Note 3 (MediaTek)
2.249
Sony Xperia C4 Dual
2.235
Xiaomi Mi Note
2.234
Motorola Moto G (2014)
2.233
Huawei P8
2.196
Meizu M5 Note
2.189
Huawei Honor 6
2.169
Xiaomi Redmi Note 2
2.166
OnePlus Two
2.165
HTC One X
2.158
Xiaomi Redmi Note 4
2.145
LG Aka
2.145
Archos 50 Diamond
2.134
Xiaomi Redmi Note
2.119
Acer Liquid X2
2.084
Huawei P8lite
2.078
Moto G 3rd gen max manual
2.026
Xiaomi Mi Max
1.996
Sony Xperia E4g
1.972
OnePlus One
1.961
Meizu m3 note
1.923
Meizu m2 note
1.892
BlackBerry Leap
1.892
ZTE Nubia Z9 mini
1.759
Sony Xperia U
1.758
Asus Zenfone Selfie
1.68
Motorola Moto E (2nd Gen)
1.675
ZTE Nubia Z9
1.659
Jolla Jolla
1.605
Motorola Moto E
1.545
Sony Xperia M
1.473
Xiaomi Redmi 2
1.311
HTC Desire C
1.3
Sony Xperia C
1.283
Meizu MX
1.221
Sony Xperia E
1.215
The 5.5" display has a maximum brightness of 460 nits, but its mediocre black levels led to an average contrast of 1:754. The color rendering is average, too - the screen offers mostly accurate colors but blue hues interfere with the image rather obviously, and the white color is way colder than it should be. The representation out of the box has an average DeltaE of 8.7, but even playing with the color settings won't help you do much better than that.
Display test
100% brightness
Black, cd/m2
White, cd/m2
Contrast ratio
Meizu M5 Note
0.614
463
754
Meizu m3 note
0.52
425
816
Meizu m3 max
0.46
449
976
Meizu m2 note
0.42
473
1108
Meizu m1 note
0.65
562
867
Meizu m1 metal
0.50
390
780
Samsung Galaxy J7 (2016)
0.00
353
∞
Xiaomi Redmi Note 3 (MediaTek)
0.42
403
953
Xiaomi Redmi Note 4
0.38
439
1158
Xiaomi Redmi Pro
0.00
408
∞
Below the 5.5" display is the familiar mTouch key. It's an all-in-one button with three functions - tap for Back, click for Home, and there is an embedded fingerprint scanner for when the screen is locked. While the biometric sensor isn't always on, it's very fast, accurate, and is capable of recognizing your fingerprint from any direction.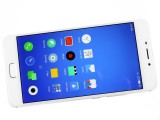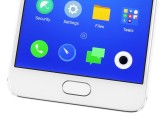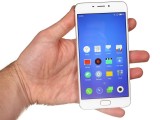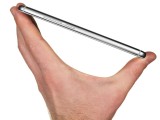 The front • the mTouch key • handling the M5 Note
The M5 Note supports MediaTek's Pump Express 3.0 rapid charging, and the supplied charger has a maximum power output of 24W.
The phone is powered by a 4,000 mAh battery - that's 100 mAh less capacity than the unit inside the m3 note. It scored an excellent 98-hour endurance rating in our battery test, even though its video playback endurance is only average.
Since Meizu is not a registered Google Services partner, the international M5 Note comes without Google's services preinstalled. Instead, the phone gives you access to an installer which installs them for you hassle free. Other reviewers have been pointing out that these, essentially sideloaded, Google apps and services drain the battery faster than usual, but we assure you this behavior was only found on the reviewers units, which were sent out running an earlier pre-production version of the ROM. With the latest software build we've been enjoying great battery life.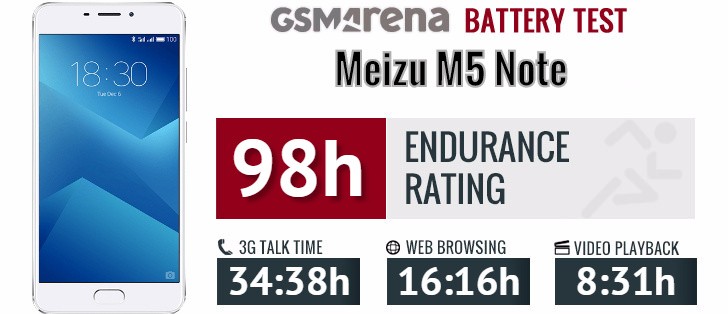 Our endurance rating is the time you can keep using the M5 Note on a single charge if you are to make an hour of 3G talks, web browsing and video playback each day. This sort of usage pattern may not apply to you but we've established it so our battery scores are comparable across devices.
Meizu M5 Note is a dual-SIM phone, but it uses a hybrid slot so you would have to make the choice of either a second SIM or a microSD card. You can opt for 16, 32, or even 64GB storage options - getting more gigabytes means you won't have to give up on the second SIM card.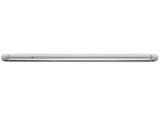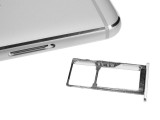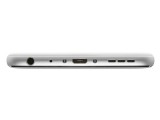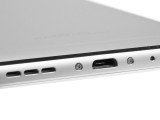 The SIM tray is on the left • the SIM/microSD hybrid slot • the bottom • the microUSB port
Finally, the bottom of the M5 Note is where the audio jack, the microUSB connectivity port, and the loudspeaker are. The primary mic is also around.
The M5 Note's speaker scored a Very Good mark in our loudness test and its output quality is clean, crisp, and with deep enough bass.
| | | | | |
| --- | --- | --- | --- | --- |
| Speakerphone test | Voice, dB | Pink noise/ Music, dB | Ringing phone, dB | Overall score |
| Meizu Pro 6 Plus | 60.6 | 69.5 | 70.3 | Below Average |
| Meizu m3 note | 66.5 | 64.6 | 71.7 | Average |
| Samsung Galaxy J7 (2016) | 64.5 | 71.0 | 68.9 | Average |
| Xiaomi Redmi Note 4 | 64.2 | 67.2 | 76.9 | Good |
| Meizu m1 metal | 68.3 | 66.6 | 73.7 | Good |
| Xiaomi Redmi Note 3 | 66.5 | 66.6 | 75.8 | Good |
| Meizu m1 note | 67.7 | 66.2 | 75.7 | Good |
| Meizu M5 | 63.7 | 69.1 | 82.5 | Good |
| Meizu m3 max | 62.7 | 70.3 | 84.5 | Good |
| Meizu M5 Note | 65.1 | 70.7 | 86.8 | Very Good |
| Meizu MX5 | 75.7 | 73.5 | 79.5 | Excellent |
A
im gonna make it simple price vs value this phone one of the worst or i just being scam by darn sales girl never trust this brand anymore
S
no clear contacts on my phone
D
I still have a M5 note and it still performs as it did the day I got it, only thing is in the review it says all metal well mine is or feels definitely like a plastic back.