Software
The Velvet runs on Android 10 with the company's custom LG UX on top, that one in version 9. It's for all intents and purposes identical to what we had on the V60, save for the green accent color of the quick toggles, which is part of the default theme and can be changed anyway.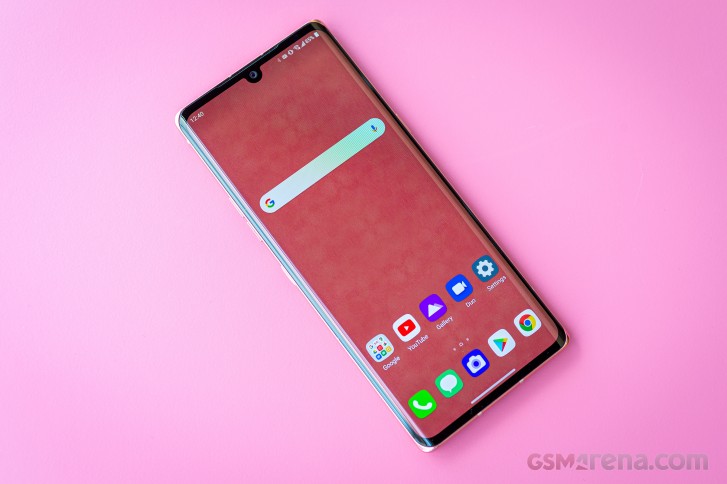 The lock screen shows missed notifications, and the dialer and camera apps can be quickly accessed by left or right. Double-tapping on notifications will prompt for your password or fingerprint and you can't even dismiss a notification without unlocking first. Fingerprint authentication is the only available biometrics secirity option, by the way, there's no face unlock.
The AOD (always-on display) is highly customizable with lots of different clock styles to choose from, as well as the accent color. It can be set to come on for 10 seconds when you tap the display, or you can keep it always-on.
The interface is clean and simple with no complicated menus or endless list of settings. Built into Android 10 is the universal dark mode, which LG calls Night theme. It blacks out the interface, menus, and core LG apps like the dialer, messages, contacts, etc. Supported third-party apps will also switch to their respective dark modes. As on most other phones, you can schedule night mode to only kick in for a specific time interval, but here you can also schedule it based on the sunrise and sunset times. LG still offers you the option to "hide" the notch, too.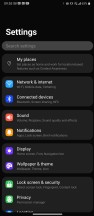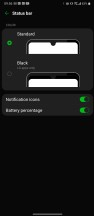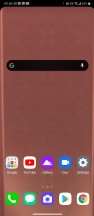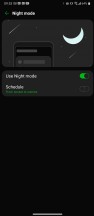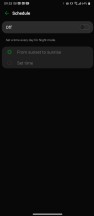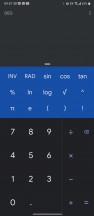 Settings menu • Hiding the notch • Night mode
During the initial setup, you're given the choice of whether you want an app drawer or not. The LG app drawer puts apps in the order they were installed, but its easy to switch to alphabetical. Swiping to the far left will get you to your Google Feed.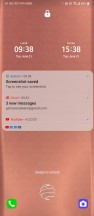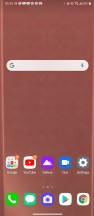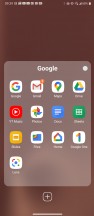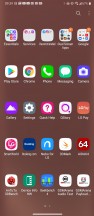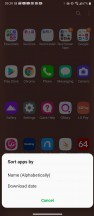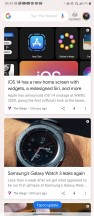 Lockscreen • Home screen • Folder view • App drawer • Drawer sorting • Google Feed
The notification shade is opaque with those default green accents we mentioned. Swiping down twice opens up the full list of toggles and brings them all the way down to the bottom half of the screen for easy reach - kind of like OneUI, but LG UX.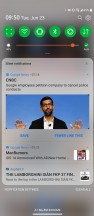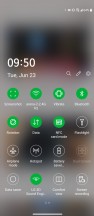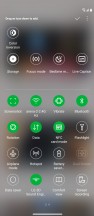 Notification shade • Quick settings • Edit quick settings
Users have a choice between the navigation bar and Android's gesture bar. As before on LG devices, if you opt for the button based approach, you can customize the navigation bar with up to five buttons including a screenshot button and a button to pull the navigation bar down.
LG has its own gallery app with cloud support for Google Drive, Dropbox, OneDrive and Box. A basic FM radio app is available with no RDS or recording capability. Going by the official specsheets, that would be a South Korea-only feature, mind you. The HD Audio Recorder, on the other hand, is fully featured and offers an ASMR mode and fully customizable audio (gain + low cut filter + limiter) and recording at up to 24 bit / 192 kHz. It even has a "Studio mode" that lets you record voice over a track you might have on your phone.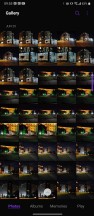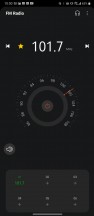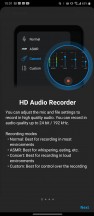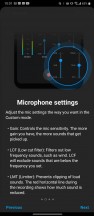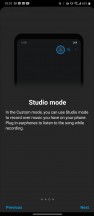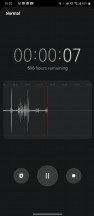 Gallery • FM radio • HD Audio recorder
Synthetic benchmarks
The Velvet is built on the Snapdragon 765G platform, one short of the highest numbered chipset Qualcomm has below the 800 series - the 768 is mostly an overclocked 765. The S765 is a capable chip manufactured on a 7nm process and it has a built-in modem (X52), unlike the 865 - with 5G and all that. LG's phone comes in two RAM tiers - with 6 or 8GB of RAM, and a single storage option - 128GB of UFS 2.1. Ours is the 8-gig version.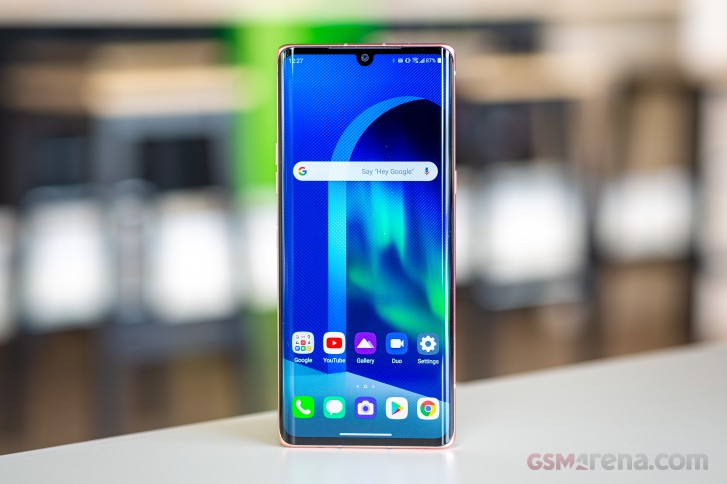 In CPU testing the two major midrange 5G platforms post mostly the same results under multi-core loads - that would be the Exynos 980 in the Galaxy A51 5G and the Snapdragon 765 that the Velvet and the Moto Edge rock. In single-core tests, however, the Galaxy has a notable advantage. Last year's flagships like LG's own G8X (S855) and the Galaxy S10+ (Exynos 9820) still offer a significant leap in performance when compared against the Velvet, and OnePlus 8 with the current-gen Snapdragon 865 shows the peak performance that can be had for about the Velvet's asking price. Snapdragon 730 midrangers, meanwhile, aren't that far behind the 765s.
GeekBench 5.1 (multi-core)
Higher is better
OnePlus 8
3399
LG G8X ThinQ
2870
Samsung Galaxy S10+
2190
LG Velvet
1905
Samsung Galaxy A51 5G
1867
Motorola Edge
1862
Realme X2
1750
Samsung Galaxy A71
1733
Xiaomi Mi Note 10 Lite
1694
GeekBench 5.1 (single-core)
Higher is better
OnePlus 8
919
Samsung Galaxy S10+
827
LG G8X ThinQ
746
Samsung Galaxy A51 5G
677
Motorola Edge
586
LG Velvet
586
Realme X2
545
Samsung Galaxy A71
542
Xiaomi Mi Note 10 Lite
521
In Antutu, the Velvet puts out similar performance to the Moto Edge's, the Galaxy A51 5G ever so slightly ahead. The Snapdragon 730 devices can't quite keep up and, conversely, the true flagship silicon is out of reach for the Velvet, whether it's this year's OP8, or last year's G8X and S10+.
AnTuTu 8
Higher is better
OnePlus 8
564708
LG G8X ThinQ
411980
Samsung Galaxy S10+
399901
Samsung Galaxy A51 5G
316007
Motorola Edge
305989
LG Velvet
297372
Samsung Galaxy A71
263396
Realme X2
257443
Xiaomi Mi Note 10 Lite
253271
Top-tier chipsets have much beefier GPUs and it shows in graphics benchmarks with last year's high-end devices outperforming the Velvet pretty much 2:1, not to mention this year's OP8.
GFX 3.1 Manhattan (1080p offscreen)
Higher is better
OnePlus 8
88
LG G8X ThinQ
70
Samsung Galaxy S10+
69
Motorola Edge
34
LG Velvet
33
Samsung Galaxy A51 5G
32
Samsung Galaxy A71
30
Xiaomi Mi Note 10 Lite
30
Realme X2
29
GFX 3.1 Manhattan (onscreen)
Higher is better
LG G8X ThinQ
58
Samsung Galaxy S10+
37
Motorola Edge
32
LG Velvet
29
Samsung Galaxy A51 5G
28
Samsung Galaxy A71
27
Xiaomi Mi Note 10 Lite
26
Realme X2
24
GFX 3.1 Car scene (1080p offscreen)
Higher is better
OnePlus 8
52
Samsung Galaxy S10+
42
LG G8X ThinQ
42
Samsung Galaxy A51 5G
20
Motorola Edge
19
LG Velvet
19
Samsung Galaxy A71
17
Xiaomi Mi Note 10 Lite
17
Realme X2
16
GFX 3.1 Car scene (onscreen)
Higher is better
OnePlus 8
46
LG G8X ThinQ
38
Samsung Galaxy S10+
23
Motorola Edge
18
Samsung Galaxy A51 5G
17
LG Velvet
16
Samsung Galaxy A71
15
Xiaomi Mi Note 10 Lite
15
Realme X2
13
Aztek Vulkan High (onscreen)
Higher is better
OnePlus 8
30
Samsung Galaxy S10+
13
Motorola Edge
12
LG Velvet
11
Samsung Galaxy A51 5G
9.9
Xiaomi Mi Note 10 Lite
9.9
Samsung Galaxy A71
9.3
Realme X2
8.9
Aztek OpenGL ES 3.1 High (onscreen)
Higher is better
OnePlus 8
31
Samsung Galaxy S10+
16
Samsung Galaxy A51 5G
12
Motorola Edge
12
LG Velvet
11
Samsung Galaxy A71
10
Xiaomi Mi Note 10 Lite
10
Realme X2
9.2
3DMark SSE OpenGL ES 3.1 1440p
Higher is better
OnePlus 8
7290
Samsung Galaxy S10+
4420
Motorola Edge
3004
LG Velvet
2987
Samsung Galaxy A51 5G
2837
Xiaomi Mi Note 10 Lite
2467
Samsung Galaxy A71
2464
Realme X2
2402
3DMark SSE Vulkan 1440p
Higher is better
OnePlus 8
6720
Samsung Galaxy S10+
4295
Motorola Edge
2801
Samsung Galaxy A51 5G
2778
LG Velvet
2758
Realme X2
2263
Samsung Galaxy A71
2253
Xiaomi Mi Note 10 Lite
2248
The LG Velvet posted performance numbers predictable for its hardware. It delivers high numbers for a midrange offering, but can't really cross swords with the top-tier devices - for raw performance a flagship from 2019 will be a much better choice. However, to get 5G in 2020 on a non-flagship model, you need to sacrifice something after all. On a more positive note, the Velvet exhibited virtually no thermal throttling under continued load - hardly guaranteed with flagship SoCs.