Display
There's a large 6.8-inch OLED display with a resolution of 2460 x 1080 px which comes out to an aspect ratio of 20.5:9. The previous generation V50 had a QHD+ display, but the refreshed V50S knocked it down to FHD+. The same was done with the G8X so it's safe to say LG's made a conscious decision to use FHD panels on its flagships.
This display is protected by Gorilla Glass 5.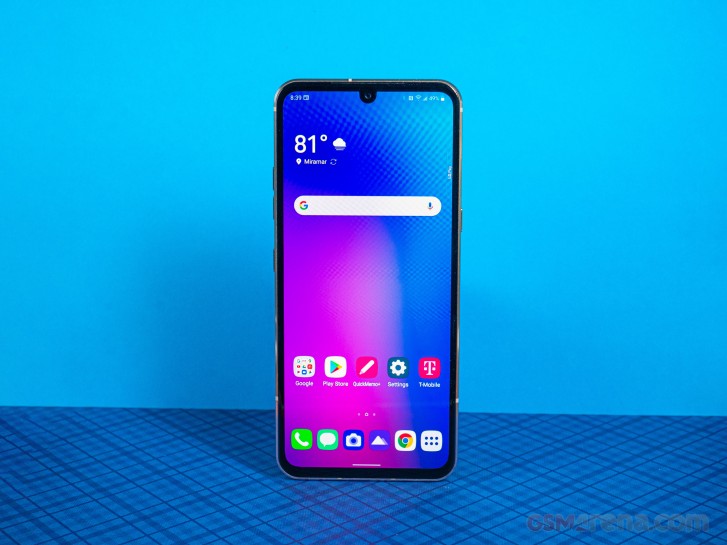 In our testing, we saw a brightness of 511 nits from the V60's display. Switching the brightness setting to automatic yielded us 622 nits under bright sunlight, so legibility in bright light won't be a problem. Minimum brightness is a low 2.1 nits, great for viewing in the dark.
With the Dual Screen case attached, we managed 513 nits of brightness on the second display. Unlike the main screen, however, the Accessory display won't go brighter than that - but it is a significant upgrade from the LG G8X's Dual Screen, which only mustered a max brightness of 371 nits.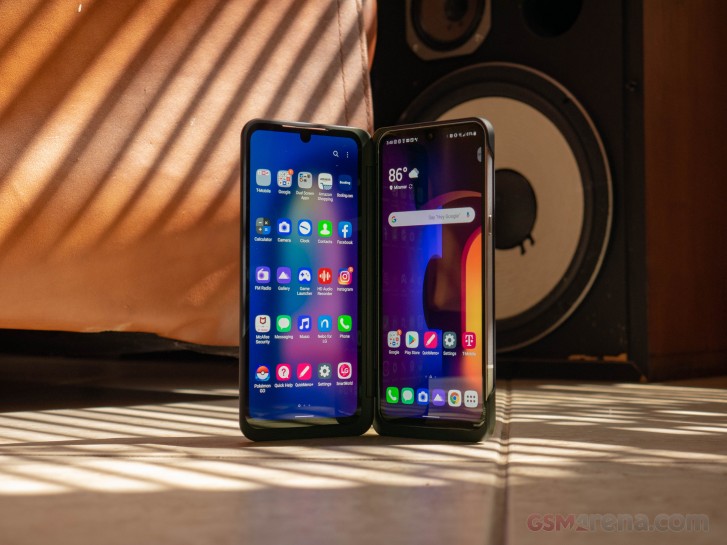 With the Dual Screen case on the V60, the displays can be configured with individual brightness, or you can sync the Dual Screen to match the main. While you can set both displays to any color profile, you'll be happy to know the displays colors will match each other. You can't set the profiles individually, though. You can, however, set the main display to any profile and the secondary screen will remain on the default "Auto" setting.
Display test
100% brightness
Black,cd/m2
White,cd/m2
Contrast ratio
Samsung Galaxy S20 Ultra 5G (Max Auto)
0
894
∞
OnePlus 8 Pro (Max Auto)
0
888
∞
Oppo Find X2 Pro (Max Auto)
0
871
∞
Xiaomi Mi 10 Pro (Max Auto)
0
858
∞
Apple iPhone 11 Pro Max
0
820
∞
Apple iPhone 11
0.428
644
1505:1
LG V60 ThinQ 5G (Max Auto)
0
622
∞
LG G8X ThinQ (Max Auto)
0
603
∞
OnePlus 7T Pro (Max Auto)
0
596
∞
OnePlus 8 Pro
0
538
∞
Oppo Find X2 Pro
0
536
∞
LG V60 ThinQ 5G (Dual Screen)
0
513
∞
LG V60 ThinQ 5G
0
511
∞
Xiaomi Mi 10 Pro
0
510
∞
OnePlus 7T Pro
0
429
∞
Samsung Galaxy S20 Ultra 5G
0
398
∞
LG G8X ThinQ (Dual Screen)
0
371
∞
LG G8X ThinQ
0
330
∞
In terms of color reproduction, most of the color profiles are tuned to the DCI-P3 color space. The default Auto mode features bluish whites and bright vivid colors. We measured an average deltaE of 4.1 with a maximum deltaE of 8.5 compared against the DCI-P3 color space.
Otherwise, the most accurate profile is "Cinema", which showed us an average deltaE of 2.9 and maximum deltaE was at 4.9, based off the same DCI-P3 space. This color mode is significantly more accurate with much more natural whites, grays, and semi-vibrant colors.
There are a bunch of sliders for tuning the display colors and appearance including: color temperature, reds, blues, greens in Auto, and Expert mode also offers additional sliders: saturation, hue, sharpness.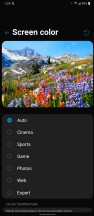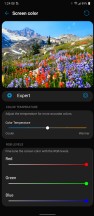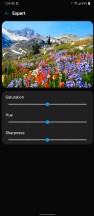 Display tuning options
Battery Life
There's a hefty 5,000 mAh battery in the V60 - a 20% increase over the LG V50 (and V50S') 4,000 mAh one. Bundled with the V60 is a Quick Charge 4 USB-C adapter, capable of 25W charging speeds. The adapter is rated for 5V/3A (15W) and 9V/2.77A (25W).
The included 25W adapter recharged the V60 to 42% after half an hour, which is less than the advertised 50% in 30 minutes. In addition, the V60 supports Qi wireless charging.
In our battery tests, the LG V60 did exceptionally well. We saw over 23h of video playback and over 15h of browsing on a charge. The V60 also mustered more than 28h in call time. Even though we expected better standby draw, the V60 managed an impressive 103h overall.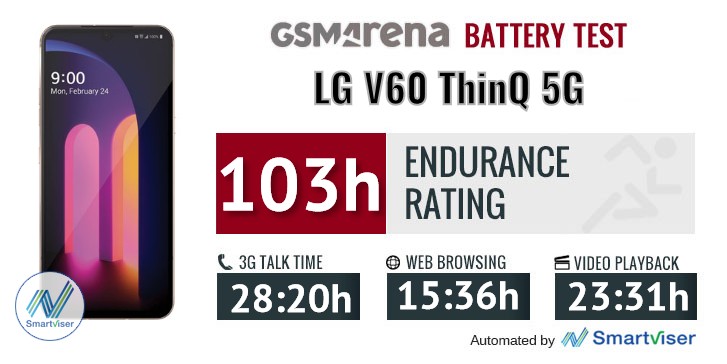 Our battery tests were automated thanks to SmartViser, using its viSerDevice app. The endurance rating above denotes how long a single battery charge will last you if you use the LG V60 ThinQ 5G for an hour each of telephony, web browsing, and video playback daily. We've established this usage pattern so that our battery results are comparable across devices in the most common day-to-day tasks. The battery testing procedure is described in detail in case you're interested in the nitty-gritty. You can check out our complete battery test table, where you can see how all of the smartphones we've tested will compare under your own typical use.
The endurance is great enough to cover an offset of an added draw of about 20%. Chances are you aren't going to use the Dual Screen continuously 100% of the time. Even if you did use the Dual Screen nonstop, you'll certainly last through the whole day.
Audio and Quad DAC
Like several of its past iterations, the V60 has the 3.5mm headphone jack with 32-bit Quad DAC audio. There are lots of settings to play with to set the audio to your liking.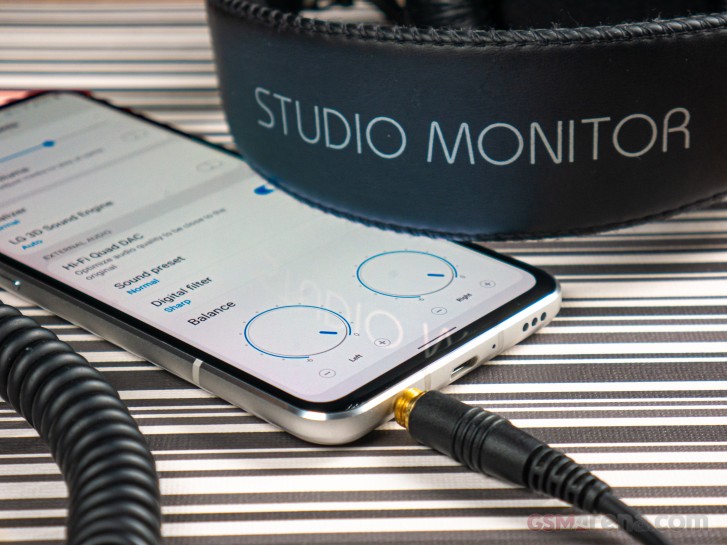 There's an option to normalize volume levels, set a preset equalizer (or create a custom preset), and LG's got a 3D Sound Engine for simulated surround settings. A Digital Filter can be applied to change the characteristic of the sound. The sound that the V60 can output through its DAC in no way compares to what you'd hear from Bluetooth audio or a passthrough dongle.