Introduction
The LG V20 is the epitome of LG's technology and the embodiment of a no-comprise phone. It has two screens, two cameras, four high-quality digital-to-analog converters, an MIL-STD-compliant shock-resistant all-metal body with the trademark LG removable battery and it even came out with the latest Android Nougat right from the get go.
Okay - those are a few highlights too many to sit through in a single sentence, so let's break it down.
First - here's an at-a-glance list of the LG V20's main points.
Key specifications

5.7"2560x1440 pixels

16MP 2160p

2.15GHz Snapdragon 820

4GB RAM 32/64 GB memory

3200mAhLi-Ion
The LG V20 is a quality refresh of the V10 which pioneered the two-screen design. There's a main 5.7-inch LCD of QHD resolution but also a tiny second screen above the main one which is an unusual 2.1" 160x1040px always-on display that's reserved for app and system shortcuts, personal signature and much more.
Then on the back, like the LG G5 before it, the LG V20 has two cameras - a regular 75-degree 16MP camera with 4K and autofocus and a 135-degree 8MP fixed focus unit with a super wide angle view of the world.
Like the V10, the LG V20 comes with an MIL-STD-810G compliant shock-resistant body, which this time is metal, instead of the rubbery plastic that the V10 had.
Design and build quality
The LG V20 sounds impressive when you throw around shock resistance and special aluminum alloys (AL-6013), but in our opinion, it lacks any eye-catching design traits. It has an exterior with a flat, unimaginative front and a garage tool-like rear.
It's also big and heavy, and among the tallest sub-6-inchers we've used - we guess the second screen is to blame for it.
Weight is high at 174 grams but to be fair compared to its direct large-screened competitors, the LG V20 is on the light side.
But combined with the slippery aluminum finish the weight adds up to a slippery experience - you'd best grip the V20 tight.
The volume control buttons are on one side of the LG V20 while, on the other, there's a back panel release lever which could be mistaken for a camera shutter button at first glance.
Once pressed, the lever releases the back panel to grant access to the 3,200mAh battery, the SIM card, and the microSD slot.
The fingerprint scanner is on the back, and it doubles as a clickable power button.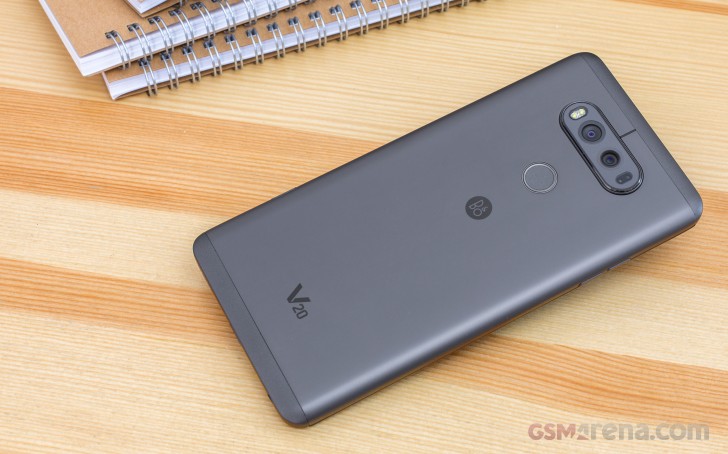 There's a single speaker on the bottom, a universal USB Type-C plug for charging and a headphone jack.
The LG V20 is one of the few phones to include an IR blaster. Coupled with the right software, it can control your TV, your high-end camera or even something like your air conditioner.
The aluminum used in the LG V20 is AL-6013, used in planes and car brakes, so you shouldn't worry about bending the phone acidentally in your jeans front pocket.
Display
The LG V20 has a large 5.7-inch LCD of 1440x2560px resolution with a razer-sharp 513ppi and a second display occupying the narrow strip space above it with a resolution of 160x1040px tucked into a 2.1-inch space.
The 5.7-incher of the LG V20 is sharp and gets plenty bright - in automatic mode, it can get as high as 630 nits - that's a solid improvement over the smaller LG G5 and the preceding LG V10.
The brightness comes at the expense of contrast, though - the LG V20 has good contrast at around 1,1000:1 but the other LG phones have better contrast exceeding 1,4000:1.
Back to the improvements - the V20 has a more color-accurate display compared to its in-house peers.
The panel is also easier to view outdoors too but is still not a match to high-end AMOLED screens.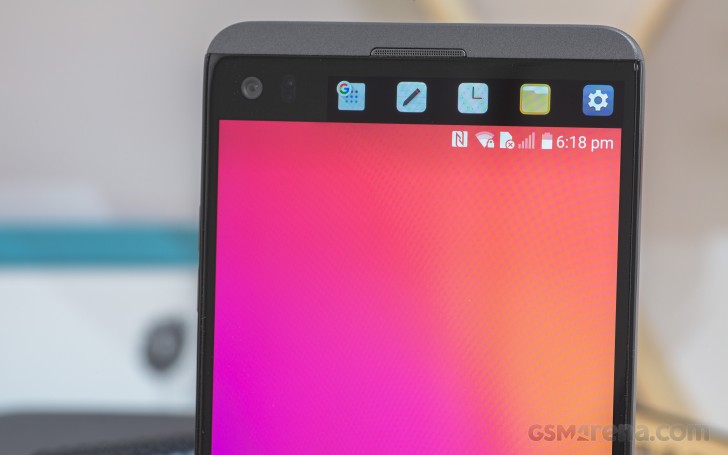 There is a Blue Light Filter mode, which reduces blue light emitted from the screen so that using your phone in the evening will not mess up your body's internal clock and thus disrupt your sleep.
Finally, you have a DPI slider that adjusts how big items appear on the screen - a PC-like feature that every phablet phone should have (but not everyone has).
Battery life
If there's one area where the LG V20 is lacking, it's battery - both in capacity and performance. Let's lay down the facts first.
The V20 comes with a 3,200mAh battery that is befitting of a much smaller screen size.
The battery supports Qualcomm's Quick Charge 3.0 that can top up 80% of the battery in around half an hour with the provided QC 3.0 charger (rated 9V at 1.8A).
The reality is that the LG V20 had an unimpressive showing in our in-house battery testing. It has an Endurance Rating of 68 hours which isn't even in the same ballpark as the OnePlus 3T (83h), Huawei Mate 9 (82h), Google Pixel XL (78h) or the Apple iPhone 7 Plus (75h).
Looking at the individual numbers, the LG V20 will last a less than stellar time browsing the web (7:35h) or watching video (8:04h) though call times are solid (19:48h). The stand-by battery draw is a straight letdown.
Audio
The LG V20 is an audiophile's dream phone. The presence of the four digital to analog converters (DACs) is evidence enough of that.
Using the DACs, the V20 can output 24-bit 192kHz audio without breaking a sweat - that's high-res audio for you and can also power high-quality, powerful headphones to their full potential.
The V20 is also smart about using its DACs - if it detects you're using average headphones (yes - it detects that) it will default to using just one of its four DACs.
In some markets you could even get the V20 with a high-end pair of cans courtesy of Bang & Olufsen.
As for the quality of the audio coming from the LG V20 - you needn't worry, it's great and it's among the loudest phones we've tested.
Photo camera
LG was one of the first to use a dual-camera setup and remains one of the most innovative in its implementation. The LG V20 has the same setup of two rear cameras as the LG G5 as well as the wide-and-normal front camera the V10 premiered.
The two cameras on the back are a 16MP auto-focus camera with a wide f/1.8 aperture and regular 75° field of view, and an 8MP fixed-focus camera with a f/2.4 aperture and a super wide 135° FoV. The front facing camera is a clever one - it snaps 5MP pics in regular 83° and wide 120° - all from the same high-res sensor.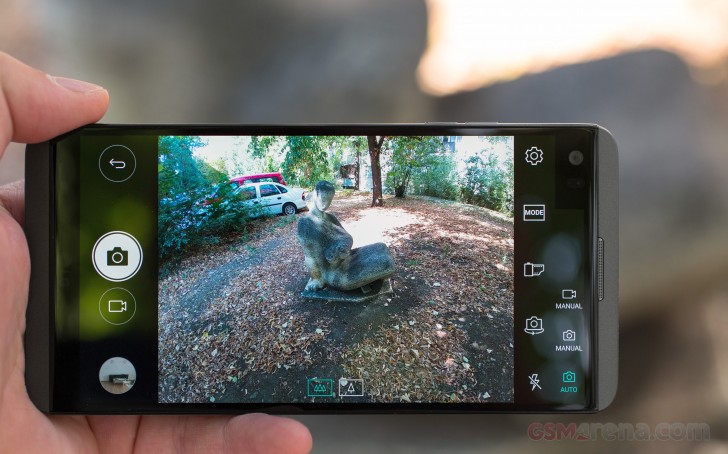 Continuing on the main camera - it has optical image stabilization that coupled with gyro-based electronic stabilization works wonders in video mode.
There's laser assistance and phase detect auto-focus and a Color Spectrum sensor (that's RGB sensor for photo geeks) that helps the V20 capture correct colors.
On top of that you get full manual mode - ISO, shutter, white balance - for both back cameras.
Now for the important thing - quality - starting with the 16MP camera. The LG V20 has one of the best snappers on the market. Photos have vibrant colors, low noise, and loads of detail, not in small part to the higher 16MP resolution.
Dynamic range is limited in certain high-contrast scenes where the V20 prioritizes shadows and can end up blowing out highlights.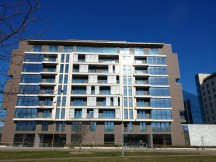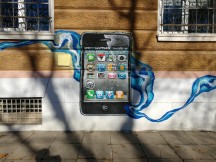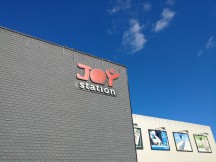 Camera samples: 16MP normal 75-degree FOV camera
The wide-angle camera captures distorted but captivating images of the world around you.
Since it's a fixed focus unit and has half the resolution of the main camera, it cannot compete with the resolved detail.
But the wide-angle snaps (and video) you get from this camera are unmatched on any other smartphone (aside from LG's own LG G5) and could make you noticeable on social media.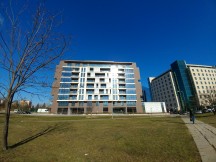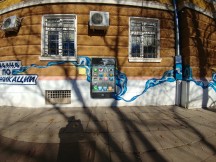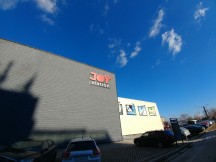 Camera samples: 8MP wide-angle 135-degree FOV camera
The front camera snaps 5MP selfies in either wide or normal field of view. Normal selfies are okay for detail and dynamic range and have good colors and skin tones.
The wide-angle snaps are more fun and an excellent way to get a group photo - just avoid the extreme corners where there's a lot of distortion.
Video camera
The V20 also inherits its predecessor's full manual control for video - a mode which almost no other phones share.
You can change white balance (with Kelvin adjustment - 6500K), change focus modes (with the addition of peeking-assisted manual mode) and complete control over audio and the V20's three mics - you can adjust directional sensitivity to prioritize sound coming from the front or the back of the phone. Those mics are special too - they can capture distortion-free sound at up to 132dB (louder than a live concert) making the V20 a superb sound recorder in any situation.
Software
The LG V20 was the first phone to come with Android 7.0 Nougat preinstalled - even before the Nexuses. The fresh software has a few major add-ons compared to Marshmallow.
First, there's native split-screen support so you can run two apps side by side - something which LG has offered for a while now.
Another feature of Nougat is Quick actions - Quick Reply allows you to reply to a notification straight from the Notification area.
Speaking of notifications, with Nougat they have a priority filter so you can have some notifications show silently while some critical ones can even bypass the Do Not Disturb mode.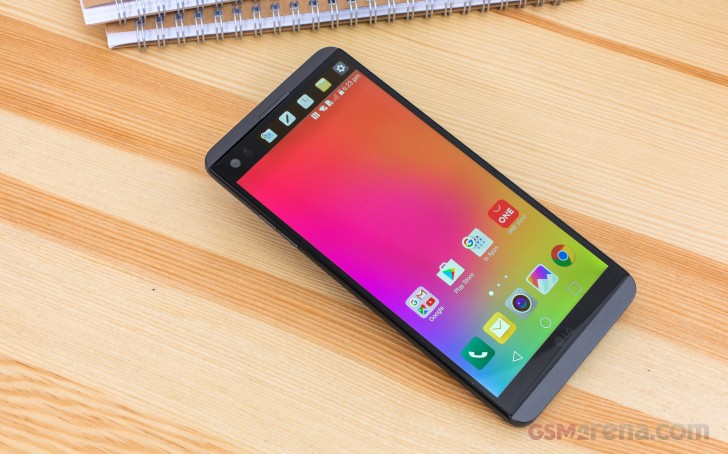 Uninstalling apps is clever, too. The OS will keep the app as disabled for 24 hours before deleting it entirely. Another Nougat bonus is a streamlined OS update procedure. Basically, you have two OS partitions and when an update arrives one will be updated and another kept as a backup to which you can roll back if any issue arises.
Nougat search has gotten smarter through Google In Apps making Google search able to find things on your phone.
The UI is completely themeable too.
The second screen is contextual - so when you're in an app it supports, it will give you additional control (for example in the camera). You can make shortcuts to apps and settings always visible on the screen - even when the phone is locked.
Benchmark performance
The LG V20 is built around the de-facto flagship rig of 2016 - a Snapdragon 820 and 4GB of RAM. It's a setup that is still capable in 2017 and will probably remain future-proof at least another year, even more if LG provide the V20 with prompt software updates.
The V20 supports the Vulkan 3D Graphics API - the successor to OpenGL - so future games that support the API will run faster and better. There's a very useful Game battery saver mode. Using it, you can set a lower resolution and even frame rate.
Now - onto the tests. The LG V20, unsurprisingly, ranks about the same as its Snapdragon 820 peers - that's to say near the top of the table but it's no match for Apple's A10 chip.
There's hardly a high-end smartphone you can get nowadays that would be slow. But as smartphones go, the LG V20 is one of the fastest around. Stock Android phones tend to appear snappier and current-gen iPhones tend to export movies faster but for general use, the LG V20 is about as hiccup-free as you can get.
Wrap-up
The LG V20 is a great phone, certainly the best out of LG - something that used to be reserved for the LG G line of devices. The design may not be everyone's cup of tea, but the attention to detail and the overall quality are undeniable.
LG's dedication to innovation is undeniable too. The company is one of the few that truly dare to innovate these days - experimenting with features and not just following the recent trends. We'd argue that LG's use of the dual camera is one of the smartest, not to mention that it's among the few that have two independent cameras that aren't meant for working together.
The second screen is another testament to innovation and so is the dual-angle front facing camera.
And the V20 isn't all about innovation - the phone upholds the high standard of being a flagship with a big display, a great camera, the latest processor, a fingerprint scanner and a quality build.
LG V20
Pros
Cons

The LG V20 combines a metal body with military-grade shock resistance and a removable back and battery
Bright screen with great color accuracy and good contrast
Secondary screen is innovative, adds more functionality than just an always-on mode
One of the best cameras in the business, the second wide-angle shooter is one-of-a-kind
One of the loudest speakers on the market
Almost unmatched audio quality in both loudness and quality

Not everyone will love the design
No dust or water-proofing
Wide-angle camera is fixed focus, and it's not as sharp as the main one at pixel level
The killer audio quality is great to have too. Many phones skimp on quality audio experience in the chase of thinness and wireless audio.
We would love to have seen dust and water resistance - we are getting to the point where every flagship should offer it. We'd also love a true two-day battery life - in the case of the V20 that's not possible.
But otherwise it's hard to find a reason not to recommend the LG V20 - we can hardly think of another all-rounder of a phone at the moment.
LG V20
Total GSMArena score
4.6 / 5
| | | |
| --- | --- | --- |
| Design and build quality | | 3.0 |
| Display | | 5.0 |
| Battery life | | 3.5 |
| Audio | | 5.0 |
| Photo camera | | 5.0 |
| Video camera | | 5.0 |
| Software | | 5.0 |
| Benchmark performance | | 5.0 |
| Coolness | | 4.5 |
?
My screen goes blank and sometimes doesnt come up when a call cones in. And i just bought imthis pgine 2 days ago. I experienced this with the LG V10 & now with LGV20.
?
I am experiencing same shit right now o
p
I just bought one on eBay. So far, I really like it. The previous phone was an LG Premier on Straight Talk. The new phone is on Verizon's month to month prepaid plan. Same amount of signal bars in my house but it seems much faster. I don't k...