LG shares list of phones eligible for Android 12 update alongside Android 11 roadmap update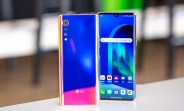 Despite exiting the smartphone market, LG will continue to offer software updates for some of its devices. Thanks to two listings on LG's official websites in South Korean and Germany we have the complete list of LG phones eligible for Android 12 and 13 as well as more details on the Android 11 update roadmap.
The Android 11 update roadmap mentions a diverse set of phones headlined by the LG Velvet 5G which is already receiving the update in certain regions. We can also see the regular LTE Velvet, LG Wing and G8s as well as the K42 and K52 midrangers. Keep in mind this a regional LG post and does not reflect all the devices that will get the Android 11 update.
Android 11 update roadmap provided by LG Germany:
As for LG devices expected to get the Android 12 and Android 13 update we can see most of the premium LG devices from the past two years with the Wing, Velvet and V50 series and G8 as well as few LG Q-series midrangers. LG South Korea is also showing the Velvet and Wing devices will be eligible for Android 13. Again this a regional post and does not reflect the final list of devices scheduled to get the next iterations of Android updates.
Here is the list of LG devices scheduled for Android 12 and Android 13:
As a bonus feel free to check out our Flashback article reflecting the best LG phones before and after Android.
?
Personally I think the LG V40 should get the android 11 update
?
Because, fun fact: the V60 is not being officially sold in both South Korea and Germany. So it makes sense that its NOT there. For your information, their last "flagship to use an 8 series chip" was only sold in 4 markets: USA, Canada...
ADVERTISEMENT