Last month, LG launched a new lineup of W-Series smartphones consisting of the W10, W30, and W30 Pro. The lineup was intended as an entry-level set of devices intended for the Indian market. Like China, the lineup was launched in a flash sale on Amazon India that sold out in minutes.
Following the success of the new lineup of W-Series devices, LG is planning to launch a new lineup of M-Series devices. Corroborating through a filing with the KIPRIS (Korean Intellectual Property Rights Information Service), LG has registered to use the name "M10" for a future device.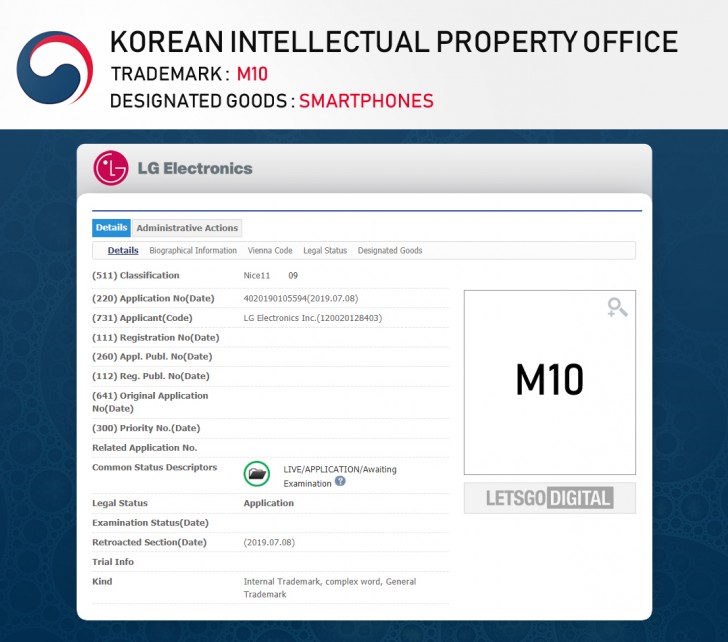 We presume this is the base model for a lineup of M devices, perhaps numbered the same way as the W-Series: M10, M30, and M30 Pro.
We wonder if the two have any similarities or if the M-Series is intended only for specific markets, South Korea included. We are under the impression that an M10 might be a lower-end device compared to the W10.
At the same time the 'M10' trademark was submitted, LG also filed for two more names: 'V60' and 'V70'. The latest device in the V-Series lineup is the V50, which is basically a 5G variant of the LG V40.
LG V50 ThinQ
LG used to launch the next V-Series device around the summertime. With the V50's announcement occurring alongside the LG G8, perhaps we won't actually see a V60 device until next year. If anything, these trademark filings prove LG's plans to continue with the V Series for at least two more product cycles.
With LG's recent launch of LG Pay in the US, it doesn't seem the Korean phone maker is giving up on competing anytime soon. LG is still taking risks and trying new features like Hand ID on the LG G8. Unfortunately, LG hasn't quite found the killer feature that would make it stand apart from the likes of Samsung and Huawei's flagships.
?
Every phone doesn't last 4 hours
U
LG is not only in india. all over in world. (LG is the best phone in the world market).
k
it is not about update . the software is very stable in my lgv40 but real issue is how indian customer care behaves to customers .
ADVERTISEMENT