Good-looking phonebook
The phonebook of the Optimus GJ is pretty much the standard Jelly Bean affair with Optimus UI goodies sprinkled on top. It has a tabbed interface, in which the Contacts tab lists all contacts alphabetically. You can navigate the tabs by swipes or, alternatively, touch the specific tab labels.
Contact images, where available, are displayed and there's a quick alphabet scroll on the right. There's also a regular search bar on top of the contacts list. The other tabs are Groups and Favorites on the right and Dial and Call logs on the left.
Filters keep the phonebook from getting messy - you can choose which groups are displayed and which are hidden (e.g. Family, email contacts, Twitter contacts and so on). The list can be sorted by first or last name and you can choose how contacts are displayed - First Name, Last Name or the opposite.
In the usual Android fashion, a tap on a contact photo brings up the quick contacts shortcuts. You can call the contact, send a text or email, or view their profile. You can also make a video call.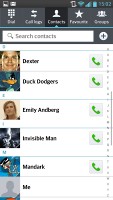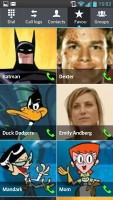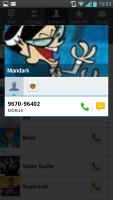 Contact display and sort modes • Viewing a single contact
Tapping on the name of a single contact brings up their details. Once you're there, you can edit the contact info by hitting the pencil icon in the upper right corner, while the star icon in the upper right will add them to favorites. Editing a contact is pretty straightforward; you can add or remove fields as needed, as well as specify the types of phone numbers, email addresses, ringtones, additional fields and even add notes.
Smart telephony
The LG Optimus GJ had no trouble holding on to signal (even where signal was poor) and the in-call audio is consistently good and decently loud.
The Dialer is basically a part of the Contacts app and integrates the Call log, Contacts and Favorites, within its own tab. Again, these tabs are side-swipeable.
The Call log is clever and groups some of the calls, e.g. 3 missed calls from the same contact on the same day. A number next to the contact name shows the number of events. It's a great space saving feature.
Smart Dial is available and works for both numbers and names. Only one matching contact is displayed, but if you tap the down arrow button, the rest show up as well.
During a call you can pop-up the dialer should you need to dial another number. Also you can use the phone while on a call, just hit the menu key and a small green line replaces the notification area and acts like a shortcut back to the call.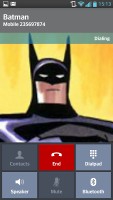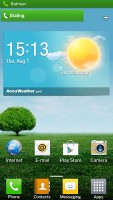 In-call screen • Call notification
The original Optimus G had one of the most powerful speakers we've tested recently, and we were eager to see how its waterproof counterpart would fare. Unfortunately, just like most submersible smartphones, the speakers sound a bit muffled, resulting in a speaker loudness score of Average for the Optimus GJ.
| | | | | |
| --- | --- | --- | --- | --- |
| Speakerphone test | Voice, dB | Pink noise/ Music, dB | Ringing phone, dB | Overal score |
| Sony Xperia Z | 60.1 | 58.3 | 61.6 | Below Average |
| Sony Xperia SP | 66.6 | 61.9 | 68.2 | Below Average |
| Apple iPhone 5 | 66.8 | 66.1 | 67.7 | Below Average |
| Nokia Lumia 920 | 61.6 | 64.8 | 65.8 | Below Average |
| HTC One X+ | 64.6 | 65.8 | 74.6 | Average |
| Asus Padfone 2 | 57.3 | 66.7 | 77.8 | Average |
| LG Optimus GJ | 65.0 | 64.6 | 75.8 | Average |
| HTC Butterfly | 69.0 | 70.7 | 77.9 | Good |
| Oppo Find 5 | 70.7 | 67.7 | 73.0 | Good |
| HTC One | 69.3 | 66.6 | 75.9 | Good |
| Samsung I9505 Galaxy S4 | 70.6 | 66.2 | 77.3 | Good |
| Google Nexus 4 | 71.1 | 66.6 | 78.8 | Good |
| Samsung Galaxy S III | 75.1 | 66.5 | 75.0 | Good |
| LG Optimus G | 74.6 | 71.3 | 82.7 | Excellent |
You can find more on the testing procedure here.
Messaging
The LG Optimus GJ can handle all common message types: SMS, MMS and email. Email capability is excellent with support for Exchange available out of box, and social media buffs will be pleased with the level of SNS integration as well.
A press-and-hold on the text box gives you access to functions such as cut, copy and paste. You are free to paste the copied text across applications like email, notes, chats, etc.
Adding multimedia to a message is pretty straightforward - just hit the attach button next to the text field and select a number of available options, such as images, videos, voice recording, etc. You can even customize the appearance and background of the messaging interface.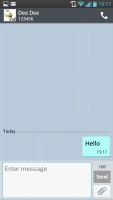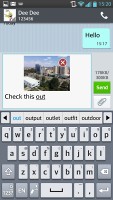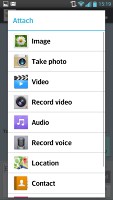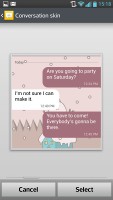 Sending a message • The attach dialog and contextual menu • Customizing the interface
The Gmail app has been extended to include the new categories view, which separates messages of different types, such as those from social networks. The Gmail client still includes operations, which allow multiple emails to be archived, labeled or deleted, as well as spam report and of course a conversation-style email view mode.
The generic email client supports multiple accounts, and operates in much the same fashion as the Gmail one. If you add multiple accounts, then the Combined Inbox feature will come in handy, although there's no conversation-style view like in Gmail.
QWERTY, Swype, voice and handwriting
The LG Optimus GJ offers a standard QWERTY keyboard, which features both portrait and landscape typing. The keyboard fills up the screen nicely and offers great ergonomics with ample spacing between keys, still leaving enough room above the keyboard for you to see what you're actually typing.
The level of speed and accuracy are commendable in both portrait and landscape. There's a dedicated setting that enables keypress vibrations.
There is Swype-like (LG dubbed it Path keyboard) input as well, though it's somewhat uncomfortably out of sight in the Input Language submenu.
Voice input is enabled too, as well as handwriting. Furthermore, since this is a Jelly Bean device there's also support for offline voice typing, as long as you have preinstalled the required language packages. We are really pleased with its speed and accuracy, too.