Great phonebook
The phonebook lists all contacts alphabetically, with an alphabet scroll on the right. There's also a regular search bar.
The list can be sorted by first or last name.
Filters come in handy when the phonebook gets too busy - you can choose which groups are displayed and which are hidden (e.g. Family, email contacts, Twitter contacts and so on).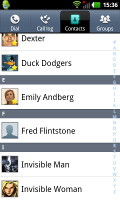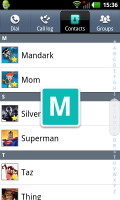 The Contacts tab
Each contact is displayed with a contact photo and name - a tap on the photo brings up the quick contact keys. You can use those to call the contact, send a message or email, or view their profile.
When a contact is selected the details are displayed in tabs. The first tab is Info and it lists all the contact's details with handy one-tap shortcuts for calling, messaging and so on. The next tab is History, which shows the communication history with the contact (calls, SNS updates, everything).
The third tab is Photos, which show the contacts online albums and finally, there's the Agenda tab, which displays calendar events that this contact is involved in.
You can join contacts so that if you have a contact added to multiple services, all the data from them is pooled into one place. When you tap Join, the phonebook will suggest a contact based on name and it gets it right most of the time.
You can manually pick another one, if it's wrong, of course. When a new account is added, the phone will offer to import all, only some of the contacts or only those it already has in the phonebook.
When editing a contact, all the detail fields are listed (numbers, email addresses, etc) and there's a plus sign on the right - clicking it adds another item of that type. Pressing the minus sign under it deletes the unneeded field.
The Call log will group some of the calls, e.g. 3 missed calls from the same contact on the same day. A digit next to the contact name shows the number of events.
Good telephony
LG Optimus One 3D Max held on to signal well even in areas of poor coverage. The in-call audio is very good but could've been a little louder. We always had it at the loudest setting, which is not what we typically do.
The Dialer shows a virtual numpad with shortcuts for video call and sending texts. The tabbed interface of the Phone app grants one-click access to the Call log, phonebook and Groups. Smart Dial is available and works like a charm - it searches both numbers and names. Only one matching contact is displayed, but if you tap the down arrow button, the rest show up as well.
We ran our traditional loudspeaker test and the LG Optimus 3D Max scored a Good mark. Depending on your choice of ringtone, you shouldn't miss any calls in all but the loudest environments.
| | | | | |
| --- | --- | --- | --- | --- |
| Speakerphone test | Voice, dB | Pink noise/ Music, dB | Ringing phone, dB | Overal score |
| Nokia Lumia 800 | 60.9 | 59.0 | 61.7 | Below Average |
| HTC One V | 66.9 | 65.3 | 67.7 | Below Average |
| Apple iPhone 4S | 65.8 | 64.5 | 74.6 | Average |
| Samsung Galaxy Note N7000 | 64.9 | 64.6 | 72.2 | Average |
| Sony Xperia S | 72.7 | 61.8 | 69.6 | Average |
| HTC One S | 65.1 | 64.6 | 76.7 | Average |
| LG Optimus 3D | 67.0 | 66.6 | 82.7 | Good |
| LG Optimus 3D Max | 69.5 | 66.6 | 81.9 | Good |
| Motorola RAZR XT910 | 74.7 | 66.6 | 82.1 | Very Good |
| HTC Desire | 76.6 | 75.7 | 84.6 | Excellent |
Messaging has everything
The LG Optimus 3D Max can handle all common types of messages trouble-free. Email is excellent with support for Exchange out of the box.
A press-and-hold on the text box gives you access to functions such as cut, copy and paste. You are free to paste the copied text across applications like email, notes, chats, etc.
The extended features of the Gmail app include batch operations, which allow multiple emails to be archived, labeled or deleted, spam report and of course conversation-style email view mode.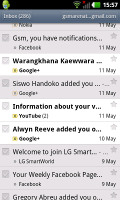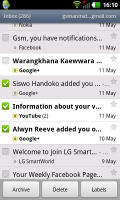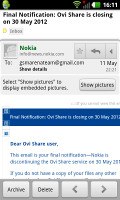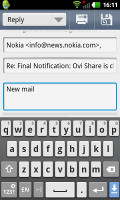 The Gmail app is simple to use but very functional
The generic email client supports multiple accounts. If you do add multiple accounts, then the Combined Inbox feature will come in handy. Too bad there's no conversation-style view like in Gmail.
The on-screen QWERTY keyboard keyboard is quite good. Even portrait mode provides decent precision and speed, and landscape makes things even better.