LG K92 5G is heading to Cricket Wireless to bolster its 5G offerings
Cricket Wireless offers 5G connectivity on top of AT&T's network, but currently it sells only one 5G capable phone. Soon it will add the LG K92 5G to its roster, the first model in the K90 series.
It features a quad camera and a quad LED flash, both arranged in squares on the back. Notice that only one of the cameras sticks, the other three are flush. Anyway, the front-facing camera is mounted inside a centered punch and there's a side-mounted fingerprint reader plus a Google Assistant key.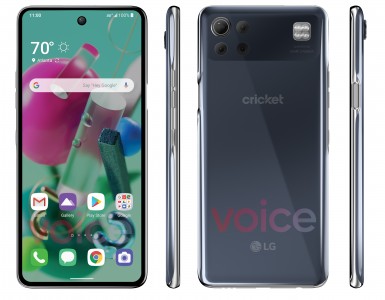 LG K92 5G for Cricket Wireless
The K92 seems to be a remix of the LG Q92 5G with some upgrades – K92 will have a 64 MP main camera, up from 48 MP on the Q-series model, and 4 vs. 1 LEDs in the flash. There's no word on the chipset yet or any details on the screen and battery.
PS. the Voice logo is not part of the design, that's just a watermark for a new blockchain-based social network that leakster Evan Blass has joined.
ADVERTISEMENT