Introduction
No other pair of droids will have you sitting on a fence like these two. Alright, a bold statement indeed. But if anything in it is to be taken literally, it's the fence. In the end though, home turf for both, this isn't about which side has the greener lawn.
LG is once again challenging longtime rivals Samsung and it's phablets where this battle reaches epic proportions. Last year, LG took its sweet time to respond to the Galaxy Note 2 and the long wait was well worth it. The G Pro was a remarkable device, no less impressive despite LG's failure to properly monetize on their lead.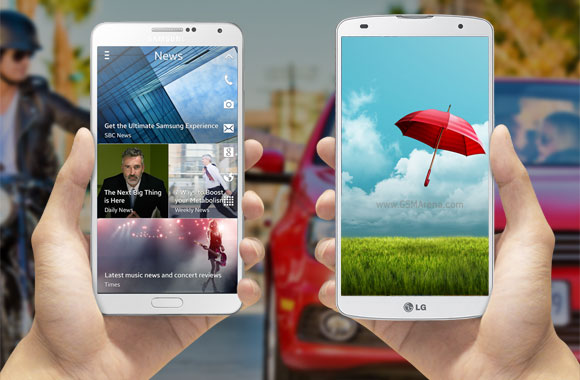 With a rematch at hand, it looks like the same scenario all over again, but it's not that straightforward. Yes, it's another five months between them, but LG will have to try harder this time. They set their own bar quite high to begin with, while Samsung will certainly not see another victory slip through its fingers. The Galaxy Note 3 has seen a lot of battles, but this one is more personal than ever.
Let's see what both companies have in store for one another.
LG G Pro 2 over the Samsung Galaxy Note 3
A little more screen real estate
Optical image stabilization
Android 4.4.2 KitKat out of the box
Rear-mounted buttons are cool
Better screen surface size to footprint ratio
High-quality True IPS+ LCD display
Matches most Samsung proprietary software features
Knock on and Knock code
Samsung Galaxy Note 3 over the LG G Pro 2
Pressure-sensitive S-Pen stylus input and relevant software
Superior battery life
High-quality SuperAMOLED+ display
Samsung proprietary software features
In terms of hardware, the two phablets are nearly identical. From the FullHD display and Snapdragon 800 chipset, to the 3200mAh battery and imaging - each of them does 13MP stills and 4K videos, and does them well .
This means we have to look way beyond the spec sheets to draw the line, so let's get right to it.
f
your right dude in terms of picture we cant denied that LG G PRO 2 wins.however in terms of Video playing,Web Browsing and software The SAMSUNG NOTE 3 wins.im using note 3 for about 2 years and counting the chrome is already fading but it still work...
d
dude if you have insurance on your phone , they can fix everything you want :) even display broken ( your fault ) you can send phone and tell them you want pay for usb and price will be around €15-20