LG UX 9.0 on top of Android Pie
The LG G8X boots Android 9 Pie as the G8 and V50 did. But it is the first phone to come with the new LG UX 9.0, and it's not just a minor update over the 8.0 but a massive overhaul of the entire interface.
The LG UX 9.0 looks a lot like Samsung's One UI, intentionally or not. And that's not a bad thing - we dig the new minimalistic card-based looks, refined graphics and fonts, and no-nonsense setting menus. And we think many users will love the UX 9.0 themes, but luckily - no features are missing since the UX 8.0.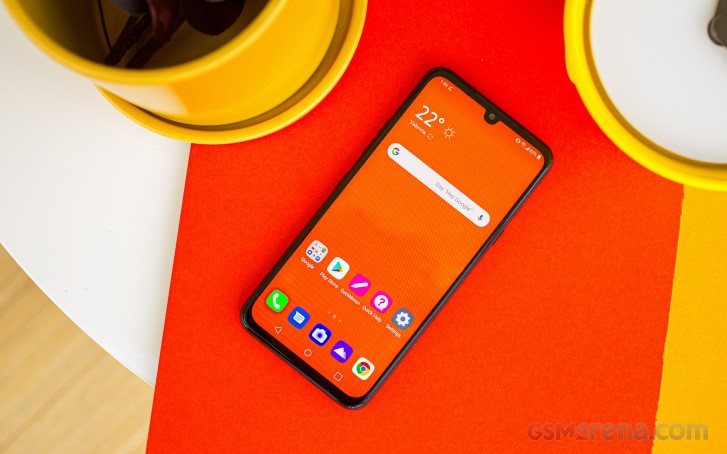 So, the new LG UX 9.0 has new icons, refined menus, and looks, brand new notification center with toggles, and a much better Settings app.
But it's a launcher like any other, and all starts with the lockscreen. You can either opt for AOD (always-on display) or not. LG's AOD implementation is quite detailed, with various options for skins, music controls, AI information, and even low and high brightness. You can set a timeout interval as usual - say don't show AOD at night.
The fingerprint scanner is under the display, and it lights up the moment you pick the phone up or touch the screen. It is reliable and fast, though its accuracy is more hit than miss but still not ideal.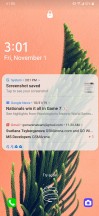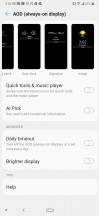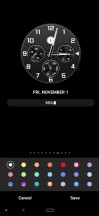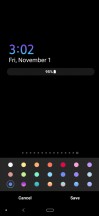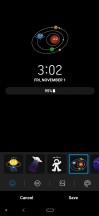 The lockscreen • AOD options • AOD skins
Upon successful unlocking, you will see the usual homescreens with apps and widgets. The leftmost pane is Google Feed, but you can opt for LG's Smart Bulletin, or turn this page off.
There is no app drawer on the LG UX 9.0 by default, but you can opt for one from the homescreen settings.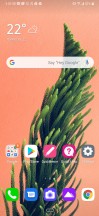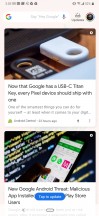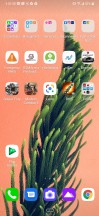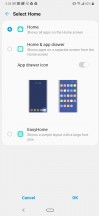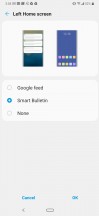 Homescreen • Google Feed • Homescreen • Home options • LG Bulletin or Google Feed
The Notification area has a new look but the same logic and toggles as before. The Task Switcher behaves the same, but now it's a 3D rolodex of cards. And the Settings menu loses the categories, and everything is in one place, intuitively placed, and easy to find. The new font is much better and comfortable on the eyes, too.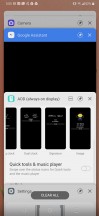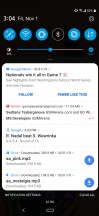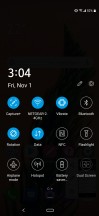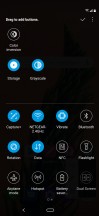 Task switcher • The new Notification center
The Android navigation is done with the tree onscreen keys by default (Back, Home, Tasks), but you can opt for the Gesture and Buttons navigation familiar from previous UX versions.
All LG apps and functions made it to LG UX 9.0, they just might have new skins here. LG has taken care of the multimedia, too, and you get a Music player, Gallery, there is even an FM radio app and support. LG Heath app is available, and LG's popular QucikMemo+ is part of UX 9.0.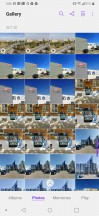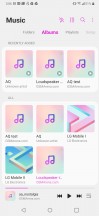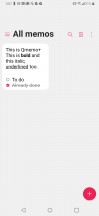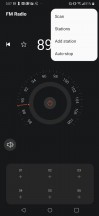 Gallery • Music • FM radio • QuickMemo+
Performance and benchmarks
The LG G8X ThinQ is powered by the latest Snapdragon 855 (non-plus) chip by Qualcomm. It is the same SoC the LG G8 and V50 had under their hoods.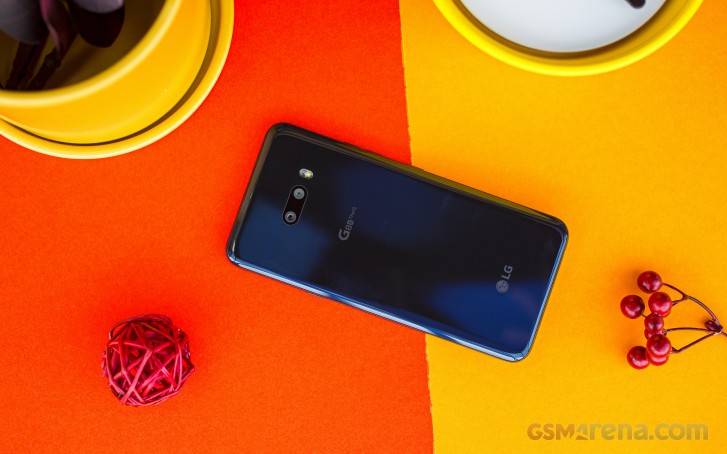 It's based on the 7nm node from TSMC and the chip employs an octa-core processor with 1+3+4 configuration - there is a single Kryo 485 Gold core (a Cortex-A76 derivative) clocked at 2.84GHz; three more Kryo 485 Gold cores clocked at 2.42GHz and a cluster of four Kryo 485 Silver cores (Cortex-A55 derivative) ticking at 1.78GHz.
The GPU is Adreno 640, and it's Qualcomm's top-of-the-line graphics processor that can handle pretty much everything you throw at it. And it will surely ace every test running at the LG G8X 1080p screen.
Finally, the LG G8X has 6GB of RAM and offers 128GB UFS2.1 storage.
The GeekBench CPU test still paints that Snapdragon 855's processor as the champ for multi-core tasks. But as far as single-core performance is concerned, the newest custom core by Samsung does much better.
GeekBench 4.1 (multi-core)
Higher is better
Huawei Mate 30 Pro (Perf mode)
11936
LG G8X ThinQ
11251
OnePlus 7T Pro
11246
Sony Xperia 5
10941
LG G8 ThinQ
10735
Samsung Galaxy S10
10174
Samsung Galaxy S10e
10081
Huawei P30 Pro (perf. mode)
10014
LG G7 ThinQ
8865
GeekBench 4.1 (single-core)
Higher is better
Samsung Galaxy S10
4543
Samsung Galaxy S10e
4518
Huawei Mate 30 Pro (Perf mode)
3864
LG G8X ThinQ
3508
OnePlus 7T Pro
3502
Sony Xperia 5
3493
LG G8 ThinQ
3419
Huawei P30 Pro (perf. mode)
3323
LG G7 ThinQ
2395
The GPU benchmarks are unsurprisingly spectacular - the Adreno 640 is among the best GPUs in a smartphone and delivers unprecedented performance under a 1080p screen.
GFX 3.1 Car scene (1080p offscreen)
Higher is better
OnePlus 7T
48
OnePlus 7T Pro
48
Samsung Galaxy S10
43
LG G8X ThinQ
42
Samsung Galaxy S10e
42
Huawei Mate 30 Pro (Perf mode)
42
LG G8 ThinQ
40
Sony Xperia 5
40
LG G7 ThinQ
35
Huawei P30 Pro (perf. mode)
33
GFX 3.1 Car scene (onscreen)
Higher is better
OnePlus 7T
41
Samsung Galaxy S10e
40
LG G8X ThinQ
38
Huawei Mate 30 Pro (Perf mode)
34
Sony Xperia 5
33
Huawei P30 Pro (perf. mode)
29
OnePlus 7T Pro
24
Samsung Galaxy S10
23
LG G8 ThinQ
20
LG G7 ThinQ
18
In Antutu, the LG G8X didn't quite put out the same numbers as the OnePlus 7T Pro, which is running on the Plus version of the S855 chip. It still scored an excellent mart on this test, though.
AnTuTu 7
Higher is better
OnePlus 7T Pro
395868
Huawei Mate 30 Pro (Perf mode)
378950
LG G8X ThinQ
339726
Sony Xperia 5
334809
LG G8 ThinQ
331537
Samsung Galaxy S10
328366
Samsung Galaxy S10e
325192
Huawei P30 Pro (perf. mode)
316156
LG G7 ThinQ
259393
AnTuTu 8
Higher is better
Huawei Mate 30 Pro (Perf mode)
468595
Sony Xperia 5
416601
LG G8X ThinQ
411980
The LG G8X delivers flagship performance across the board, and it still has one of the most powerful and current chips on the market. And with that 1080p screen, it sure doesn't need the Plus version anyway. So, as far as performance is concerned, it is blazing-fast without any bottlenecks even when using the Dual Screen case.