LG's UX on top of Android 9.0 Pie
As expected, the LG G8 ThinQ comes with pre-installed Android 9.0 Pie with LG's own take on Android customization. The UX is heavily-customized and may not appeal to some but it's full of features, especially this one here. If you are familiar with LG's UX, you will navigate quite easily. There are a couple of differences, though, if you are coming from another LG with an older version of Android.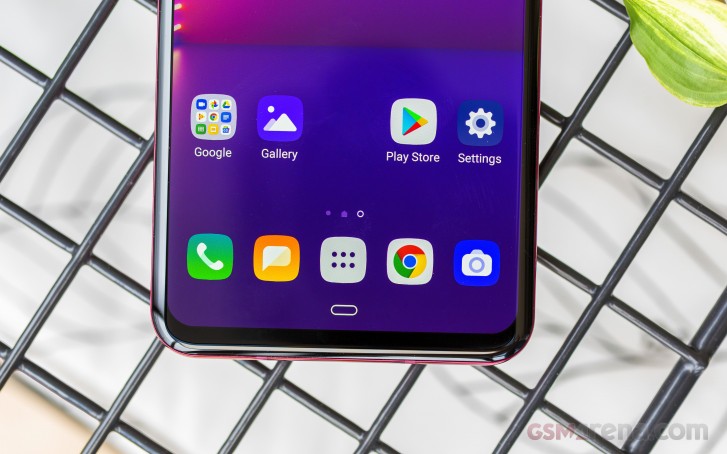 Once we get our hands on a Pie-powered smartphone, the first thing we do is to check out the navigation gesture implementations. We were surprised to see that LG took the more conservative approach giving you only a choice between the standard software buttons and Google's default pill navigation bar as introduced on the Google Pixel. The back button appears only in apps while the pill acts exactly the way you'd expect it to - swiping to the right switches between recent apps, quick swipe switches between the current and the last used app while swiping in an upwards fashion opens up the recent apps menu as well.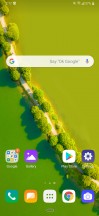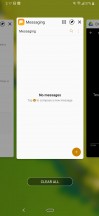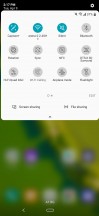 Home screen, recent apps and notification shade with quick toggles
Another big change over the last generation is the new OLED screen, which in turn means real always-on display. While last year's G7 had an RGBW IPS panel and the always-on feature drained the battery more than it should, this year's flagship finally gets a proper OLED screen fully supporting the feature.
There are a couple of customization options for the always-on screen with most of them quite useful. You can choose the style of the always-on display and also a sub-style with accent colors. You can also slap a small picture if you want and also control your media player without unlocking the screen. The AI Pick option chooses the information displayed on the always-on screen depending on your behavior using the Content Awareness feature.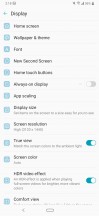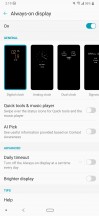 Display menu and always-on screen settings
There are a couple other options worth mentioning. In the Display menu, you can set the home screen swipe effects, icon shape, grid, add or remove the app drawer, add or remove the button for the app drawer and even disable the Google feed, which you can bring out with a simple swipe to the right from the home screen.
The notch behavior is also in there, which LG calls "New Second Screen". But essentially, all it does is make the notch blend with the black status bar. Or if you want it to stand out more, you can select the different color palettes for the status bar and the app corners.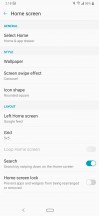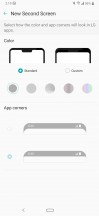 Notch options and home screen customization
The screen calibration sub-menu offers tons of presets but if you read our display section, you'd know that none of them offers good color accuracy. Fortunately, the True view feature, which matches the screen temperature with the surrounding light conditions, does fix the blue-ish whites issue with the screen. The rest of the settings are pretty much standard.
Next down the list is the Lock screen & security. This is where you will find all three biometric unlock options. Speaking of, this is one of the few, if not the only smartphone with three advanced biometric unlock options. You've got the regular rear-mounted fingerprint reader that works flawlessly and then you have the advanced Face Unlock and Hand ID methods that rely on the front-facing 3D ToF camera. You can unlock the phone with either of those - whichever comes first.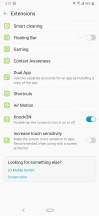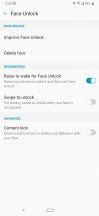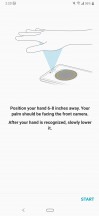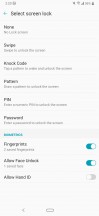 Screen lock settings including Hand ID and Face Unlock
We all know how the Face Unlock works - the 3D ToF camera module measures the time in which the projected array of tiny light beams bounces off of your face and builds a 3D image of your face. The same goes for the Hand ID but with some additional steps. The camera analyzes not only your unique hand pattern and ridges, it also scans your visible circulatory system, which LG says is even more secure than a fingerprint reader.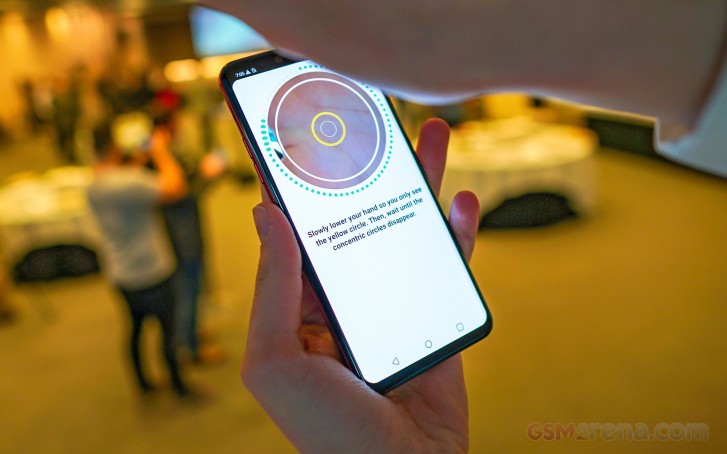 And while all of this sounds good, we had some pretty underwhelming experience with the feature. Fist of all, you have to keep your hand at the right distance from the sensor and right in front of it. This further complicates the process of unlocking, which is already slow on its own and the unlocking animations take a good amount of time too.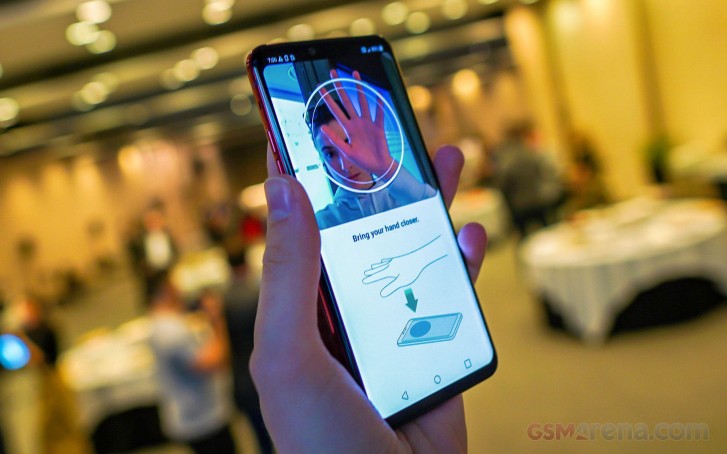 Secondly, the only two scenarios in which we think this is a convenient way to unlock the G8 is when you are driving and the phone is placed on a stand or when it's lying flat on the table/desk. In any case, you either have to double-tap on the screen to wake it or keep your hand in front of the selfie cam long enough to wake up the screen for the Hand ID to work. The latter is an option in the menu and you can disable it if you want.
Still, no matter which path you go - with the double tap or the wake-up gesture - you will be better off picking the phone up and use the Face Unlock or the good old fingerprint reader. The Hand ID is too slow and unreliable at this point and needs more work.
Speaking of gimmicks, the G8 ThinQ is no short of those. The so-called Air Motion gestures once again rely on the 3D ToF camera on the front. It allows you to control certain functions with your palm without touching the phone. You can play, pause, skip or turn up the volume in certain multimedia apps, YouTube included. The volume up gesture is like turning a knob. And if your fingers are dirty or you are wearing gloves, you can even answer and end calls with gestures, the same goes for timers and alarms.
It takes some time for the Air Motion gestures to kick in but once it does and as long as you keep your hand in the right spot at the right distance, the tracking is surprisingly good. The navigation is quite responsive and you can even see your palm tracking in real-time without any delay at all.
And again, we can't really think of a reason you'd prefer using the Air Motion gestures instead of just tapping on the display. If your hands are dirty or you are in the shower, it probably makes sense but it's a cool gimmick that nobody will use, unfortunately.
You will find a couple of other interesting features in the Extensions sub-menu like a Floating bar that hides on one of the side bezels and offers quick access to some tools of your selection. Much like the Samsung's Edge panels but with less apps and you can change the location of the floating bar.
Although already a well-known feature, we'll also mention the Context awareness function is pretty useful as it can do much of the annoying tasks for you like turning on some of the radios like WiFi and Bluetooth once the phone senses that you are at home, at work or you've left the premises.
Moving on to the battery section, LG has included the usual battery stats and a couple of other options like three modes of battery saving, power saving exclusions (allowing you to whitelist some of your apps run in the background no matter what) and the default Adaptive battery mode that came with Android Pie.
There's also an "Optimized charging" switch and when turned on, it will adjust the charging speed of the device so the battery won't heat up. This will potentially result in slower charging speeds, though. This will supposedly help preserve the battery's health for longer.
Other than that, LG has traditionally also included a handful of pre-installed apps like QuickMemo+ (an enhanced note-keeping app), Music, Calendar, LG Health, Email, FM Radio and LG's SmartWorld store for extra stuff.
All in all, LG's UX has been refined a lot although, it will still steer away some pure Android lovers. The UI on this thing is heavily-customized but it can also be further customized by the user. There are plenty of features, some of which you will probably never use and we can't get over the fact that there's no dark/night theme to take full advantage of the OLED's power savings. You should consider, however, that the centerpiece features of LG's marketing - the Hand ID and the Air Motion gestures - are merely just half-baked gimmicks. So if you are considering buying this phone solely for this, you should probably reconsider.
The menus and the overall navigation, on the other hand, feels smooth and fluid with the only drawback being the animation effects. They feel a bit slow or over the top. It sometimes gave us the impression of an unresponsive UI element whereas it was actually the animation loading or transitioning.
LG G8 performance benchmarks
Just like every flagship from 2019, the G8 ThinQ is also equipped with Qualcomm's top-shelf Snapdragon 855 chipset. It's based on the 7nm node from TSMC and incorporates an octa-core CPU that consists of eight big Kryo 485 cores that are clocked differently to optimize performance and efficiency. The most powerful core is clocked at the whopping 2.84 GHz then there are three toned-down cores clocked at 2.42 GHz and the final cluster of 4x Kryo 485 cores tick at 1.79 GHz and are used for the least demanding tasks. This unusual processor architecture makes use of ARM's DynamIQ architecture that bundles different cores with different clocks work seamlessly in a single package. The GPU is Adreno 640 and it's Qualcomm's top of the line graphics processor that can handle pretty much everything you throw at it.
Interestingly, LG has released the G8 ThinQ in only one memory configuration - 6GB of RAM and 128GB of internal storage with the latter being expandable via microSD card.
GeekBench 4.1 (multi-core)
Higher is better
Apple iPhone XR
11437
Xiaomi Mi 9
11181
LG G8 ThinQ
10735
Samsung Galaxy S10
10174
Huawei P30
9789
OnePlus 6T
8977
LG G7 ThinQ
8865
GeekBench 4.1 (single-core)
Higher is better
Apple iPhone XR
4818
Samsung Galaxy S10
4543
Xiaomi Mi 9
3503
LG G8 ThinQ
3419
Huawei P30
3295
OnePlus 6T
2431
LG G7 ThinQ
2395
The multi-core and single-core performance is what we would expect from a Snapdragon 855 - it overtakes Huawei's HiSilicon Kirin 980 in both scenarios but falls short to Samsung's Exynos 9820 chipset in single-core tasks.
AnTuTu 7
Higher is better
Xiaomi Mi 9
372006
Apple iPhone XR
341196
LG G8 ThinQ
331537
Samsung Galaxy S10
328366
OnePlus 6T
293994
Huawei P30
287960
LG G7 ThinQ
259393
GFX 3.1 Manhattan (1080p offscreen)
Higher is better
Apple iPhone XR
97
Xiaomi Mi 9
70
Samsung Galaxy S10
68
LG G8 ThinQ
65
OnePlus 6T
60
LG G7 ThinQ
57
Huawei P30
54
GFX 3.1 Manhattan (onscreen)
Higher is better
Apple iPhone XR
60
Xiaomi Mi 9
56
OnePlus 6T
53
Huawei P30
48
Samsung Galaxy S10
37
LG G8 ThinQ
33
LG G7 ThinQ
30
GFX 3.1 Car scene (1080p offscreen)
Higher is better
Apple iPhone XR
60
Samsung Galaxy S10
43
Xiaomi Mi 9
42
LG G8 ThinQ
40
LG G7 ThinQ
35
OnePlus 6T
35
Huawei P30
29
GFX 3.1 Car scene (onscreen)
Higher is better
Apple iPhone XR
58
Xiaomi Mi 9
35
OnePlus 6T
31
Huawei P30
26
Samsung Galaxy S10
23
LG G8 ThinQ
20
LG G7 ThinQ
18
Basemark X
Higher is better
Xiaomi Mi 9
45089
LG G8 ThinQ
44602
Samsung Galaxy S10
44097
OnePlus 6T
43886
LG G7 ThinQ
43833
The GPU is powerful enough to handle any current game title and the results from the synthetic benchmarks attest to that. The onscreen tests may appear a bit lower than some competing phones but that's because the phone uses a really high QHD+ resolution while some of the competitors retain FHD+. If you are looking for the best possible performance, you can lower the resolution down to FHD+ in the Display settings menu.
We should also note that even after extensive benchmark testing, the phone didn't get hot at all. Only the side frame, which is made of metal, tends to get warm but that's normal given the horsepower under the hood. We found the phone to be one of "coolest" ones around with a high-performance SoC.