Cutting corners... Like a pro
LG G6 review: Cutting corners... Like a pro
18:9 is the new 16:9, here in 5.7-inch size
One of the LG G6's most distinctive features, its 18:9 aspect Full Vision display is a true beauty. The 5.7-inch panel with a novel aspect ratio offers virtually the same area as a 5.5-inch conventional 16:9 display, and is, in fact, as wide as a 5.2-inch 16:9 screen, only taller.
The 2,880x1,440px resolution on this diagonal results in a 564ppi density, which beats the Galaxy S7 edge's 534ppi, but is slightly less than the S7's 577ppi. However, the G6's subpixel arrangement is a classic RGB with equal number of subpixels for each primary color, making it even sharper per pixel than the Super AMOLEDs' Diamond Pentile subpixel layout. Not that it matters all that much at these densities for naked-eye viewing, and the G6 won't support Google's Daydream VR, sadly.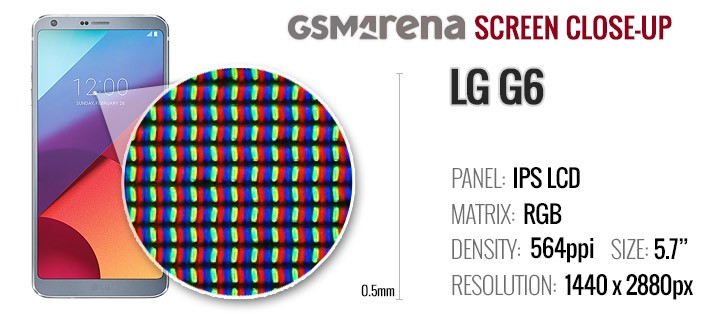 It's all good on the other fronts, though. For starters, the G6 boasts spectacular contrast for an LCD - upwards of 2000:1. The G5 before it wasn't too shabby either with its high 1800s, but man, was that display dim.
Not the G6, though - 468nits in manual mode and a hundred more when you're in auto and the environment is bright. The Huawei P10 and Xperia XZ (the original one, not the recent Premium) can put out a few dozen more, and the iPhone 7 Plus goes to 681nits in auto, but none of those can match the G6's contrast, not by a long stretch.
Minimum brightness is 4.1nits, so it'll be easy on the eyes if you're using it in a dark setting.
 
Display test
 
100% brightness
 
Black, cd/m2
 
White, cd/m2
 
Contrast ratio
 
LG G6
0.228
468
2053
 
LG G6 max auto
0.277
564
2036
 
LG G5
0.17
306
1855
 
LG G5 max auto
0.20
378
1881
 
LG V20
0.43
475
1097
 
LG V20 Max auto
0.59
628
1064
 
Google Pixel XL
0
432
∞
 
Samsung Galaxy S7 edge
0.00
392
∞
 
Samsung Galaxy S7 edge max auto
0.00
610
∞
 
Apple iPhone 7 Plus
0.41
573
1398
 
Apple iPhone 7 Plus (max auto)
0.50
681
1362
 
Huawei P10
0.416
592
1423
 
OnePlus 3T
0
447
∞
 
Sony Xperia XZ
0.37
502
1349
 
Sony Xperia XZ (max auto)
0.46
608
1336
 
HTC 10
0.29
428
1543
Sunlight legibility is excellent as well. One of the best LCDs in this respect, the G6's display is on par with the iPhone 7 Plus, but the Xperia XZ and LG's own V20 are still somewhat superior. The G6 is way better than the G5, so there's that too.
Sunlight contrast ratio
 Samsung Galaxy S6 edge+
 4.615
 Samsung Galaxy S7 edge
 4.439
 OnePlus 3
 4.424
 Samsung Galaxy S7
 4.376
 HTC One A9
 4.274
 Samsung Galaxy Note7
 4.247
 Samsung Galaxy A3
 4.241
 OnePlus 3T
 4.232
 Google Pixel XL
 4.164
 ZTE Axon 7
 4.154
 Samsung Galaxy S6 edge
 4.124
 Samsung Galaxy Note5
 4.09
 Huawei Nexus 6P
 4.019
 OnePlus X
 3.983
 Vivo Xplay5 Elite
 3.983
 Oppo R7s
 3.964
 Apple iPhone 7
 3.964
 Huawei P9 Plus
 3.956
 Meizu Pro 6 Plus
 3.935
 Lenovo Moto Z
 3.931
 Samsung Galaxy A7 (2016)
 3.918
 Samsung Galaxy C5
 3.911
 Samsung Galaxy C7
 3.896
 Samsung Galaxy A5
 3.895
 Samsung Galaxy J7 outdoor
 3.879
 Samsung Galaxy J2 outdoor
 3.873
 Samsung Galaxy A8
 3.859
 Samsung Galaxy A9 (2016)
 3.817
 Motorola Moto X (2014)
 3.816
 Samsung Galaxy A5 (2017)
 3.804
 Samsung Galaxy J7 (2016) outdoor mode
 3.802
 Xiaomi Redmi Pro
 3.798
 LG V20 Max auto
 3.798
 Sony Xperia XZ
 3.795
 Samsung Galaxy A5 (2016)
 3.789
 Apple iPhone 6s
 3.783
 Meizu Pro 5
 3.781
 Microsoft Lumia 650
 3.772
 Samsung Galaxy J7 (2016)
 3.756
 Oppo F1 Plus
 3.709
 Vivo X5Pro
 3.706
 Sony Xperia X Compact
 3.694
 Samsung Galaxy A3 (2017)
 3.688
 Apple iPhone SE
 3.681
 Huawei Mate 9
 3.68
 Samsung Galaxy A7
 3.679
 Meizu PRO 6
 3.659
 BlackBerry Priv
 3.645
 Apple iPhone 7 Plus
 3.588
 LG G6
 3.556
 Apple iPhone 6s Plus
 3.53
 Motorola Moto Z Play
 3.526
 Samsung Galaxy J3 (2016)
 3.523
 Samsung Galaxy J3 (2016) outdoor mode
 3.523
 Acer Jade Primo
 3.521
 Microsoft Lumia 950
 3.512
 Oppo R7 Plus
 3.499
 nubia Z11
 3.466
 Samsung Galaxy J7
 3.422
 Meizu MX5
 3.416
 LG V20
 3.402
 Huawei P10
 3.379
 Oppo R9s
 3.352
 Oppo R7
 3.32
 Lenovo P2
 3.316
 Xiaomi Mi 5s
 3.276
 Samsung Galaxy J2
 3.235
 Sony Xperia X Performance
 3.234
 Xiaomi Mi Note 2
 3.228
 Motorola Moto X Play
 3.222
 Huawei Mate 9 Pro
 3.206
 Huawei P9
 3.195
 Lenovo Vibe Shot
 3.113
 Motorola Moto X Force
 3.105
 LG Nexus 5X
 3.092
 Huawei Mate S
 3.073
 Microsoft Lumia 640 XL
 3.065
 Sony Xperia X
 2.989
 Huawei Mate 8
 2.949
 Xiaomi Redmi 3S
 2.913
 Sony Xperia XA Ultra
 2.906
 LG G5
 2.905
 HTC One S
 2.901
 Xiaomi Redmi 3s Prime
 2.893
 Xiaomi Mi 5s Plus
 2.884
 Sony Xperia Z5
 2.876
 Microsoft Lumia 550
 2.851
 Lenovo Moto M
 2.813
 Xiaomi Redmi 3 Pro
 2.803
 Sony Xperia Z5 compact
 2.784
 Meizu MX6
 2.751
 LG V10
 2.744
 Xiaomi Redmi 3
 2.735
 Meizu M5
 2.71
 Sony Xperia M5
 2.69
 Huawei P9 Lite
 2.679
 Xiaomi Redmi 4 Prime
 2.679
 Vivo V3Max
 2.659
 Xiaomi Mi Mix
 2.658
 Xiaomi Mi 4i
 2.641
 Sony Xperia XA
 2.609
 Motorola Moto G4 Plus
 2.582
 Motorola Moto G4 Plus (max auto)
 2.582
 Meizu M5s
 2.58
 Xiaomi Mi 4c
 2.574
 LeEco Le Max 2
 2.567
 Microsoft Lumia 640
 2.563
 Asus Zenfone 3 ZE552KL
 2.563
 Lenovo Moto G4
 2.544
 Lenovo K6 Note
 2.544
 Oppo F1
 2.528
 Sony Xperia Z5 Premium
 2.525
 Huawei Honor 7 Lite / Honor 5c
 2.506
 Sony Xperia M4 Aqua
 2.503
 Oppo F1s
 2.481
 Motorola Moto G
 2.477
 Lenovo Vibe K5 Plus
 2.473
 Huawei G8
 2.471
 Huawei nova
 2.467
 Sony Xperia Z
 2.462
 Lenovo Vibe K5
 2.459
 Meizu m3 max
 2.447
 HTC 10 evo
 2.407
 Huawei Honor 7
 2.406
 Sony Xperia E5
 2.386
 ZUK Z1 by Lenovo
 2.382
 HTC 10
 2.378
 Samsung Galaxy J5 (2016)
 2.378
 vivo V5 Plus
 2.371
 Meizu m1 note
 2.362
 Huawei nova plus
 2.329
 HTC One E9+
 2.305
 Alcatel One Touch Hero
 2.272
 Lenovo Vibe K4 Note
 2.254
 Sony Xperia C5 Ultra
 2.253
 Xiaomi Redmi Note 3 (MediaTek)
 2.249
 Sony Xperia C4 Dual
 2.235
 Xiaomi Mi Note
 2.234
 Motorola Moto G (2014)
 2.233
 Huawei P8
 2.196
 Meizu M5 Note
 2.189
 Huawei Honor 6
 2.169
 Xiaomi Redmi Note 2
 2.166
 OnePlus Two
 2.165
 HTC One X
 2.158
 LG Aka
 2.145
 Xiaomi Redmi Note 4
 2.145
 Archos 50 Diamond
 2.134
 Xiaomi Redmi Note
 2.119
 Acer Liquid X2
 2.084
 Huawei P8lite
 2.078
 vivo V5
 2.059
 Moto G 3rd gen max manual
 2.026
 Xiaomi Mi Max
 1.996
 Sony Xperia E4g
 1.972
 OnePlus One
 1.961
 Meizu m3 note
 1.923
 BlackBerry Leap
 1.892
 Meizu m2 note
 1.892
 ZTE Nubia Z9 mini
 1.759
 Sony Xperia U
 1.758
 Asus Zenfone Selfie
 1.68
 Motorola Moto E (2nd Gen)
 1.675
 ZTE Nubia Z9
 1.659
 Jolla Jolla
 1.605
 Motorola Moto E
 1.545
 Sony Xperia M
 1.473
 Xiaomi Redmi 2
 1.311
 HTC Desire C
 1.3
 Sony Xperia C
 1.283
 Meizu MX
 1.221
 Sony Xperia E
 1.215
The G6's color reproduction is reasonably accurate, posting an average DeltaE of 4. Whites and grays exhibit a pronounced shift towards blue, and grayscale DeltaE is the highest at around 9. It's a marked improvement in accuracy compared to the G5, where average DeltaE was 5.6 and the maximum was 12.7. Next to the V20's 5.1 and 9.5, the G6 still wins.
On the subject of colors, the G6 is compliant with both Dolby Vision and HDR10 standards. Among other things, the former means the G6 is capable of displaying 12-bit color (or 68 billion colors), while HDR limits that to measly 10 bits and 1 billion colors, give or take.
In practice (and that's LG's data, so if they had more to work with, we're sure they'd mention it), the total available content at the moment is 10 original series and 5 Marvel series on Netflix that adhere to both standards, while on Amazon Video you're looking at 1 original series and 10 movies in Dolby Vision, and 16 original series and 23 movies in HDR10. So while it's great that the display supports both standards, the feature is not exactly a gamechanger. And also last time we checked on Netflix, the G6 was not among the supported devices for HDR video so we hope they change that by the time the phone hits the market or the feature won't be worth much.
Connectivity
The LG G6 supports Cat.12 LTE, courtesy of Qualcomm's modem, with 3-carrier aggregation for theoretical download speeds up to 600Mbps and uploads up to 150Mbps. Ours is a single-SIM version, but some markets will get dual-SIM too.
There's of course Wi-Fi ac with Wi-Fi direct and DLNA, and wireless screen sharing is supported to both Miracast and Chromecast devices. Bluetooth is the latest available version 4.2, and there's GPS, GLONASS and BDS for positioning. You also get NFC.
Our unit also has an FM radio receiver, which G6s bound for the US, Canada, and South Korea won't be getting. Also we've probably gotten the reviewer's bonus as we have both the FM radio and the wireless charging, which shouldn't theoretically be present on the same unit.
The G6 charges via a USB-C port, but it also adheres to the USB 3.1 spec for fast data transfer - all too often manufacturers just use the symmetrical port for its convenience but miss making use of the faster speed transfers it offers and only comply to USB 2.0 spec. Well, not LG anyway.
MirrorLink is supported too, for connection to your car's infotainment system via USB.
There's a good ol' 3.5mm analog audio jack on board too.
LG G6 battery life test
The LG G6 is powered by a 3,300mAh battery - a significant upgrade over last year's G5 and its 2,800mAh. The G6 has a larger display, you'll counter, but the battery capacity has been upped by 18% while screen area is just 8% more now. In fact, the G6 packs more juice than the V20 (3,000mAh), which has a larger display to light up - 5.7" in 16:9 is more area than 5.7" in 18:9, plus the V20 has that ticker screen on top. The G6's battery, however, is sealed in, unlike both the G5 and the V20.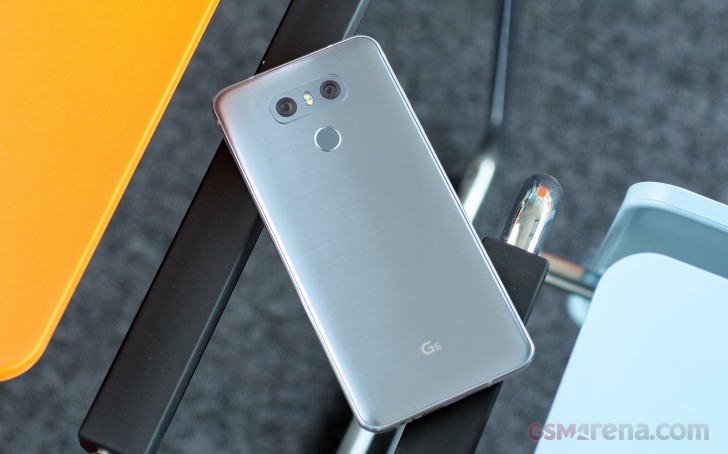 Anyway, all this is to preface that we expected better battery life from the G6 than what we got out of the G5 and V20, neither of which were particularly impressive in this respect. And indeed, that turned out to be the case.
With that in mind, the G6 is good for 22 and a half hours of voice calls on a single charge in our testing environment - 5h more than the G5, and 3h more than the V20. In both comparisons the endurance is actually better on the G6 than the proportional increase in capacity - so great, then.
The G6 also manages to outlast its two siblings by an hour in Wi-Fi web browsing - 8:31h for the new G vs. 7:35h for both the G5 and the V20. It's not a tiny improvement, but it's not amazing either - the Pixel XL can keep reloading web pages for another hour after the G6 has quit, and the Galaxy S7 edge's time in this test is 10:35h (though, for rather obvious reasons, we don't have the numbers for the S8). The OnePlus 3T is close to the G6 in this test - 8:43h.
In video playback the G6 will last a whopping 6 minutes more than the G5. Seriously, though, 10 and half hours is a pretty good number, especially when you put it up next to the V20's 8 hours. The Pixel XL can do 11:09h, which is like an extra TV episode or so, so it's not that big of a deal. The OnePlus 3T's 13:23h time does mean significantly better binge-watching capabilities, but the champ remains the Galaxy S7 edge, which lasted over 15 hours of looping videos, and that's after Nougat sliced a large chunk off its surreal Marshmallow stamina.
Dialing in those numbers in our formula produces a 72h overall Endurance rating with the always on display turned off. Switch on the feature and you're looking at a lower number, because stand-by consumption gets higher (duh) and it is included in the calcs even if it doesn't get a field in the score card.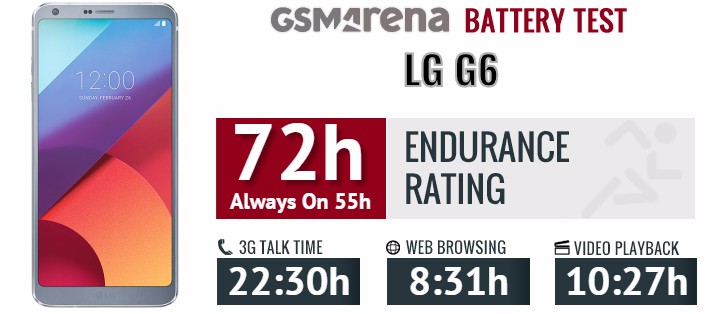 However, and we've always tried to point that out, the effect of the always on display consumption can vary wildly depending on usage - it's one thing if the phone is held in your pocket (where it will eventually turn off the AOD on its own), it's completely different if it stays on the table in front of you and the ambient lighting is strong enough that it needs to crank up the brightness higher. That, as it turns out, is also a setting in the always on display menu - you can actually tell the phone to keep the always on feature brighter unlike with the G5. Whatever you decide on that, the overall effect of the AOD on your battery life is probably not that big of an issue as it may appear so just deal with it and enjoy the extra functionality. Okay, we got that out of our system.
LG states that the G6 is Qualcomm QuickCharge 3.0 compatible and bundles a charger to go do the job. It's rated at 9V/1.8A and a 30min charging session gets the G6 from flat to 47%. LG has also optimized its charging algorithms to fine-tune the charging process depending on the battery's age and current temperature thus improving the battery's long-term life. We get the feeling it might be something along the lines of Qnovo tech implemented in Sony Xperia phones.
Our unit also happens to be the US version, so we're blessed to have wireless charging support built-in. Since there's no wireless charging pad bundled, we tried a few we have lying around and it's a painfully slow process best suited to overnight charging. We don't have a Samsung fast wireless charger handy, and even then we're not really sure if the two devices would communicate that higher speed charging Samsung can deliver to its own phones. So until LG comes out with a fast wireless charger of its own, just assume that wireless charging is not for those of you who maybe in a hurry.
The battery testing procedure is described in detail in case you're interested in the nitty-gritties. You can also check out our complete battery test table, where you can see how all of the smartphones we've tested will compare under your own typical use.