Cutting corners... Like a pro
LG G6 review: Cutting corners... Like a pro
Introduction
Cutting corners - it's the story of the LG G6's life. And we mean this both literally and figuratively. Literally because its display doesn't have right angles, it's soft arcs instead. And figuratively because the G6 doesn't come with the screaming hardware on the market, but makes do with a few-months-old chipset and 'just' 4GB of RAM. What happened to 'flagship'?
What happened is that LG is taking a different spin on the term. The G6 is the one that will sell the most, so they've redefined flagship to mean that. So while LG held back on equipping the phone with the latest hardware, they've focused on usability. Many will think (a few of us here as well) that's just downplaying the fact that Samsung won't let anyone use the Snapdragon 835 before the Galaxy S8 comes out, but let's face it - LG's marketing team did have to maneuver around the issue somehow.
As for the ultimate in specs, LG says we should look for them in the V-series from now on. How convenient it is that the V20 is due for a refresh in the fall, when the S8 will be in the rearview mirror.
Read on, however, and you'll find out that LG can build a remarkably strong case for the decisions it's made (or the ones being forced upon it) for the G6. Sure, it's only the Snapdragon 821 chipset that's driving the G6 and not the upcoming S835, but it's not exactly a slouch, the S821. Also, let's not forget that it is, after all, Qualcomm's still-current top model.
Another eyebrow-raiser is the choice of the Sony IMX258 camera sensor, the imager of choice for a few dozen smartphones, going as far as two years back. This includes prominent smartphone models as well as models you've likely never heard of. They span across a price range of $150-$350, which is less than half of the LG G6's asking price. It's obviously not a flagship cameraphone sensor, but remember - the term's been redefined. Also the G6 does have two of those IMX258s, so that should count for something.
It's also still the same concept - a crazy ultra-wide-angle camera accompanies the regular one. True, the coverage has been shrunk a little on both, but you now get the same 13MP resolution on each of them, so the wide-angle shooter doesn't feel like it's getting neglected.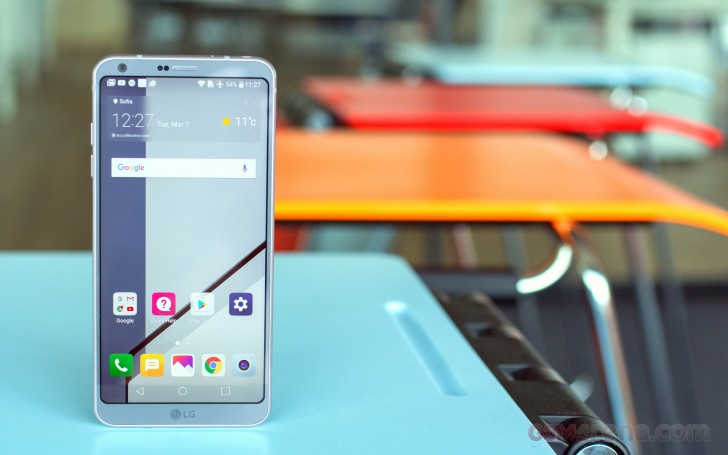 But best of all - that display. We all want larger displays, but no one is particularly fond of the extra bulk that goes with one. That's what LG's surveys showed too, so its designers went out and stretched the screen to cover most of the device's front - the 5.7-inch 18:9 aspect panel fits in the same body footprint as the G5's (admittedly, the G5 is not a screen-to-body ratio contest winner, but still). Oh, and the corners here are cut for a reason beyond appearance, but more on that later.
LG G6 key features
Body: Aluminum frame, Gorilla Glass 3 front, GG5 back; chamfered LCD for impact resistance; IP68 certified for water and dust resistance.
Display: 5.7" IPS LCD, 2,880x1440px resolution, 18:9 (2:1) aspect ratio, 565ppi; HDR 10 and Dolby Vision compliant.
Rear camera: 13MP f/1.8 primary camera with 71° field of view, OIS. Additional 13MP f/2.4 wide-angle camera with 125° FOV, no OIS. 1.12µm pixel size on both. 2160p/30fps video recording on both.
Front camera: 5MP, 100° FOV; 1080p/30fps video recording.
OS: Android 7.0 Nougat.
Chipset: Qualcomm Snapdragon 821; quad-core CPU (2xKryo@2.35GHz + 2xKryo@1.6GHz), Adreno 530 GPU.
Memory: 4GB of RAM; 32GB/64GB storage (region dependent); microSD slot for cards up to 2TB (practically up to 256GB).
Battery: 3,300mAh Li-Po (sealed); QuickCharge 3.0 fast charging; WPC&PMA wireless charging (US version only).
Connectivity: Single-SIM, Dual-SIM available in certain markets (mostly Asia); LTE-A, 3-Band carrier aggregation, Cat.12/13 (600/150Mbps); USB Type-C; Wi-Fi a/b/g/n/ac; GPS; Bluetooth 4.2; FM Radio (outside South Korea, US and Canada).
Misc: Fingerprint reader; Hi-Fi Quad DAC (South Korea exclusive); 2 mics, single speaker on the bottom; 3.5mm jack.
Main shortcomings
Regional limitations on nice-to-have features
No stereo speakers
No Daydream VR support
Priced well into flagship territory despite 'value proposition' claims
If you did a little more than briefly skim the list of key features, you can't have missed the numerous region-specific bits. Why LG, why does the world not get wireless charging (US only) and the Hi-Fi Quad DAC (South Korea only)? And does either of the two make up for the lack of an FM radio receiver, which those particular markets won't be getting?
We're also still trying to figure out what to make of the 'value proposition' phrase LG used to describe the G6 when we were first introduced to it. The $700 price that's been floating around is very much flagship-grade, and in the classic, pre-redefinition (some word that is) sense of the term. But by the looks of it, the Galaxy S8 will be even pricier, and the Pixel and the iPhone already are too (some versions on some markets, at least) - so LG might have a point there.
You can't, however, judge a product's value for money before establishing its real-world merits first. That's exactly what we intend to do on the following pages, starting with an overview of the hardware.
D
My camera seems to be corrupt how do I reinstall or download another one
H
Make your preinstalled apps (especially the apps that cannot be uninstalled) come in English. This will allow for more visibility and acceptability in the market.
P
Best in the world? Well I don't about that, people in the industry seem to consider the Android-powered $$$Blackberry$$$ of late to be best in the world but since no one can afford it I haven't had the chance to sample one. That said...