A rebel and a stunner
LG G5 vs Samsung Galaxy S7: A rebel and a stunner
Introduction
This is a battle of innovation versus refinement. LG let the designers off the leash and they went wild on the LG G5. Samsung brought in the perfectionists to polish the Galaxy S7.
The G5 is LG's moonshot. It's when a company tries to create the next big thing, instead of turning out sure-fire products. LG rethought everything about how a smartphone is built - from the metal shell to what goes inside it. The modular design is a first in a mainstream phone - it promises unrivaled expansion and customization possibilities, but LG needs a vibrant ecosystem of add-ons to succeed.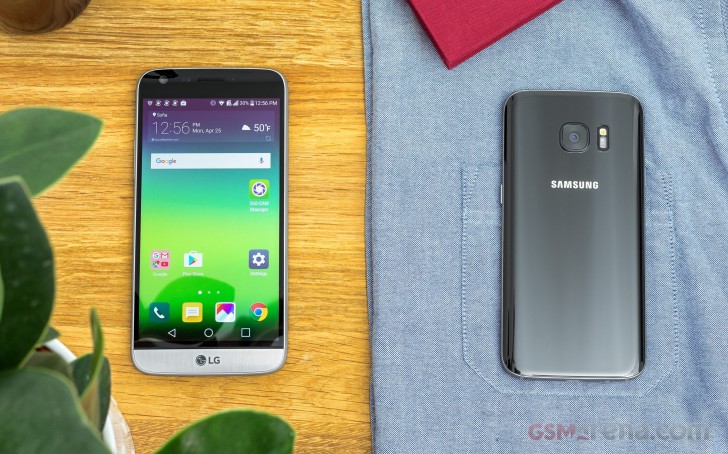 The Samsung Galaxy S7 is more of a sealed product (literally even, it's waterproof). With it, you get what you get. It's owning up to the mistakes the S6 made, finally giving people what they want. That means the consumers' wants and needs were addressed at the manufacturing stage, instead of waiting on add-ons later.
We find some common features among the two: an Always On screen, the OIS-enabled camera with a bright aperture - but the two phones couldn't have been more different.
LG G5

Samsung Galaxy S7

Metal all around
Innovative modular design
Secondary wide-angle 135° camera on the back
FM radio and IR blaster

IP68 water and dust resistance
Bigger battery with fast wireless charging
Camera with fast Dual Pixel autofocus
High FPS modes (1080p @ 60fps, 720p @ 240pfs)
Heart rate and SpO2 sensor
You might call the Galaxy S7 a "smartphone distillate". The stuff you need is refined to perfection, while the stuff you don't need (at least the way Samsung sees it) is discarded.
The LG G5 is more of a "what smartphones could be", with complicated build materials and unorthodox design, a step towards the future of the smartphone.
U
U and ur sis might be bit different and different in how u drop ur phones and where they happen to land along with other circumstances not to mention ur downloading different apps or some in particular are messing up her phone making even to go in fo...
J
The non removable battery is a horrible feature! On my previous S5 I was able to buy and replace the battery vs. paying a technician to replace the battery at 2-3 times the expense of me buying a battery and putting it in myself.
e
I remember "Non-removable battery" was listed in "cons" for phones a few years ago...nowadays it seems like most manufacturers have non-removable battery phones and people just go along with it...it's not right...IMHO.