Display
Update, Apr 04: We recently received a retail G5 review unit and we've updated all tests on this page accordingly. The good news is that there were almost no differences compared to our pre-production unit so all initial review conclusions are still valid. The bad news is the battery life is still as unimpressive as before.
The LG G5 has screen similar to the one used on the V10, but smaller. It's a 5.3" Quantum IPS LCD unit of Quad HD resolution, which sums up in 554ppi screen density.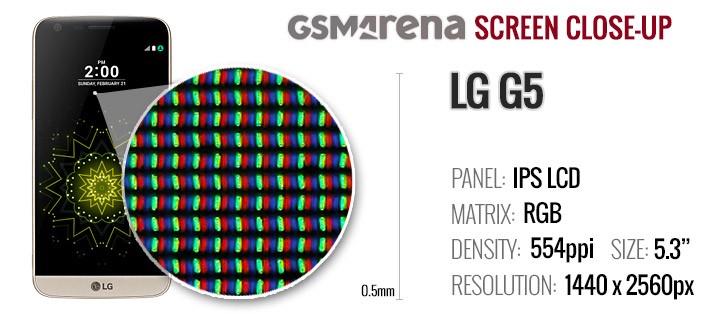 The screen of the LG G5 has an impressively high contrast ratio (1885:1) due to its especially deep blacks (deep for an LCD anyway). However, the maximum brightness is surprisingly low at 306nits. It's a good thing that at least in auto brightness mode, the phone is able to push it up to 378nits in response to bright ambient light.
To help things even further, LG G5 comes with something called Assertive Display algorithm for adjusting pixel color values in real time on GPU level in bright sunlight. The technology helps sunlight legibility not by making the screen brighter, but by processing darker parts of the images on screen to make them easier to read by brightening them up selectively.
On the other end of the spectrum, the LG G5 screen offers a rather low minimum brightness level of only 3.6nits (just like LG G4 and V10), which means it will go quite easy on the eyes when you use the phone in pitch dark settings.
Display test
100% brightness
Black, cd/m2
White, cd/m2
Contrast ratio
LG G5
0.17
306
1855
LG G5 max auto
0.20
378
1881
LG V10
0.29
432
1490
LG G4
0.43
532
1238
LG G3
0.72
570
789
Xiaomi Mi 5
0.51
628
1227
Samsung Galaxy S7
0.00
391
∞
Samsung Galaxy S6
0.00
363
∞
Apple iPhone 6 Plus
0.52
705
1361
Sony Xperia Z5
0.59
583
986
Regarding color accuracy, the screen is similar to the V10's - it has an average deltaE of 5.4, which isn't perfect but is above average regarding accuracy. LG hasn't provided any ways for you to adjust the screen color temperature.
In our outdoor visibility tests, the LG G5 screen offers well above average legibility at max brightness.
Sunlight contrast ratio
Samsung Galaxy S6 edge+
4.615
Samsung Galaxy S7 edge
4.439
Samsung Galaxy S7
4.376
HTC One A9
4.274
Samsung Galaxy A3
4.241
Samsung Galaxy S6 edge
4.124
Samsung Galaxy S6
4.124
Samsung Galaxy Note5
4.09
Huawei Nexus 6P
4.019
OnePlus X
3.983
Oppo R7s
3.964
Samsung Galaxy A7 (2016)
3.918
Samsung Galaxy A5
3.895
Samsung Galaxy J7 outdoor
3.879
Samsung Galaxy J2 outdoor
3.873
Samsung Galaxy A8
3.859
Apple iPhone 6
3.838
Microsoft Lumia 950XL
3.837
Samsung Galaxy A9 (2016)
3.817
Motorola Moto X (2014)
3.816
Samsung Galaxy A5 (2016)
3.789
Apple iPhone 6s
3.783
Meizu Pro 5
3.781
Microsoft Lumia 650
3.772
Vivo X5Pro
3.706
Samsung Galaxy A7
3.679
BlackBerry Priv
3.645
Apple iPhone 6s Plus
3.53
Microsoft Lumia 950
3.512
Oppo R7 Plus
3.499
Samsung Galaxy J7
3.422
Meizu MX5
3.416
Oppo R7
3.32
Xiaomi Mi 5
3.24
Samsung Galaxy J2
3.235
Motorola Moto X Play
3.222
Lenovo Vibe Shot
3.113
LG Nexus 5X
3.092
Huawei Mate S
3.073
Microsoft Lumia 640 XL
3.065
Apple iPhone 6 Plus
3.023
Samsung Galaxy Note
2.97
Huawei Mate 8
2.949
LG G5
2.905
HTC One S
2.901
Sony Xperia Z5
2.876
Microsoft Lumia 550
2.851
Sony Xperia Z5 compact
2.784
LG V10
2.744
Xiaomi Redmi 3
2.735
Sony Xperia M5
2.69
Xiaomi Mi 4i
2.641
Xiaomi Mi 4c
2.574
Microsoft Lumia 640
2.563
Motorola Moto G 4G
2.546
Oppo F1
2.528
Sony Xperia Z5 Premium
2.525
Sony Xperia M4 Aqua
2.503
Motorola Moto G
2.477
Huawei G8
2.471
Sony Xperia Z
2.462
Huawei Honor 7
2.406
ZUK Z1 by Lenovo
2.382
LG G4
2.317
HTC One E9+
2.305
Alcatel One Touch Hero
2.272
Apple iPhone 4S
2.269
Lenovo Vibe K4 Note
2.254
Sony Xperia C5 Ultra
2.253
Xiaomi Redmi Note 3 (MediaTek)
2.249
Sony Xperia C4 Dual
2.235
Motorola Moto G (2014)
2.233
LG Nexus 5
2.228
Huawei P8
2.196
Xiaomi Redmi Note 2
2.166
HTC One X
2.158
LG Aka
2.145
Archos 50 Diamond
2.134
Xiaomi Redmi Note
2.119
Huawei P8lite
2.078
Moto G 3rd gen max manual
2.026
Sony Xperia E4g
1.972
BlackBerry Leap
1.892
Meizu m2 note
1.892
HTC Butterfly
1.873
LG G3
1.82
ZTE Nubia Z9 mini
1.759
Sony Xperia U
1.758
Asus Zenfone Selfie
1.68
Motorola Moto E (2nd Gen)
1.675
ZTE Nubia Z9
1.659
Motorola Moto E
1.545
Sony Xperia M
1.473
Xiaomi Redmi 2
1.311
Sony Xperia C
1.283
Meizu MX
1.221
Connectivity
The LG G5 has all the connectivity goodies. It comes in GSM and CDMA flavors (the latter will happily work on GSM networks if the bands match up). There is a dual-SIM version on sale, too. The fastest mobile data option is 450Mbps LTE Cat.9 and you get 42Mbps on 3G.
LG G5 supports GPS, A-GPS, GLONASS, and BDS. It also comes with a new Low Power Location Estimation (LPLE) Technology, which helps for very low power consumption for location-based services. In theory, LPLE should be up to 40% more power efficient than its preceding location-based tech.
Regarding close-range connectivity, the situation is pretty solid with Wi-Fi a/b/g/n/ac bearing most of the load with Wi-Fi Direct and DLNA add-ons. For low-power connectivity there's Bluetooth 4.2 LE with the apt-X audio codec. The G5 has a new 24-bit Hi-Fi Wireless Audio (aptX HD), an enhanced audio codec, which streams 24-bit CD-like sound over Bluetooth.
NFC is on-board so the G5 is compatible with Android Pay. You get the benefit of fingerprint security too.
The wired USB Type-C port handles PC connection, USB OTG (via an adapter, sold separately), and it allows you to use the G5 as power bank and charge another device.
On the software side you get a DLNA server support and Miracast, plus a number of LG-specific features. One is SmartShare Beam (transferring files between LG devices) and LG AirDrive, which does the same but with a computer (you need an LG account).
Battery life
The LG G5 is powered by a 2,800 mAh battery, and the good news is you can easily swap batteries via the Magic Slot. If you have opted for the Camera Plus accessory, your total battery capacity will be 4,000 mAh. We did our test with the regular pre-installed battery, of course.
The LG G5 is quick to charge thanks to the latest Qualcomm's Quick Charge 3.0 tech - with the right charger the phone's battery will fill up about 80% in just 30 minutes.
The LG G5 did relatively well in our test with an endurance rating of 60 hours - that's the amount of time the G5 would last on a single charge if you use it for an hour of 3G calls, an hour of web browsing, and an hour of video playback each day.
The Always On display feature was always going to be a battery drainer, no two ways about it. LG's claim that it would cost you 0.8% per hour seems about right. Our proprietary score also includes a standby battery draw test, which we carried out with the AOD off and then once again with AOD on. These results are not featured in our test scorecard but are calculated in the total rating.
Turning on the AOD does have a noticeable impact on the overall endurance rating as it drops down to 50 hours.
As it turned out the LG G5 manages better the always-on feature than the Galaxy S7 duo and managed to beat the Galaxy S7. Note that the G5 always-on screen goes dark if you put it in your pocket, which will add additional hours to the final rating. In our tests the always-on screen was, well, always on, so you can compare the results to the Galaxy S7.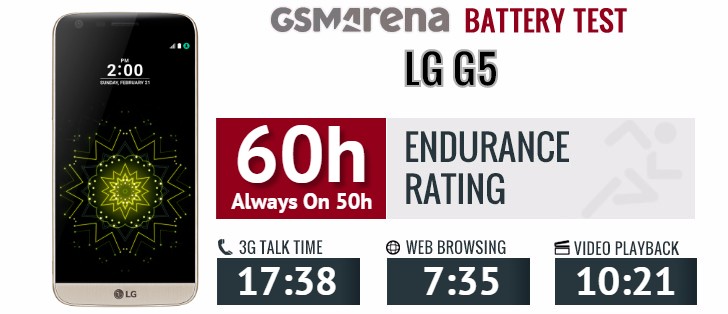 As for the individual tests, the G5 did well with 3G talks and video playback, outed an average result on standby, and performed uninspiringly when it comes to web browsing.
The battery testing procedure is described in detail in case you're interested in the nitty-gritties. You can also check out our complete battery test table, where you can see how all of the smartphones we've tested will compare under your own typical use.