LG is and has always been one of the slowest companies to issue big Android version updates to its smartphones, and this time around things aren't any different. The Korean company has so far sent out the update to Android 11 to the Velvet 5G units in Korea (in January), and some V60 versions in the US (last month).
If you're in Europe and are wondering what to expect, LG's German arm has published a helpful table. Helpful, but not necessarily hopeful.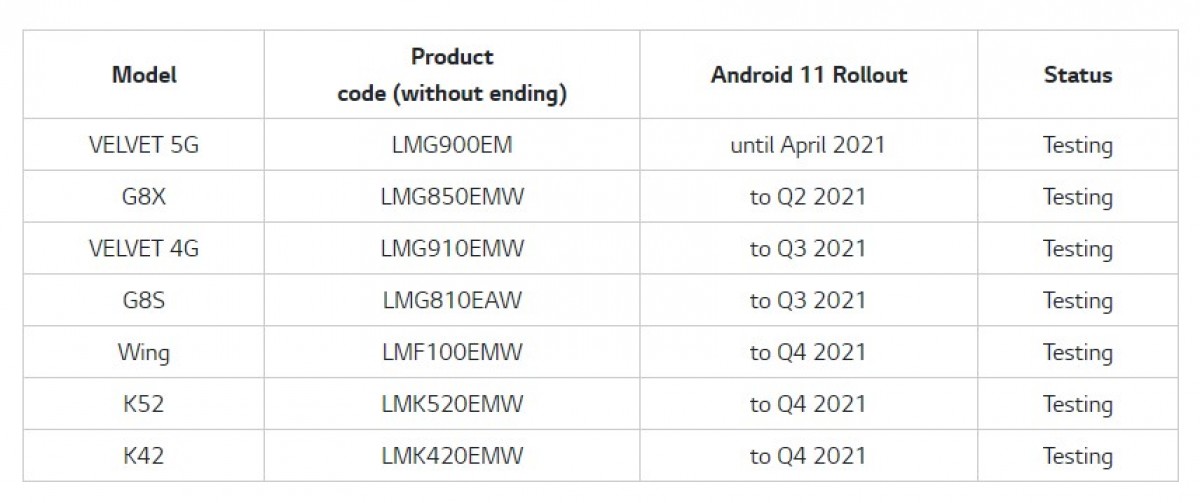 The Velvet 5G will be the first to get its update in Europe too, at some point in April. Before the end of June, the G8X should join it in Android 11-land. Then in the third quarter (July to September), the Velvet 4G and G8S will join in the fun, while the Wing, K52, and K42 will have to wait until the fourth quarter (October to December) to get a taste of Android 11, an OS version that will at that point be more than one year old itself (and will have its successor already out).
That's the sad state of updates in LG land, so if you bought a recent device hopefully you aren't impatient. Oh, and the implication of this list is that if you have any other LG handset purchased in Europe, you simply won't ever see it running Android 11.
M
Same, so I'm moving to a Sony Xperia 1 III for my next phone. The 5 is a great option too to consider.
ADVERTISEMENT