Gallery
The Lenovo gallery is as simple as they come. It has three view modes - Album (that is folders), Location and Time. You can change the size of the thumbs in the Settings menu. Additionally, you get basic editing tools - crop, rotate, plus some color effects and borders.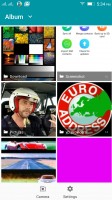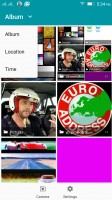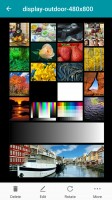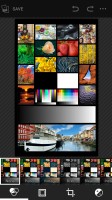 The Gallery is simple but it has all the basics
Thanks to the Cast screen option in the notification area you can easily throw your photos up on a large (Cast-compatible) screen. The slideshow option is also a tap away.
The other option is SHAREit, but that mostly works between devices that have the same app preinstalled (so, other Lenovos).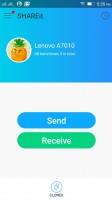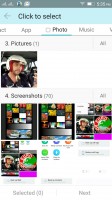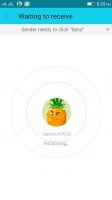 SHAREit works, but mostly with other Lenovo devices
Video player
The video app is capable of three ways of ordering your videos - Intelligent, Date or Name. We found no explanation of just how the Intelligent mode works, but you can always fall back on the search feature if all else fails.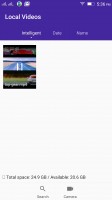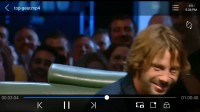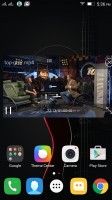 Picking a video • Playback • Pop-up video play
The player employs gestures - swipe sideways to scrub through the video, vertically to change the brightness. You can snap screenshots from videos and switch to a pop-up window.
Google Play Music and FM Radio
The Lenovo Vibe K4 makes big promises about sound quality (thanks to the Wolfson audio codec), so we were a little disappointed to find only Google Play Music. It's a fine app, but somehow we expected something special.
Anyway, you will want to get into the settings menu where the Dolby Atmos screen holds the equalizer and other settings. You can change different modes (Movie, Music, Game, Voice, Custom), each getting its own 5-band equalizer setting. Additionally, you have automatic equalizers (Open, Rich, Focused) and things like surround virtualizer, dialogue enhancer and volume leveler.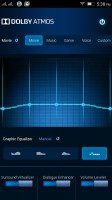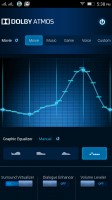 Detailed equalizer courtesy of Dolby
The FM radio is a nice touch. Sure, you can stream with Play Music, but FM is free. The Radio app can record radio broadcasts, but lacks RDS (the feature that displays the station name and other info).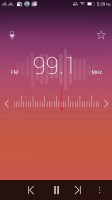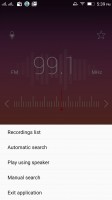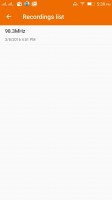 FM radio app with broadcast recording, without RDS
Audio is clear but quiet
The Lenovo Vibe K4 Note showed perfect clarity in the first part of our audio quality test. When attached to an active external amplifier, the smartphone produced great scores top to bottom, but unfortunately its loudness was rather disappointing.
Damage from plugging in our standard headphones was rather modest - a moderate stereo crosstalk increase was all we saw. Once again however the volume fell seriously short of the average mark so we can't award full points here. Still a pretty solid showing for the price range.
Here go the results so you can do your comparisons.
Test
Frequency response
Noise level
Dynamic range
THD
IMD + Noise
Stereo crosstalk
Lenovo Vibe K4 Note
+0.05, -0.05
-93.3
89.3
0.0039
0.012
-93.6
Lenovo Vibe K4 Note (headphones)
+0.03, -0.07
-93.6
89.4
0.0035
0.015
-60.5
Huawei Honor 5X
+0.02, -0.08
-93.4
90.1
0.0028
0.012
-93.4
Huawei Honor 5X (headphones)
+0.10, -0.03
-92.9
89.8
0.0048
0.071
-78.2
Samsung Galaxy A5 (2016)
+0.02, -0.07
-94.3
92.2
0.0065
0.010
-95.0
Samsung Galaxy A5 (2016) (headphones)
+0.42, -0.01
-93.4
87.1
0.029
0.254
-53.0
Huawei G8
+0.02, -0.08
-93.4
90.1
0.0028
0.012
-93.4
Huawei G8 (headphones)
+0.10, -0.03
-92.9
89.8
0.0048
0.071
-78.2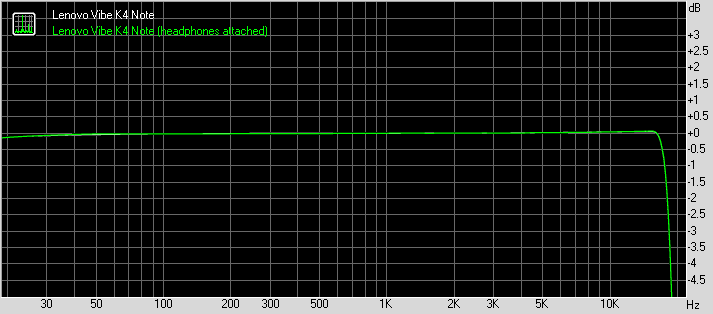 Lenovo Vibe K4 Note frequency response
You can learn more about the tested parameters and the whole testing process here.