Telephony and loudspeaker
The Lenovo Vibe K4 Note is a dual-SIM device. It's a nice touch that you can set different ringtones and message tones for each SIM. You can pick the preferred card for calling, texting and data. The data SIM will switch into 3G/4G mode while the other one will stick to 2G/EDGE.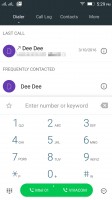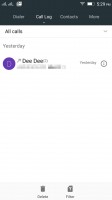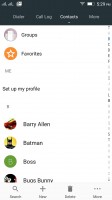 The dialer • Call log • All contacts
The dialer is split into several tabs. It supports Yellow pages integration, but it has been moved into the More tab (this feature performs a search for local businesses and is probably best geared for the Chinese/HK market). You have a Call log that can be filtered by received/missed/outgoing calls, but not by SIM card.
The More tab also holds call and message blocking options (blacklist/whitelist by phone number). You can also enable Automatic call recording (it starts as the call connects), but keep in mind this feature isn't legal in some regions of the world.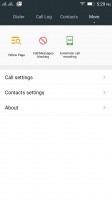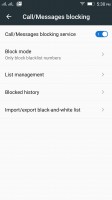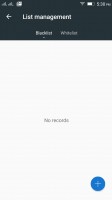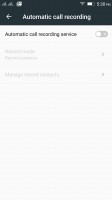 More features: Yellow pages • Call blocking • Block list • Call recording
The stereo speakers of the Vibe K4 Note can be quite loud - as loud as the Nexus 6P - though it doesn't perform as well when it comes to music playback quality. This is why it scores a Good rating, beating the Xperia Z5 (by a lot), but trailing the Nexus due to the Pink noise/Music test.
| | | | | |
| --- | --- | --- | --- | --- |
| Speakerphone test | Voice, dB | Pink noise/ Music, dB | Ringing phone, dB | Overall score |
| Sony Xperia Z5 | 65.1 | 62.3 | 66.3 | Below Average |
| Sony Xperia C3 Dual | 66.2 | 61.1 | 75.3 | Average |
| HTC One (E8) | 65.8 | 65.7 | 75.7 | Average |
| Lenovo K3 Note | 65.7 | 66.6 | 76.5 | Good |
| Motorola Moto X Play | 69.8 | 66.6 | 75.7 | Good |
| Lenovo Vibe K4 Note | 74.7 | 66.6 | 72.3 | Good |
| Huawei Nexus 6P | 74.7 | 77.8 | 72.1 | Very Good |
| OnePlus 2 | 75.7 | 73.5 | 80.7 | Excellent |
You can enable Pocket mode, which uses the proximity sensor to detect when the phone is in your pocket and it boosts the loudspeaker volume temporarily.
Text input
The Lenovo Vibe K4 Note came with the standard Google Keyboard. It offers autocorrecting and gesture typing and you can pick different themes - dark and light in Material or Holo flavor. The keyboard can sync your custom dictionary between multiple devices for a more seamless experience.
Other apps
The Lenovo Vibe K4 Note came with a richer app package than normal, perhaps anticipating use in China or similar regions where people can't rely on the Google services.
A prime example is the Route 66 navigation app, a blast from the past. You only get a free 30-day trial for voice-guided navigation and considering a license is €30, you'd probably stick with Google/Bing Maps or similar.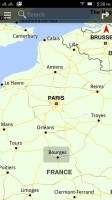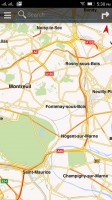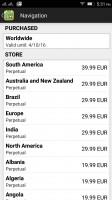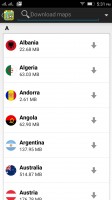 Route 66 navigation (30-day trial version)
You get Skype out of the box, but not the rest of Microsoft's usual Android package. Actually, you get WPS Office, a competing document editor hailing from China (and, naturally, Google Drive is preloaded).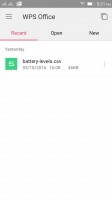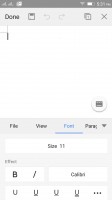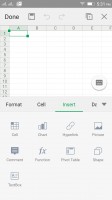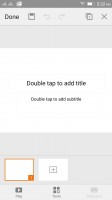 WPS Office: Main app • Document editor • Spreadsheet • Slideshow
The Step counter app needs you to press the "Start" button before it begins keeping track of your walks, making it less useful (but perhaps more battery efficient) than the always-on apps.
The Lenovo Companion is a mobile trouble-shooter. You can search for walk-through's for your device (in written or video form), you can check for firmware updates (with data back up included) and diagnosing all the hardware of the phone (e.g. testing the vibration or the loudspeaker).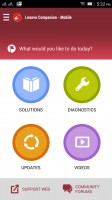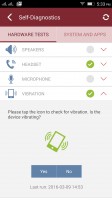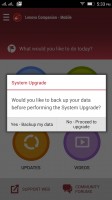 Lenovo Companion can help you find and correct issues
The File browser makes it easy to find files of a specific type (e.g. documents or photos), it will even handle ZIPs. Of course, you can browse the full folder structure of both the internal storage and the microSD.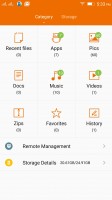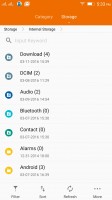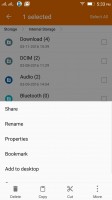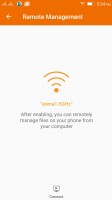 File Browser with built-in FTP server
A handy feature lets you wirelessly manage your files through your computer browser (as long as both the computer and phone are connected to the same network). This functionality is based on SwiFTP also available on the Play Store as FTP Server. It's better to use a proper FTP app, though, your browser offers only limited functionality.
SYNCit allows you to backup Contacts, SMS and Call log to the Lenovo cloud. If you don't want to set up an account, you can backup to the SD card.