Display
The Lenovo Vibe K4 Note features a 5.5" IPS screen. It has 1080p resolution for a 401ppi pixel density. Lenovo promises 1,000:1 contrast and 450 nits of brightness and we can confirm these numbers.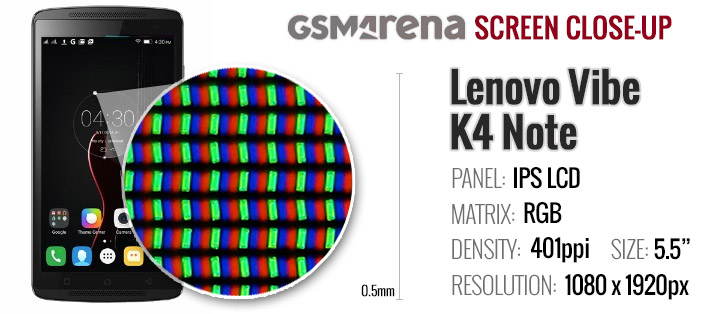 The contrast worked out to 940:1. The black levels came out to 0.47 nits - not perfect, but really very good for the class (we've seen flagships do worse).
There's dynamic contrast enabled, though, and you can't turn it off. You can see it adjusting black and white levels as you scroll through pages with varying contrast or while watching videos.
Display test
100% brightness
Black, cd/m2
White, cd/m2
Contrast ratio
Lenovo Vibe K4 Note
0.47
442
940
Lenovo K3 Note
0.24
432
1793
Meizu m2 note
0.42
473
1108
Xiaomi Redmi Note 3 (MediaTek)
0.42
403
953
Meizu m1 metal
0.50
390
780
Motorola Moto X Play
0.41
620
1520
The phone tops out at 442 nits of brightness, which is also very good in this price range. The Smart Brightness mode can help sunlight legibility, not by making the screen brighter, but by processing darker parts of the images on screen to make them easier to read by brightening them up.
Without any trickery, the K4 Note display is very good for its price class, merely good in general. It's on par with the Xiaomi Redmi Note 3 and better than some cheaper alternatives like the Meizu m2 note.
Sunlight contrast ratio
Samsung Galaxy S6 edge+
4.615
Samsung Galaxy S7 edge
4.439
Samsung Galaxy S7
4.376
HTC One A9
4.274
Samsung Galaxy A3
4.241
Samsung Galaxy S6 edge
4.124
Samsung Galaxy Note5
4.09
Huawei Nexus 6P
4.019
OnePlus X
3.983
Oppo R7s
3.964
Samsung Galaxy A7 (2016)
3.918
Samsung Galaxy A5
3.895
Samsung Galaxy J7 outdoor
3.879
Samsung Galaxy J2 outdoor
3.873
Samsung Galaxy A8
3.859
Apple iPhone 6
3.838
Microsoft Lumia 950XL
3.837
Samsung Galaxy A9 (2016)
3.817
Motorola Moto X (2014)
3.816
Samsung Galaxy A5 (2016)
3.789
Apple iPhone 6s
3.783
Meizu Pro 5
3.781
Vivo X5Pro
3.706
Samsung Galaxy A7
3.679
BlackBerry Priv
3.645
Apple iPhone 6s Plus
3.53
Microsoft Lumia 950
3.512
Oppo R7 Plus
3.499
Samsung Galaxy J7
3.422
Meizu MX5
3.416
Oppo R7
3.32
Samsung Galaxy J2
3.235
Motorola Moto X Play
3.222
Lenovo Vibe Shot
3.113
LG Nexus 5X
3.092
Huawei Mate S
3.073
Microsoft Lumia 640 XL
3.065
Apple iPhone 6 Plus
3.023
Samsung Galaxy Note
2.97
Huawei Mate 8
2.949
HTC One S
2.901
Sony Xperia Z5
2.876
Microsoft Lumia 550
2.851
Sony Xperia Z5 compact
2.784
LG V10
2.744
Xiaomi Redmi 3
2.735
Sony Xperia M5
2.69
Xiaomi Mi 4i
2.641
Xiaomi Mi 4c
2.574
Microsoft Lumia 640
2.563
Motorola Moto G 4G
2.546
Oppo F1
2.528
Sony Xperia Z5 Premium
2.525
HTC One
2.504
Sony Xperia M4 Aqua
2.503
Motorola Moto G
2.477
Huawei G8
2.471
Sony Xperia Z
2.462
Huawei Honor 7
2.406
ZUK Z1 by Lenovo
2.382
HTC One E9+
2.305
Lenovo Vibe K4 Note
2.254
Sony Xperia C5 Ultra
2.253
Xiaomi Redmi Note 3 (MediaTek)
2.249
Sony Xperia C4 Dual
2.235
Motorola Moto G (2014)
2.233
LG Nexus 5
2.228
Huawei P8
2.196
Xiaomi Redmi Note 2
2.166
HTC One X
2.158
LG Aka
2.145
Archos 50 Diamond
2.134
Xiaomi Redmi Note
2.119
Huawei P8lite
2.078
Moto G 3rd gen max manual
2.026
Sony Xperia E4g
1.972
BlackBerry Leap
1.892
Meizu m2 note
1.892
HTC Butterfly
1.873
ZTE Nubia Z9 mini
1.759
Sony Xperia U
1.758
Asus Zenfone Selfie
1.68
Motorola Moto E (2nd Gen)
1.675
ZTE Nubia Z9
1.659
Motorola Moto E
1.545
Sony Xperia M
1.473
Xiaomi Redmi 2
1.311
Sony Xperia C
1.283
Meizu MX
1.221
Lenovo did a good job of calibrating the screen on the Vibe K4 Note. We measured an average deltaE of 4.1, so it matches the iPhone 6s Plus. We found the white balance a bit off (tending towards blue), the red channel isn't quite right either.
You can try using the Custom mode to change to a warmer white balance and changing the saturation. The controls aren't very handy though, so improving the color accuracy at home is out of the question. You can improve the subjective quality, at least.
People use their phones more than they are willing to admit, even in the black of night. This is why the minimum brightness is important too so that you can use the phone without squinting.
The Vibe K4 Note managed 5 nits normally but enabling the Brightness protection mode you can get this down to mere 1.2 nits. Note that this is a software trick - it draws a semi-transparent gray overlay over apps. This can cause some compatibility issues and may not work well with all apps.
Comfort mode can reduce eye strain if you use the phone for prolonged periods. It limits blue light, which, as studies suggest, may prevent you from naturally getting sleepy in the evening (supposedly blue light equals daylight and hence sends an waking signal to the brain).
For the winter season, you can enable High sensitivity touch and use the phone with gloves on.
Connectivity
The Lenovo Vibe K4 Note is a dual-SIM phone (2x microSIM) with LTE connectivity. It's only Cat. 4, in other words 150Mbps down and 50Mbps up, but that's only an issue if your carrier's network supports higher speeds (and many do not). Both TDD and FDD flavors of LTE are supported.
We skipped over the card slot situation on the previous page since it requires some explanation. SIM1 is an old-school slot with a metal door. SIM2 is just like it, except the microSD card goes immediately above it. It took some head scratching until we figured it out.
This design has two downsides - first, obviously, it locks SIM2 inside while the microSD card is in. And "in" may be generous, the card barely goes into the slot. It's not like you can knock it out accidentally, but it still doesn't feel as the best design possible.
Anyway, if you need high-speed Internet you can also lean on Wi-Fi ac if you have a fast router in range. There's also Bluetooth 4.0 with LE, NFC too.
Long before LTE, FM radio was the way to "stream" music and the Vibe K4 Note supports that too.
Wired connectivity is handled by a traditional microUSB 2.0 port. It supports USB On-The-Go to connect peripherals. The port lacks TV out functionality, though.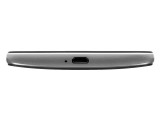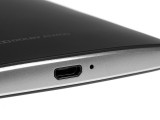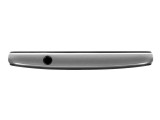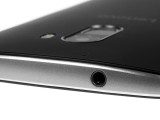 microUSB on the bottom • 3.5mm audio jack on top
Battery life
Lenovo didn't let vanity get in the way of battery life and the Vibe K4 Note's 9.2mm body (at its thickest) holds a decently sized 3,300mAh Li-Po battery.
Unlike the X3, though, the K4 lacks fast charging. You only get a regular 10W charger that is pretty much standard these days.
Still, you'll probably only need to charge your phone every 2-3 days if our endurance rating is something to go by. The exact rating is 73 hours with one SIM, 69 hours with two. Both web browsing and video playback drain the battery in about 9 hours, a pretty good result.
Note that we spotted the Vibe K4 Note hybernating some apps while it was in standby. This seems similar to how Doze works in Marshmallow.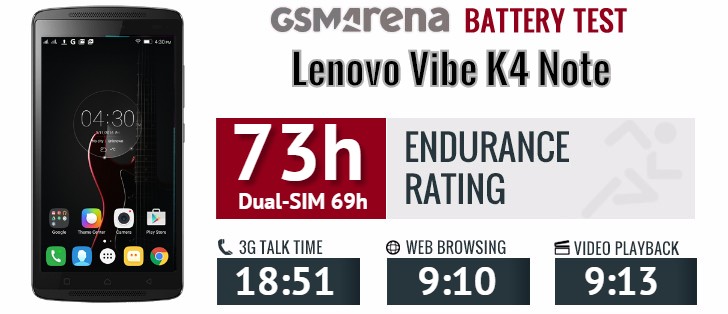 The charger lacks any fast charging magic. In our tests, it managed to put 30% charge (starting from zero) in the battery in 30 minutes.
There are a few power-saving options. The default power saver limits performance and background data. The Ultimate Power Saver basically turns the Vibe K4 Note into a feature phone - you can call and text and that's it.
You can undertake a more targeted approach with the Background app management screen. Here you can block apps from auto-launching on startup and running in the background.
Another way to save battery - or perhaps just to avoid late-night annoyances - is the Scheduled power on & off option. The phone can switch off at a given time (including scheduling for specific days only) and then switch back on all by itself.