Display
The display on the Lenovo Phab2 Pro is an IPS LCD screen with a QHD (1440 x 2560px) resolution, a great choice for a screen of this size with a pixel density of 459ppi. Colors are vibrant and viewing angles are okay. Turning the device from side to side shows no significant shifting, but tilting the Phab2 Pro's display away to about 30 degrees reduces some of the perceived brightness.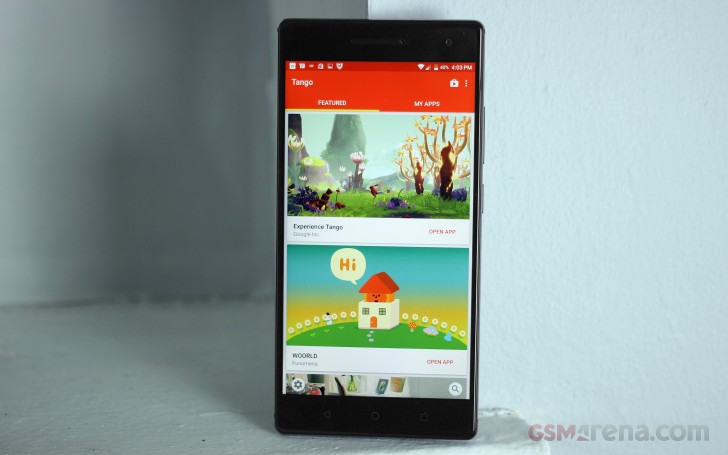 Color calibration was not so bad with max brightness: an average deltaE of 7 with a max deltaE of 10.8 (at purplish-blue tones). Lenovo includes a custom color option which lets you adjust color vibrance (low to high) and temperature (warm to cool). The best color combo we were able to achieve with these sliders yielded an average deltaE of 3.2 and a max deltaE of 5.2 (at orange tones).
Display test
100% brightness
Black, cd/m2
White, cd/m2
Contrast ratio
Xiaomi Mi Mix
0.45
589
1309
Xiaomi Mi Mix (auto contrast)
0.37
551
1489
Lenovo Phab2 Pro
0.322
438
1360
Lenovo Phab2 Pro (max auto)
0.261
466
1784
OnePlus 3
0.00
433
∞
Alcatel Idol 4S
0.00
373
∞
Alcatel Idol 4S (Max auto)
0:00
684
∞
Sony Xperia XA Ultra
0.50
531
1071
Huawei Nexus 6P
0.00
352
∞
Xiaomi Redmi Note 3 (MediaTek)
0.42
403
953
One thing worth mentioning is that there seems to be an inconsistency with the "Adaptive Brightness" toggle in the display settings and the large "A" Auto toggle next to the brightness slider in the notification shade. Toggling one doesn't un-toggle the other, more on UI inconsistencies later.
The screen is able to achieve somewhat average (but still usable in sunlight) brightness at 437.8 nits while the sunlight booster in 'Auto' mode reached 465.6 nits. The sunlight booster darkened the colors and raised contrasts, resulting in average deltaE of 10.5 and a new max deltaE of 14.4 (at orange tones).
At its dimmest, the Phab2 Pro gets down to 5.9 nits, not as dim as we've seen, but it's not overbearing at bedtime.
Battery Life
The Phab2 Pro is powered by a 4,050 mAh integrated battery and is able to charge quickly thanks to Qualcomm's Quick Charge 3.0. a propretary fast charging technology. Lenovo did not specify what kind of quick charging standard it uses. The phone charges faster than what Quick Charge 3.0 usually provides (18W) and the phone's can charge with up to 24W of power (12V @ 2A).
It performed quite well overall. The browser test is typically lower than the video score. The Phab2 Pro scored 12:25h in browsing and 15:35h in video playback. Voice calling scored quite well at 24:09h. When combined with the other scores, the PHAB2 Pro yielded a score of 96h overall. Quite impressive, actually.
Don't underestimate Quick Charge 3.0. The unspecified charging standard is plenty fast for a quick top-up, and given that this phone has a 4,050 mAh battery, it impressively takes it just 1:30h to charge from 0% to 100%. We kept track on how the charging progressed and here are our notes in case you are curious:
0% to 20% in the first 17 minutes
39% after 30 minutes
82% after 1 hour
94% after 1 hour and 15 minutes
97% after 1 hour and 25 minutes
Full battery after about 1 hour and 30 minutes
Our endurance rating of of 96h means that the Phab2 Pro would last you about 4 days if you use it for 1 hour of talking, browsing, and video playback (each) every day. Your usage pattern will undoubtedly differ, but we've established this routine so that we can compare scores across devices.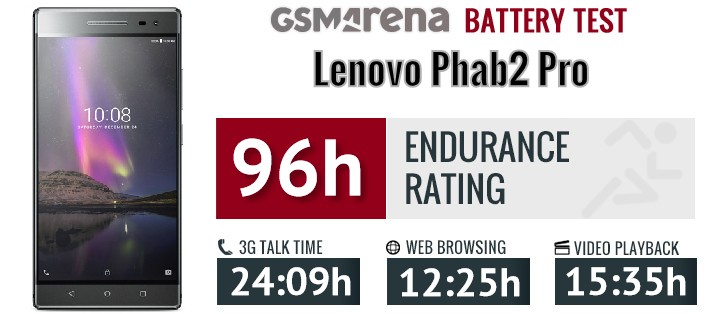 The battery testing procedure is described in detail in case you're interested in the nitty-gritties. You can also check out our complete battery test table, where you can see how all of the smartphones we've tested will compare under your own typical use.
Connectivity
The Phab2 Pro is capable of Cat. 7 (LTE-A) speeds on either SIM card with theoretical speeds of up to 300 Mpbs down and 100 Mbps up. Both SIM slots can connect to an LTE network, but both cannot be connected to LTE at the same time. The other one will default back to HSPA. The supported LTE bands differe slightly with the region and in EMEA they include 1(2100), 2(1900), 3(1800), 5(850), 7(2600), 8(900), 20(800), 38(2600), 40(2300), 41(2500), while in the US the list is as follows: 2(1900), 4(1700/2100), 5(850), 7(2600), 12(700), 17(700), 20(800), 30(2300) - USA.
Other connectivity features include: dual-band Wi-Fi a/b/g/n/ac support and Wi-Fi direct, NFC, Bluetooth 4.0, GPS, GLONASS, and OTG capability (provided you have the correct adapter).
The Phab2 Pro supports a proprietary fast charging solution (0% to 39% in 30 minutes) via the mircoUSB port.
The Phab2 Pro doesn't skimp on the connectivity options, but it also doesn't shine with anything in particular. We wish the IR emitter on the back could somehow be used as an IR blaster, though we're not sure if it would be feasible to use the Tango IR system to control your home entertainment system, not to mention you'd need to point the back of the phone to your TV system.